London: A Danish Bacon Cruise
"Danish bacon, Danish bacon, yummy, yummy, yummy, yummy, yummy, yummy, yummy, yum."
Does anyone else remember this advert? If you do, I'm sorry but you're going to have that tune in your head for at least an hour.
Moving on, I was invited aboard 'the magnificent schooner Maja' yesterday by Visit Denmark to take a sailing trip down the Thames. The sun was shining and I'd heard rumours of food and beer so I couldn't turn down an offer like that.
As we climbed aboard the boat we were helped by a crew of beautifully tanned Danes wearing tshirts that proudly displayed the words 'MEAT EATER'. I had no idea what their carnivorous eating habits had to do with a relaxing river boat cruise until I literally bumped into this little cutie:
Yes, there was a giant pig onboard. While I got over my ridiculous fear of men in suits (I was chased around at Disneyland Singapore by Kung Fu Panda and it scarred me for life. Yes, I was 23 at the time) I noticed there was a huge slab of pork in the centre of the boat and a BBQ smoking away and waiting to cook up a treat.
This wasn't just any old cruise, this was a Bacon Boat!
I've done my fair share of booze cruises, dolphin spotting cruises, whale watching cruises, snorkelling cruises, diving cruises and sunset cruises but I can safely say this was my first bacon cruise. As you can imagine, I wasn't disappointed.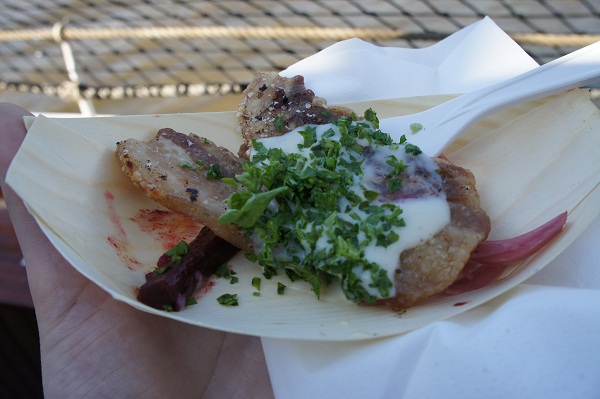 As promised, the bacon was unlike any bacon I've ever tasted before. It was thick and salty, crispy yet meaty and had a nice chunk of crunchy fat that was to die for. It was served with beetroot and yoghurt, a slightly controversial choice in my opinion. It was delicious but you can't beat some meaty bacon between fresh bread with a generous dollop of HP sauce
Imagination – Discover the Danish Spirit
VisitDenmark are pulling out all the stops during the London Olympics to promote their country and what they are famous for…Danish Bacon…oh, and Lego, apparently.
Imagination is a three week showcase at St Katharine's Dock in London between July 27 and August 12. The Danes will be showing off the best of their culture, lifestyle, food and fashion. There will be Lego displays, cooking shows, design and fashion shows and a beautiful Viking ship is on show.
The Schoona Maja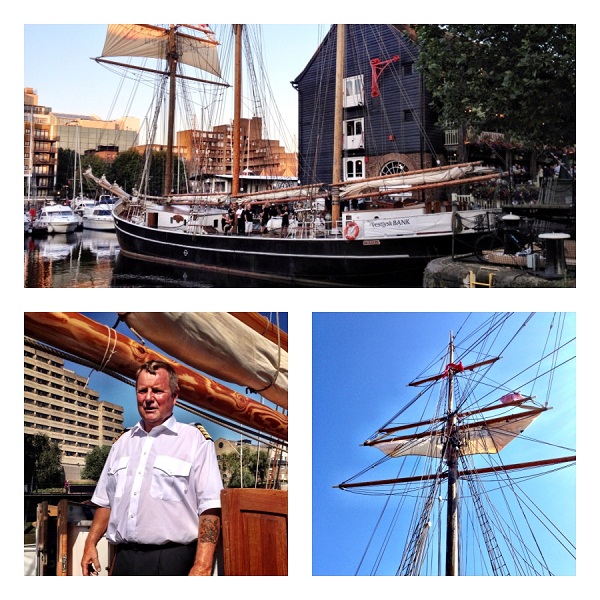 This was the stunning boat we sailed on and the proud captain gave us a tour before we set sail down the river.
Construction of the 26 metre long boat began in 1916 in Holland but due to WW1 it had to stop and resumed in 1919. It was initially designed to be a sail logger used for fishing, a strong boat made to deal with the rough North Sea. Unfortunately, fishing was an unprofitable trade and the boat was sold and given a makeover.
She was extended by 7 metres and given a third mast and engine and was christened Maja. She carried dry cargo around the North Sea and Baltics, making many stops in Denmark.
Maja was restored in 1997 after almost 80 years of work. The ship is now considered too small and outdated to carry cargo but it perfect for pleasurable trips. She is now helping promote Denmark as a destination and the crew have just sailed her all the way from Denmark to London.
Massive thanks to @GoVisitDenmark for a great afternoon and to @DanishCrown for the delicious bacon. And an even bigger thanks to the little piggy who was so tasty.
And if you haven't already been converted into a Danish bacon lover, just watch this video because I guarantee you will be. I wish my breakfast did this.

If you'd like to see more pictures from the Bacon Cruise come and check out my Facebook page. There is even one after the fat little pig has been beheaded.
You might also enjoy: