Since I've come back from India one of the most common questions I get asked by women is about what women should pack for a trip to India.
I was expecting to be asked how to avoid Delhi Belly, how to find nice accommodation, how safe it is to travel alone and what the overnight trains are really like but it seems that what to pack is somewhat of a dilemma for us ladies.
The majority of the country is hot and humid so you need clothes that will keep you cool, but it's also a conservative country and it isn't safe or appropriate for women to be wearing skimpy clothing. Argh, dilemma! So what on earth do you pack?
I may have mentioned it once or twice (OK, about a billion times) that I can't stand those 'traveller pants'. The ones that come in khaki colours and have eight pockets on each leg and removable bits so you can make them into shorts. I know that they're practical and perfect for travelling but I just can't bring myself to buy them. Thankfully, there are a few alternatives that can keep you looking stylish and feeling cool.
Here's my packing list for India and some examples of the types of clothes I think are best for female travellers.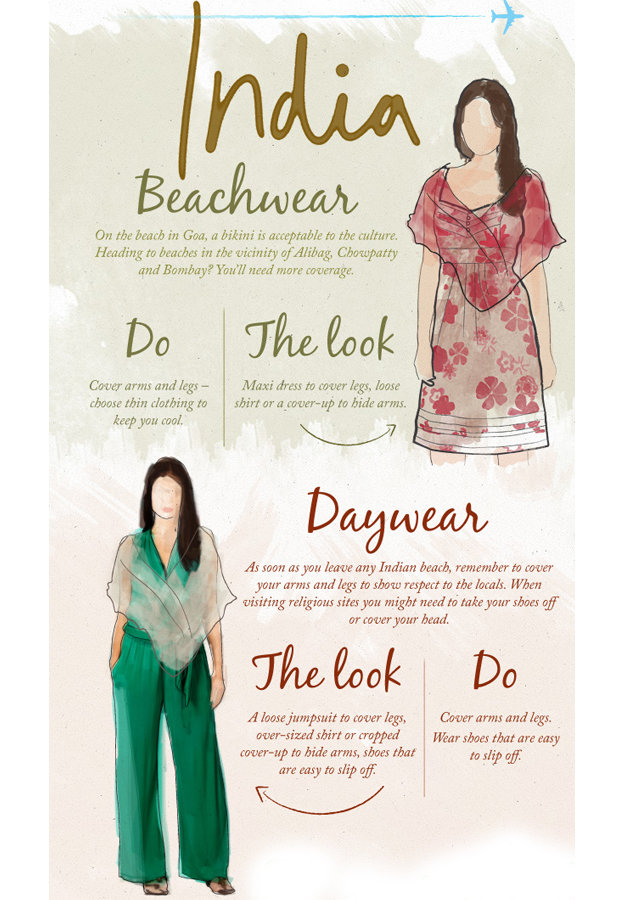 If you're looking for packing guides for different countries, Debenhams have a cute guide to what kind of things you should wear in Egypt, Brazil, Morocco and Ibiza and also this guide above for India.
My packing list for India
3 x pairs of loose, thin trousers
The high street stores are still full of loose, printed trousers. Some of them have bold and bright patterns and some are completely plain. I had one bright pair, one navy blue pair and one black pair. I chose dark colours because the streets of India are often dusty and your clothes are nearly always filthy by lunch time. These trousers were all really thin, almost as thin as a sarong, and baggy too so they kept me cool.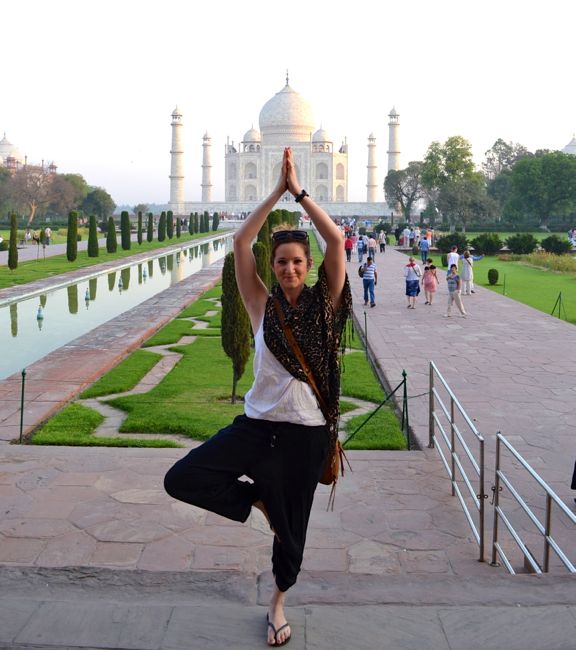 6 plain t-shirts
I opted for 4 dark t-shirts and 2 white ones
These were just your bog-standard t-shirts that you can buy from H&M or TopShop. I found in other Asian countries that your clothes get wrecked when you have them washed in your hotel so these t-shirts are almost disposable at about £3 each.
I chose plain t-shirts because a standard black t-shirt will never look outdated. I learned this the hard way when I was backpacking in Asia in 2009-2011. I packed all the latest fashions and left home feeling like I'd stepped out of a Vogue catalogue (OK, a Primark store). I thought I looked the bee's knees in the latest trends but when I look back on those photos they look dated already.
Fashions change too quickly to ever look good a few years later so stick to plain clothes that don't make too much of a statement. You'll also be wearing the same clothes over and over again so don't pack anything that stands out in your photos.
1x long black cotton dress
Every female traveller should have a long, black, cotton dress because they're just so handy. A good quality dress that sits just above the ankle will travel with you all over the world and never look out of place.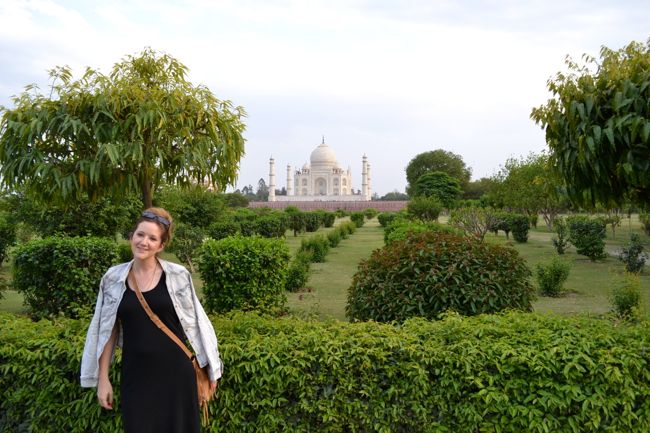 1 x denim shirt
The evenings in India can still get chilly and a denim shirt will keep you warm and still look good. Most travellers would probably opt for a lighter cotton shirt but they don't keep you as warm (or look as good).
1 x pair of Haviana flip flops
Yes, really. All I took was one pair of Havi's. I knew I wouldn't be doing any serious trekking and I know I'm perfectly comfortable walking around in flip flops all day so why bother bulking up my bag with extra shoes?
I know this option isn't for everyone but it's so worth investing in one pair of shoes that are suitable for evenings but a pair that you're comfortable driving in, cycling in and walking long distances in.
I opt for skinny fit Haviannas in black with a gold tag. That gold tag somehow makes them seem a bit fancier.
1 x thin cardigan
It's always nice to have a cardy for when you're lucky enough to be in air conditioned spaces. I took a black cardigan so it matched all my outfits.
2 x large cotton scarves
A scarf will be your biggest lifesaver while you're in India. You can use it to cover your arms, your chest, your head and your shoulders and there will be times when you'll want to wrap your whole upper body in it to stop people staring.
I've put 2 scarves on the list because sometimes you'll need to cover your head when you're visiting religious sites. It's also nice to have a spare one to use as a blanket or pillow during long journeys.
Small, over-the-shoulder bag
It's best to have a small bag that goes over your shoulder that you can keep close to your body. Not only are bags like this easy to carry but it's harder for pick-pockets to get into them.
Lots of accessories
All these plain, dark clothes get boring pretty quickly so I also packed heaps of jewelry and head scarves and picked some lovely things up along the way too.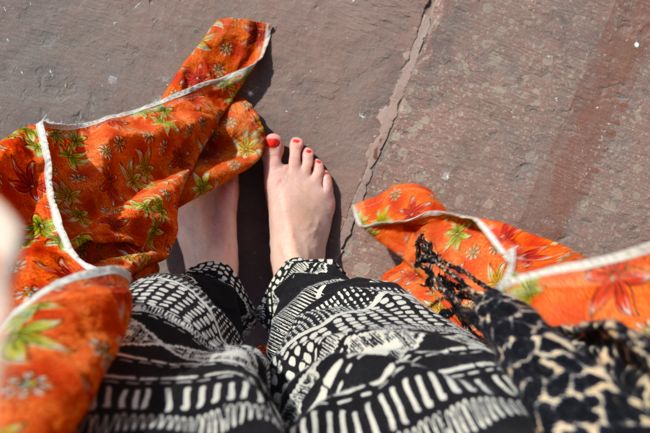 My tips for clothing in India
Unless you're on the beach in Goa never show your cleavage or wear skirts and shorts above the knee
I found that showing shoulders and wearing mid-calf dresses was fine
Pack dark clothes – you will get dirty
Keep clothes as plain as possible so they don't look dated when you look at your photos in years to come
Always carry a scarf to cover yourself up and in case it's required in a religious building
 If you've travelled around India and have any other must-pack items to add to the list, let us know in the comments below.
Big thanks to Debenhams Womenswear for providing the image above.