Names: Nick & Angela
Blog: Sparrow in Space
Currently in: Holland
Originally from: Holland
If I were a superhero, my secret power would be: Spreading love. Totally hippie, but everyone needs love and I like making people happy.
Can you tell us more about Sparrow in Space and your travels?
It was a warm summer night that didn't need much beer to be a great night, but we still drank too much anyway. Nick and I sat in the open windows of our apartment and talked all night about taking chances, taking risks and choosing your own destiny. The summer before, Nick and I traveled around Europe and it was the best summer either of us had ever had.
"There is something about traveling that makes you feel alive and we really missed feeling alive. The 9 to 5 grind, you know the drill."
After many more beers the decision was made, we were going to travel the world. The next day we started saving money and a little more than a year later we left for Russia.
Ever since Nick & I met, I knew we were destined to work together. Someday we would start our own creative business, I have always known. I studied art, Nick always loved computers and when we started talking about funding our travels while on the road and about figuring out what work we really love, we realized we could combine those two things into something really awesome. From here our studio Sparrow in Space started.
To support our design studio and to give me a place to share our lives with the world, our blog was born. Our blog is mostly photograph based, I really like telling a story with pictures and I like showing people a different perspective of places they've seen hundreds of times on pictures before. The blog follows us trying to figure out what to do with our lives and where to settle down.
We have been working from the road for the last year and we just got back to Holland a week ago. The next couple of months we'll be in Holland, working on some big projects, saving some money and sleeping in the same bed for more than a week at a time (we love it, we love it, we love it!).
You've just returned from Indonesia. How long were you there and what was the highlight from your trip?
When we first stepped into the moist tropical heat that is Indonesia, we immediately knew we were where we needed to be. Jakarta is one of the dirtiest, most congested cities in the world, and that's what makes it such a raw experience. In Jakarta, nothing's polished. It wasn't a highlight, but Jakarta hit us like a truck, which was why we loved it. And after that, we loved everything so much more. Jogjakarta with its street food, Nusa Lembongan with its small concrete roads, scooters and amazingly relaxed atmosphere and touristy, but oh so convenient Bali. We loved it all. Even driving through Denpasar on a scooter during rush hour (craziest thing we have ever done!)
How would you describe your travel style?
We always thought we would totally do the budget travel thing, sleeping in dorms and stuff. Turns out, that's not for us. After several weird encounters with Chinese college boys and sleepless nights due to someone else's snoring, we decided that we would rather spend a little more money and be comfortably snugly in a double bed. It's all about making the best of it. It's the same with food. We eat what we feel like, not what's cheapest. If I feel like pizza, I'll have a frickin' pizza. Our favorite food experiences have always been eating local food though.
From Russia all the way to Singapore we traveled overland. I thought I was afraid of flying (turns out I'm not, I love it) and we both feel the journey is as important as the destination. So we took trains, buses, motorbikes, cars, bikes and a whole lot of crazy local transport to get to our next destination. It is the perfect way to meet locals and get a real feel for a country. Nothing screams China like traveling by train during Golden Week.
Our favorite thing to do while traveling is walking around and doing what locals do. We often skip the sightseeing things and just chill in a local cafe drinking coffee. At the beginning we felt like we were missing out on stuff because everybody was talking about seeing all those amazing things. But now we feel like this is our travel style, this is how we do it. We did see a lot of amazing things of course, some big and some small.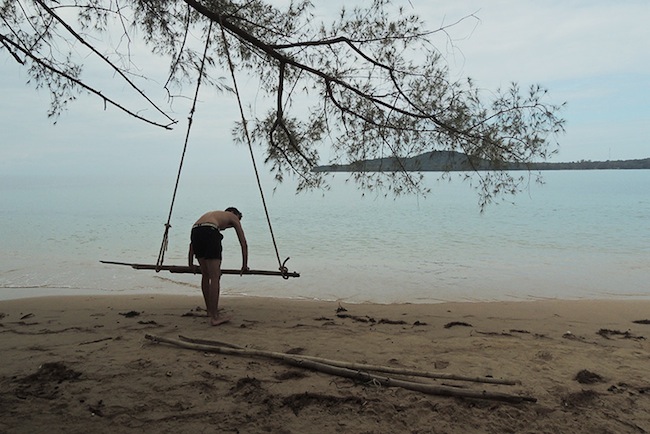 What gave the motivation to travel the world?
We were stuck at that time in our lives and we didn't know where to go or what to do. I dislike Dutch winters so much and I couldn't see myself living through those incredibly long winters for the rest of my life. So what do you do if you know you want to live in another country but have no clue where? You travel. And we figured we would meet loads of people while traveling who could tell and show us more about all of the possibilities in life, and we even think we might find our perfect place to live one day. We haven't found it yet, any tips would be more than welcome. It needs to have a not so rainy and grey climate. I like winters but proper winters. I like summers, but proper summers. It needs to have a good social security system and we want to live somewhere in Europe because of proximity to our families.
You dreamy photography is stunning. What camera and editing tool do you use and what inspired you to take photos?
I use a Nikon P310. I sold my DSLR before we left because I thought I lost my passion for photography. I should have known better. Now I'm saving money to buy a new DSLR. For editing I use Photoshop CS6, for which I have a lot of actions and presets that save muchos time when editing hundreds of pictures.
My biggest inspiration when taking pictures is seeing the unusual in everything around me. A former mentor of mine told me: if you love something, you will see it in everything you do. For her this was about hair, for me this is about design. I see design in everything around me. I love seeing shapes, colors, textures and patterns in places where I expect them least.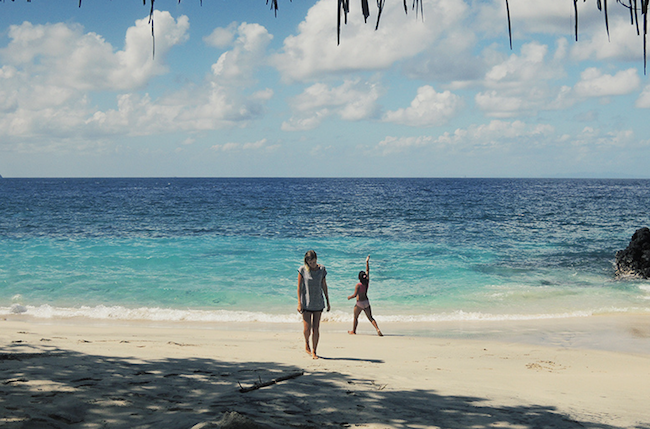 If you weren't traveling the world, what would you be doing?
If we had never left home, we would probably have done something radical anyway, like move to Canada for a while or something. I love traveling and I will never stop traveling but I don't think traveling is a full-time lifestyle for me, or for Nick. I tried it for a year and I loved it, but not for ever. I need a house, I need my own bed, a place to get away from it all and to unwind in my own space.
What would you say to anyone who is thinking about quitting their job and travel around Asia?
Do it. There is never a better time than now, right now. You will never, ever be more prepared than you are now. Go for it, now. Your life will still be here when you get back. Trust me, everything stays the same. Except for you. You won't be the same and you'll be glad for it.
You don't need travel experience in Asia, expensive gear or loads of money. All you need is common sense and an adventurous mind.
What has been your all-time favorite travel experience so far?
This has got to be the most asked question and the hardest to answer. It's hard to pick just one experience. What makes travel so great is the accumulation of all of these experiences. Seeing my first falling star ever in the wide open skies of Mongolia, sleeping in a tent on a beach of an almost deserted island, getting a real Thai massage, skinny dipping at sunrise and so much more. All of these experiences make up for the days where you just don't feel like traveling anymore and all you want is a hot bath, your own bed and to be able to wear socks. Oh god, I missed socks.
If you won $10m tomorrow, what would you do?
I would buy a 1960's Volkswagen camper van, stuff Nick and our dog inside and drive around Europe looking for the perfect place to live. (I know exactly what I want, just not where to find it). Once we find it: a home. Buy it or build it. Decorate it. Make some babies in it. I would still work on the same things I do now, but without pressure. I would expand our design studio and build a woodworking studio to create nice things. I would plant my own vegetable garden and live from whatever I can get from my garden. I would also buy some new shoes, I really need new shoes.
I would still travel of course, there is so much I still want to see. I don't think my travel style would change much, maybe have an extra wine with dinner but that's it.
I have this $10 million all figured out, now who is donating?
Massive thanks to the lovely Nick and Angela for taking the time to answer my nosy questions. Now go check out their blog!