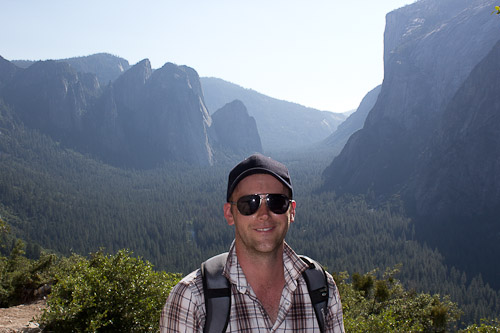 Australian travel blogger, Michael Turtle, first caught my eye when I stumbled across his post 'The World's Oldest Backpacker'. It's a really inspiring story about an 89 year old backpacker that Michael met in a hostel and not only do I love the story but I love the way Michael has written it. It is one of the few blog posts I've gone back to and read again and again and I've loved catching up with all the older posts on Time Travel Turtle.
1.       Can you describe yourself in 5 words?
Always looking for something more
2.       Is your surname really Turtle or is this a metaphor for your slow travel style?
Sometime it's embarrassing to admit it but, yes, Turtle is my real surname. I hated it when I was a kid. I was in primary school during the Teenage Mutant Ninja Turtle craze and so everyone called me Michaelangelo. These days I've learnt to embrace the strangeness of it (I think psychologists call that a self-defence mechanism). It does fit nicely with the way that I like to travel, though, so that's why I've included it in the title of my blog.
3.       What did you do before you became the Time Travel Turtle?
I worked for about a decade in media in Australia. Over the years I did a few different things – reporting for radio and television news, reading the news on a radio station and producing a breakfast television program. I'm not sure if the audiences always loved to hear from me but I loved doing all of it. But, regardless of what the exact job was, the thing I was always most passionate about was finding interesting stories and sharing them with people. Which leads us to question number 4…
4.       What motivates you to travel and what gave you the courage to quit your job and travel the world?
The motivation behind all of my travels over the years has been about discovery and exploration. I love finding out about new places, meeting new people and trying to understand other cultures. Don't get me wrong – I also love lazing on a beach and drinking cocktails while getting a massage. But that gets tiring quite quickly and without a thirst for knowledge I think I would lose the drive to keep on moving towards the next destination. When I realised that discovering more about the world was what I wanted to do full-time, it didn't take much courage to quit my job.
5.       Do you have a motto you try to live your life by?
"Don't have a motto" – it creates too much disappointment and self-doubt when you find a better one 🙂
6.       What has been your best travel experience so far?
This is a tricky question and you know that! It really is very unfair of you to have included it!! But, if I really had to pick just one, I would say that a ten day tour into North Korea has been the highlight of my travels since I started writing my blog. It's a country that most people don't know much about and very few people get to see for themselves. I wouldn't say that by travelling there I have a complete understanding of what it is like to live there, but it definitely changed my views about a lot of the things I thought I knew.
7.       Do you have a travel plan for 2012 or do you prefer to go with the flow?
I tend to go with the flow and often don't plan things until the day before I do them. In a general sense, though, I like to follow the summers. It means I don't have to carry as many clothes around – which is slightly silly seeing as I look much better the more clothes I have on! For 2012 I'm planning to stay in South America for the next few months and then head to Europe for the summer.
8.       What inspired you to start writing your travel blog?
Honestly? I started it to keep myself sane. After working as a journalist for so long I didn't think I would be able to cope if I didn't get to tell people stories everyday. I was worried that if I just travelled the world without a reason to write then I would end up a bit rudderless. As it's turned out, having the blog has often made me go out and look for interesting stories and I've had all sorts of experiences I wouldn't have done otherwise.
9.       Which of your blog posts are you most proud of?
There is one story which has had the biggest response on my blog and is also the one I'm the most proud of. It's a two-part post about a man called John, who I met at a hostel. He's been backpacking around the world for 30 years and is now 89 years old. During his adventures he's worked with Mother Teresa, met the Dalai Lama, trekked on camels through Africa and always done it with more energy and good humour than most young people I've met. He's truly an inspiration for any traveller.
10.   What is your favourite travel photo and can you tell us a little about it?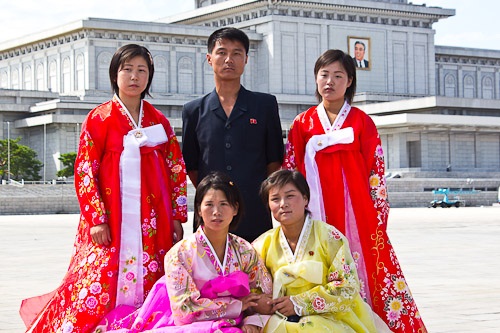 I've chosen a photo from the North Korean trip. It was taken outside the mausoleum for the Eternal President Kim Il Sung. (I guess they're going to have to build another one for his son now!) The citizens make pilgrimages from all across the country to see the embalmed body of Kim Il Sung and then they pose for family photos at the front. I just love the faces of these people because they say so much about the North Koreans – but are also hiding so much.