It's been a while since I've written a monthly update on The Travel Hack but June was such an exciting month with so much going on. I'm also going to be stopping my newsletters for a little while so you'll be seeing more informal updates like this on the blog rather than via email.
I also love having a monthly summary of everything I've done in one place. I don't know about you, but I find that it's so easy to forget about everything I did and I rarely just sit and take a minute to appreciate everything!
We're now half way through 2019!
Now I'm going to say the opposite to what most people say because I really don't think it's flown by. New Year's Eve feels like years ago! I've done a lot since January and I think that's why my years usually feel so long (in a really good way!)
I've had a trip to Transylvania and then went to Marrakesh. I hosted a blogging retreat in London and then filmed some mini travel tip videos with The Post Office! I went on a hen-do in Wales and then went to the Isle of Wight to give some talks to college students about life as a blogger.
I then went to Hamburg to attend a video conference and then I visited Bath for the first time.
In March I revealed I was 12 weeks pregnant with baby #3 and then we went glamping to Warwick and stayed in an incredible 1950s caravan. I went to Glasgow, then Montenegro then Menorca then Switzerland then Oxford.
And now here I am, sat at home catching my breath and just feeling so lucky to have done so much and seen so much in 6 months!
The closing of June also marked a momentous occasion for me because the second half of 2019 is going to be a very different type of year for me! If the first half was all about travel and adventures, the second half is the complete opposite.
The second half of 2019 is all about nesting and having mini adventures close to home.
I'm now 25 weeks pregnant so I won't be travelling abroad at all. This isn't because I don't think you should travel later on in pregnancy but because most of my trips are technically 'work trips' in partnerships with brands and I didn't want to commit to work in case I didn't feel up to it. It turns out I actually feel fine!
Physically, I get puffed out quite easily and I can already feel my lung space diminishing, but other that I feel good. The boys are keeping me fit and active and I'm sure they will until the very end!
But this will definitely be my final pregnancy so I just want to enjoy every moment. I want to relax and enjoy spending time with the boys before things get a bit crazy.
I'll have a couple more weekends away over the summer but most of my trips will be fairly close to home and George and Joseph will be joining me for a lot of them. George finishes nursery school for the summer in 3 weeks so from mid-July we'll be spending a lot of time at our caravan in Abersoch. We might even spend the whole summer there, depending on how things are going with our house extension and if the weather is nice. Oh yes, we've started a 3-story extension on the house too! More on that below!
So what happened in June? Let me give you a little recap…
We're having a girl!
It was actually the end of May when we had the 20 week scan and found out we're having a girl!
We would have been happy either way but the thought of buying cute little girlie clothes is very exciting.
But it does feel a bit like stepping into the unknown. I know what to do with boys but I'm not sure about little girls!
Before George was born, I firmly believed there is no difference between boys and girls. I was determined to raise him in a gender neutral way and I thought all children were basically the same. Now I'm not so sure how much is down to nature and how much is down to nuture as I do think both of my boys were born with a certain boy-ish personality. While we still do everything we can to avoid any gender-bias, my boys are such stereotypical boys, so it's going to be interesting to see if there are any differences between raising boys and girls.
Montenegro
At the start of June I was in Montenegro and had the most glorious week out there. My favourite thing about visiting Montenegro is the fact that it's a relatively untravelled country for us Brits. I know, I know, there'll be a hundred people who email me and say, 'I've been there! It's not unknown!' But it's definitely not the most popular country for British travellers and it was really nice to visit somewhere that most people don't know a lot about.
Montenegro is next to the more popular country of Croatia, which is becoming increasingly busy and crowded – especially with cruise ships and Game and Thrones fans! So Montenegro makes a really great alternative to Croatia or even as a holiday combining the two countries. I loved my time there and still have a couple of blog posts to share.
Read more: Why you should stay in Herceg Novi during your holiday to Montenegro
A day trip around the Bay of Kotor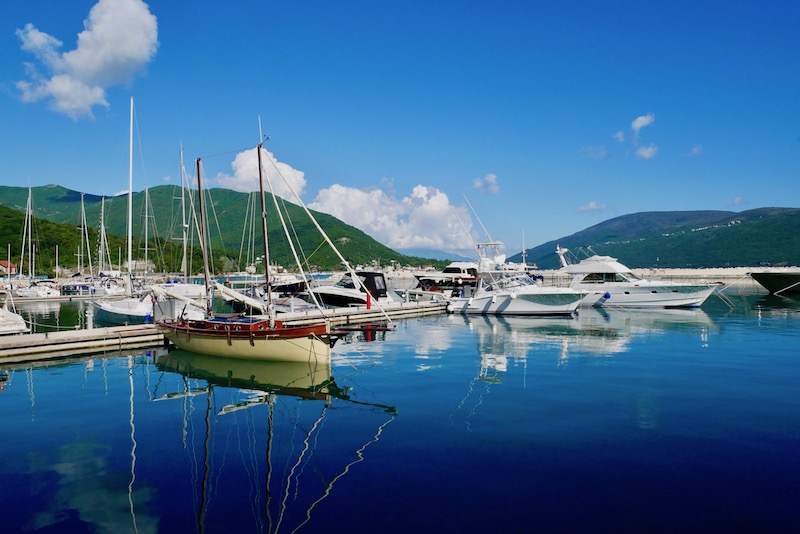 Extension work took off!
While I was in Montenegro the work on our extension really got going!
It was in April we finally got planning permission to build a 3-story extension on the side of our house. Sam is doing most of the work himself and I can't believe what amazing progress he's made.
Once the extension is finished we'll be opening up the kitchen to be a kitchen/diner and we'll also have a porch/coat area which I'm weirdly excited about! On the next floor there'll be two new bedrooms and on the top floor we'll be extending our bedroom, which will come in handy when the baby first arrives.
Our house has gone from a two-up, two-down into a 5-bed dream house! I know it's going to be a very, very long time until we're 100% finished but I'm so excited.
I'm also really determined to not fill the house with junk!
We've lived in such a small space for a long time now and I know it'll be so easy to buy loads of unnecessary junk to fill up our new space. It's so easy to do but I really want the house to feel spacious and clutter-free (especially after 4 years of feeling a bit cramped!)
Menorca
We had a friend's wedding in mid-June and then the next day we went to Menorca for a week!
I still can't belive what an amazing deal we had with our Menorca holiday. We hired a huge, 8-bed villa with a big garden, gorgeous outdoor area and private pool and had flights for all 4 of us for £1,200. I'm thinking we might have got lucky with a cancellation or something because we've tried to find a similar deal for next year and can't find anything that cheap!
I love menorca. It's a country I've been visiting since I was a child. In fact, I even visited before I was born and there are some photos of my mum looking heavily pregnant with me on the beach out there!
We had a lovely week in Menorca. It wasn't the most exciting week to blog about because it was mostly a week of beaches and BBQs, days in the swimming pool and water parks. We did visit two cities and did a bit of exploring but we mostly just ate a lot of ice cream and I read a lot of books! It was bliss.
Verbier
We came home from Menorca and the following morning I was off again and travelling out to Verbier in Switzerland. This was a solo trip to see what Verbier had on offer as a summer destination. It was my first time in Switzerland and I was blown away by how beautiful it is! I had such a great trip and did so much considering I was only there for 1 full day! I went on a foraging hike to pick flowers and herbs that we then cooked up for lunch. I went e-biking through the mountains, I had an outdoor yoga class and I finished up my trip at a spa. I also ate a lot of cheese and this made me very happy.
Oxford
And then last week I was in Oxford with Jurys Inn to stay at their lovely hotel there and explore the city. It was my first time in Oxford and I LOVED it! After such a busy month it was also nice to have a couple of days to myself. I explored the city but I also really enjoyed the hotel – ordering room service, watching Netflix and going to the spa!
Abersoch
We ended the month in Abersoch for that glorious sunny weekend that most of the UK seemed lucky enough to enjoy.