You all know I love travelling – and I'm sure you do too if you're reading this. So we all know that food and travel go hand in hand like rhythm and blues, like burgers and ketchup, like steak and red wine.
Tasting new foods while we travel is often one of the highlights of a trip. I love nothing more than gathering a group of friends and ordering random things from an unknown menu in an unknown language. It's a foodie lucky dip and usually results in discovering new favourites. Of course, it has been known to go horrifically wrong too!
My love for trying new food while I travel often inspires my cooking at home. I don't like to blow my own trumpet but I make a mean Thai red curry and I've got a great recipe for Jamaican jerk chicken.
So when The City Kitchen asked if I'd like to work together I didn't even hesitate.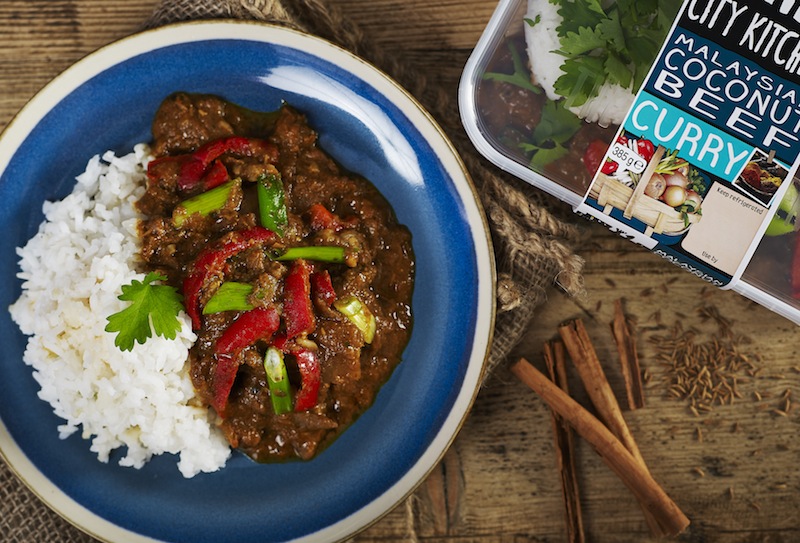 Who are The City Kitchen?
The City Kitchen make fresh and delicious, ready-made meals. But they're not any old meals. These are travel-inspired meals and each dish has been created by City Kitchen's well-travelled cooks. I'm the kind of person who would normally turn my nose up at ready meals but these are fresh and freaking delicious.
They've got things like King Prawn Red Thai Curry, Shredded Hoisin Duck Noodles and Malaysian Coconut Beef Curry.
I've been gobbling City Kitchen meals for years so working with them feels like a match made in heaven. I love their skinny meals at lunchtime and their main meals are an affordable alternative to a takeaway – and just as delicious too! Guilt-free mid-week takeaways while binging on a Game of Thrones box set is pretty much my ideal Wednesday night 😉
My favourite of The City Kitchen meals is the King Prawn Chicken Chorizo Paella. This is delicious with smoky paprika and big, juicy prawns (I'm writing this at 8am and I actually want one now – too early?) It's also a good one to whip out in the office kitchen if you want to make all your colleagues jealous as they nibble their sandwiches!
My video with The City Kitchen
I was invited to work with The City Kitchen to meet one of their cooks and learn how to create one of my favourite dishes.
I'd recently returned from Valencia and as Valencia is the home of paella it was the perfect opportunity to learn to cook the King Prawn Chicken Chorizo Paella.
I travelled down to London and met the team at an incredible studio in Shoreditch. It was basically my dream kitchen with a rustic feel and loads of light. There was also plenty of space for the film crew. Yes, you read that right…the film crew! I had a film crew!
We spent the day filming – and I spent the day pretending to be a celebrity TV chef – while Luca taught me how to make this gorgeous paella. He shared his cooking tips and then grilled me for my travel tips.
Of course, the best part of the day was at the end when we could finally tuck into the paella. I've got to admit, we did a pretty good job!
Here's the final result, what do you think….?
The City Kitchen meals are available to buy exclusively at Tesco.