If it sounds too good to be true then it probably is.
We've all heard this phrase but we're only human and most of us are still intrigued by something that sounds too good to be true.
Intrigue is what makes us human and what keeps us learning and progressing and interested in the world. Intrigue is a good thing. But it can also be our downfall and it was my downfall when it came to my Facebook page!
In the summer, my Facebook page was hacked and I lost the page completely. Despite nearly five months of emails and online chats with Facebook, I still can't get my page back. I had just over 19,000 followers and had that all important 'blue tick'. The blue tick might not really mean anything but it's a verification badge for 'large companies, popular brands and celebrities' so it was basically a big, fat ego boost for me!
Not only did I lose those followers and my blue tick, but I've also lost a lot of traffic to my blog because a lot of people came to my blog through Facebook. If my pageviews are down then my income is down so this really is a big deal for me!
Today I want to tell you how this happened so it doesn't happen to any other bloggers out there…
It started with an email from Teads, a recognised media platform distributing ads online.
Spoiler alert here: It wasn't actually from Teads and it was a scam!
The email said they wanted to partner with me and my Facebook page. The partnership would be very natural and authentic and would fit with what I'm doing already. They wanted to place ads on my Facebook page and were offering £350 per ad and, if I had the capacity, they wanted two ads per day.
Alarm bells were already ringing but we were three months into lockdown and I hadn't had any work for weeks so I wasn't going to turn my nose up at £700 a day.
I asked 'Teads' for some examples of the types of adverts they would like to place and they sent me loads of examples. I was told I'd be sent about 20 per day and I could choose 1 or 2 from a big list. The ads were basically online news stories they wanted promoting and they were using these ads to get more traffic to certain websites. But, from what I could see, a lot of the stories were genuinely very interesting so I asked for more information.
They sent more examples and explained they were paying so much because they had so many clients and my Facebook page was very valuable thanks to the blue tick.
For a bit of context, £350 to post about something on Facebook isn't actually crazy high. That's about right so that didn't seem weird. It was more the fact they wanted to post two per day for the foreseeable future. But I was reassured that I didn't have to post every single day and if they sent me a batch of ads I didn't like then I could refuse them all. The reason they had so many ads was simply because they're such a huge agency.
That seemed legitimate so I was keen to find out more…
Now the next part is where it got sketchy.
To go any further and get any more information, 'Teads' would need access to my Facebook Business Manager to find out more about my page and my audience. I still wasn't sure if I'd actually go ahead with this but I was interested to find out more and they seemed very genuine.
Facebook Business Manager is the software to manage business pages and set up adverts and see your analytics and things.
Again, this actually isn't unusual for a brand to require access and I've had this many times before. If a brand is promoting something you've done on Facebook and they want to spend £500 promoting it, they'll often ask for access to your account so they can pay for the promotion themselves rather than giving you £500 to spend on the promotion.
So this didn't seem weird and you can set up different profiles for people to give them access to some things but not others. They don't have any kind of admin rights and can't publish anything, they can just pay for promotions and see the stats – so there's really no harm doing this.
Or so I thought…
'Teads' asked me to grant them access to my Facebook account but it's all a bit complicated so they sent me step-by-step instructions on how to do it. Again, this isn't unusual. Except it was because the instructions gave them full access to my account. I quickly realised I'd given them too much access so went in to change it and….yep….you guessed it….they'd already logged into the account and kicked me out.
How this all happened so quickly I don't even know!
They removed me as an admin from my own Facebook page and I had no way of getting into the account. To make it even worse, my personal Facebook page was also blocked for suspicious activity.
I got on to Facebook straight away and began an online chat with their help team who initially seemed amazing. They responded immediately, were lovely and understanding and promised me they were on the case and would get it sorted ASAP.
And, yep, five months later they're still lovely and prompt and promise they're working on it….but obviously aren't and I've realised there's actually just someone really nice and friendly who replies to messages to stop you constantly harassing them to help.
So yea, that's how my Facebook page got hacked. I lost my page and I definitely didn't get £700 a day! It seemed too good to be true and it absolutely 100% was!
I was angry at whatever scammer did this to me. I'm assuming they changed the name of the page and then just spammed it full of ads until the engagement on the page was so low it was worthless.
But I was also angry at myself for letting it happen. At the end of the day, I was the one who granted them access to the account.
It made me want to just run away to the woods and live in a world without the internet or online scammers and horrible people doing horrible things online.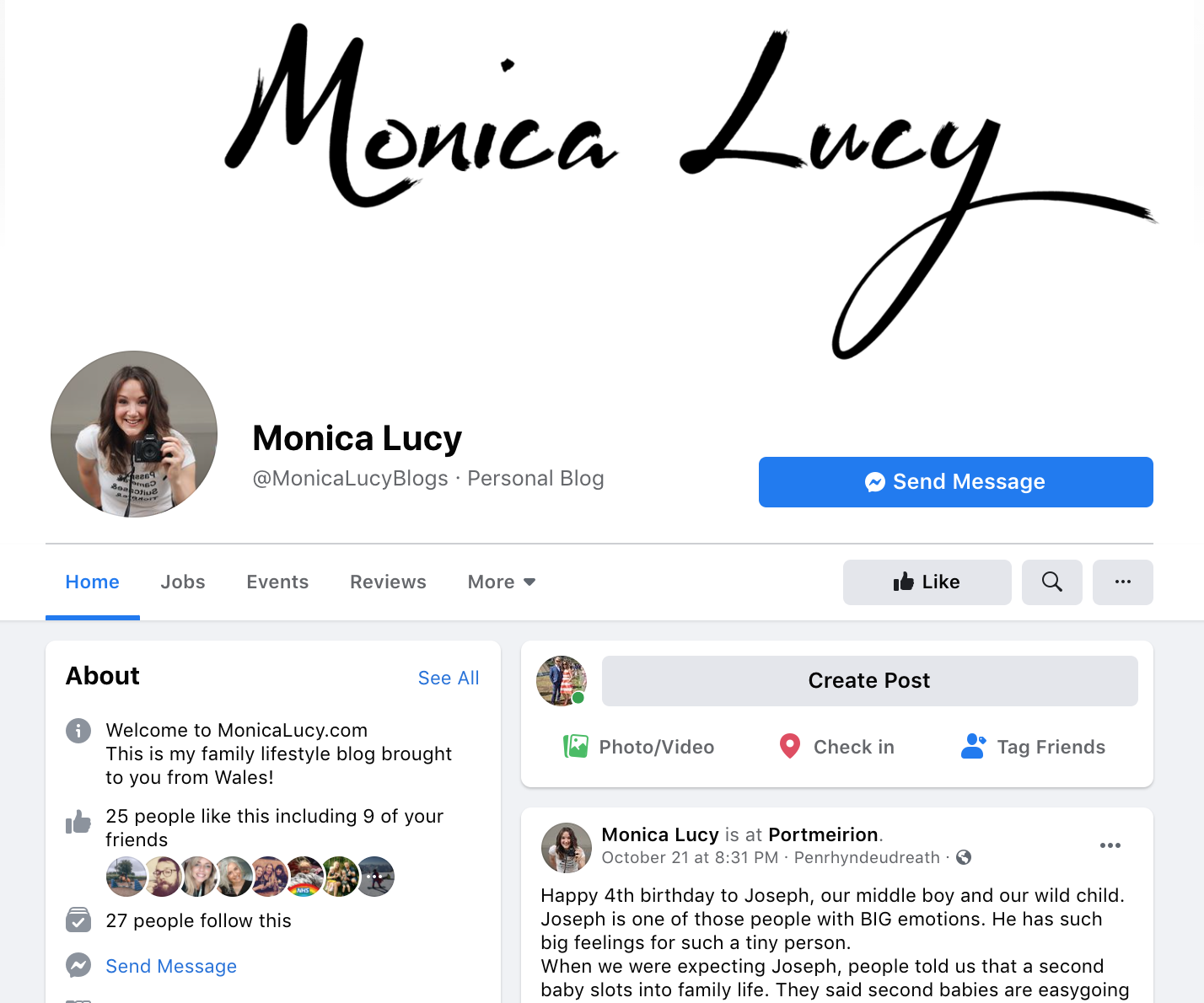 But there's no point regretting the things we can't change so it's onwards and upwards and I'm pleased to announce I have a brand new Facebook page for my brand new brand….
It's over here at MonicaLucyBlogs
I share a lot on Instagram but I know many of you don't use Instagram so please do come over to Facebook to say hello!