I spent the weekend in beautiful Brighton at Traverse conference for travel bloggers. It was the first conference by Michael Ball who organizes Travel Massive in London and Paul Dow from TravMonkey. They started Traverse for travel bloggers who don't have the time or money to travel to other conferences such as TBEX or TBU which are often a long way from the UK and require a few days off work. And we all know how precious our holidays are so it's a brilliant conference for travel bloggers like me who also have a full-time job.
This isn't a full review of the conference, it's just my highlights and some of the best tips I came away with. If you're looking for a more in-depth review, check out Si Willmore's roundup on 101 Holidays Traverse 13: Review and Highlights
Top Tips from Traverse 2013
There were loads of great talks at Traverse but the ones I managed to go to were:
Creative Travel Photography with Tom Robinson
Writing with Steve Keenan
Travel Video Editing with Greg Brand
So here are some of the useful nuggets of advice that I picked up:
Photography
When creating a photo essay, make sure you have landscape shots, portraits and detail shots. Details can be close ups on things like food, a person's hands or a doorway. If you have all three types of photos you can give your readers a better feel for the place you're photographing.
Be creative and unique with your photos. Tom had a great series of photos capturing the facial expressions of his family and friends the moment he told them he and his girlfriend were expecting a baby. It's a brilliant series and such a fantastic idea.
When taking portrait shots, make sure you have your camera set up before even asking to take a person's picture. You don't want to mess around with camera settings and leave them hanging. Ask them in a friendly and non-threatening manner and then take as many pictures as quickly as you can. After the second or third frame, a person's facial expression will become unnatural so make sure the first couple of pictures are perfect.
Take portrait shots near windows and you're bound to get a good pic.
Tom uses natural light whenever possible but doesn't recommend taking pictures in the middle of the day when the light is so harsh.
Get to know your camera by taking photos of your family and friends
To learn how to use your camera and the different settings you have, just watch a YouTube video.
Tom doesn't change the white balance of his photos on his camera, he does it afterwards in Adobe Lightroom. I like this tip because I hate having to change all the settings on my camera and end up missing the moment by the time I've got them all right.
If you're being paid to take photos, always have a backup camera and backup your photos twice. If you loose your pictures, you'll never be paid to take pictures again.
When buying a DSLR camera you really need to spend your money on the lenses.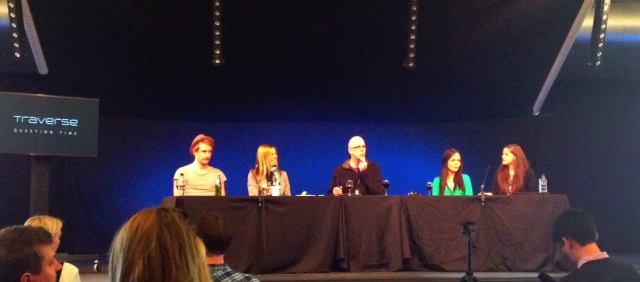 Writing
Steve's talk was really inspiring and he asked editors from The Guardian, The Times, Wanderlust, France Magazine, The Independent and The Telegraph to share their tips for anyone pitching an article idea.
Travel bloggers are in an amazing position at the moment. We're in a multimedia age and multimedia is what we do best.
Steve said something really interesting that has got me thinking about my future as a blogger. He said that it's unlikely you'll always be a travel blogger because your situation will undoubtedly change. He used the examples of Gary Arndt, who has recently taken a job with Newsweek magazine (read about it here) (Update: I'm officially the most gullible person in the world – read the comments below!), and Nomadic Matt who has stopped travelling full time and has now written a book. But no matter what you do, good writing will always be important.
Steve recommends writing in the third person and not just the first person. Most bloggers write in the first person and while many readers are interested in your personal journey, most are interested in the story rather than the fact that you're in it. Sophie Collard added that while she was interning as a teenager, she was given the harsh but true advice that 'no one actually gives a shit about you'.
Only write in the first person if you've got a specific niche, you're a celebrity, it's a personal journey or it's a rant.
Don't blabber. With online media we don't have tight word counts which often leads us to blabber. Don't waste a word with unnecessary rambling.
When pitching articles to magazines or newspapers keep your pitch to under 50 words. Keep it relevant, have an angle and help the editor out by filling a particular need and slot.
More and more editors are looking for multimedia to go alongside their articles so offer photos and videos with your written article.
Like Tom suggested in his photography talk, Andy Pietrasik from The Guardian said to vary the focus in your writing. Rather like storyboarding, you need a wide angle (descriptions of landscapes, social/cultural history) for context and close ups (characterisations and conversations) for colour and detail.
Travel Video Editing
I'll keep this short because a lot of what Greg taught us was a little over my head (ok, WAY over my head) but he did highlight the importance of interviewing people in videos.
When Greg makes a video he includes an interview with a couple of people and will ask them all the same questions. This way he can cut up their answers and put them together almost like a conversation that flows together.
He'll use the interviews to tell the audience something and follow it by video clips to show them.
Other Tips
I didn't make it to Frankie's talk about being a freelancer but she has all of her slides and some notes online. This is super useful for anyone considering a career as a freelancer and she also has some great productivity tips.
If you went to Traverse and have any other great tips that you learnt at the conference, please share them in the comments below!