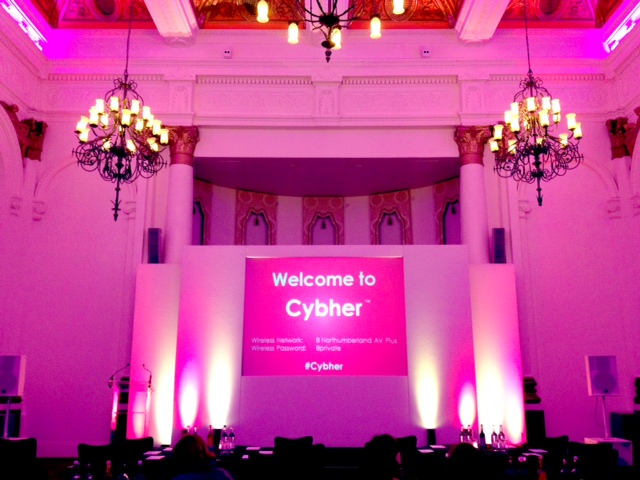 On Saturday I attended my first blogging conference that wasn't directly related to travel blogging. I've been to my fair share of travel blogging conferences and even worked for TBU but I've been eager to start networking with non-travel bloggers for a while now.
Cybher is a blogging event in London and, as the name suggests, it is purely for women. With the majority of bloggers being female and 1 in 3 bloggers being 'Mommy Bloggers' it's hardly surprising that there is a demand for female blogging conferences. Still, it felt a bit strange to walk into a room that looked like this: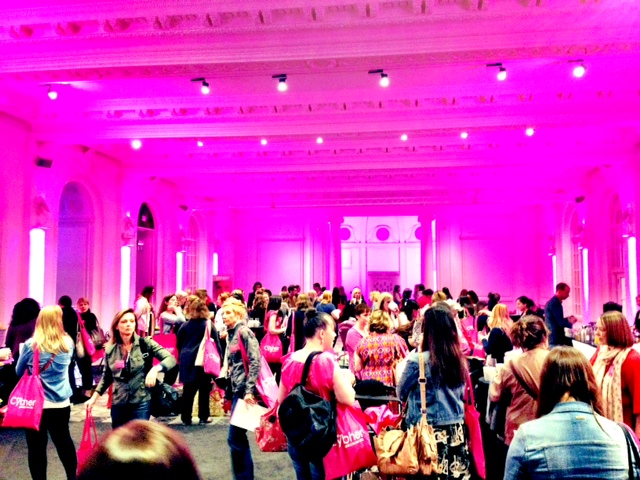 Wow, that's a lot of pink. And what's more, there were babies there! Yep, real life babies. While travel bloggers take their cameras and laptops to conferences, mommy bloggers take their babies! I know, I know. I really shouldn't be that surprised but as a 25 year old living in London I don't see babies, ever.
The travel blogging community is growing rapidly but it's still a fairly small group of people so I wanted to see what other groups of bloggers are up. I wanted to see how they compare to travel bloggers and also find out what we can learn from each other. Mummy bloggers, style bloggers, craft bloggers and foodie bloggers seem to be a step ahead of us travellers and the brands that work with them are much more up-to-date with blogging trends.
This was the second year that Cybher has been held and as we congregated at the fancy 8 Northumberland Avenue I heard nothing but rave reviews about the previous year. After numerous cups of tea and chocolate chip cookies we were welcomed by the event organiser, Sian, followed by the keynote speech from Zoe Margolis.
Zoe is the blogger behind Girl with a One Track Mind, possibly the most famous sex blog in the world. She blogged anonymously for years about her raunchy sexcapades but was outed by the press and her life was turned upside down. She told us the story of being outed and her raw anger at certain journalists is still evident . Fortunately, she's used the experience and the publicity it gained her to launch a new career. She not only has two books published but also promotes feminism and campaigns for improved sex education for under 25s. She's a very inspiring lady and proves just how far a blog can take you.
Living the Lifestyle Dream
The first talk I went to was Living the Lifestyle Dream by vintage, craft and creative bloggers. Building a 'lifestyle career' is a term that I've recently come across and it's something that's been intriguing me. A lifestyle career is a career that fits around your life, rather than your life fitting around your career. That sounds pretty nice doesn't it? It's something bloggers are managing to do all around the world by using their blog as a platform to launch businesses.
I particularly enjoyed listening to Caroline Taylor who honestly seems to be doing everything. She's launched an online magazine, 91 Magazine, and this is the kind of mag you can get lost in for hours. This lady is proving that with motivation, drive and ambition, you really can do whatever you want.
Someone Once Photographed Me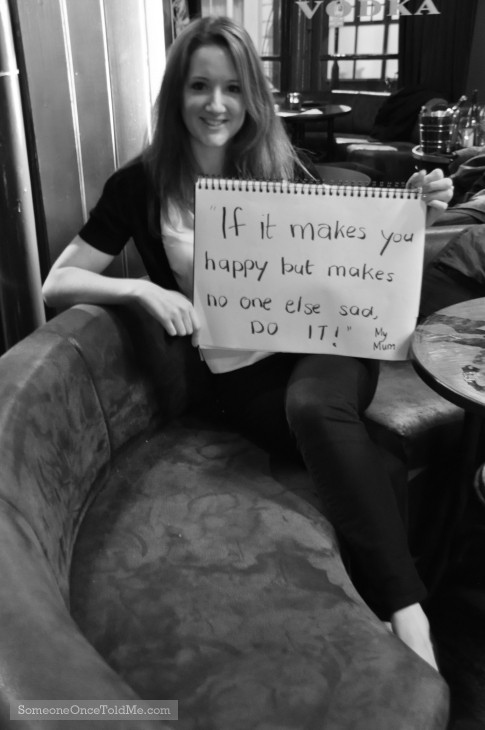 I was disappointed that a talk on freelancing was cancelled buy enjoyed listening Mario Cacciottolo give some great advice on taking portrait photographs. Mario is the charming man behind Someone Once Told Me where he asks people for a quote that someone once told them and then photographs them with it written down. As you can see, this is the portrait it took of me almost a year ago.
His top tips included using natural light whenever possible (he's actually a little obsessed about light) but aside from technical tips, his best tips were about how to make your subject feel comfortable.
Give them something to hold and something to do so they don't feel so uncomfortable. In Mario's case, he charms everyone with compliments and a huge, friendly smile and this seems to do the trick.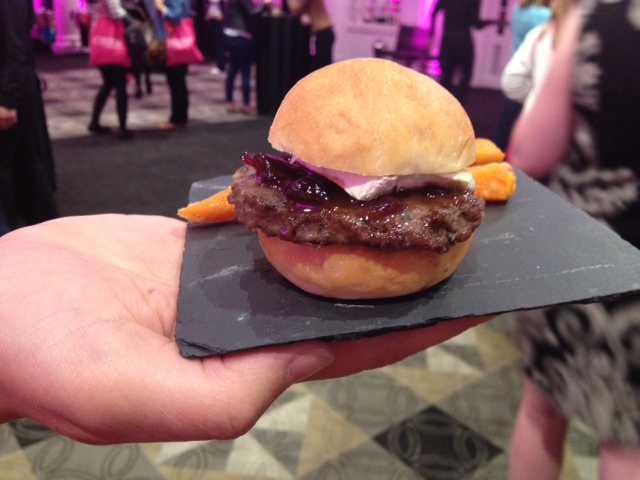 Lunch was an absolute feast of incredible mini meals. This was perfect for anyone like me who gets serious food envy. I managed to gobble down a mini burger with sweet potato fries, fish and chips with mushy peas, beetroot and carrot salad with goats cheese and feta cheese, samosas and spring rolls and I even had space for a minty chocolate mouse.  Perfect fuel for the next half of the conference.
Ask a Blogger
I attended 'Ask a Blogger' after lunch with Kate McCully (aka Adventurous Kate) and also a kid's fashion blogger, a beauty blogger and 12 year old Tolly Dolly Posh via Skype. It was incredible to see a 12 year old doing so well in blogging and great to see that she has her head screwed on and is super knowledgeable as well as being super stylish.
A great tip from the talk came from Kate who gave an insight into SEO and suggested using synonyms of a key phrase to optimize a post for Google. Don't use the same key phrase over and over again as Google will penalize you for it.
The Art of Plus Size
No, this talk wasn't about plus size fashion blogging like I initially thought, it was about getting to grips with G+. Yes, that social network that so many of us have been ignoring for the past 2 years, hoping it would silently slip away and we wouldn't have to worry about learning to use it. No such luck because Google+ is here to stay. It's now bigger than Twitter and if you want to be ranked by Google, you're going to need to be on it.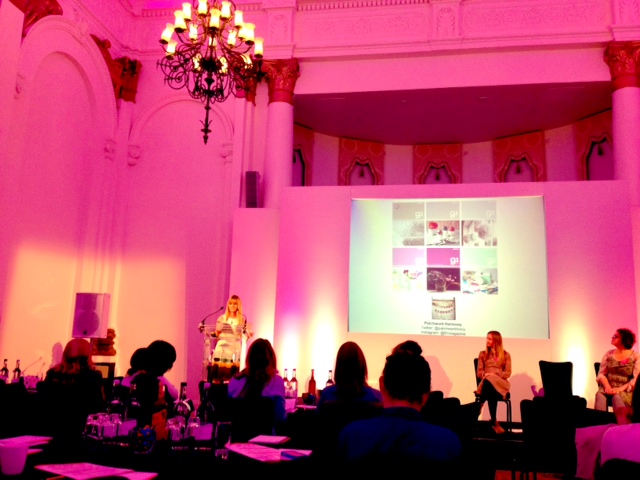 Key Takeaways
Embrace change in social media and don't just stick to the familiar platforms like Twitter and Facebook

A link share on G+ is worth as much as a linkback, so get linking people!

Post 3-4 times a day to start gaining followers

Don't forget to 'share' on G+. Sharing is caring after all.
Maggie challenged us all to start using G+ more and I must admit that I'm starting to like it. It's much easier to find interesting articles to read and there doesn't seem to be as much noisy crap as there is on Facebook and Twitter. 
How to Make your Blog Pay
Oh yes, the interesting one that we're all wanting to know about. Doug Richard isn't a blogger so it was really interesting to hear his thoughts from an outsiders perspective. He basically said that if you want to make money from your blog, you need to write about things that people want to buy. You also need to build a community rather than an audience. A community is sustainable and can survive without you therefore it is more valuable to advertisers.
Doug suggested carrying out some short surveys to find out who your audience are and what they actually want. You need to be writing what people want to read and you can make more money with a narrow focus.
The main thing I took away from Cybher was how incredible blogging communities are. It doesn't matter what you blog about, the communities are welcoming, inspiring, creative and a hell of a lot of fun.