Tell me what you miss most to win you dream hamper from home!
Have you ever noticed that while you're travelling and you bump into someone from your home country, the conversation always turns to food you both miss?
Us Brits reminisce about Sunday roasts, proper tea, Cadbury's chocolate and homemade cakes. After six months in Asia I had the strongest craving for Heinz baked beans. I didn't even realise I liked baked beans that much!
Don't get me wrong, I know we all love travelling and there is nothing better than trying local delicacies or traditional dishes, but sometimes you just miss the tastes from home.
There are other things I miss while I'm travelling. Things like thick duvets, fluffy towels and hot baths. Sometimes I just want to be cold and to wrap myself up in a cozy hoody.
I was always insanely jealous when people I travelled with received care packages filled with all their favourite treats from home so I'm really happy to bring you my next competition…
Win your dream care package
I've teamed up with the guys at Parcels2Go to deliver one lucky winner their dream care package.
If you're travelling then I'm sure you'll want it to be filled with your favourite treats from home. And if you're not on the road, you can still have a care package filled with all your favourite goodies! Wherever you are in the world, tell me what you'd like in your package and the lovelies at Parcels2Go will send it to you.
How do I enter?
Just tell me a few things you miss from home while you travel in the comments below. A winner will be selected at random.
Here's what I'd have in my care package: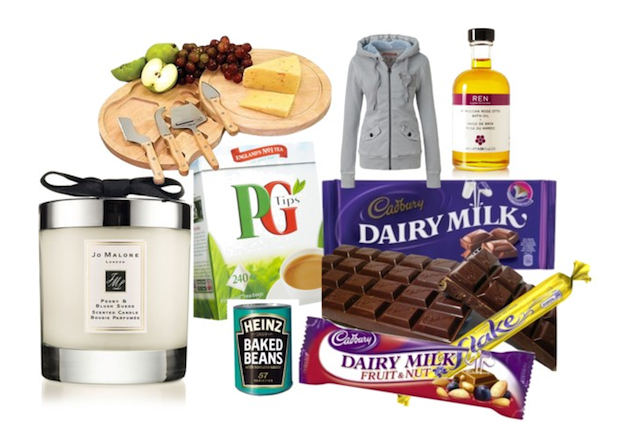 Cheese. Loads of cheese!
A Jo Malone candle so it smells like home
PG Tips for a nice English cuppa
Heinz Baked Beans
A cozy hoody
Luxury bath oil
Cadbury's Dairy Milk
T&Cs
[arrow_list]
You hamper can be worth up to £50
I'll contact the winner via email and ask exactly what you'd like in your hamper so make sure you leave your email address
The competition closes on March 16th at middnight. 
[/arrow_list]