This competition is now closed and the very lucky winner is Nelda from Nelda's Journey. Congratulations and I can't wait to see your Autographer photos!
It's time for another Travel Hack giveaway and this month it's the Autographer camera.
First of all, let me tell you a little about this little camera.
Autographer is a fully automated device that you wear (usually around you neck) and it captures photographs throughout your day. It automatically detects motion or changes in lighting so it takes a new picture at exactly the right moment. The battery easily lasts all day so you could wear it from morning until night and can capture everything. It doesn't work so well in low-light conditions so there'll be no capturing your after dark activities.
This was kind of a relief for me – there is nothing worse than people putting videos on Facebook as their mates drunkenly strut their stuff on the dance floor!
The camera is pretty small and you will soon forget that you're wearing it so you end up capturing the things that are usually forgotten with a traditional camera. I've had a lot fun looking back through my images and seeing things I missed or remembering moments from the day that would ordinarily be forgotten.
You'll take hundreds of unusable photos but the camera comes with really good software. You can simply select which photos you'd like to use and make them into a giff or a video with just one click.
You might end up taking thousands of photos during the day so you could either select the best or use all the images for one video. I recommend selecting the best because you do end up with lots of chins, arms, coats, backs of heads or generally out of focus pictures. The images are automatically plotted onto a map so you can see where you've been or remember the name of that amazing building.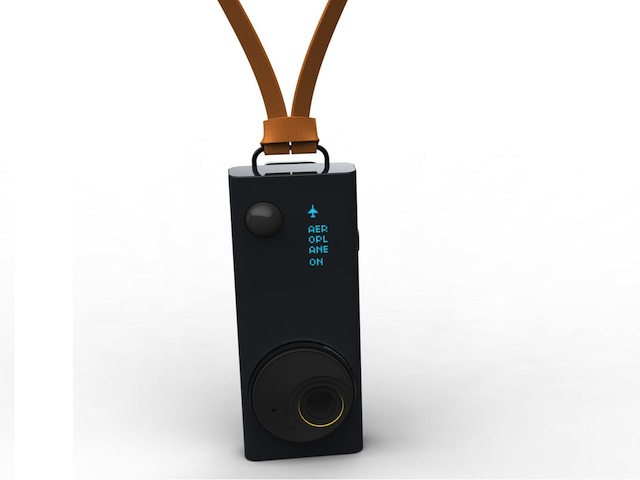 One of my favourite things when I'm travelling is just getting lost and wandering around. When I return I want to tell people about all the amazing things I've seen but, more often than not, I actually had no idea where the hell I was so the geotagging is a really handy feature.
A few tips
It took me a while to get the hang of using the Autographer. Photos from my first attempt are obscured by my hair or an arm or it got tucked inside my jacket. It'll take a few goes before you get it right. Wear a top that won't flap in front of it and ladies with long hair should pull it back. There is a manual button you can press and the camera will take a photo when you press it. If you see something you really want a photo of, your Autographer will probably capture it anyway but this is your backup option, just in case.
Most people won't notice you're wearing the camera but some will look at it a little intrigued. When this happened I told people I was taking pictures to make sure they were OK with that.
The camera is awesome for when you're somewhere you're not meant to take photos. I'm not even sure if I should be saying this but you know what I mean. Places like churches, train stations or museums. No one will notice!
See my videos
If you didn't know already, I'm in New York this week! And what better opportunity to put my new camera to good use. I'll be capturing all the festive, wintery action with giffs and videos and I'll be sharing them on Instagram, Twitter and Facebook.
Winner, winner
And now the part you've been waiting for! How do you win one of these bad boys?
All you need to do is follow the instructions into the Rafflecopter box below.
a Rafflecopter giveaway
You'll need to log in either through Facebook or with your email address to enter. For more entries you can follow @Autographer on Twitter and follow @TheTravelHack on Twitter. Then if you want even more chances to enter you can follow Autographer on Facebook and The Travel Hack on Facebook. And finally, you can tweet about the giveaway for another entry! If you have any questions, just let me know in the comments below. The competition is open from December 9th 2013 – December 23rd 2013. I'll be contacting the winner straight away to make sure you know in time for Christmas.