This competition is now closed. The winner is Jess, the expat blogger behind The Flyaway American!
When anyone asks me for my top piece of travel advice I always say, 'travel light'.
It's a lesson that most people end up learning the hard way (myself included!) as they lug heavy bags around busy cities and wonder why the hell they packed so much.
I'm a serial over-packer – whether it's my handbag, my gym bag or my suitcase – I always mange to squeeze in a few extra 'just in case items' that I never use or wear. Now I've finally discovered the best way to pack light and it's pretty simple – take a smaller bag!
Travelling light makes the whole travelling process so much easier. You can't take so many clothes so there were fewer decisions to be made over outfit choices. It's easier to negotiate public transport to get to and from the airport.  Your luggage is light so you can easily get up and down stairs with it. When flying, you don't need to check-in so early because you won't be checking in a suitcase. There's no waiting around for bags on the carousel or the worry of bags being lost. You can be first out of the airport so you're first on the bus or train before the crowds and queues begin.
And let's not forget that if you're travelling with a budget airline, you save money because you don't need to pay for your case.
I was really pleased when Samsonite asked me if I'd like to try out one of their cases from the new [email protected] range. These cases come in a range of sizes but they all fold down to a tiny size for when they're not being used. I opted for the bright red carry-on size and here's what I thought…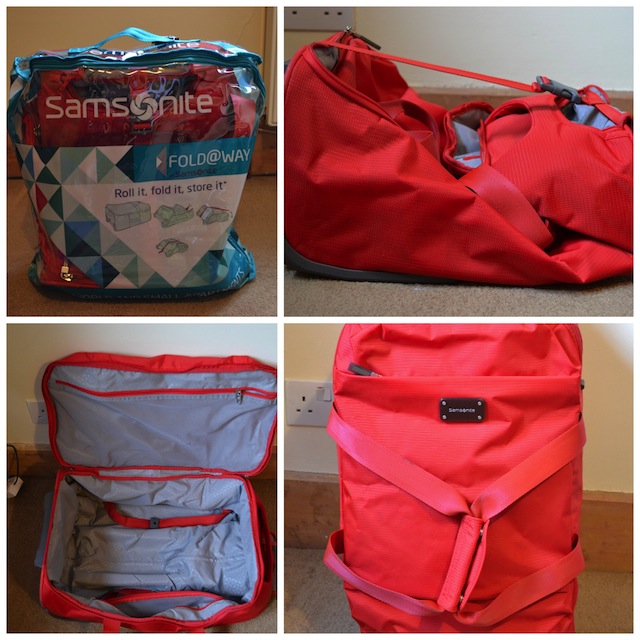 For my last couple of trips I've been travelling with this Samsonite [email protected] Case which ticks all the boxes for the perfect carry-on case.
Pros
Lightweight
Spacious
Sturdy (It's actually surprisingly sturdy considering how light it is)
Strong pully handle that goes up and down easily
2 wheels (4 wheels sound like a good idea but they actually end up rolling away from you on buses and trains)
Has separate compartments for toiletries, documents and main clothing section
 Outer compartment big enough for a small laptop
Zips that padlock together for the inner compartment
Distinctive colour that stands out in a crowd
Foldable – Finally, the best thing about this bag is that it folds down to be flat so you can slide it under your bed, in your wardrobe or behind any furniture. Anyone who has limited space in their home will understand how annoying suitcases can be! Despite being foldable, it's still a really sturdy little case. It comes with a plastic cover to keep it clean and dust-free and it easily slips back into the bag (unlike some things that you can never get back in!)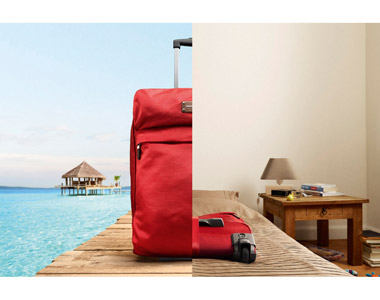 Cons?
I found that the sides can be a little bendy – which they obviously need to be to fold in half – but it does mean that it's very flexible so if you over-pack you won't be able to zip it up when you try squish it back into the right shape.
Samsonite Suitcase Giveaway
And now for the fun part! I'm giving away one of these Samsonite Foldaway Suitcases in either black or red. If you'd like to get your hands on one just enter below using the Rafflecopter gadget.
You'll receive extra entries for following me on Facebook and Twitter and tweeting about the competition too!
Disclaimer: I get sent lots of products to review but I only write about the ones I really love and would recommend. This is, of course, one of those products and I've travelled with it five times now.
This competition closes on January 26th and the winner will be contacted by January 28th.

T&Cs
I'll be contacting the winner via email
I will not pass email addresses onto any third party
Once the winner has been contacted you will have 14 days to reply with a postal address for the suitcase to be sent to.
If I don't hear from you in 14 days I will select a new winner
Winners will be selected at random using Rafflecopter
This competition is only open to UK residents