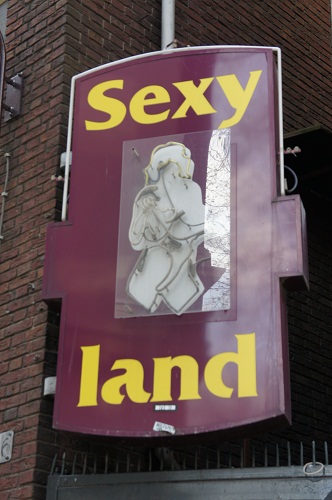 While we all know that Amsterdam is a beautiful city filled with historic buildings and an abundance of culture, the majority of tourists that flock there go for the sex, drugs and infamous Red Light District.
Prostitution
I always knew that the Dutch were a liberal, easy going nation but I was surprised to see just how laid back they are towards prostitution. I found it quite upsetting to see women standing in their windows in their underwear, trying to catch the eye of any man walking past and beckoning them into their room.
Maybe it was just me (or that fact that it was only 10am) but most of the women looked sad and lonely as they stared out of the window like a porcelain doll.
We had a tour guide who led us past the windows as though we were walking through a market. It felt so strange that there were so many other tourists doing the same, like we were all window shopping for something we would never buy.
The guide sensed my sad disapproval and said: "Many people feel sorry for the poor girls but you shouldn't. These are clever business women and they make a lot of money."
He constantly called them 'the girls' which made me laugh because he said they range from the age of 16 to 70. Yes 70. Urgh, cue horrified shudder. He seemed to be quite impressed by the 70 year old prostitute but I wasn't quite so enthusiastic.
While I'm sure that some of the women have chosen to be there thanks to the prospects the money can provide, I can't help but wonder if it's because this is their only option to earn that amount of money? I'm no prude but I just can't imagine anyone choosing to make a living that way.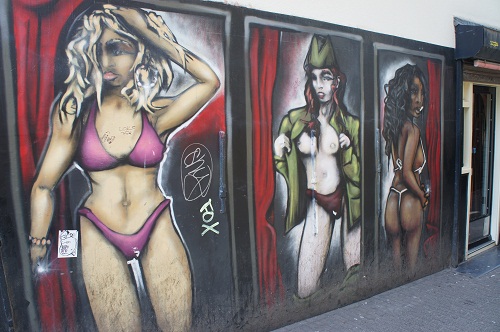 So how much to prostitutes in Amsterdam earn?
The girls rent the rooms for one shift (usually 8-10 hours) for between €60-€180, depending on the location of the window. They then charge €50 for their, ahem, services. A recent survey by students who live in the area found that the average client would be in the room for 7 minutes, meaning the girls average €50 for 7 minutes work. I'm no mathematician but even I can see that's not a bad wage.
Facts about prostitution in Amsterdam
Prostitution was first legalised in 1417 and was so popular because of all the sailors passing through. One of the first rules written on paper was that prostitutes could not perform their services in grave yards.
Prostitution is monitored to help protect the women and put a stop to pimps (who take all the money) and sex trafficking.
There are currently 290 windows in Amsterdam where the girls work. There are plans to reduce this back down to 200 to make it easier to monitor and keep it within the Red Light District.
The police are actively involved in protecting the ladies who all have panic buttons. The buttons are most commonly pressed when men refuse to pay which apparently happens most when men have had a few too many bevvies and don't manage to get their money's worth…if you know what I mean…
The women start working early but finish at 4am because it's more effort than it's worth at this time of night. See the point above.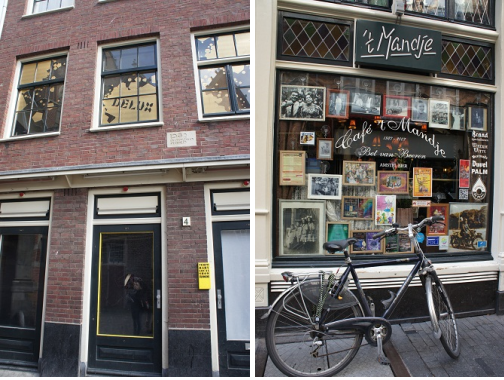 According to our guide, this brothel was recently closed down because the owners were found to be involved with money laundering and sex trafficking. The brothel was also next door to a kid's nursery! When it was closed down it was given to students as a space to display their art.
Prostitute Information Centre
The Prostitute Information Centre, or the PIC for short, was opened in 1994 to give more information about prostitution in Amsterdam and help protect and defend female sex workers. This is a place where women tell their stories and gives people the opportunity to stand in the window and see what it's like. The PIC was closed when I was there but I really wish I'd had the chance to go in.
Drugs

It seems like no one really knows what the laws are on soft drugs like cannabis and mushrooms in Amsterdam. Our guide told us that mushrooms were banned but were still sold everywhere under the disguise name of 'truffles'. Genius.
It is legal for coffee shops to sell small amounts of cannabis but it isn't legal for someone to supply the shops with it in the first place. So criminals still supply them but it was legalised as a way to stop street dealers as they will rip people off and sell to under 18's. The coffee shops are closely controlled and they are shut down immediately if anything suspicious occurs.
Cannabis is a billion dollar business in Amsterdam and according to our guide, "everyone is growing it. Technically you can only grow three plants but realistically you can grow as much as you like until your neighbour makes a complaint."
The ban on tobacco was lifted in 2008 because it meant a lot of people were smoking pure cannabis which didn't end too well for the tourists…
If you want to see more from my time in Amsterdam, check out my Photo Essay: A Day in Amsterdam and my experience of Catching the Ferry to Holland.
So what do you think about drugs and prostitution in Amsterdam?
Do you think that it's going to happen anyway so it's best for the police to monitor it or do you think the legalisation encourages more people to get involved with things that are illegal elsewhere?