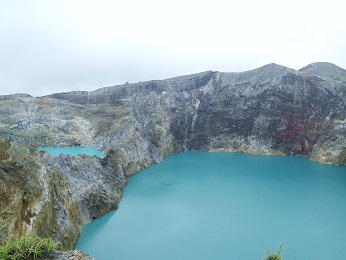 Moni is one of the more remote places we visited. We hadn't even heard of the place until we bumped into an adventurous backpacker in Lombok. It is a tiny little village in Flores, Indonesia, and is surrounded by rice paddies and very little else. The power comes and goes as it pleases but there is such a relaxed vibe to the village that you can't help but love it. Our main reason for travelling to Moni was to climb Kelimutu Volcano where there are three lakes inside the craters. The lakes are so famous and impressive because they are all different colours and due to the minerals that escape from the volcano, they lakes gradually change colour every few years.
We'd read a few bad things about Moni on the internet about people getting robbed. We were advised to stay away from 'Maria's Guesthouse' as this is where a lot of the robberies occur. It is supposedly Maria's son who robbed everyone so we decided to stay away from this place and opted for 'Arwanti Homestay'.
Rose, Arwanti's owner, met us off the bus with a warm, kind smile and I instantly liked her. By Indonesian standards, Rose is a big woman but in a Cuddly Mama kind of way and she always seemed to have a small child cuddled up in her bosom.
 There are three really nice bungalows and ours even had a living room and a door at the back that opened out onto the rice paddies and a little stream. We had a big veranda too that was next to a little pond where chickens and their chicks clucked around.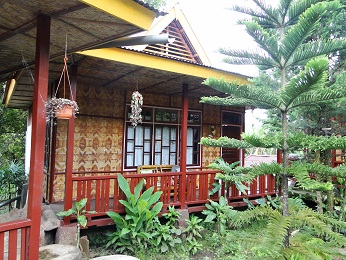 We went for a little walk when we arrived, the mandatory arrival walk to check out the area. The village is literally one road that winds through the rice paddies for about a mile. The road is lined with a few little houses, huts, little shops, a school, a scooter mechanic and a couple of restaurants and guesthouses.
With the help of a few locals, we came across a huge waterfall. It was cascading with terrifying force and I was scared to get anywhere near it.
As we walked back we bumped into the infamous thief, Maria's Stealing Son! I almost felt like we'd met some kind of horrible celebrity like the bad guy in a film. His English was perfect and I imagine he'd be quite a good salesman if he had anything worth selling. He wore a leather jacket and a slimy grin and chattered and chattered about how we must try some food from his restaurant that is all tradition local village food, i.e. the food we'd been eating EVERYWHERE in Indonesia. Then he mentioned his mum's guesthouse and we knew who he was and we gave up being polite and made a quick escape.
We ate lunch at Chani which was perched on a hill and had a lovely view across the fields and was a perfect place to people watch as the locals wandered along the road below. When we entered the restaurant, a little boy, about 3 years old, greeted us and motioned for us to sit at a table that was about 2 inches above his head. He pulled out a chair for me and tottered off to get some menus. His older brother, about 7 years old, served our drinks while looking very pleased with himself and they kept us entertained while their mum cooked us a delicious lunch.
More sights from around Moni: