The Mekong Delta: Travelling by boat and visiting villages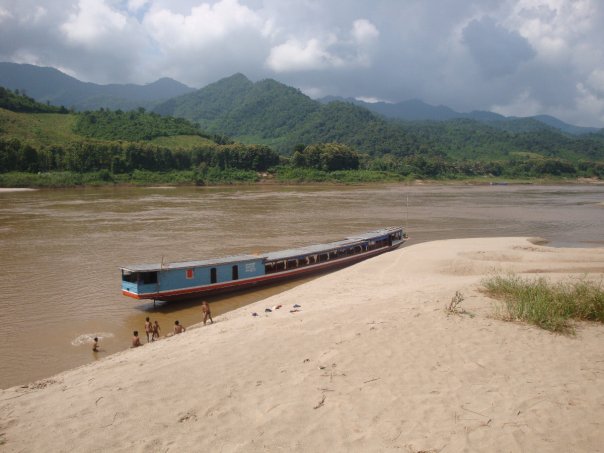 Whilst in Laos, we spent two days travelling up the Mekong Delta from Luang Prabang to Chiang Khong and we stopped at 2 villages along the way.
We boarded a long, thin boat, similar to a long canal boat. Half the boat was sectioned off and was where the family who owned the boat lived. They made a living by ferrying goods up and down the river and recently by taking along tourists. The children of these families were really nice but had a hard and boring life and rarely had any education.
Our half of the boat was really spacious and had seats that looked like they'd been ripped out of an aeroplane and seemed a little out of place in the thin, wooden cabin. There was also a big table and a little but well stocked bar at the back.
The boat travelled slowly so it was really relaxing as we chugged through the countryside. Everyone was napping or reading or playing cards and it was nice to finally chill out.
We stopped off in the afternoon to visit a tiny village with nothing around it for miles and miles so they were totally self-sufficient. Dara, our tour guide, was a bit funny about going to this village because apparently it's common for these rural villages to make money from tourists who flock to them until they become commercialised tourist traps and no one remembers why they went there in the first place.
I knew that Dara was right and we shouldn't really have been there, but the kids were all so friendly and welcoming and it was such a different way of life that I couldn't wait to have a look around.
They live in wooden huts with the whole family in one large room and there were sandy tracks that led through the 20 or so huts that made up the village. There were children and pigs and cats and dogs and ducks running around and water buffalo lazing in the deep puddles and streams.
It was kind of strange because there were children everywhere but there weren't any adults to be seen. I don't know if they were all working in the fields, avoiding tourists, or simply because it was too hot to be outside.
There were a couple of little girls grinding rice in the middle of the village and some were washing at a water pump. and finally saw some old women plucking chickens in the shade.
We had a walk around but it felt a bit weird walking around their homes and generally intruding. We walked up to the school which had two small classrooms and were the only buildings made from brick.
We saw a little albino girl sat in the doorway of her house. Dara told us that she is an outcast in the village because they don't understand what an albino is. They think that her mother had slept with a tourist and they didn't understand why she was so pale. I felt really sorry for her as she sat in the shade while the other kids played in the sun.
We saw other little girls, who must have been about 5, washing clothes and grinding things in massive wooden containers with huge lengths of wood. While the girls were working hard, I noticed that the boys were having the time of their lives while they played by the sandy riverbank. They were back-flipping into the water or diving in and splashing around and all cheered and waved us off as we pulled away in our boat.
That night we stopped off at another village. This one was much more developed and had electricity in the evening, running water, a hotel and a few restaurants and basic shops. The place was really quiet but we found somewhere we cold beer, a decent curry and even free whiskey! A lot of places in Laos had a free bottle of whiskey in the middle of the table, like they sometimes do at home with water.
At 10pm that night, the electricity was turned off in the whole village. We tried to get to bed early so we could fall asleep before the fans cut out and it would be impossible to sleep in the heat. Unfortunately, whilst bartering for an overpriced packet of Oreos, we missed the curfew and were left sweltering and wide awake in our dark bedroom. I realised that napping all day wasn't a good idea.