Sunrise Sunday: Angkor Wat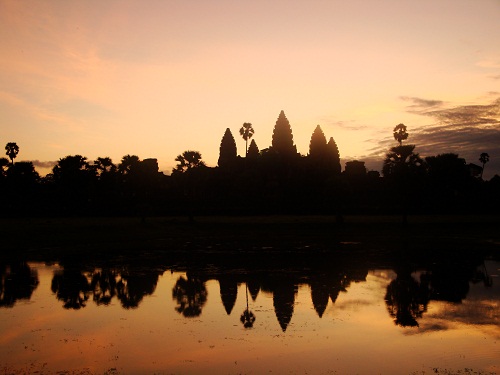 Happy new year!
For the first post of 2012 I thought it would be fitting to have a 'Sunrise Sunday' rather than a sunset. The new year is all about fresh starts and new beginnings and what better way to start the new year and every new day than with a gorgeous sunrise.
I took this photo over 2 years ago at Angkor Wat. I'm not a morning person at all so I rarely manage to capture a sunrise picture but getting up at 5am was well worth it to see a view like this. At first I was a little disappointed when I arrived at Angkor Wat with hundreds of other tourists. I thought the crowds would ruin the magical moment but in fact they intensified it and this was one of my favourite memories from my travels.
One of the reasons this sunrise was so special was because of the way the colours changed so quickly. It began as a golden orb in the distance and slowly changed from orange to pink to purple. Check out the original post to see the photos.