Testing the Panasonic HX-A100 wearable camera: Is this the perfect camera for travel videos?
If you read my post on Monday with some great tips from top travel vloggers, you will have seen that Booker Travels recommended using different cameras to add layers to your footage. You can get different angles, different perspectives and create an interesting video with unique shots.
Wearable cameras are becoming more and more popular as a way to record our adventures without ruining the moment and a great addition to your camera kit to get those interesting shots.
We've all seen the tourists who spend their time videoing people having fun whilst missing out on all fun themselves. These little cameras don't produce the same quality as larger cameras but you can't capture candid moments when you have a huge camera glued to your face. They also mean you can have fun yourself and not miss a moment.
I already have an Autographer camera and a GoPro Hero 3 so it's time to test my third wearable camera, the Panasonic HX-A100.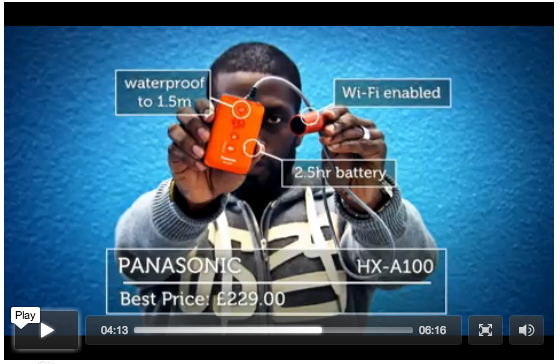 There was a great section on The Gadget Show about wearable cameras and they reviewed the Panasonic HX-A100 among a couple of others. Check out the video here and the Panasonic bit it as 04:08.
Setup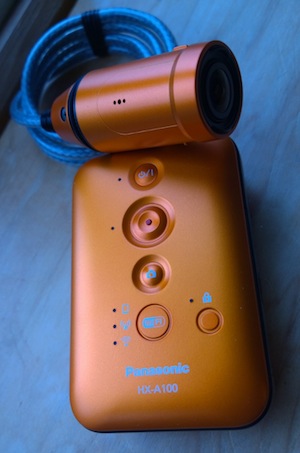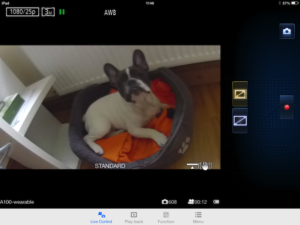 Setup for the Panasonic HX-A100 is amazingly easy (once I read the simple instructions), especially when you compare it to the GoPro which I struggled with for hours.
You download the app which is available on iOS and Android, connect the camera via Wifi, set your own password and you're good to go.
There are only five buttons on the camera so it's really easy to use. You have the on/off, record, single image, wifi and lock so even technophobes will be able to use it.
It has a micro SD card and integrated battery so you plug the entire camera in to charge.
Wearing the camera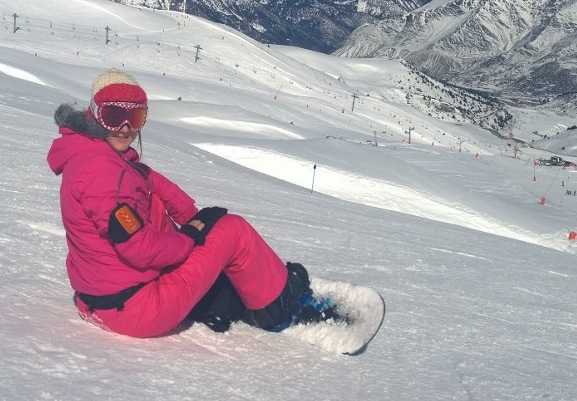 Now this is where the camera differs from its competitors because the main body of the camera is separate to the lens and they're connected via a cable.
The camera comes with an armband and the main body is intended to be strapped to your arm. It also comes with a headband so the camera lens can be worn at eye level just above your ear. You look a little bit like the terminator but it's less intrusive than wearing a GoPro on your head.
I found that the headband was perfectly comfortable when I wore it with a hat but I have a small head and it slipped off my ears without a hat.
There are other different mounts available like a suction mount or for tripods and bikes. Personally, I like the eye-level POV so I'm happy to use the headband and wear a beany or a head scarf to keep it in place.
I also prefer to wear the camera in my back pocket and thread the cable beneath my clothes. This is much more discreet and most people will pass you by without staring into your camera. Unfortunately, the cable isn't particularly long and taller people may struggle to wear it in their pocket. I'm 5"3 and can only just do this.
 Video quality
Here's the promo video made by Panasonic for the camera followed by a short video I made myself.

Overall I think the quality is really good. If you're fairly still then the quality is excellent. For the best shots I'd recommend standing still and allowing the action to happen around you for a few seconds.
Pros
[icon_check] The Panasonic HX-A100 is slightly cheaper than the GoPro. It's still a pricey piece of equipment but pretty good value for what you get.
[icon_check]It's very easy to setup and use.
[icon_check]It's more discreet than its competitors thanks to the main body being separate to the lens.
[icon_check]It's waterproof up to 5m.
[icon_check]It's dustproof so ideal for getting outdoors.
[icon_check]It films in HD.
[icon_check]Through the app you can share your videos and photos instantly via email or social media.
[icon_check]It has a slow motion function that I'm yet to try but think it could produce some really fun footage.
Cons
[icon_x] If you don't use the camera in conjunction with the app you might struggle. While I was skiing the memory on my iPhone was full so I deleted the app and found the camera difficult to use. I didn't know if it was recording and I couldn't delete footage from the camera. I thought I'd be able to plug it in to my laptop to delete footage but it wouldn't let me.
It is probably me doing something wrong and it's simple to use with the app but if you don't own a compatible smartphone you're going to struggle.
[icon_x] I was also testing the Nokia 1020 at the same time as this camera and there isn't an app available for Nokia.
[icon_x] It would be better if the lens and the main body were connected via Bluetooth. The cable can be annoying. Having said this, I think it's better to have the cable rather than wear a larger camera on your head.
A pro and a con
[icon_x] [icon_check] The camera is worn very close to your mouth so you get a lot of your own breathing in your sound. But having the microphone so close can also be brilliant because you can narrate what you're seeing and the quality of your narration is excellent.
Tips
The Panasonic HX-A100 works best when your head/arm/wrist is as still as possible. The world can be moving quickly around you but if your head is wobbling you won't get a great shot.
If you want to share your videos quickly, I'd recommend downloading the iMovie app. You can quickly use the Panasonic app to save your chosen footage to your camera roll and then edit it within iMovie. This is a nice app to use on the move and it's really easy for beginners.
Have you used a wearable camera? If you have, what was your experience?
If you've got any questions about the Panasonic HX-A100 wearable camera just let me know in the comments below.