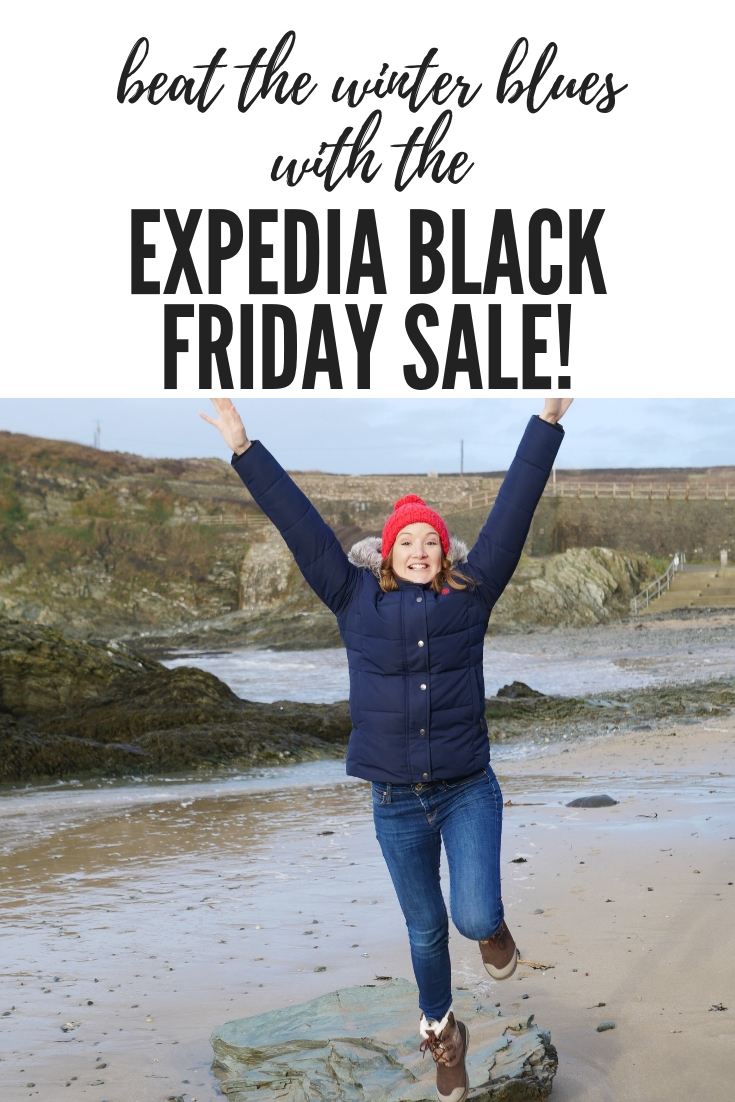 Does anyone else suffer with the winter blues?
Once the novelty of winter wears off (which is usually around 3 weeks into winter!) I start to miss the light summer evenings, sunshine and spending time outdoors. I do love cosy nights in, but winter just feels so long!
I've found the best way to beat the winter blues is to have a couple of trips lined up over the winter. I love having something to look forward to and something to keep me busy during those long winter evenings as I plan my itineraries and plot a new adventure! And a week in the sunshine, whether that's on a ski slope or on the beach, is the perfect cure.
Ideally, I like to have a Christmassy break in December, a winter sun holiday in January and a ski holiday in March. Then, before you know it, spring is on the way and you've made it through another long, dark winter!
If you're like me and want to escape the British winter, then you're going to love this; the Expedia Black Friday sale!
The sale begins on Black Friday (November 23rd) and while the rest of the UK may be online searching for TVs and kitchen appliances, I'll be looking for holidays! There's up to 75% off some hotels when you use a coupon code that will be made available on the website and massive savings on flights and select package deals too.
The sale begins at 9am so I've already blocked off a good hour in my calendar to I make sure I find a good deal!
I'm going to be looking for a family holiday for Sam and I and the boys. This is the first year where we need to book four seats on the plane as Joseph recently turned two and he's no longer allowed to sit on our laps. Joseph also needs his own bed now rather than just a travel cot. This really bumps up the price for a family holiday so we're hoping to find a bargain deal.
We'll either go for a festive break in December or some winter sun in January. Sam is campaigning for Disneyworld in December to get the best of both worlds with a festive holiday and also some sunshine too! George wants a swimming pool and Joseph wants a dinosaur (his standard response to most questions!) so Disney could be a good option. Personally, I'd like a week at a luxury resort in Thailand but we'll have to wait and see what deals come up.
More info about the Expedia Black Friday Sale
The Expedia Black Friday Sale begins at 9am on 23rd November 2018
The sale is for flights, package deals and hotels and Expedia is offering an extra 75% off hotel coupon redeemable on the app.
All discounts are subject to availability, so make sure you're prepared for the big day (Sam and I have already made our holiday shortlist and we're going to be ready at our laptops when the sale goes live!)
What you need to know to redeem the discount coupon:
Be sure to download the Expedia App before 23rd November 2018. Download this here: https://www.expedia.co.uk/app
Expedia will have a dedicated URL where users can retrieve the coupon – this will be announced in the run up to the day. The coupon will available here from 23 rd November @9:00am
Use the coupon in the app and make huge savings on your hotels (subject to availability)
Also, any bookings made over the weekend get 2x Expedia Rewards, so make sure you are signed up!
Package deals: The massive Expedia.co.uk discounts aren't just for standalone flights or hotels, but for package deals too (combining flight and hotel bookings). These specific deals will be available on the website so keep checking for more information.
Will you be making the most of the Expedia Black Friday sale? If so, where are you hoping to go?
Please follow and like us: