As you're reading this I'll be sat in Heathrow airport waiting to board my flight to Miami! **Jump up and down like an excited kid while making a weird high pitched squeal! (Yes, I will be doing this at the boarding gate!)**
I'm spending a couple of days in Miami before I fly to Los Angeles to begin a 14-day Westerner 2 road trip with Trek America.
Earlier this year I met the Trek America crew at Traverse conference for travel bloggers and I also met the very lovely Kirsten. Kirsten is one of Trek America's 'Trexperts' and provides tips, advice and inspiration for people to travel to North America. She's a travel blogger and she's travelled with Trek America so many times so I thought she'd be the perfect person to ask all about travelling with Trek.
Thankfully, Kirsten didn't mind it when I bombarded her a billion questions about travelling with Trek America and it was so nice to meet someone who was equally as excited at the prospect of an epic road trip in the States.
Kirsten has been kind enough to share some of her tips and advice for anyone who is taking/thinking about a Trek America tour. If you have any other questions, just leave them in the comments below and I'll do my best to answer them when I finish my tour at the end of the month.
Can you tell us a little about yourself, your blogs and your work as a Trexpert?
I currently work in education and travel, technology and education are my biggest passions. I've started blogging more about travel in the last year, following attending Traverse in Brighton. Kooky Traveller shares my love of all things travel and tech and Road Trippin' USA focuses on the USA.
I've been travelling with Trek America since 2009 and I've always enjoyed helping "trek newbies" to take the plunge and book their first trek! Road trippin' USA (although not just for trekkers) is a place where I will continue to share tips. Trexpert is a name the Trek America team came up with for me for their first Twitter chat, which I co-facilitated last month.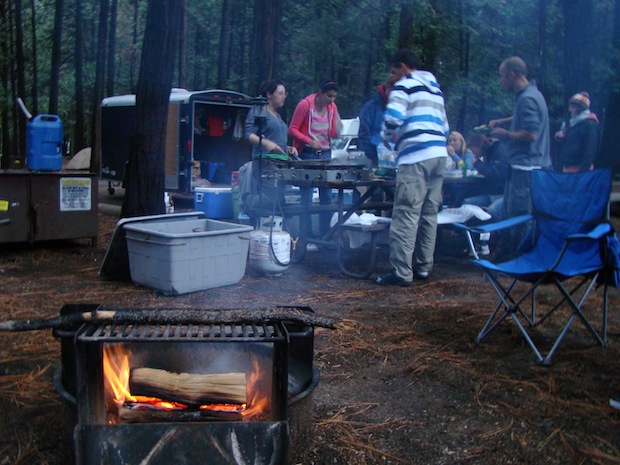 What made you first take a Trek America trip?
I was limited to 2.5 weeks off work and didn't have time to plan my own independent travel. Having enjoyed the small group tour experience in other parts of the world, I loved what Trek America were offering? I found great reviews and chose my perfect itinerary (Westerner 2).
Clearly I wasn't disappointed!
Of all the Trek America trips you've taken, which has been the best?
I've loved each trek for different reasons. Westerner 2 as my first trek, will always have a special place in my heart though.
On the Atlantic Dream, we went on an amazing Louisiana swamp tour and saw lots of gators. California Xmas Vegas New Year was also a brilliant way to spend the holidays with a white Christmas and snowshoeing in Yosemite and a great time in Vegas for New Years.
On Mountie I realised a dream of seeing bears in the wild and tour leader Todd, took us to visit his  family for lunch in Washington.
On the Cross Country BLT our tour leader, Taylor, arranged so many extra experiences for us, like going to a drive-in movie, watching a baseball game and a high school football game! The highlight of the Canyon Xmas Vegas New Year trek was probably visiting Monument Valley in the snow and coming home in credit from Vegas!
From your Westerner 2 trip (the one I'm doing), what was the highlight?
Each day was memorable and amazing. The group and our tour leader,Lauren, were fantastic.
Lauren suggested some changes to the itinerary so we lost a couple of overnight stops in the middle of nowhere and instead paid a little extra to squeeze in Monument Valley and cowboy camp! Both of those additional experiences were highlights (sleeping in a Navajo Hogan, horse riding in the desert and listening to Betty and Rusty sing around the campfire)? so was the weekend in Vegas, flying over the Grand Canyon in a helicopter, hiking in Yosemite, visiting San Francisco, San Diego, Route 66…The worst day was the last day, it always is, because it can get very emotional.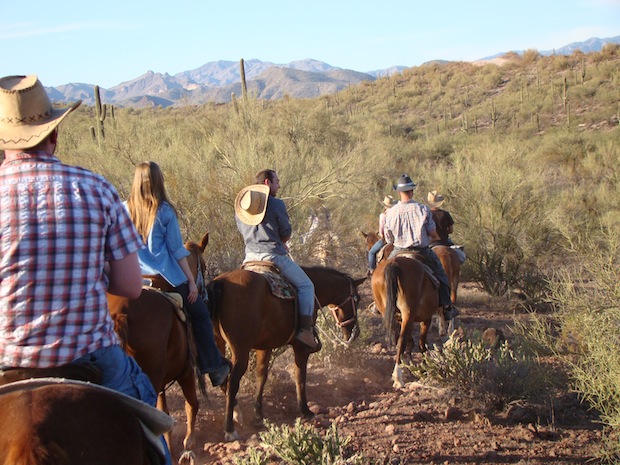 What's your top piece of advice for anyone taking a Trek America trip?
Embrace the whole experience, get out of your comfort zone, try new things, be friendly and inclusive of everyone in your group (including your tour leader) and do your bit.
Do you have any packing tips?
Take footwear suitable for hiking, flip-flops for the showers (and beach) and one pair of shoes for nights on the town. Clothes you can layer are always good. You will get chance to do laundry, especially when you have a two-night stop, so less is more.
Dry shampoo, moisturiser, sun lotion, wipes, dry soap and deet are more important than makeup, perfume and straighteners when you're camping. Take some of those luxuries for nights on the town but sweet scents attract insects and bears have a real strong sense of smell, so when you're camping in bear country, follow park rules e.g. no food, drinks or toiletries in the tent.
A head torch is invaluable for a camping trip, especially if you find yourself using a portable toilet in the middle of the night in the desert. A nose clip (the type used for swimming) can make using a pit toilet a nicer experience too!
Ziplock bags can be invaluable for lots of purposes including protecting camera equipment in the desert – I also take a camera cleaning kit.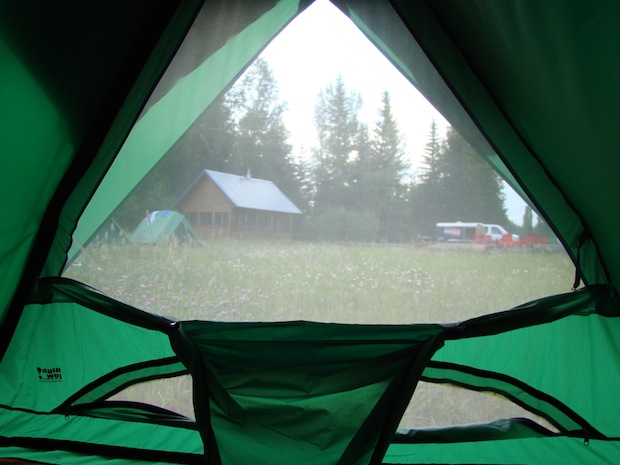 Do you have any tips to make camping more comfortable?
Trek provide a sleeping pad, it's not thick but the extra layer helps keep you warm and most people manage fine with that. I've only used a self-inflating mattress on my first trek but I plan to invest in a new one for my next camping trek though, which is 19 days.
Any mattress that you do buy should be quick to pack on a morning (when you're on the move) and shouldn't take up excessive space in the trailer. The trailer is home to all your luggage, camping equipment, food and drink.
Think about where you pitch your tent and find the most even ground you can. Try to avoid pitching on top of loose leaves etc they are likely providing shelter for insects. If you're camping on a slope, you want the entrance to the tent facing downslope.
A travel pillow, silk liner and sleeping bag plus bed socks, loose fitting gloves and a warm hat can be really important in cool temperatures. My coldest nights on Westerner 2 were at the Grand Canyon. Earplugs can be useful too!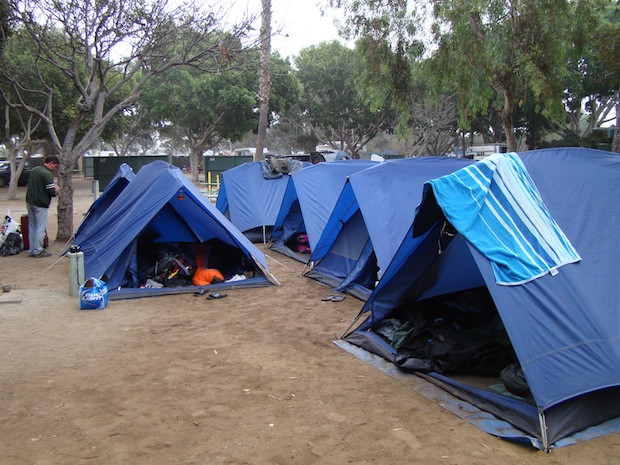 What's the food like during a Trek America trip?
Food can be varied (in a good way) and most dietary needs can be taken into account. Breakfast will typically include bread/toast, cereal and tea/coffee. Lunch is usually picnic style with a range of cold meats, cheeses, wraps, bread, bagels, salad, fruit etc. The group take turns to work in teams to cook dinner and on Westerner 2, my chef friend, Ivan (with help from his team members) prepared a three course meal which included broccoli soup, which he made from scratch whilst camping at the Grand Canyon. I've always been impressed by that. We've also had jacket potatoes and brownies baked in the campfire, chilli, fajitas, jambalaya, stews and pasta dishes. For hotel/lodging nights, you'll eat out.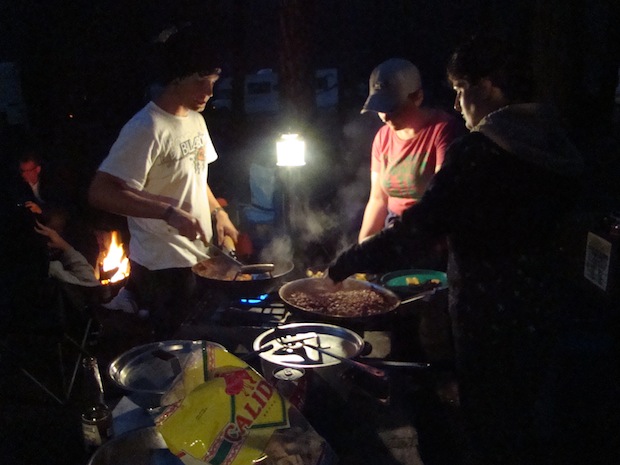 I hear there's wifi on board, is it any good?
WiFi is available in the vans now for all US-based tours. The tour leader has a portable WiFi device enabling up to five devices to connect at anyone time.
How good the WiFi is, is dependent on:
– availability of 3G signal (you're not going to have access all the time)
– group etiquette e.g. if trekkers set their devices up to remember the
– WiFi password, a device can connect automatically. If that person isn't using the WiFi they could be preventing someone else from using it.Like everything else on trek, the more y'all work together, the better the experience for everyone. There are plenty of other opportunities where you can connect e.g. most campgrounds have WiFi.
Is it possible to charge all of your devices while you're travelling?
If you take multiple devices, it's good to assume you won't have on-demand access (especially on a camping trek). For my cameras, I take a few fully charged batteries and I have a rechargeable power pack for my iPhone, which provides six full charges. I might invest in a solar charger for my next trek.
In the van you've probably two charging points (one at the front and sometimes one in the back)? you'll need a car charger to use them. If you're lucky, your tour leader might have a charging station plugged in the front so multiple devices can charge simultaneously via USB. If the van doesn't have one, consider buying one cheaply as a group at the start of the trek. It won't cost much and is a useful gift for your tour leader.
You'll get plenty of use out of it anyway. There's usually a power supply available where you pitch your tent although there might only be one or two sockets for the group. Plus power points in restrooms. Plan to charge when you have a hotel stay too, but don't expect a socket each.
Explore ways to prolong the battery life of your devices too e.g. switch off the device when not in use and switch off features you don't need.
Don't constantly review your images/videos and don't leave wifi enabled all the time.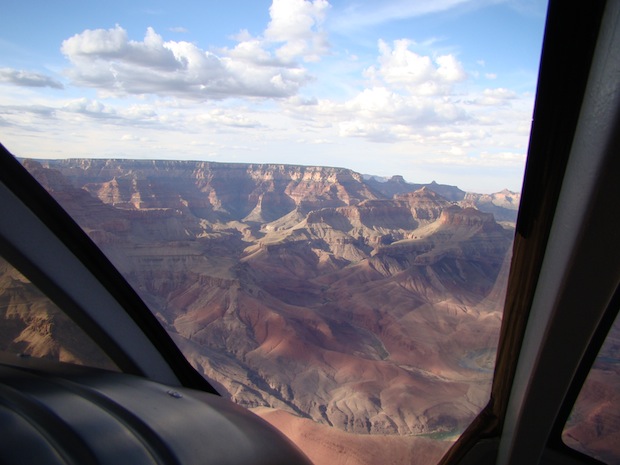 Where is your next Trek America adventure?
I'm glad you asked! I'm doing the Alaska, Yukon and Arctic Circle camping trek in August. I'm super excited as I love getting out of my comfort zone and hopefully we'll get to see lots of bears and other wildlife.
Finally…
Everyone has the opportunity to be DJ in the van so prepare a playlist or two for your trek it can be fun to theme your playlist based upon your journey!
Find your trek buddies before you travel by joining your virtual tour group on TrekAmericaLive.com.
TrekAmericaThe Trek Tips document also has lots of useful advice to help prepare for your trek.
Have an amazing trek!
Massive thanks to Kirsten for answering all my questions and for sending over these gorgeous photos.
Make sure you're following along on Instagram to check out my photos from the trip.