How do you plan your travels? Do you use guide books, research online, blogs, maps, travel literature, word of mouth, review sites, social media or simply wing it when you arrive?
If you're anything like me you'll use a combination of all of the above (and I probably wing it far more than I should) but the planning part of travelling is one of my favourite bits.
The travel blogging community is great for finding unique things to do but one thing I've always struggled with is putting a proper itinerary together to make sure I see everything on my list. I find myself visiting a museum and then going all the way across town to visit a famous shop. I then spend an hour lost on the wrong side of town and then I walk another mile to see the next thing on my list.
I know that this is partly my lack of organization but it can be difficult to figure out what is next to each other and what sights you should group together when you're travelling somewhere new. You can also miss out on things that you hadn't realised were just around the corner. When you have weeks to explore somewhere new this isn't such a problem but when you're away for a long weekend you need to plan your time wisely.
Thankfully, there is a new online guide from Dorling Kindersley, known for the DK guidebooks, called the DK Trip Planner that I'm sure is going to make travel planning so much easier.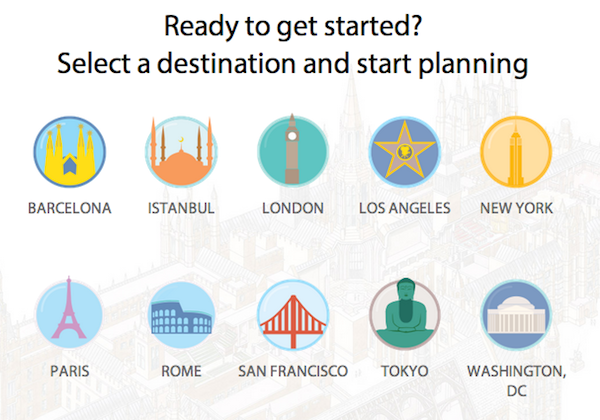 You begin by selecting your destination. The trip planner is still new but there are guides to lots of major cities like London, Barcelona, New York, Rome, Paris and there are more coming soon.
I decided to test out the London trip planner first because I know London fairly well and I can tell if the planner is giving me good advice.
You have the option of browsing suggested itineraries based on how many days you're there or a specific interest such as history and culture, the great outdoors, shopping and family fun.
I chose the itinerary for two days in London and I could even relate to the introduction:
[quote_simple]"The sheer number and range of things to see and do in London can be daunting, especially with only a couple of days to spare. This two day itinerary takes in some of the city's unmissable sights….to ensure you make the most of your London trip."[/quote_simple]
Your itinerary is broken down into morning, afternoon and evening and the suggested itinerates have enough to keep you busy without being exhausting. You can click on each option to find more information and options like directions, contact details, opening times, prices and links to websites.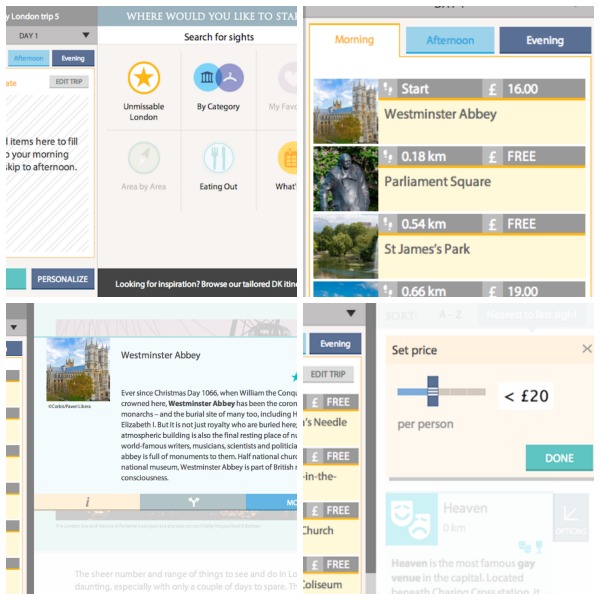 The DK Trip Planner gets really clever in the section where you can build your own itinerary. You can search for things to do by category, area, unmissable things, eating out, what's on or a list of things you've previously favourited.
My absolutely favourite feature is that you can select something you want to do and then search for other things based on what is 'Nearest to last sight'. This is definitely going to solve my problem of spending half my trip travelling back and to across the city!
Here are some other things I love:
[icon_check]When searching for places to eat, you can filter it by price per person.
[icon_check]The planner doesn't just recommend tourist hotspots, there are some unusual suggestions in there away from the tourist trial.
[icon_check]The planner can be used by locals as well as tourists. I still love having a 'tourist day out' and visiting museums and galleries in London.
[icon_check]Once you've made your itinerary you can save it. You can access your itinerary for free while you're online or pay £1.99 to access it offline. Your offline version will also include maps so you won't have any hefty roaming fees when you're trying to use Google maps to find where you are.
[icon_check]I like that the itineraries clearly state prices so you can figure out how much your day will cost or change things if it's getting pricey.
If you're looking for something to make travel planning easy and want to create personalised itineraries that are easy to use and print then I suggest taking a look at the DK Trip Planner.
Like most bloggers, I'm asked to trial and review countless products and apps and it isn't very often that I find one that as original and useful as the DK Trip Planner. This is a truly brilliant site and I my only wish was that it was invented sooner.