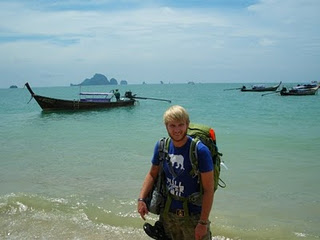 It was about a 3hour journey form the floating river huts to Ao Nang.
I left Sam with the bags and went to find somewhere half decent and cheap to stay. I finally found somewhere that was about £3 a night with air con but the air con didn't work so we were upgraded to the 'pent house suite'. It was a room in the roof so we had to bend right over to walk around but it was worth it for the view. The far wall was all glass and overlooked the sea and the gorgeous beach. The bathroom was outside on the roof so I'm glad it didn't rain or the toilet roll would have got wet!
Ao Nang seemed to be just a stop-over place for people travelling to the Southern islands but there were still some really cool bars, restaurants and clubs. We went for a Mexican which was really expensive but so worth it.
We met an Irish couple in a bar who drank us under the table and left us drinking buckets as the sun came up.
We had planned on going to the beach the next day but the tide was in and explained why people didn't stay in Ao Nang for long so we hopped on a longtail boat across to Railey Beach.