Vang Vieng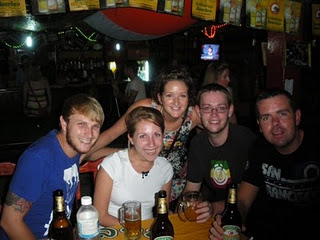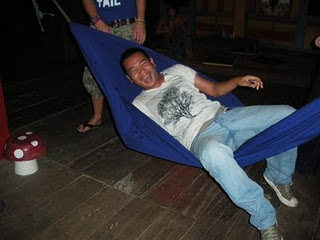 It was my birthday while we were in Vang Vieng and we spent a few days here celebrating.
Vang Vieng is like backpacker central in Laos. It where everybody goes to go tubing and get drunk and generally have a good time and I've heard it described as Loas' version of Bangkok's Khoa San Road. It is basically the perfect place to spend your birthday.
Bamboo bars that stay open until the sun comes up line the main street with cheap deals on whiskey buckets. It was a bit of a shock coming from places where women couldn't even show their shoulders to be in a place where girls drunkenly stumbled down the road in bikinis and there wasn't a guy in a t-shirt in sight. Dara wasn't impressed at all but he was quick to show us the best bars and cheapest buckets.
On the first night, my birthday eve, (I like to stretch my birthday celebrations out for as long as possible) we ended up in an Irish bamboo bar. Slightly different to most Irish bars I've been in as it was lit by twinkly Christmas lights with hammocks and rugs on the floor where a few people lay after what looked like one bucket too many.
I insisted on staying until midnight so we could be there for my official birthday and everyone could sing to me. We actually ended up staying till much later as, in true Irish bar style, some guys started a fight with our guys and then both parties refused to leave and back down so we ended up staying all night. When we finally decided to leave the owner gave us all free drinks for the trouble caused so it wasn't surprising that I woke up on my birthday with a terrible hangover…