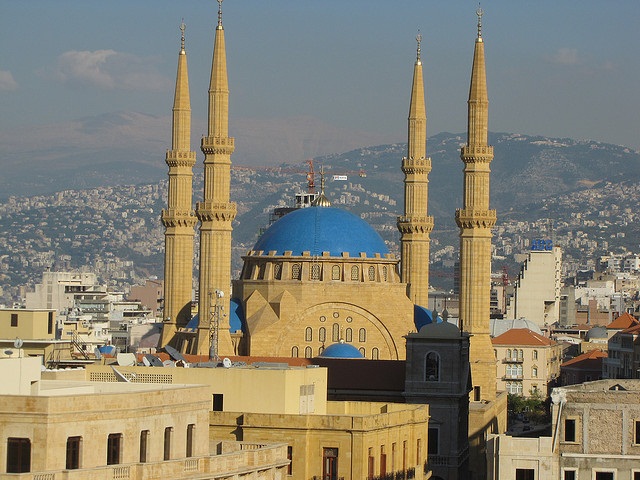 "I'm going to Beirut," I whispered down the phone. I was whispering because I was on the train and I wasn't sure what people would think about this mental statement.
"Errr, I don't think so!" my boyfriend replied.
Anyone who knows me is well aware that when someone tells me I can't do something, I want to do it even more.
A scar across my left hand proves this.
"Don't touch the iron," my mum said to a 3 year old me. I vaguely remember wondering why I couldn't touch the iron, what was so precious about this forbidden item? I knew it would be hot, but exactly how hot?
I can safely say that I now know exactly how hot the iron is and I haven't touched it since. Basically, if something is a bad idea, I like to find out exactly why for myself.
Anyway, I'm straying off track; back to Beirut.
I received an email from the lovely Rosie at BMI asking if I'd like to go to Beirut.
Part of me wanted to say no. This was the sensible part of me that has watched the news a couple of times and knows that Beirut is a dangerous place.
But let's face it, the sensible part of me is about as big as my little finger and there was a massive part of me that screamed, 'Hell yes! This will be an amazing adventure!'
The journalist inside me was already planning stories, thinking about the fantastic features I could write and the beautiful photographs I could take. The blogger inside of me had mentally written this post before I'd even got to the end Rosie's email.
I phoned my incredibly sensible boyfriend immediately to share my exciting news. He reeled off a few facts that I think were intended to put me off:
Non-essential travel is not advised due to the very high risk of kidnap. (I must give him a few points for managing to Google this so quickly.)
Syria is next to Beirut and they're just starting a civil war.
38 British people had to be rescued from Beirut in 2011.
No insurance company will cover you. (I think this was more of a guess – I don't think he could have possibly Google this so quickly.)
While you're there, you should report to the British embassy every day.
The countries that surround Beirut are the most dangerous countries in the world.
There were bombings there just before Christmas.
Five French tourists were bombed and killed there.
I'll admit that when you lay the facts out like this it doesn't exactly sound like the most relaxing place in the world but something inside of me still really wants to go.
Two of my favourite travel bloggers headed there just a few weeks ago and had nothing but good things to say about Beirut.
Justin (48HourAdventure) calls it a 'safe, exciting Mediterranean city that stands on its own in the region.' I would like to highlight the word 'safe'.
Jayne (40before30) says: 'It is said that Lebanon is a nation of hospitality – visiting Beirut it seems this is very true.'
Their photos from their trip look beautiful and since hearing all about it, I've been seriously intrigued by the country.
But I'd like to know what you think; would you travel to Beirut?