This week I was set a challenge by American Express to go in search of great customer experiences in New York. I know, it's a tough job but someone has to do it, right? 😉
In all seriousness, it actually did turn out to be a pretty tough job, a very fun job but tough all the same. My challenge got me thinking about what makes good customer service and I started looking at it on a whole new level.
According to Turban et al. (2002), "Customer service is a series of activities designed to enhance the level of customer satisfaction – that is, the feeling that a product or service has met the customer expectation."
At first I thought good service would come from chatty, friendly people who ask questions and make you feel welcome and relaxed. But then I realized that this isn't always the kind of service I want.
When I'm buying my morning coffee, for example, it's great when the barista is friendly but it's infuriating when they have a 10 minute conversation with every customer, particularly when you're the fourth in line! But if I get in a cab and the driver won't talk to me, that's equally bad service. I love a chatty cab driver because they always have the best insider tips and have plenty of stories to tell.
We expect different types of service from different people and I quickly realised that friendly, chatty service is just as good as quick and efficient service.
Cities run on quick and efficient service and New York, the best city in the world, is no exception. I was impressed in bars where the server could remember an endless list of drinks and then charge each customer the correct amount. I could sit and watch them all day creating amazing cocktails in seconds and delivering on high trays above the heads of dancing customers without spilling a drop. Now that is good customer service!
One of the toughest parts for me was finding unique customer service experiences. You can go into Starbucks anywhere in the world and experience good service but that isn't unique to New York. So I reached out to everyone who reads this blog and my fellow travel bloggers to find out where you've been to in New York and had amazing customer service experiences. I also asked for some ideas for things to see and do and thanks to all your suggestions I didn't even need to touch a guidebook! The response I had was amazing and it supports what American Express found in their research – that we love to share good service.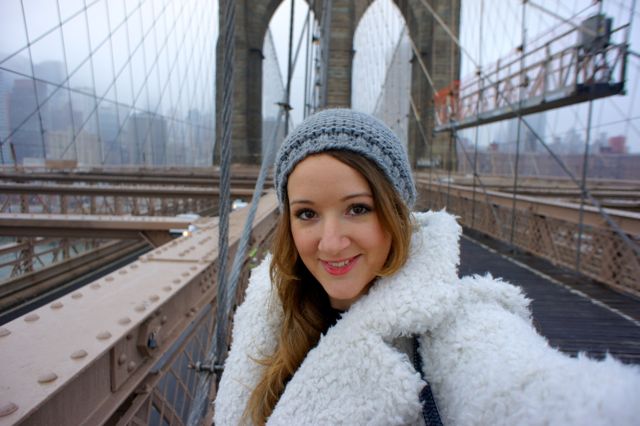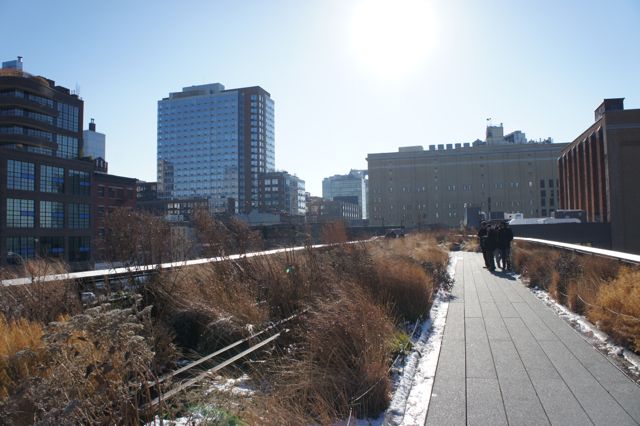 It was the response I got that made me realise how incredible it is to be part of the travel blogging community.
I was sent so many emails, messages, tweets and comments from bloggers, travellers, locals and people who have spent anything from one day to one year in New York. I honestly can't thank you all enough because it was all these recommendations that helped me have such an incredible time.
Big cities are tough places to travel, particularly when you're on your own. It's difficult to know where to go or what to do because there are just so many options. It's overwhelming in the best possible way and with just four days in New York, I really had my work cut out for me to find as many good service experiences as I could.
My first great customer service experiences came before I even got on the plane.
Yotel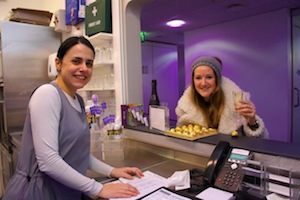 First of all I stayed at Yotel, a cabin hotel at Heathrow Airport, and here I was welcomed with chocolates and sparkling wine. It was the hotel's birthday so they were celebrating in style and this fun little touch made my experience much more memorable. You can read more about my stay at Yotel on my Yotel Hotel Review.
British Airways check-in staff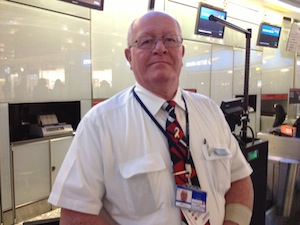 Secondly (and I'm pretty embarrassed to even admit this) I arrived at the airport without an ESTA – the visa you need to get into the States. You know when you have that feeling that you're forgetting something but you're not quite sure what is it. Well this time I'd genuinely forgotten something really important.
John, the guy at the British Airways check-in desk, rolled his eyes at me dramatically before quickly whisking me away to a computer to purchase my ESTA. It only took 10 minutes but without his help I'm not sure what I would have done and he made me feel much more relaxed.
The Grand Hyatt Hotel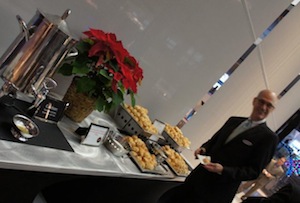 I stayed at the Grand Hyatt during my stay in New York and I couldn't have asked for a better location. It's next to Grand Central Terminal in midtown Manhattan and the hotel itself is huge.
Despite the size, the customer service was still brilliant. The check-in staff were speedy and efficient while the concierges had plenty of time to chat about the best places in the city and how to get around.
My favourite thing about the hotel was the hot apple cider and selection of tasty treats in the lobby each evening. After a long day of walking and sightseeing it was lovely to be welcomed back with something hot and sweet.
STK Midtown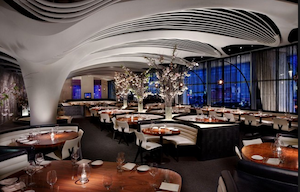 When you're looking for the best steak in New York, what do you do? You turn to Twitter of course and, as usual, I was not disappointed by the result. I ended up in STK Midtown and it was quite possibly one of the best steaks I've EVER had. That's a bold statement I know but it really was that good.
This atmosphere in STK is also really cool and puts a modern twist on the steakhouse with stylish décor and a chic lounge.
I would definitely recommend this place if you fancy splashing out in New York!
Bill's Bar and Burger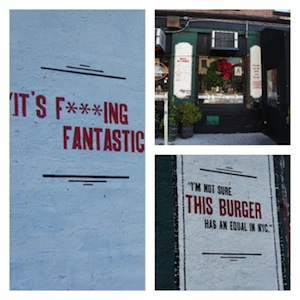 Bill's Bar and Burger restaurant was recommended to me on Facebook and who am I to turn down 'New York's best burger'?
My burger photos didn't turn out too well so you're going to have to trust me when I say that these burgers were epic! I went to the restaurant in the Meatpacking District which is one of those areas that is oozing with cool style in a 'I'm not even trying' kind of way.
The staff at Bill's recommended The Fat Cat Burger which was voted as one of CNNs top 10 burgers in 2013. It was my first award winning burger and I don't know how I'll ever go back to normal burgers. Life changing.
 My Taxi Driver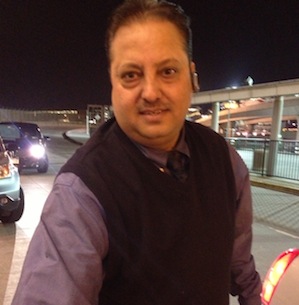 It's always the way that just as you leave a place you discover a million other things you'd like to see and do. This guy was my lovely taxi driver back to the airport on my way home and he knew EVERYTHING about New York. He recommended returning in the summer because there is so much going on and I now have a list as long as my arm of places I want to visit. He recommended visiting on the second weekend of the month because that's when there are lots of events and club nights.
It was rush hour as we were driving to the airport so we were stuck n traffic for a long time but it was great to have the chance to pick the brains of a local. He's originally from India so I also got a long list of things to see and do in India!
Pampering at the Airport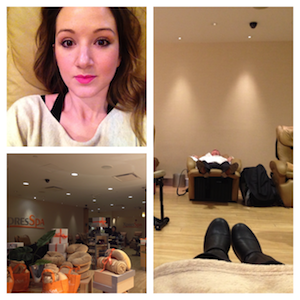 Sometimes having good customer service is having exactly what you need in the right place at the right time. The thing I really wanted on my way home from New York was a bit of self indulgent pampering. There are so many beauticians in New York and I was just thinking how I regretted not having a treatment when I emerged at the top of an escalator in JFK to see the perfect place for some pampering.
I was welcomed inside and invited to sit in a massage chair while I had a pedicure and facial. It was bliss and exactly what I needed before an overnight flight home.
One of the things that American Express found was that good customer service makes you feel good. I think we all knew this on some level but while I was in New York and over analysing every customer service experience I had, I really noticed the difference between good service and bad.
Most people have an element of customer service in their job and I know I'll now be much more aware of how I treat customers. It's always the little things that make the difference. It's the nod in your direction to let you know that you've next in line. It's the personal recommendations and simple things like remembering your name. It's not the grand gestures or freebies, it's just simple, good service.
Now that my taxi driver convinced me to go back to New York in the summer, can you recommend any other places in New York with great customer service?