What would you say if I told you there's a device that could make your skin look and feel younger? Your skin will visibly look fresher and feel so much softer?
I'm guessing half of you would be biting my hand off and asking what it is. While the other half would be sceptical and suggest such a device doesn't exist.
Well I'm here today to tell you that it does exist. I'm sitting next to it right now. And I'm feeling incredibly grateful to have one in my possession because this little device could be an absolute game changer.
The device I'm talking about is the Jupiter from Spacetouch.
But it's going to cost you.
This device retails at $7,200 USD!
This is a price which will, once again, divide the crowd. It's a lot of money but if it works maybe it's money well spent? If you regularly have LED facials at a beauty salon then this device could definitely replace those sessions.
This is my honest review of the Jupiter anti-aging device from Spacetouch. I was gifted this item in return for an honest review.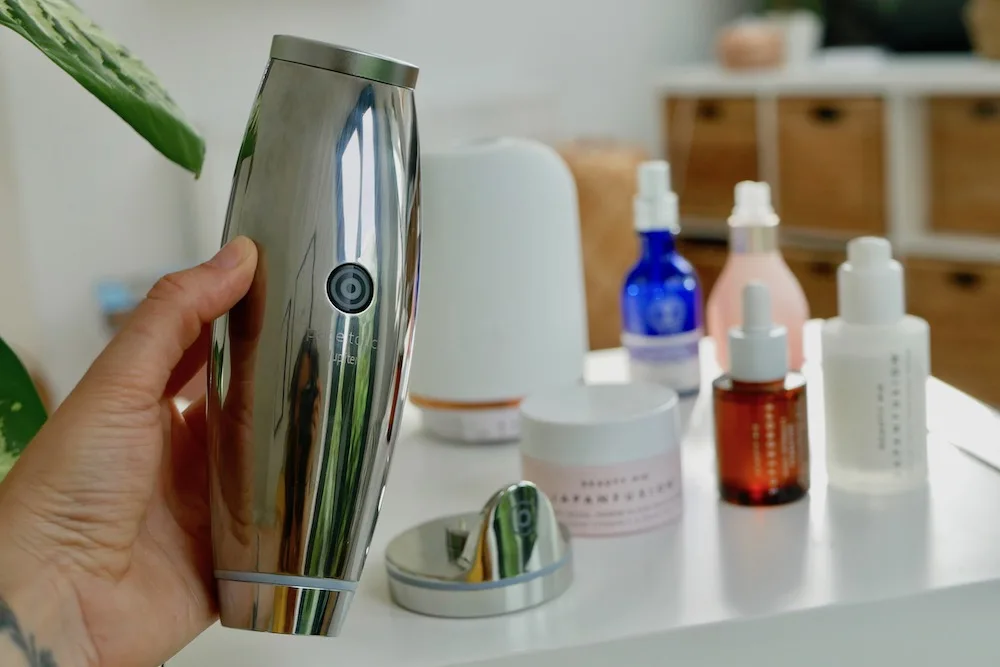 What is the Jupiter anti-ageing device from Spacetouch?
Jupiter combines red light therapy and blue light therapy in one device. It's a portable, at-home device that you use once a week by running it over your face and neck to improve the appearance of your skin.
The Jupiter device provides a non-invasive treatment that is pain free, chemical free and will lead to no allergic reactions.
One of the main benefits of the Jupiter device over other at-home anti ageing devices is that it offers both red light therapy and blue light therapy. Many devices provide just one or the other.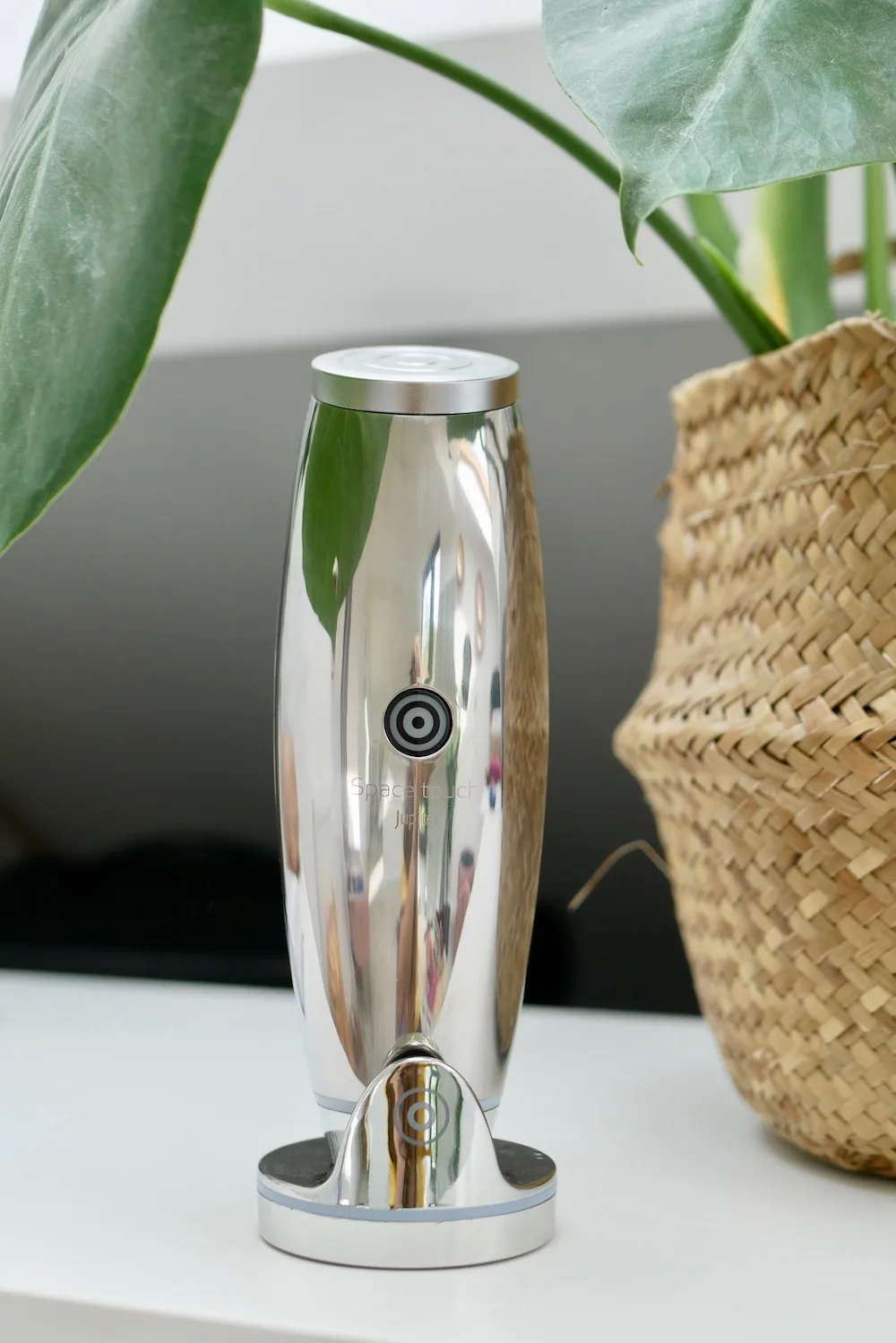 What is red light therapy?
Red light therapy is a treatment that might help the skin to heal. It was originally used in the 1990s by scientists to grow plants in space. When scientists realised that red light therapy promotes growth in plants, studies began to see if this can also be applied to the human body.
There is now a lot of evidence to prove it is a promising treatment and can help reduce cosmetic skin issues like fine lines and scars.
The treatment is still controversial and if you do a little online research you'll come across mixed results from clinical trials.
The red light on the Jupiter is said to promote the production of cells, collagen and fibres by penetrating deeper into the skin than any creams ever could.
When in red mode, the Jupiter's surface heats up to 40 degrees celsius as you smoothly run it over your face. This heat also improves blood flow to your face so the light and heat combined is extra effective.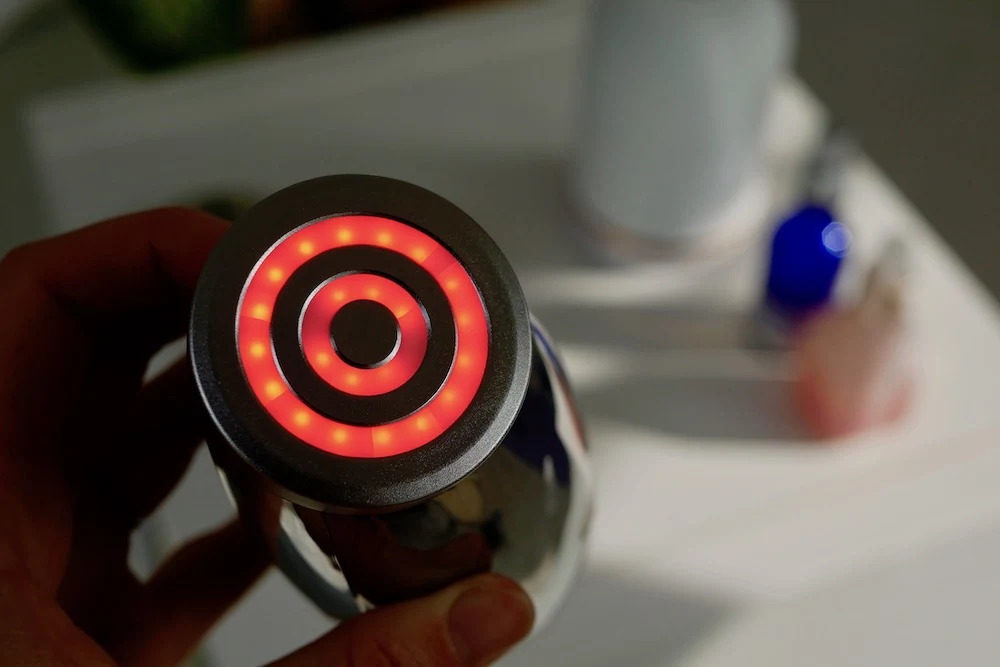 What is blue light therapy?
Blue light therapy is often used to treat acne by killing acne causing bacteria. It is also associated with skin cancer treatments and treatments for sun damage.
While in the blue mode, Jupiter's surface cools down to 7 degrees celsius which tightens your pores and makes your skin look younger.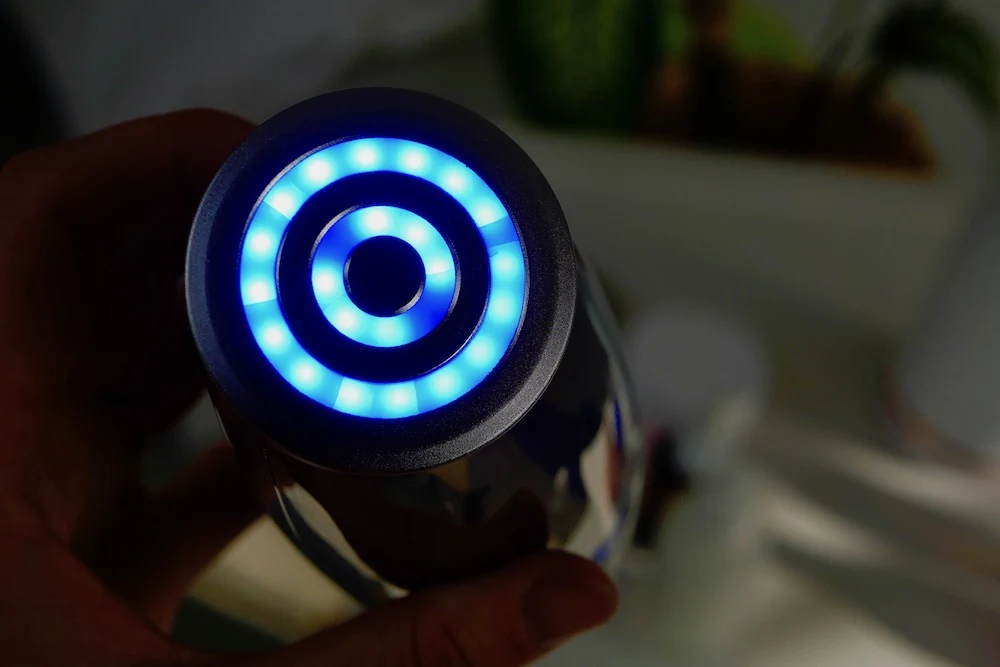 How do you use the Jupiter anti-ageing device?
You begin by using the Blue Mode on the device.
You press the button for two seconds to turn it on. It automatically enters red mode (I'm not sure why it starts with red when it's recommended you begin with blue mode) then you press the button again for blue mode.
The surface of the device immediately lights up blue, cools to 7 degrees celsius and the device makes a quiet whirring sound. You place the cold device onto your skin and move it across your face for a few minutes.
You then press the button again and put it into the red mode. The light changes to red and the surface immediately heats to 40 degrees. You then repeat the process and move it across your face and neck.
It is recommended you use it three times a week for the first month and after that you can use it once a week.
Regardless of whether or not it works, I'm the first to wholeheartedly say that it feels divine! Who knew a cold device followed by a warm device would feel so good?
The blue function is fresheshing and soothing and relaxing, while the red function is warm and delicious and also very relaxing.
Something about using the Jupiter forces you to close your eyes (not that you need to), take a deep breath and physically relax. It's so soothing and it instantly makes me feel calm and happy.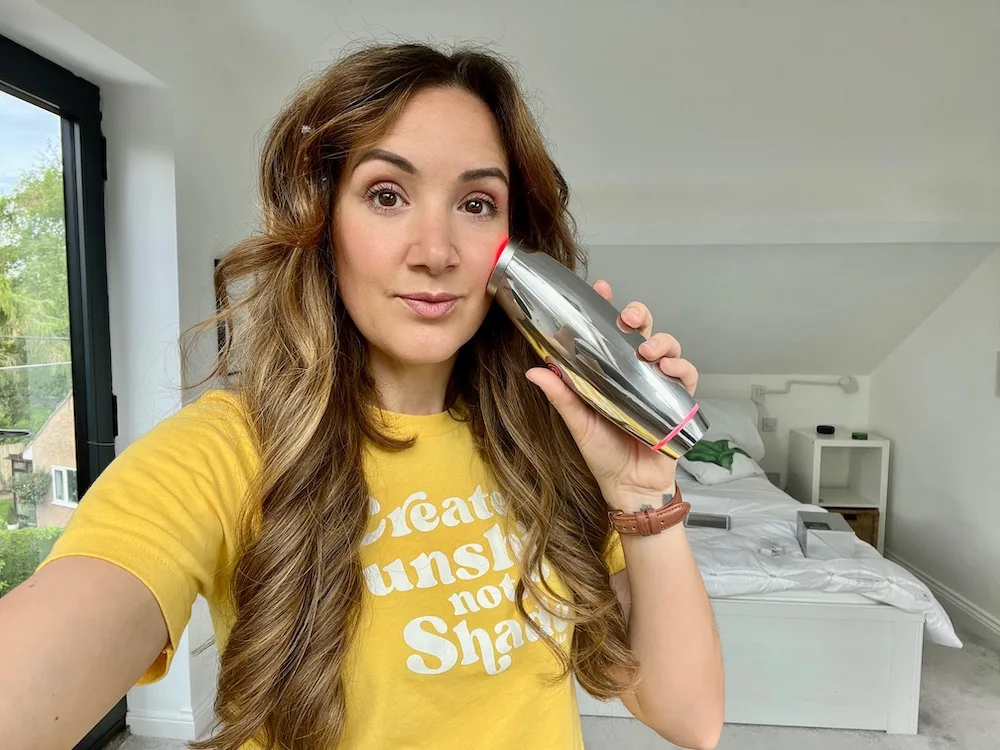 My experience with the Jupiter from Spacetouch
I'll admit that I was pretty sceptical about this device.
I've tried lots of skincare gadgets and gizmos, creams, serums, lotions, potions, massages and facials. And if I'm totally honest, the only thing that really makes any difference to my skin is gentle cleansing, always moisturising, drinking plenty of water, exercising and eating healthily.
I was coming to terms with the fact that leading a healthy lifestyle is actually the secret to great skin.
But a part of me will always be intrigued in anti-aging skincare devices because what if there is one that genuinely makes a difference?
This one might be right here!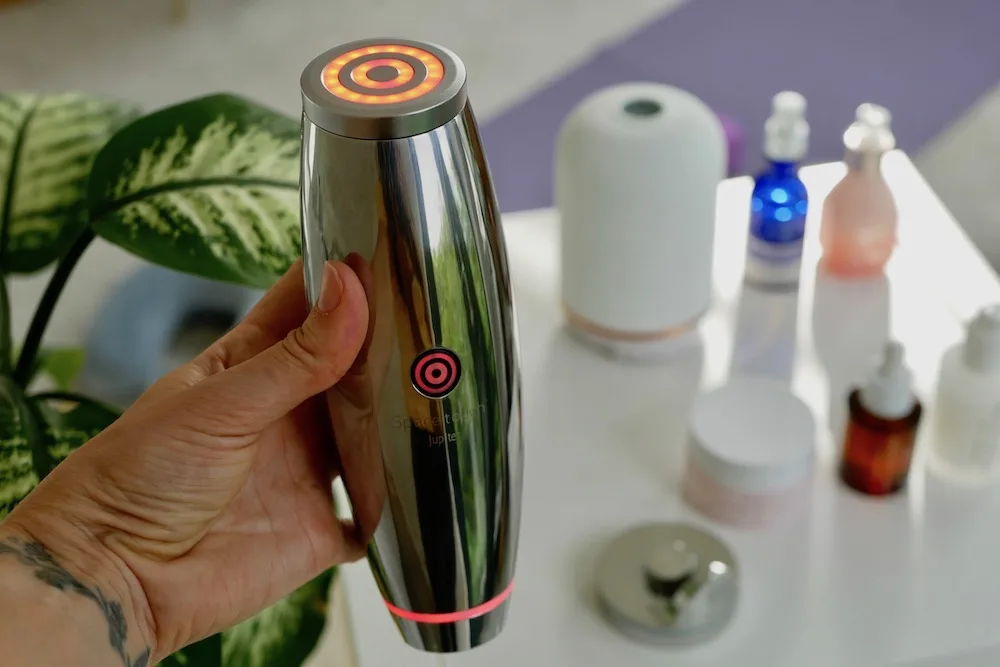 Unboxing the Jupiter from Spacetouch
I'll be totally honest here, I was a little underwhelmed when the Jupiter from Spacetouch arrived.
The packaging wasn't nearly as luxurious as I'd expected and the device feels a little cheap and lightweight. It's plasticy and doesn't feel like a $7,000 product. It also didn't come with any real instructions so I ended up searching YouTube for video reviews. I wasn't sure if I could do my skin any harm by using the device incorrectly so I feel the lack of clear instructions is a major flaw.
The writing on the box also has some typos which feels unprofessional and led to me feeling sceptical about the brand.
My Jupiter device also came with an American plug and the instructions to not use any other plug as it could harm the device. So that was a bit annoying as I couldn't use it immediately.
After a long wait for it to arrive, I then had to order an international plug adaptor to use it at home. (I know, I'm a travel blogger and should have loads of plug adaptors but I seem to leave my best plugs in hotels and I have them scattered across the globe!)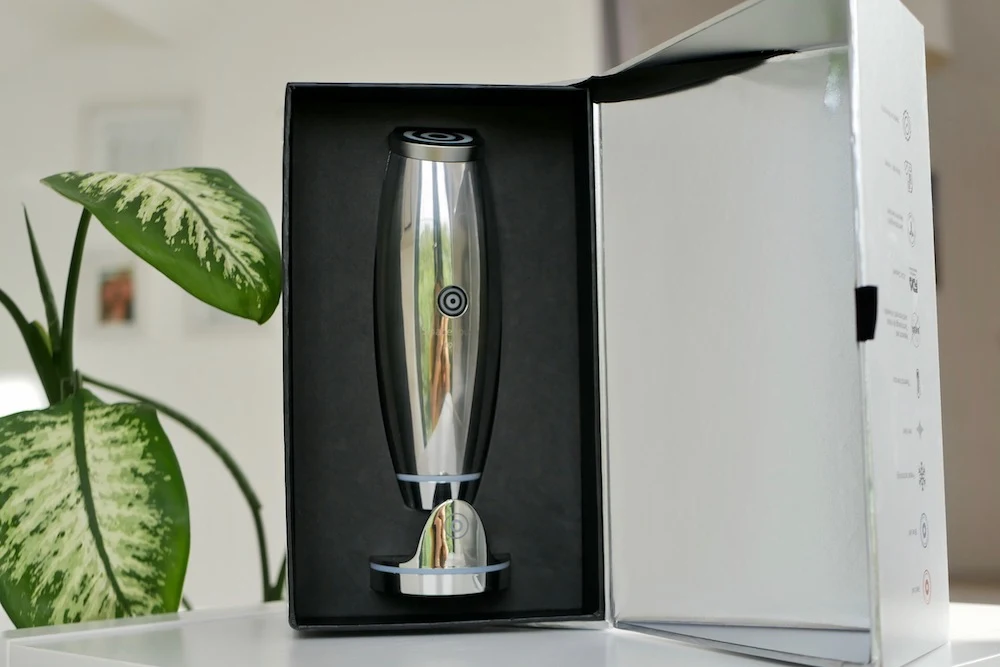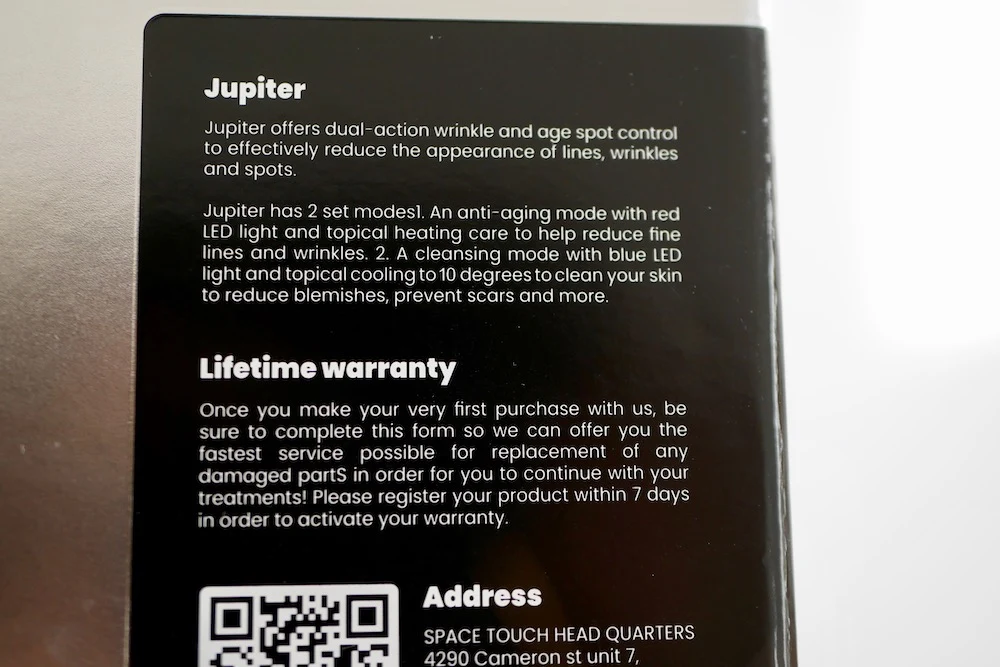 My first use of the Jupiter by Spacetouch
OK, so I finally got the Jupiter device charged and ready to use.
The device has a docking station and it fits snugly into it. A blue light shines while it is charging. The battery doesn't last very long so it does need to be charged between each use.
For my first use I wasn't expecting much so I started using it while I was in the kitchen with Sam and the kids. It was a normal chaotic Saturday morning and I was making sticky, jammy toast for Alba.
But I quickly realised this device felt heavenly and I was instantly relaxing while I was using it so I snuck upstairs to do this properly.
I used it for around a minute in the blue mode and a minute in the red mode and my skin felt incredible! It felt fresh and soft and plump and energised.
I was really shocked because I didn't expect to see any immediate results but my skin definitely felt better.
I continued to use it sporadically for the next 6 weeks but I haven't used it for any longer than 6 weeks so I will be coming back to this post in a few months for another update.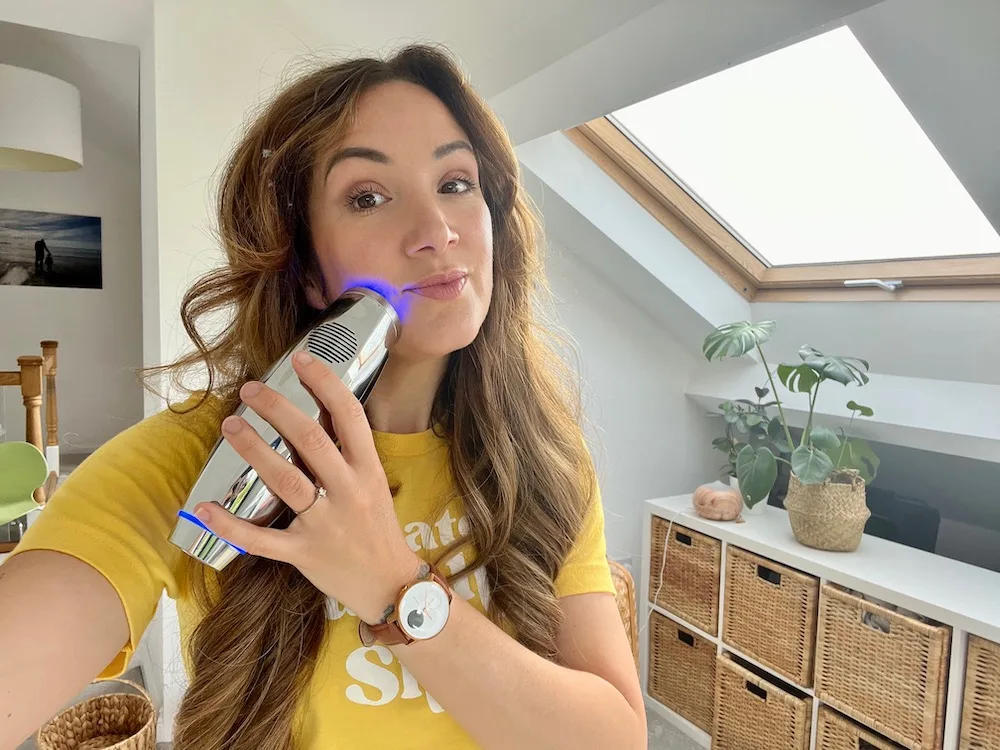 Growing old gracefully
I'm a firm believer in growing old gracefully, but I do think there's a fine line to getting the 'gracefully' part right and that's going to look different for everyone.
I don't want to just throw the towel in and say, 'I'm getting older now, I give up.' But I also don't want to go to the extreme and attempt to look the same as I did at 21.
I think there's this misconception that people want to stay looking young. I don't want to look like a 21 year old. I'm 34 and with that comes fine lines and grey hairs and that's OK!
I just want to make my fine lines and grey hairs look good!
With age comes a wonderful confidence where you don't rely on the approval of other people to feel beautiful. This is one of the best feelings possible and makes it feel like a privilege to be getting older.
As I get older I feel less inclined to look or dress a certain way.
I don't feel the need to wear makeup to leave the house and I'm perfectly happy in my comfy old jeans and a cosy jumper.
I know that looking happy is way better than looking 'perfect'.
But I do take much better care of my body, my skin and my hair than I did 10 years ago.
When I was in my 20s I barely exercised, I ate way too much junk food, drank too much alcohol, bleached my hair and I never removed my makeup before bed.
But that's OK because in my twenties I could pretty much get away with it.
Now I'm in my thirties…not so much.
If I'm dehydrated or haven't slept well you can physically see it on my face. When I don't eat healthily I quickly gain weight and if I don't stay hydrated I feel tired and groggy.
I always remember a conversation I had at work when I was about 20. I had a job in a cafe while I was at uni and I started my shifts at 7am. I'd usually roll in with a stinking hangover after about 4-5 hours of sleep (I'm still not really sure how I got away with that so often!) and one morning one of my colleagues got up close and was staring at my face. Yea, it was uncomfortable.
'How do you not look like you have a hangover?' she asked.
At the time I had no idea what she meant. She was in her 30s, about the age I am now, and she said her skin looked hungover when she'd drunk too much.
Now I know exactly what she means!
I look 10 years older when I'm tired and dehydrated now!
I'm not really suggesting this is even a bad thing. It's just a thing. It's a thing we need to acknowledge and be OK with and realise that if we want to look fresh faced then we need to put in a little more effort than we did at 20!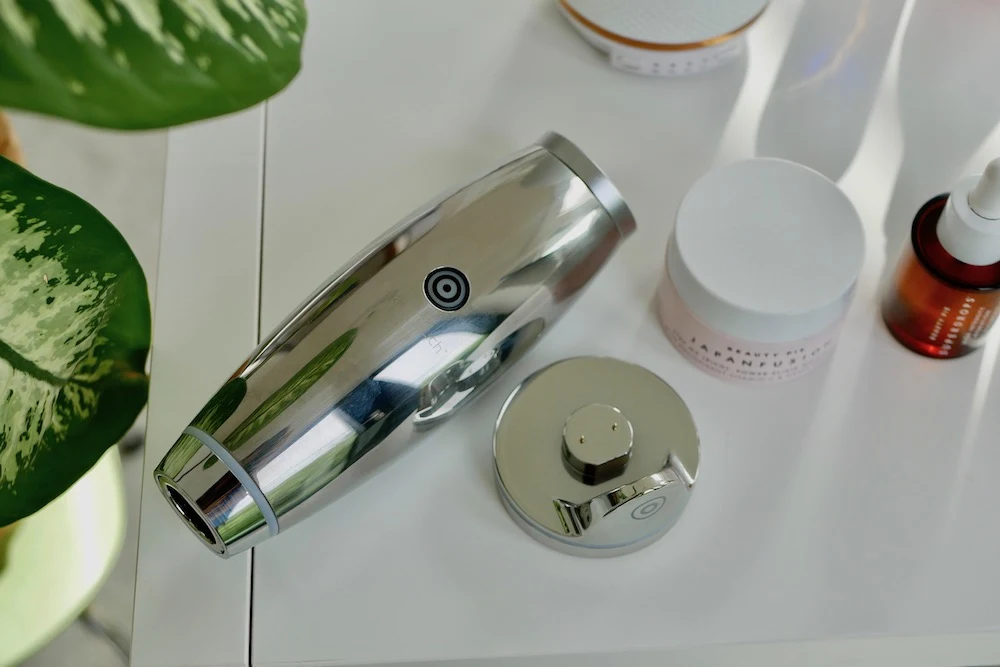 Does the Jupiter anti-aging device work?
OK, it's the question you're all waiting to hear the answer to.
Does this at-home anti-aging device actually work?
Is it worth the hefty price tag?
Do I look 10 years younger!?
The answer…?
Yes, I think it does work.
Does it work better than other options?
Could you just use a nice cleanser and follow it up with warm water and a nice hot flannel and then with a splash of icy cold water? Hmm, maybe.
My skin definitely looks fresher, brighter and feels firmer and softer.
Do other people notice my skin looks younger? Probably not. Sam (my fiance) recently told me my skin looks great but do other people notice? And does my skin really look better or is it because I've caught the sun and have a bit of colour in my cheeks?
Is it going to change my life? Probably not.
But am I going to enjoy using it and continue to use it? Yes, 100%
I'm going to update this post in a few months when I've been using the device a bit longer. I want to answer the question as to whether or not other people are noticing the difference in my skin. If other people can visibly notice the difference then maybe it is worth the hefty price tag!?