Since I returned from Dominica I haven't stopped telling people how gorgeous the island is. I've been cornering people and forcing them to scroll through the photos on my phone because I want them to see it for themselves.
'Look at how clear the sea is,' I've been swooning.
'And look at this waterfall. Oh, and this waterfall too. And this beach. And this forest!'
Dominica has made it onto my list of favourite places in the world. That's a bold statement, I know, but I really loved it THAT much. Even now I'm staring up at the tiny dot on the map and wishing I was back there.
I've noticed that the majority of people I speak to about Dominica, particularly British people, have never heard of Dominica before. I must admit that I had to do a quick Google search when I was first invited there as I wasn't entirely sure where it was myself.
So I thought it would be good to share a little info about Dominica, starting with the first question I'm always asked…
Is Dominica the Dominican Republic?
No, Dominica is not the Dominican Republic. I just thought I'd clear that up before you read any further because most people, myself included, assumed they were the same place.
Dominica is pronounced 'Dom-in-eee-ka' and means 'Sunday' in Latin. The island was named by Christopher Columbus in 1493 – supposedly because he spotted it on a Sunday. Regardless of whether or not this is true, Sunday is the perfect name for this peaceful island. Sundays are for relaxing, spending time outdoors, enjoying the company of your friends and family and quietly enjoying the good things in life. And Dominicans are so relaxed that everyday feels like a Sunday.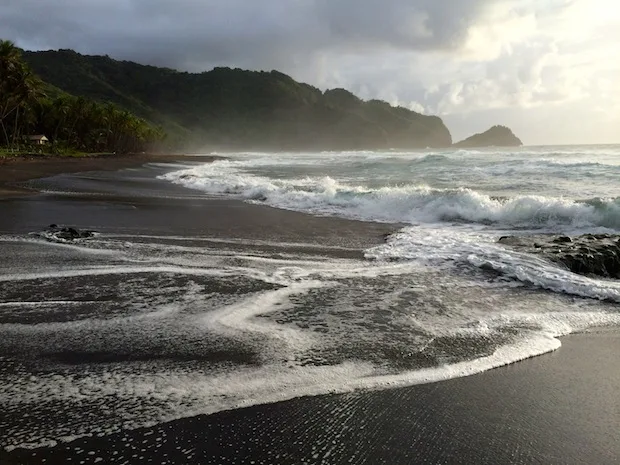 Where is Dominica?
Dominica, otherwise known as the Caribbean's 'nature island', is found between Guadeloupe and Martinique. The dramatically mountainous island covers an area of 290 square miles and has a population of just over 70,000. This makes it almost twice the size of Barbados (166 sq miles) but Barbados has 200,000 more people so you can see how sparse and quiet Dominica is.
Dominica is the youngest island in the Lesser Antilles and was formed by geothermal volcanic activity. It is incredibly lush and mountainous and is home to 365 rivers.
The northeast of Dominica in the Calibishie area has golden sandy beaches. The rest of the island has pebble or black sand beaches. You won't find umbrellas and deckchairs but you will find a stretch of deserted paradise, which, in my eyes, is even better.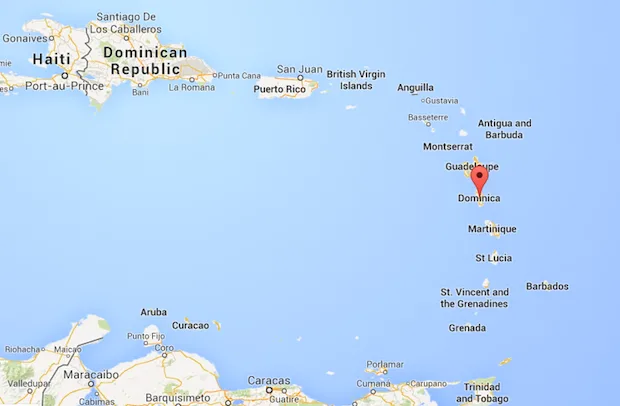 Who visits Dominica?
Dominica attracts adventurous travellers with an interest in nature and eco-tourism. The majority of visitors are American and French but the secret of Dominica's beauty hasn't quite spread to the UK.
Dominica and eco-tourism
The locals are proud of how well preserved their island is and they're doing everything they can to avoid deforestation.40% of local power is generated through hydro-electricity thanks to all the waterfalls and rivers. Conservation and eco-tourism aren't buzzwords on Dominica, they're a way of life. Even if tourism increases to Dominica, it will never be a high-rise hotel island.
The main industry in Dominica is tourism. They rely heavily on cruise ship tourism, which usually includes a 1-day whistle-stop tour of the island. Agriculture was once the main industry but this has now dropped, particularly after Hurricane Dean which wiped out 99% of the banana crops. Replanting wasn't an option as mass banana production in South America can no longer be competed with.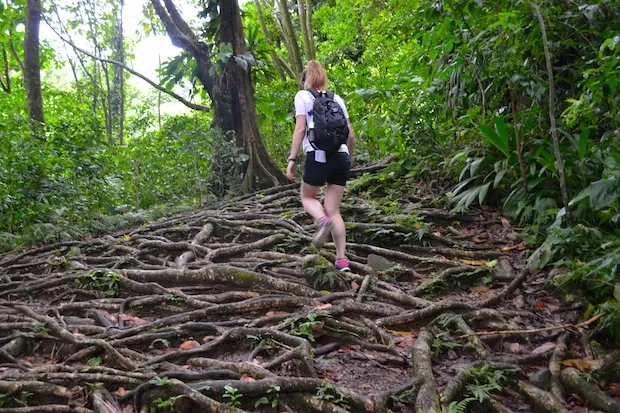 When is the best time to travel to Dominica?
The high season is December to April. This is the driest time of year and attracts Europeans looking for winter sun and daily cruise ships.
The low season is July to October. This is the hurricane season and while hurricanes are unlikely, tropical storms occur almost daily. Room prices are cheaper at this time of year but many businesses shut.
The shoulder season is May, June and November. I travelled to Dominica in late May and it was ideal. It was quiet without feeling like a ghost town. It was mostly sunny and hot with a quick, daily shower. Dominica's mountains attract the rain like a magnet and you'll often find a torrential downpour in one area and bright sunshine less than a mile away.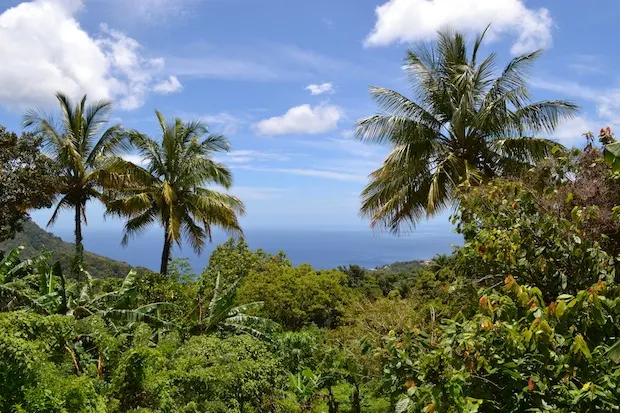 How do you get to Dominica?
International flights from Europe and the USA connect to Dominica through hubs in Antigua, Barbados, St Maarten, St Lucia, Guadeloupe and Martinique.
I travelled to Barbados with British Airways from Gatwick and then took a connecting LIAT Airways flight.
LIAT are known for being infamously unreliable (worse than RyanAir). I've never had too much of a problem with them but WINAIR are recommended whenever possible.
There are plenty of taxis at Dominica Airport or you can pre-arrange a transfer through your hotel.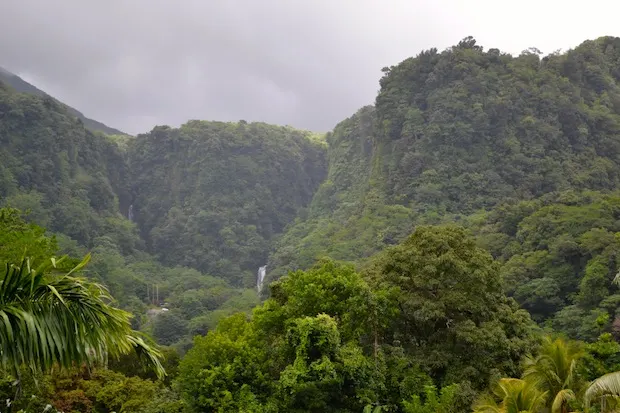 Visas
You don't need a visa to travel to Dominica.
Currency
The main currency is Eastern Caribbean dollars but US dollars are accepted almost everywhere. All the hotels I stayed at accepted credit cards.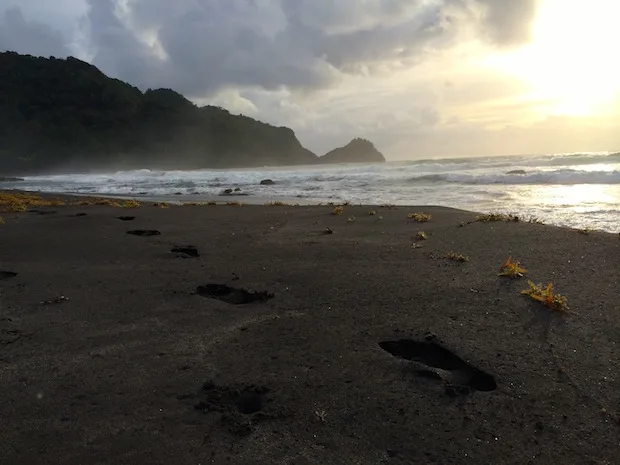 Departure tax
There's a departure tax in Dominica of $23 US ($59 EC). Make sure you save some cash and leave yourself plenty of time to queue and pay this tax.
What do you do in Dominica?
You may have noticed that Dominica doesn't have so many of those white sandy beaches that attract visitors to much of the Caribbean. But don't worry, there's so much more than beaches to keep you entertained on the nature island.
Dominica is often described as 'the anti-Caribbean' and isn't your average 2-week all-inclusive style island.
Dominica is covered with lush rainforest making it a dream come true for nature lovers, hikers and bird watchers. There are 365 rivers with plenty of waterfalls and pools where you can cool off. The geothermal activity has created hot pools and unique underwater activity perfect for diving.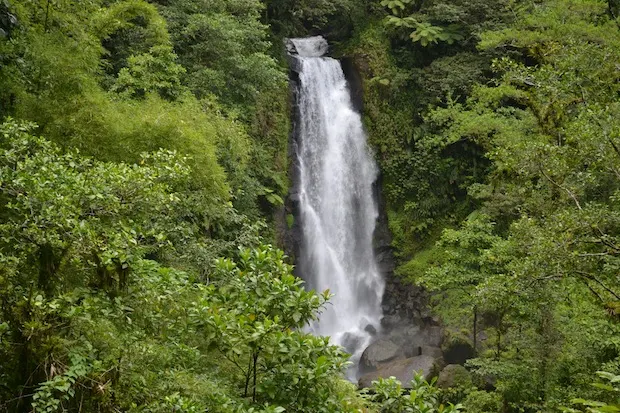 What to pack for a holiday to Dominica
Keep it casual!
Dominica is a very laid back island so leave your heels and your blazers at home.
Other than the usual summer holiday essentials, you will want to pack:
Hiking boots – particularly if you'll be doing any serious trekking
Lightweight trainers – I took my usual Nike running shoes and these were fine for the hiking I did. Be aware that they will get wet and muddy.
A small backpack
Water bottle
Insect repellent – There's a mosquito borne disease in Dominica at the minute called chikungunya. The symptoms are similar to Dengue Fever so do everything you can to avoid mozzie bites. The word 'chikungunya' roughly translates to an African word meaning writhing in pain so, yea, it sounds pretty bad. The only bites I had happened just before I went snorkeling at Champagne Reef and I was bitten to death within about 10 minutes.
Tiger Balm – Mosquito bites heal so much faster when you don't scratch so I use Tiger Balm to numb the bite.
Microfibre towel – There are loads of opportunities to jump into lakes, rivers and warm geothermal pools in Dominica. Pack a microfiber towel so you can dry off quickly without weighing you down
A good book – Dominica is the kind of island where you can spend a lot of time swinging in a hammock, listening to the waves and enjoying the sunset with a good book.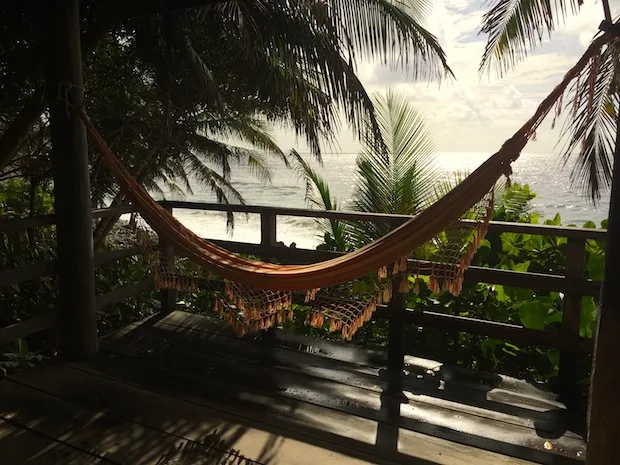 What to watch
Pirates of the Caribbean 2 & 3. Scenes from both films were shot in Dominica and you can take a Pirates of the Caribbean tour to see them. I saw one while snorkelling at Champagne Reef and one during a paddleboat trip down the Indian River.
I'd recommend…
If you're going on holiday to Dominica, I'd recommend combining your trip with a few days on one of the surrounding islands. If you fly in to Barbados or St Lucia before taking the connecting flight to Dominica, why not spend 1-2 days there either or the way out there or the way home.
This means you get the best of the both worlds with the traditional Caribbean beach holiday but also the peaceful nature and adventure activities of Dominica. I did this on the way home and spent a day in Barbados because there was a 10-hour gap between my connecting flights.
If you'd like to know anything else about Dominica, just let me know in the comments below and I'll do my best to get back to you!
If you'd like to read more, check out my other posts from Dominica here.