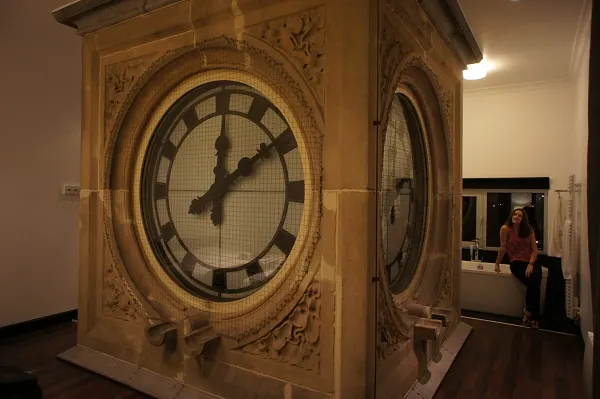 "What time is it?"
I instinctively glanced down at my watch yet again while my boyfriend grinned from ear to ear. Got me again.
Yes, we were staying in a hotel room with possibly the biggest clock in the world and I was still using my little wrist watch to tell the time.
The hotel room, designed by Tazu Rous, is built around the clock tower at St Peter's Railway Station in Ghent, Belgium. The clock, originally built in 1912, stands at 75ft high and has been an iconic landmark in Ghent ever since.
So why build a hotel room around it?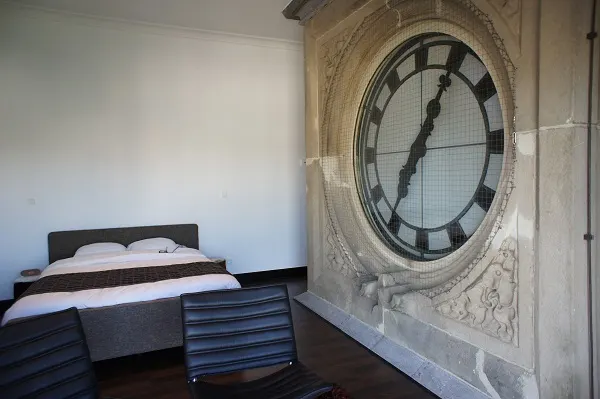 Tazu Rous, a Japanese artist, turns iconic monuments into public spaces while challenging spacial perceptions. He was asked to create something unique for the TRACK exhibition which sees the entire city being taken over by contemporary art.
When Rous arrived in Europe he noticed that some of our excessively huge landmarks have actually become so familiar that we barely notice them at all. A tourist may look up in awe and take a photo or two but we quickly become used to these monuments and fail to recognise their splendour. Rous creates spaces that put monuments so out of context that we can't help but see it in all its glory with fresh eyes and a new perspective.
Staying in the clock hotel
Being so close to such an icon was incredible but actually sleeping next to it was something else. Weirdly, I kept forgetting it was a clock. It is such a ridiculously enormous thing to have in the centre of a hotel room that it started to feel more like a wall separating the areas of the room.
A lot of people have asked me if it was difficult to sleep next it and it wasn't at all. In fact, I had one of the best sleeps I've had in ages which was probably helped by an evening of extensive Belgium beer tasting (research!) and being wrapped up in luxuriously soft Egyptian cotton.
We slept with the balcony doors open, safe in the knowledge that baddies couldn't get us at 23 metres high, and were able to enjoy the sparkly night views over the city and then gentle hum of a sleepy city.
Thankfully, the clock didn't tick or chime but it did feel a little like I was being watched from every angle in the room. I'm not sure if this comes from childhood stories of friendly faces in clocks that chatter and sing (yes, I was a massive Beauty and the Beast fan) or if it was because we were so high up and in such a focal point in the city that I felt sure everyone must be watching.
In reality, the room actually looks pretty ugly from the outside while it's surrounded by scaffolding and plain white walls. This is a shame but it makes it feel even more special once you get inside.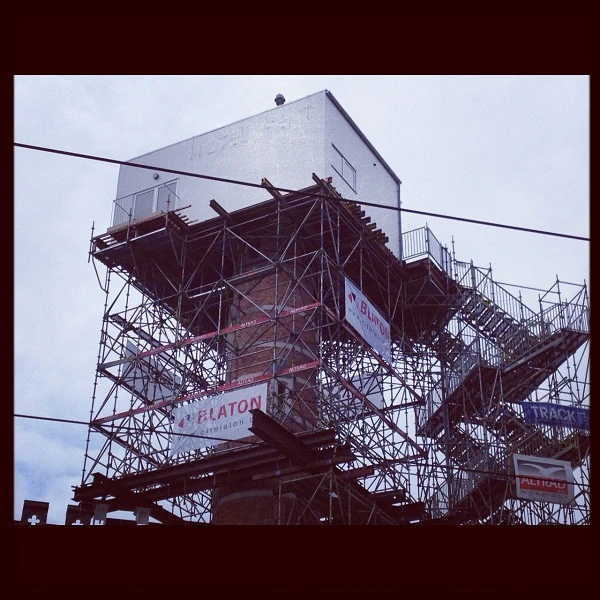 The hotel room will be there for a limited amount of time and the room was fully booked for the entire duration within 30 minutes. You can visit it between 12-6pm and if you're in Ghent I would definitely recommend it, not only for the unique opportunity to see the clock up close but also to see the incredible views across the city.