I'm currently sat in a fluffy white robe, stretched across a plush sofa, 25 stories high, with a magnificent view over Kuala Lumpur. I'm opposite a queen size bed that is wider than it is long and Sam is sat about 10 meters away from me at a huge desk while he uses the Internet and half watches the huge TV that he has swivelled out to face him.
We have 2 rooms in our bathroom, his and hers, and mine is significantly better because I have an extra long bathtub. We have an entrance kind of porch area, a wardrobe that lights up like Blackpool illuminations when you open the door and an actual coffee making area that has more variety of crisps and peanuts than I've ever seen before in my life. And I'm sat here, enjoying the luxury, as I wait for a massive continental breakfast buffet to be brought to my room.
Yes, we are well and truly flashpacking in KL!
We arrived 3 days ago at The Berjay Hotel, Times Square, KL. I was ruffled and grimy and wrinkled after a full day in Kota Kinabalu airport as our flight was cancelled.
I was quite embarrassed by my appearance as we walked into the hotel lobby. I hadn't showered for a couple of days and I was wearing the usual backpacker outfit of a vest displaying my favourite brand of beer and a pair of pants that could easily pass as pj's.
I was instantly hit by a refreshingly cool breeze that swept away the chocking fumes and humidity from outside. I was also wrapped up in the freshest scent I'd smelt in months and I noticed the huge arrangements of flowers that filled the vast hotel lobby.
I was mortified when the bell boy came to pick up my grubby old backpack; stained from a thousand adventures and with muddy trainers swinging from the outside. He placed it on the shiny golden trolley and I'm sure he gave his hands a quick wipe on the back of his trousers. He's obviously more accustomed to designer wheely suitcases than overstuffed backpacks that speak of dirty hostels and long journeys on the roof of a bus.
Sam and I smiled nervously at each other, fully aware that this hotel is so far out of our league that it's basically a different game.
As we checked in, I was sure that the guy at the desk would just laugh at us and point us in the direction of a hostel.
But he didn't. He actually did the opposite. He upgraded us!
We'd booked the cheapest room available and at £60pn, it is expensive for out budget, but it won't break the bank. But there were only smoking room available so we had an instant upgrade to the £200pn club room!
I did my best to keep a straight face as the guy was busy with the paperwork and I really had to restrain myself from 'high-fiving' Sam. Woop! Free Upgrade!
It's nice to have so much space after being squashed into tiny guesthouses and hostels for so long. But I realised that it's the little luxuries that I enjoy the most. These 'luxuries' are what I would have once considered to be basic human rights; towels, clean sheets, hot water, complimentary shower gel, a dressing gown and slippers, a newspaper. A carpet! It's been so long since I've dug my toes into a soft fluffy carpet!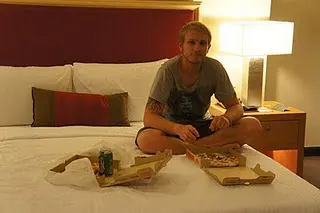 You can take the backpacker out the hostel….. Enjoying beer and takeaway pizzas
The room is almost so flash that we don't want to leave the room. Who cares about KL when you have a 5* room, a luxury swimming pool and the movie channel!
Na, only joking (kind of). Our adventures from KL are coming soon…..
It wasn't long ago that we were Slumming it in Flores. This is what I love about backpacking; you can spend one week living on £5 a day with the most budget accomodation possible. Then the next week your whole world has been turned upside down and you're living a completely different life.
Has anyone else had any great upgrade stories?