Rebecca Sharp from Almost Ginger shares the best restaurants in Malta and the traditional food and drink you have to try while you're there!
Malta's cuisine has to be tasted locally to be appreciated as the traditional Maltese dishes have travelled as far as their Italian neighbours to the north.
Despite the warm climate and array of white sand beaches, the Maltese cuisine is where the Mediterranean meets comfort food: think stews and soups paired with pasta and fresh seafood. With so many amazing new dishes to try, here's everything you need to know about what to eat in Malta and some of the best restaurants in Malta to try these traditional dishes.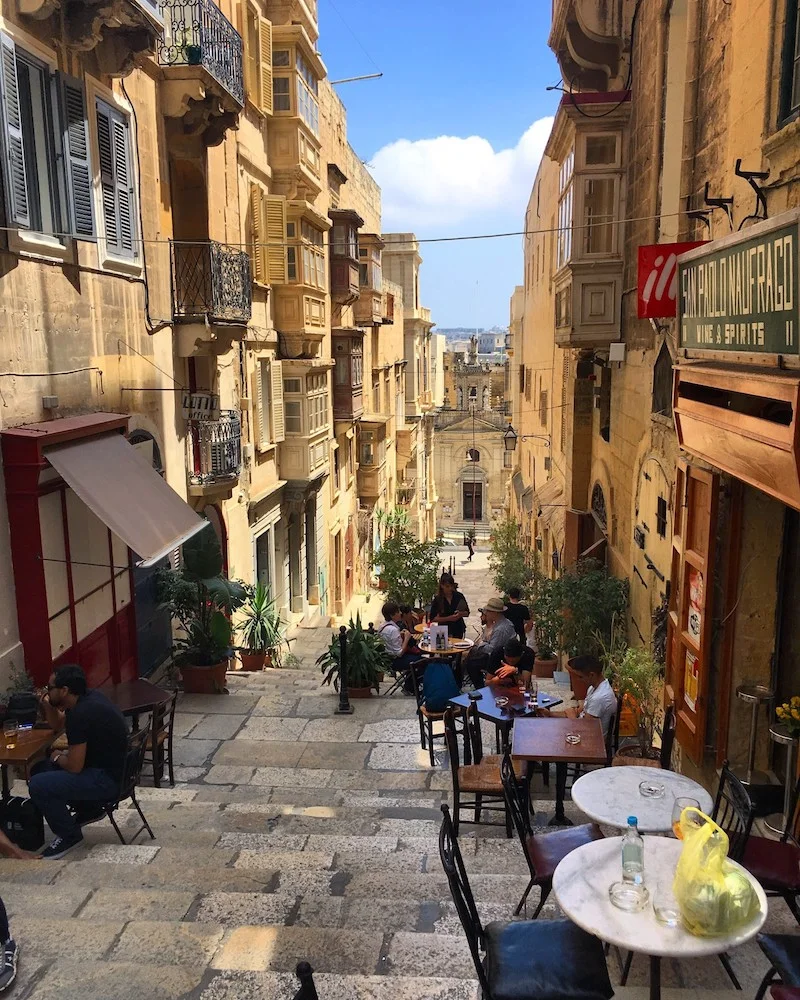 What to eat in Malta
Hobz tal-Malti (Maltese Bread)
I challenge you to spend any amount of time in Malta and not eat Maltese bread! It is essentially a sourdough bread with a hard outer shell and a soft, doughy middle. Try a Hobz biz-zejt (open sandwich) served with tomatoes, olive oil and a variety of fillings such as tuna, olives and capers for an authentic Maltese summer lunch.
Alternatively, Ftira (flatbread) is also local to Malta and is used to make Ftira Ghawdxija (similar to pizza) which is a perfect alternative dinner for vegetarians. Malta is very much a country of meat lovers!
Where: Gormina Bakery in St Paul's Bay for Maltese bread and Toffee & Co in Rabat for Ftira
Stuffat tal-Fenek (Rabbit Stew)
Speaking of meat, to say you've tasted Maltese cuisine means you need to have tried Rabbit Stew. It's Malta's national dish and is usually slow-cooked for two hours in garlic and wine and is served with gravy, carrots and potatoes. Just like an English Sunday roast dinner, except pasta in rabbit sauce is usually served as a starter. The first course is a perfect example of how neighbouring countries like Italy have influenced what to eat in Malta, but the dish is still uniquely Maltese.
Where: United Bar and Restaurant in Mgarr
Aljotta (Fish Stew)
Malta is surrounded by miles and miles of sea in every direction, so fish is always on the menu year-round. Maltese delicacies include Lampuka (also known as Dorado fish or Mahi-mahi) which is available fresh from August – December. Swordfish and sea bass are also popular options.
Swordfish is often served grilled like a steak fried with lemon and olive oil (a dish called Pixxispad) but the more comforting a meal, the better in Malta. A variety of fish can be used to make Aljotta, which is a popular fish stew thickened with rice, tomatoes and garlic.
Where: La Reggia in Marsaxlokk
Mezze Platter (Mediterranean Platter)
A traditional Mediterranean platter must be one of the best meals invented. Tasting different creamy cheeses, olives and thick bread is my idea of heaven. If you're looking for what to eat in Malta without having to dive into a huge Rabbit Stew, try a Mezze platter with a Maltese twist.
You can expect Maltese bread, locally grown olives, capers and tomatoes, just like you would in Spain or Italy. However, ?bejniet (sheep cheese) is widely eaten in Malta as well as an accompaniment called Bigilla (broad bean pâté) so expect these additions on your Mezze platter. If you're wondering what the whipped olive-green spread is next to your olive oil, it's Bigilla and makes the perfect dip for Maltese bread.
Where: Legligin in Valletta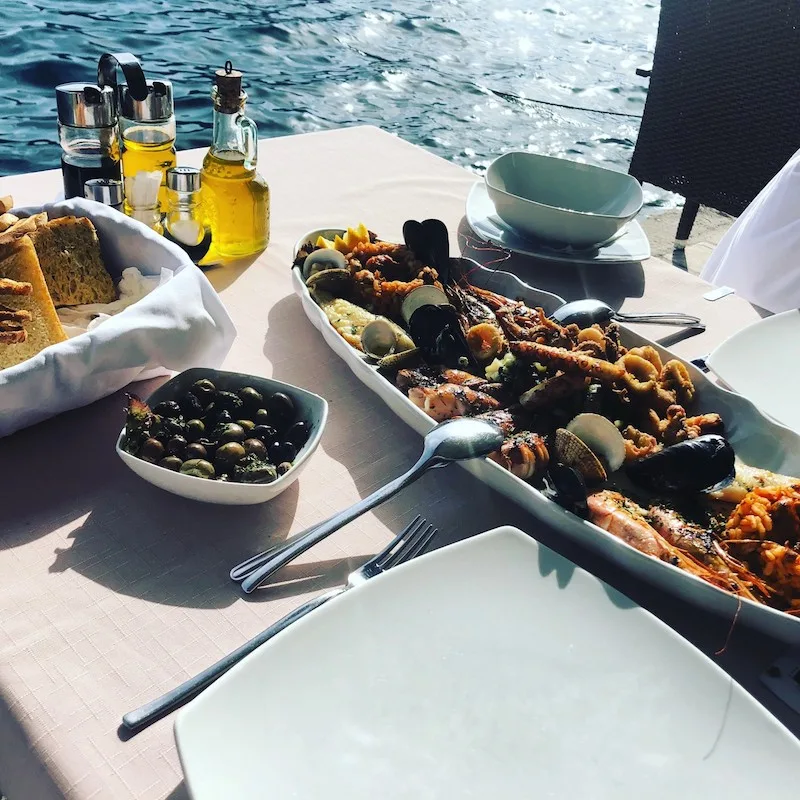 Italian Influences (Minestra and Timpana)
There have already been a couple of Maltese dishes mentioned with an Italian influence, but none more so than Timpana and Minestra.
Minestra is literally Minestrone soup, and considering Malta's love affair with comfort food it's not surprising they love a dish that is vegetable soup with pasta.
Timpana is something a little different. Think macaroni cooked in tomato sauce, accompanied with various meats like mincemeat, bacon and even chopped liver. Sometimes, egg and cheese are added, too. And if you didn't think that was enough, it's covered in shortcrust pastry and baked like a pie. Yep, this dish is carbs on carbs on carbs and is usually served as a starter in Maltese households. As long as you don't think about the calories (or the chopped liver) it's delicious.
Where: Ta'Marija in Mosta
Soppa Tal-Armla (Widow's Soup)
Malta hasn't stolen all their traditional soups from Italy, they have plenty of their own. And you don't have a dish named 'Widow's Soup' without a story behind it. I've heard two: that the soup's ingredients are so cheap to buy that even a widow could afford to make it. Or, that when paraffin stoves were used years ago, widows used to leave their windows open whilst making their soups.
But I'm not sure why it would just be widows who would need to open their windows while they cook, so I think the former is most likely to be true.
Regardless, it is a staple meal in Malta because of its simplicity. The recipe calls for potatoes, carrots, peas, garlic, cauliflower and often a small piece of Gbejniet (remember, sheep's cheese?) to serve. This is normally a dish made at home, but it can be found in some smaller, family run restaurants.
Where: Nenu the Artisan Baker in Valletta
Travel Hack tip: Nenu the Artisan Baker is actually the best place in Valletta, the capital of Malta, for everything on this list! It's one of the most welcoming, traditional Maltese restaurants in the country so it's definitely one of the best restaurants in Malta!
Maltese Pies
If there still aren't enough dishes on offer for you to decide what to eat in Malta, you're going to be spoiled for choice when I tell you how much the Maltese love their pies. Doesn't everything taste better when it's encased in pastry?
Two winners are Torta Tal-Lampuki (Lampuki pie) and Torta Tal-Bulibif (Corned beef pie). Lampuki pie is served with a number of different ingredients: spinach, cauliflower, walnuts, onions, even sultanas and olives. Spinach and Tuna is also a popular flavour combination for a Maltese pie.
Where: Café Jubilee in Valletta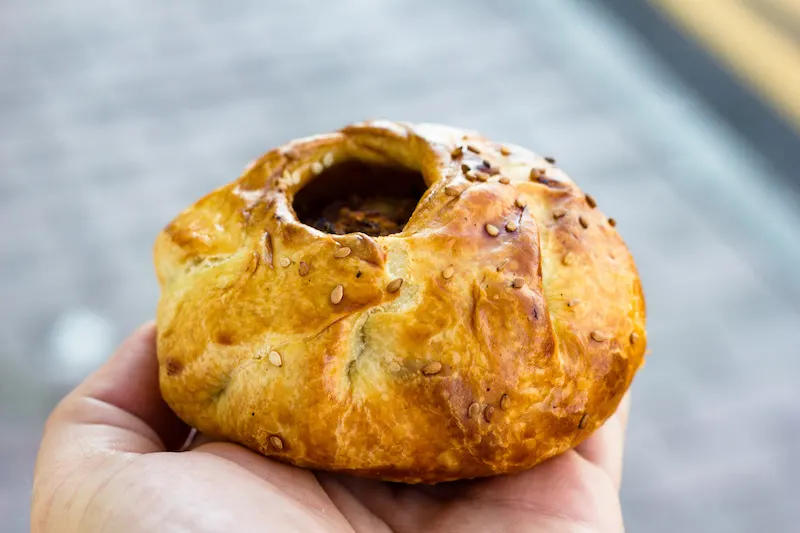 Pastizzi (Savoury pastries)
Whatever the Maltese version of Greggs is, they are bound to serve these greasy, delicious bad boys. Great for a snack or an on-the-move lunch, Pastizzi are literally flaky pastries filled with either ricotta cheese or a pea paste. Pastizzi is the closest Malta has to street food as they can be picked up at almost any bakery or Pastizzeria.
Where: Crystal Palace in Rabat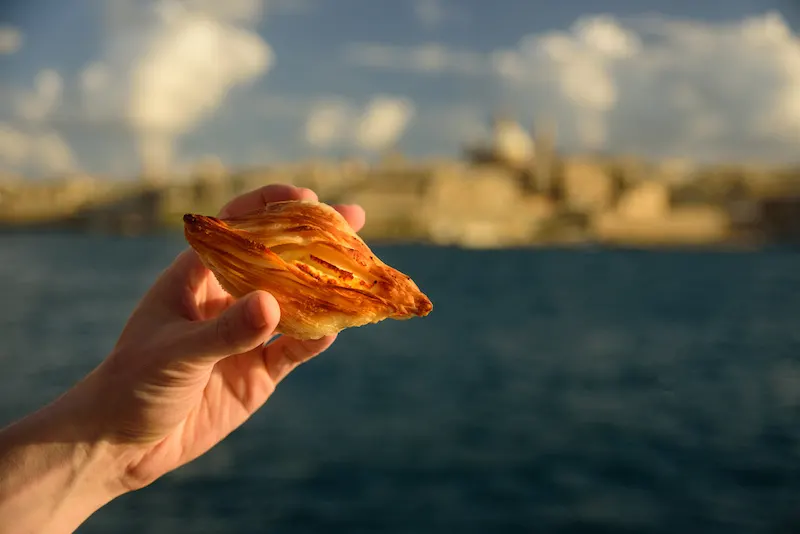 Non-traditional things to eat in Malta
We never admit it, but sometimes you just want to know where to eat the best burger when you're enjoying a weekend break, am I right? Head to Badass Burgers in St Julian's for the most decadent burgers in the city.
And with so many Italian transplants living in Malta, traditional Italian food is very easy to come by in the capital city of Valletta. Il Teatro Trattoria is run by Italians with a passion for pasta, and the tiramisu is the owner's mother's recipe. Isn't all good Italian food the brainchild of someone's Mama or Nonna?
What to drink in Malta
Maltese wine
It might not surprise you to know that Maltese wine is very difficult to find outside of Malta. So little is produced that most of the wine ends up in the glasses of the locals, with minimal exports to Italy and the UK. Homegrown grapes include Gellewza (a red wine that's close to rosé) and Girgentina (a light, white wine), so look out for these on your restaurant's wine list, particularly Marsovin and Emmanuel Delicata wineries. More international grapes such as Syrah, Merlot and Chardonnay are also grown on Maltese soil.
Definitely think about going to the Ta' Mena Estate on Gozo if you love wine because you can take a guided tour around the vineyard and have the opportunity to sample lots of different wines, olives and other locally grown treats.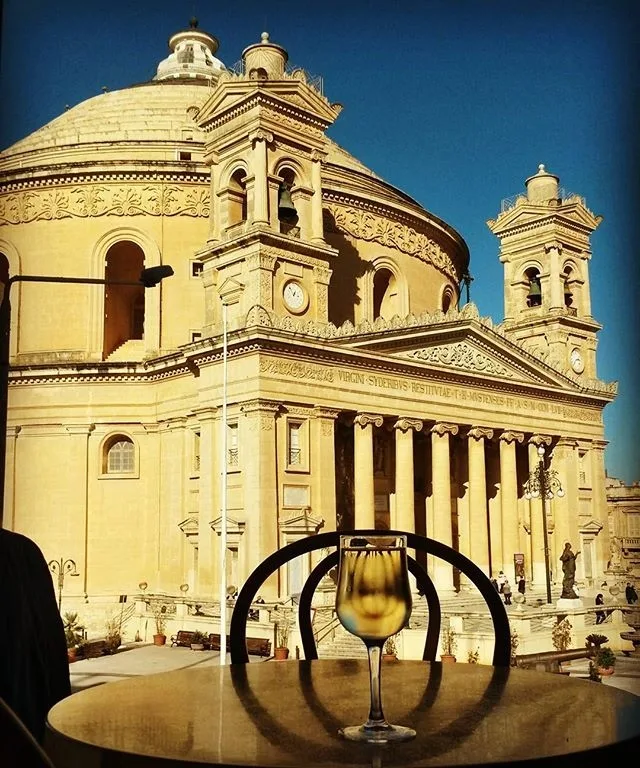 Beer in Malta
Cisk is a popular, light Maltese larger you can enjoy with any meal. It is brewed in the town of Hamrun and is available to order at almost every restaurant in the country. Cisk is to Malta what Super Bock is to Portugal.
For craft beer lovers, Malta does not disappoint. Lord Chambray is a brewery on Gozo, the island to the north of Malta, and has at least eight seasonal craft beers available in bars all over the country year-around. Bars that have a great selection of craft beer include 67 Kapitali, The Beer Cave, both in Valletta, and Good Thaimes in Gzira.
Kinnie (Soft drink)
You don't have to knock a pint back every mealtime to enjoy a local Maltese beverage. Kinnie is a bittersweet carbonated soft drink that is produced in Malta using bitter oranges. It is enjoyed by locals and is rarely exported elsewhere. It is available in many bars, restaurants and supermarkets and is often mixed with alcohol, so you can definitely substitute a pint of beer or a glass of wine with a splash of liquor in your glass of Kinnie. Sahha!
Have you visited and enjoyed all there is to eat in Malta? Which restaurants do you think are the best restaurants in Malta?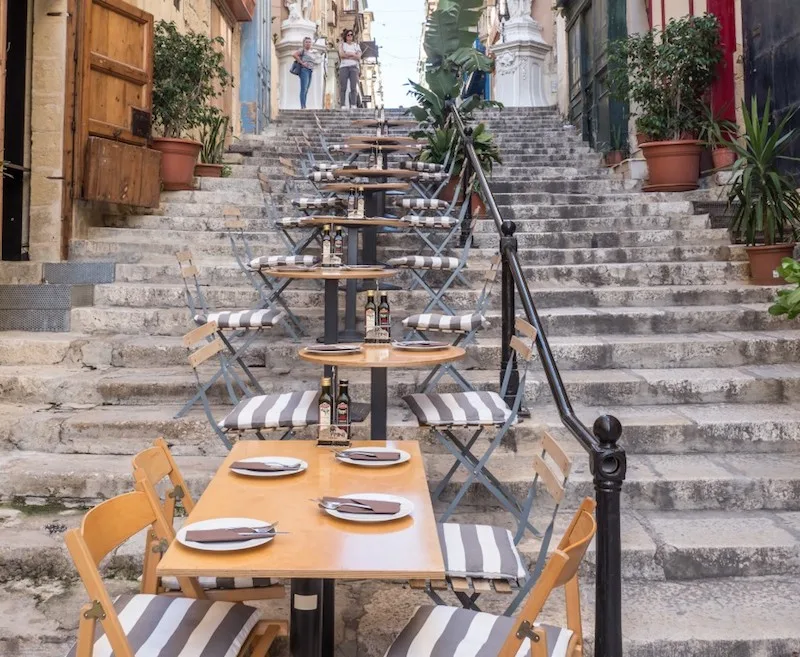 ---
This guide to Valletta was written by Rebecca from Almost Ginger, a blog about Rebecca's love for travel and films with helpful travel tips and information about film locations, festivals and screenings.
"Almost Ginger is a film and travel blog aimed at showing film and TV lovers how their silver screen escapes can be a reality by documenting my own travels to film locations and film festivals around the world."
---