My Corona Capital 2015 Confession
I have a confession to make. The last time I went to anything remotely resembling a festival, it was 1995 and miraculously it was free. It was sunny, and the beer was cheap. Since then, I've never felt the urge to camp at Glastonbury, get dirty in the mud at Reading or fight through crowds at Leeds. I'm mildly claustrophobic and the thought of 70,000 people crammed into a field is a somewhat disturbing prospect.
So here I am in Mexico City about to attend Corona Capital 2015, a music festival designed to showcase global talent old and new. I agreed to come because frankly I love travel, but am I about to become a festival convert?
Corona Capital 2015
Thankfully, after rivers of mud at the Corona Capital 2014 festival, the gods of mud laid down their battle arms and allowed the sun gods safe passage thus denying me the Glastonbury mud bath experience (hoorah!).
Day one was sunny and warm, and day two overcast and cool but thankfully no rain, no need for wellies, and no permanent re-engineering of my trainers into some smelly, poo-infested contraptions.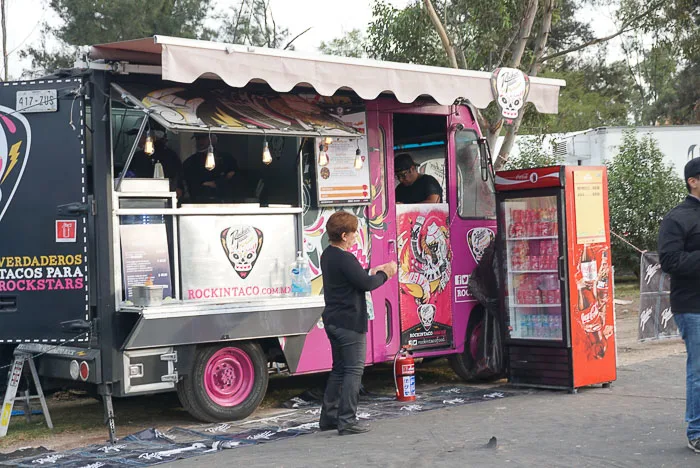 A Fast and Furious Location
Corona Capital 2015 takes place at Autodromo Hermanos Rodriguez, the Formula One track. Having only recently watched Nico Rosberg beat Lewis to the finish line here, I was bizarrely excited by this discovery. Walking on the rumble strips, and perusing the festival map with stages arranged around the racecourse was a somewhat surreal experience. Had I realised this fact beforehand, I would most definitely have paid a little more attention to the race other than simply observing to my husband, 'ooh look where I'm going in a few weeks.'
The festival ground is very close to the airport too, so if you do decide to tag a visit onto other plans in Mexico, you won't have far to go for your onward journey.
Facilities
The festival takes place around four stages which aren't too far apart, although sensible shoes are definitely recommended (the norm perhaps at a festival?).
The Main stage – Corona
This is possibly the coolest stage I've ever seen given that it sits on the bend of the racetrack. Stands remain to remind you it was but a few weeks since those cars were whizzing around the track at incredible speed.
The stage is home to headline acts and is surrounded by a climbing wall, VIP bars and eateries. Toilets are never far away and always well stocked with loo paper. Not what I am used to when I am doing road races! If this is how civilised a music festival is in the 21st Century, I could definitely become a regular.
The second main stage – Corona Light
Do Corona do a light beer? Who knows but this stage is most definitely not light. Some of my favourite acts during the festival could be found here, such as Primal Scream, Halsey and the Charlatans. An exciting aspect of the festival for me was the introduction to new bands and a chance to fall in love with different music. Thankfully we had a few music journalists on hand to educate us music heathens!
I even dared to don my press photo jacket and head into the photo pit to try and bag you lovely readers a close up shot. Yes I felt a little foolish without a whopping lens to batter others out of the way, but being so close to a band on stage is an incredible experience. Here's one of the shots I managed to capture.
Next to this stage you will find a strange, sky experience; a bizarre minute of dangling from a steel structure around 10 metres above the ground. Those with flexible bodies can engage in various acrobatics, or you can giggle furiously due to the copious amounts of beer you may have drunk, which was pretty much what we did. It definitely gives you a good view of the stage if you are brave enough to ascend!
The Doritos Stage
A little way from the other two stages, this stage is surrounded by multiple entertainment options, including a zip wire, bouncy castle, trampolines, and huge food area with countless varieties to suit all tastes. You may have to drag yourself away to watch a band with all that going on.
Here I was introduced to bands I had never heard of, but vowed to buy their albums so bowled over was I by the music. Mew, Mothxr and Kiesza all impressed me on this stage. I'm seriously hoping my husband has taken the hint about all those music vouchers I need for Christmas so I can indulge my newfound music prowess.
The Dance Tent – Claro Music
This is where the DJs and angry rappers hang out, not 40 something's whose days of dancing on bars, partying the night away on water, and having two hours of sleep are well and truly over.
I loved the daytime cool Ibiza vibes of George Fitzgerald but the more hardcore dance DJ sets at night were not for me. That said I hung out there just for the laser show and to watch the mania of youth consume the huge dance floor. Oh how things have changed for me!
What else?
Different pop up bars are plentiful throughout the site, but the coolest is by far the British Bar courtesy of UKMX15, a joint collaboration between Mexico and the UK to promote tourism in their respective countries. Union flags abound, and a cosmopolitan bar serves cocktails, beers and wines whilst lights are strung around the decking to create a balmy outdoor sensation.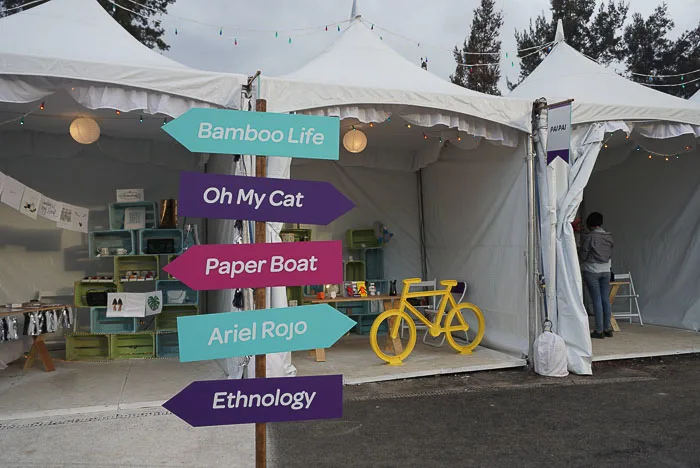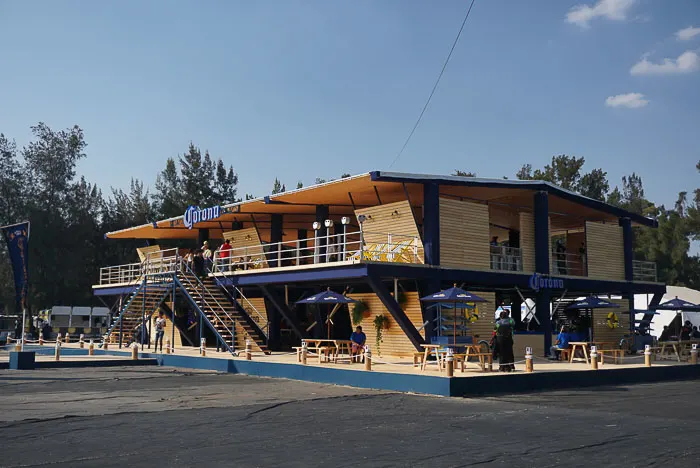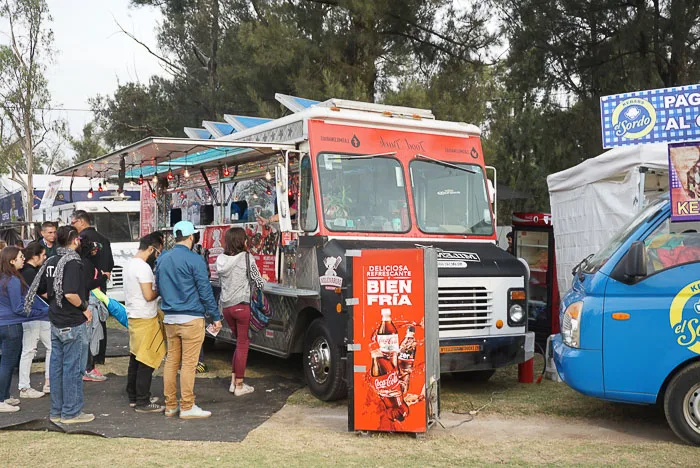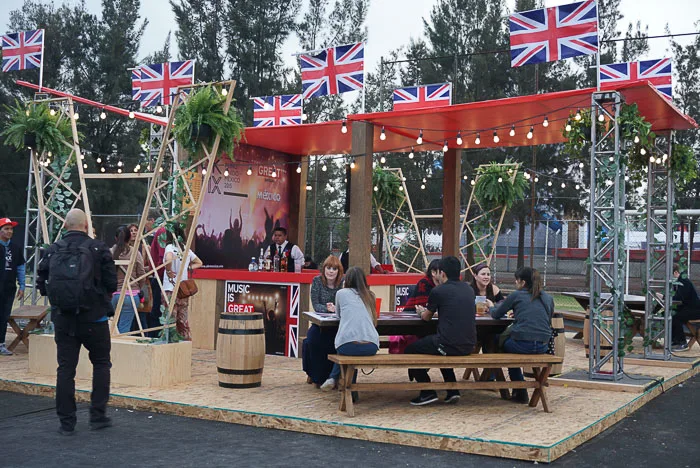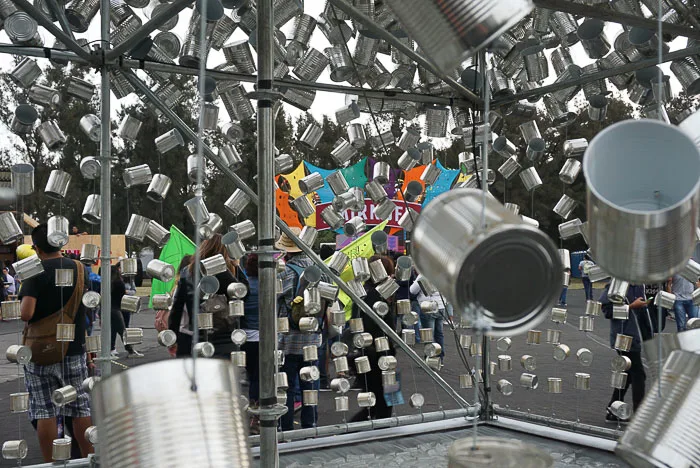 Costs
A weekend ticket to Corona Capital costs around £80 which is exceptional value compared to festivals in the UK but of course you have to get there too. Economy fares start from around £550 on Skyscanner (although they vary dramatically throughout the year).
I would recommend tying this in with other holiday plans, rather than flying out solely for the festival as the costs would quickly spiral for just a weekend. Combined with other holiday plans in the region you get to experience a cultural colossal of a city with the glistening white beaches of the Yucatan, the underwater metropolis of Baja or the day of the dead festivities in Oaxaca just a short flight away.
What makes it different?
The great thing about Corona Capital is you will never need to miss the show. Armies of beer carriers, and Mesqal sellers weave amongst the crowd selling drinks for just short of £4. They have an infuriating ability to get in your way, whether you are trying to take a picture or avoid having your feet trampled, but you will never need to queue, or risk losing your friends!
It is a very good natured festival. We never saw any hint of trouble, and all the locals we interacted with were incredibly friendly.
My verdict
I am a festival convert. Even talks of mud has me considering designer wellies rather than running for the hills, and I have been checking out other festivals. I would love to head back to Mexico City and do this festival again too, as the city has so much to offer on top of the festival draw.
Top Travel Hack Tips for a Visit to Corona Capital
1. Stay at a chain hotel where you can earn loyalty points
2. Fly a OneWorld airline to earn AVIOS
3. use your Heathrow Rewards card for any purchases in the airport. Reward points can be converted to AVIOS or Virgin Atlantic points
4. Book a weekend pass for better value
5. Make your visit part of a longer trip to Mexico. Frequent domestic flights depart from Mexico Cityand are reasonably priced. For instance flights to Oaxaca start from £56 each.
We visited as guests of the British Embassy in Mexico and a special thanks go to our hosts Adriana, Pauline and Babette for making us feel so welcome. As always my views are my own and unedited.