I have loved our time in Singapore, a city of such lovely contrasts. A city where East meets West and mingles together with perfect ease. The contrasts begin as soon as you get on the train; first stop Tenah Merah and then you come to names that I'm more than familiar with like Town Hall, Raffles Place or Marina Bay and then they slip back into a language completely unknown to me like Bunagkok or Aljunied. The lady on the train who warns you to 'mind the gap' sometimes speaks with a perfect English RP accent but sometimes sounds American and is then followed by 3 or 4 equally polite ladies who repeat the warning in a multitude of languages.
There so much to see and do in Singapore, here's a few of my favourite images.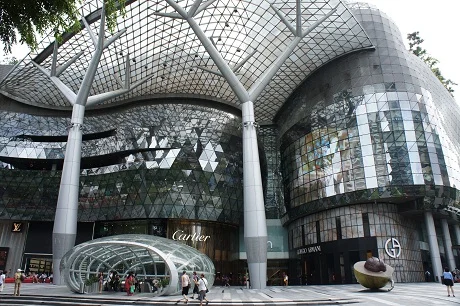 The shopping malls are as amazing from the outside as they are from the inside.