Lisbon, Portugal's capital, makes for a fabulous European city break. There are so many things to do in Lisbon that you can be a busy or as chilled as you please and the city is totally on trend for 2018. There are lots of reasons to love Lisbon; it's cosmopolitan, colourful, chilled-out and has a fab food scene. Winters are mild and summers are warm thanks to the gulf stream, and Lisbon is more affordable than most other European cities too.
Keep reading to discover the 10 things to do in Lisbon during your first visit…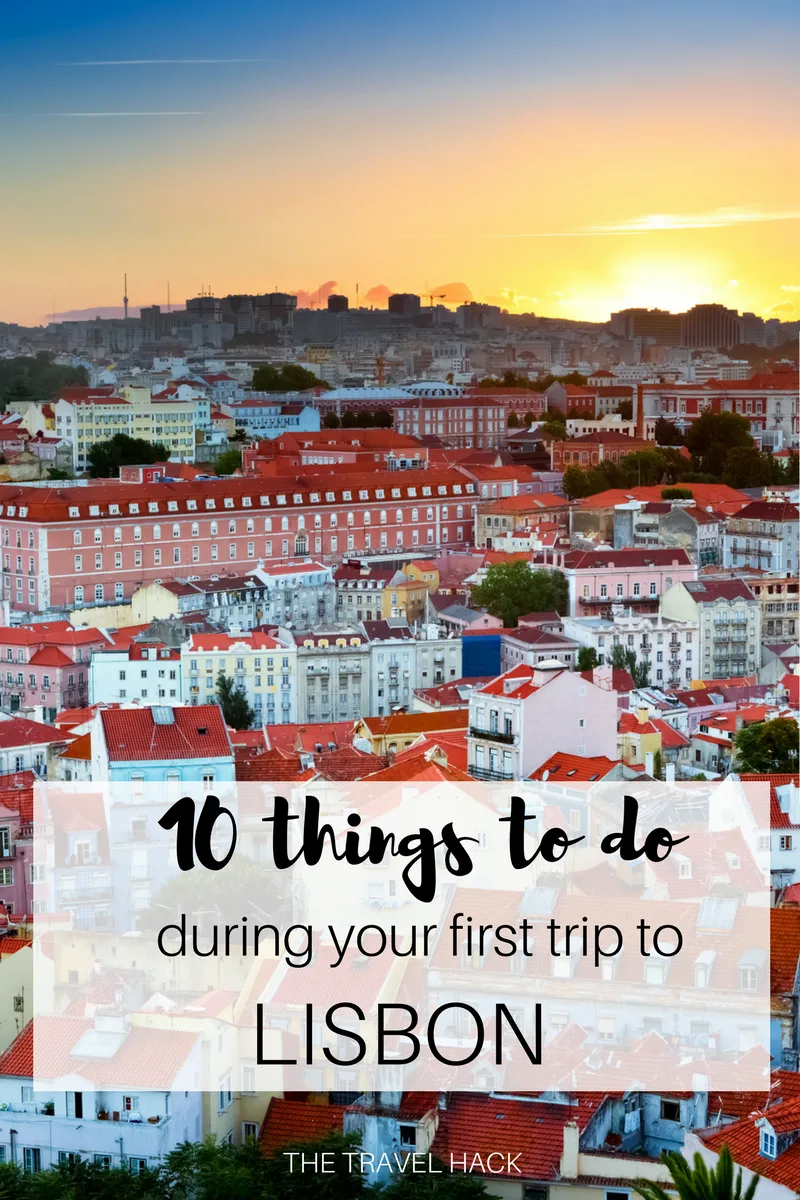 #1. Ride a Vintage Tram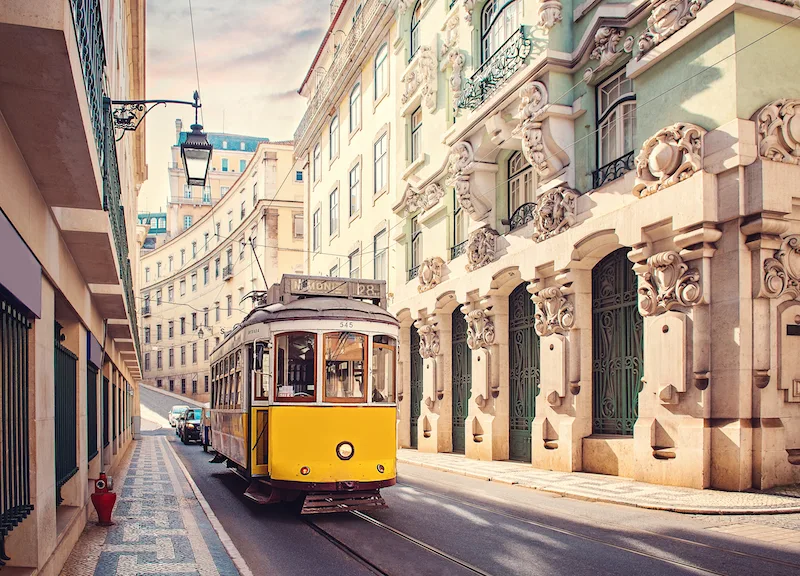 You can't visit without riding a vintage tram as this is one of the top things to do in Lisbon!
Lisbon's iconic yellow trams and funiculars can be seen all over the city. Hop on famous tram 28 and trundle across the centre of town. You'll pass many of the city's main sights so you'll get a sightseeing tour as well as riding a bit of history too. Hop off at São Jorge Castle before the tram gets to the end of the line.
TRAVEL HACK TIP: A 24-hour pass costs €6.15 (plus €0.50 for the card) and includes unlimited metro, tram and bus services. Buy tickets at tobacconist kiosks around town – they'll cost more if you buy on board.
#2. Visit São Jorge Castle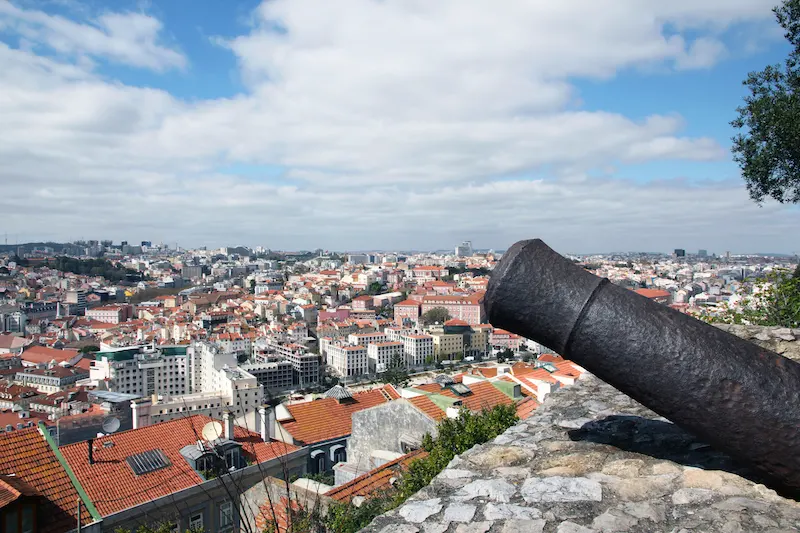 Who doesn't love a castle? São Jorge Castle is one of the most popular things to see in Lisbon and is a medieval Moorish fortress which can be seen from anywhere in the city. It's a full-on trek to get up there so I suggest you take the tram (above).
Wander through the gardens and terraces and climb the towers.
TRAVEL HACK TIP: Visit São Jorge Castle just before sunset for gorgeous sun-drenched views of the city and the River Tagus.
#3. Get lost in Alfama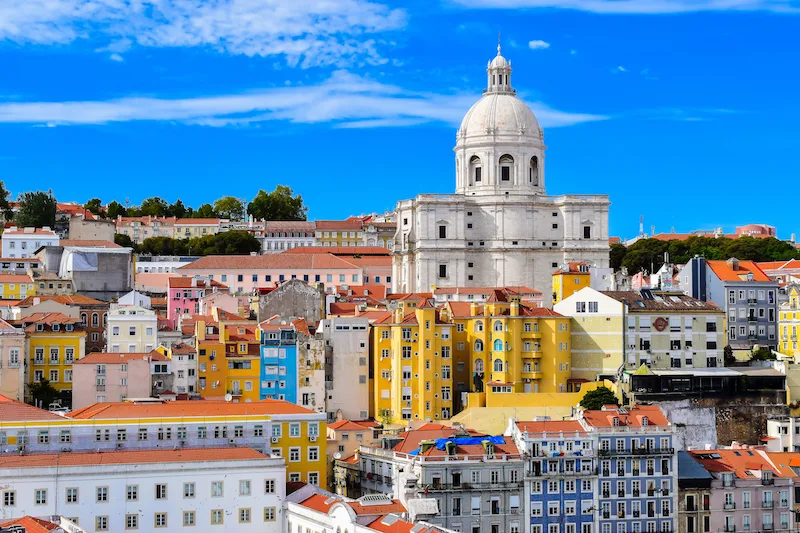 Walk down from the castle through the streets of Alfama, Sé and Mouraria. The narrow lanes that surround the castle are some of the oldest and loveliest in Lisbon. It's the perfect part of the city to get beautifully lost in. You'll find winding, cobble-stoned alleyways, shuttered windows and walls of brightly coloured Azulejo tiles. In the evenings, strains of melancholy Fado music seep out from cosy bars. The oldest church in the city, Lisbon Cathedral, and some of the best viewpoints are in Alfama neighbourhood.
#4. Seek out the Street Art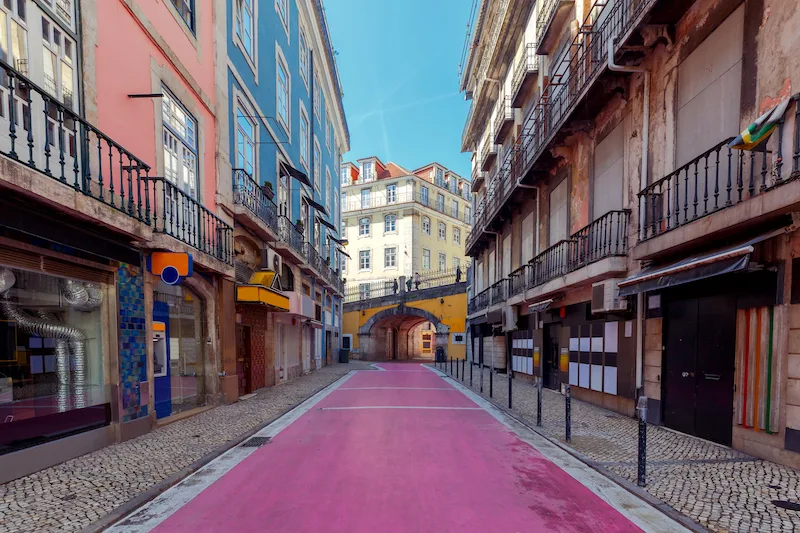 Pedestrian Pink street Rua Nova do Carvalho
Hunting out street art in any city is one of my favourite things to do and Lisbon is packed full of gorgeous murals and cool urban wall art. Head for Andre Saraiva's striking mural in São Vicente de Fora. The huge mural is made up of over 50,000 tiles, covers a massive 864 square metres and took Saraiva over two years to hand paint. The narrow roads of Alfama, São Vicente and Graça are also packed full of street art.
#5. Get Elevated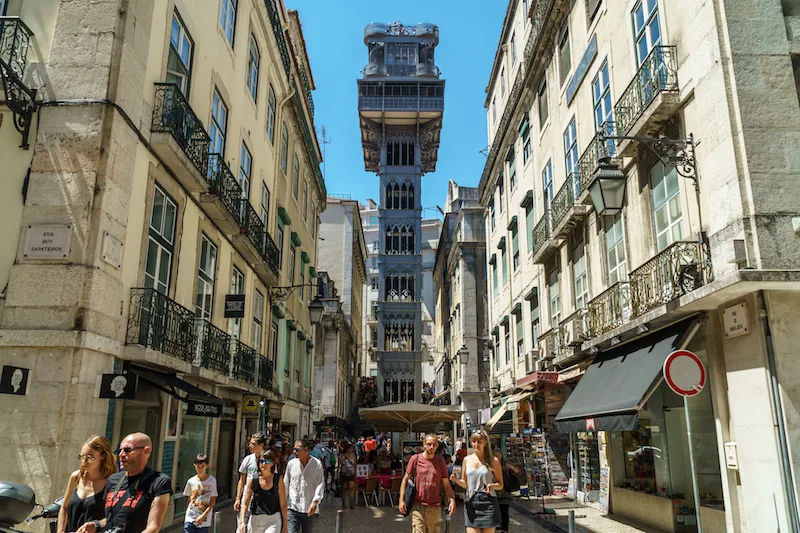 Lisbon's Santa Justa Elevador, also called the Carmo Lift, is an ornate neoclassical structure made from iron. The lift rises from the centre of downtown and connects the hilltop neighbourhood of Bairro Alto to Baixa 45 metres below. The elevator has operated since 1905 and was originally operated by a steam engine. Today it's electric. When you get to the top head up the spiral staircase for great views of the city and check out the Instagram-worthy ruins of the Carmo church.
TRAVEL HACK TIP: You can use a valid metro ticket to ride the elevator or buy a ticket from either of the stations at the elevator. Sometimes there are queues in summer but you can take the staircase that leads up the hill and burn off a few Pastéis de nata.
#6. Enjoy a Pastéis de Belém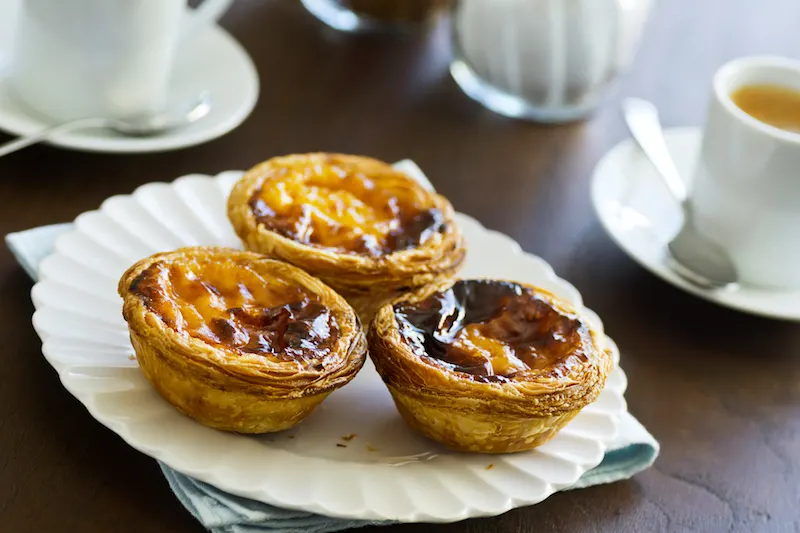 It would be wrong to visit Lisbon and not try the little custard tarts the city is famous for. Pastéis de Belém were created in the eighteenth century by Catholic Monks who lived in Jerónimos Monastery in Belem. They are also known as pasteis de nata but the Belem version is the original and probably the best. The delicious little tarts are made from crisp layers of flaky pastry with a creamy, egg-custard filling and a sprinkle of powdered sugar and cinnamon on top. See if you can stop at one…
Check out this TripAdvisor list of the best bakeries in Lisbon to find the best place to find this sweet treat. Pasteis de Belem is one of the most famous bakeries in the city, leading on to my next point…
#7. Discover Monuments, Monasteries and Towers in Belém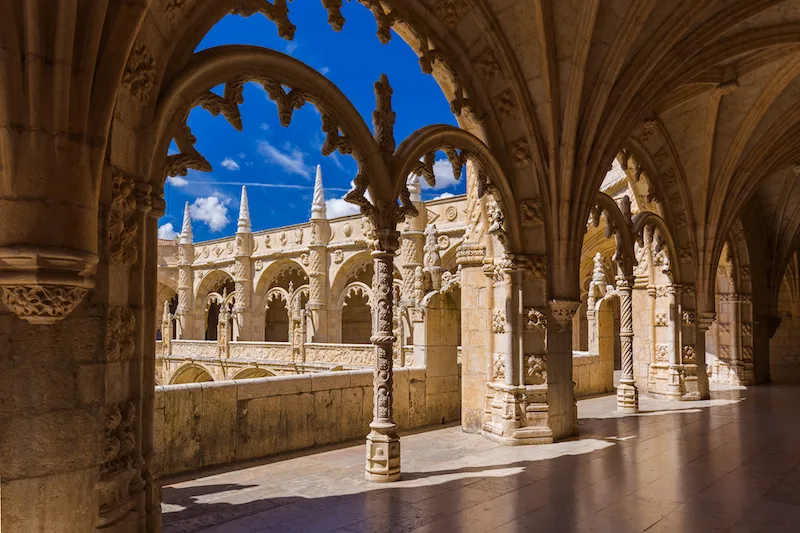 Head out to Belém and visit the impressive Jerónimos Monastery (which conveniently is next to the Pastéis de Belém bakery!) The sixteenth century monastery is slightly gothic with spiralling towers and ornate facades. Inside, the columns are carved with ocean-themed corals, sea-monsters and shells. Outside there are beautiful gardens and secret courtyards.
The monastery is a UNESCO World Heritage site and National Monument. Entrance costs €10.
Near to the monastery are two major Lisbon landmarks a fifteen-minute walk from each other. Beautiful Belém Tower is a UNESCO World Heritage site and looks like somewhere Rapunzel would have lived. The Monument to the Discoveries looks like the figure-head of a ship lined with explorers and headed by Henry the Navigator. Inside is an exhibition and on the top floor you can get out onto the balcony for great views of Belém and the Tagus.
TRAVEL HACK TIP: To get to Belém take tram 15 (or 15E), from Praça da Figueira, the square next to the Rossio. It should be going in the direction of Algés. Tram 15 runs every 10-15 minutes and the journey takes around 25 minutes.
#8. Mosaic Pavements

Be sure to look down when you're discovering Lisbon. The pavements and squares are decorated in beautiful black and white wave-like designs called Calcada Portuguesa. They are all laid by hand and some are hundreds of years old. Check out Rossio Square for one of the best.
TRAVEL HACK TIP: Wear comfortable shoes – the epic viewpoints in Lisbon mean there are a lot of hills to climb and the mosaic pavements are quite old and very slippery in places.
#9. Check out Comércio Square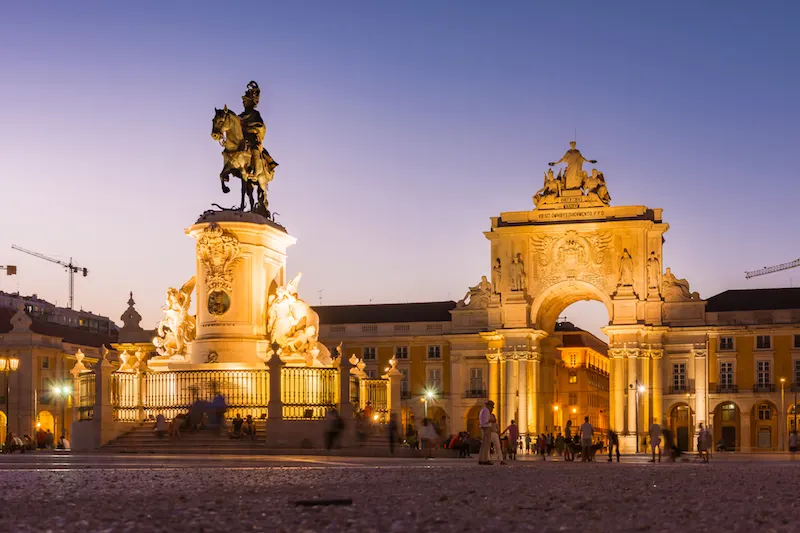 This is one of the largest squares in Europe and grandest in Portugal. Rua Augusta Arch is the stunning centrepiece and gateway to the city. Head up inside for views across the square and out to the river. There are lots of good restaurants and bars around the edge of the square and often events taking place in the centre. Look out for the 'The Sexiest WC on earth'. It's a bit of fun but I'm not sure it's worth the €1 entry fee…
#10. Check out the nightlife in Bairro Alto
Bairro Alto is party town and there's a bit of nightlife for everyone. From restaurants, bars, clubs and fado shows you'll find an eclectic mix here. Due to Lisbon's great weather the fun usually spills out onto the streets where there's a happy, laid-back atmosphere. Drinks are reasonably priced too.
These are just ten things to get you started on your first Lisbon but there's loads more to see and do in the city. Have you been? What's your top tip for visiting?
---
[one_half]
[/one_half][one_half_last]This article was written by the brilliant blogger Suzanne Jones, aka The Travelbunny. Suzanne is a serial traveller constantly on the search for adventure, wildlife and the next culinary encounter. When she's not travelling and blogging at The Travelbunny Suzanne loves trying to recreate favourite dishes from her travels, long coastal walks and photography. Suzanne lives on the south coast near Brighton and can't bear to be too far away from the sea.[/one_half_last]
---