This week's App of the Week comes from Switzerland but this is an app with a difference. Swiss Mag, as the name suggests, feels much more like a magazine than a regular app. This app is only available on iPad, which is frustrating for anyone who doesn't own one, but you do need to see it on the larger screen to appreciate it in all its glory.
Magazines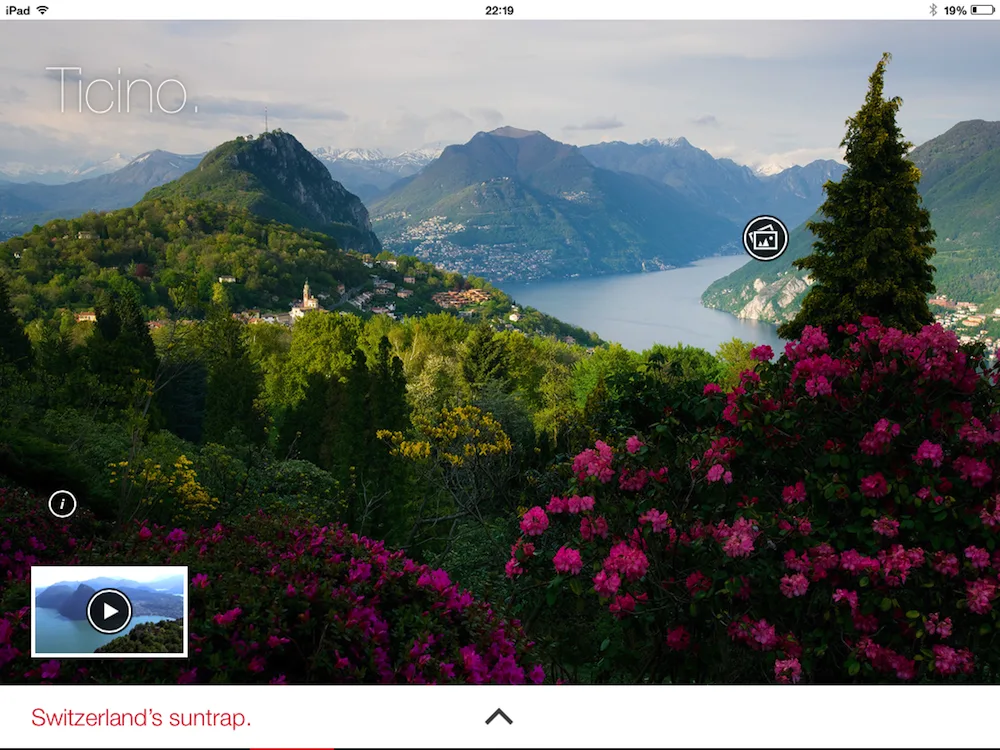 There are three magazines to choose from. The app calls them 'Brochures' but they're much more like magazines than traditional brochures.
The magazines available are 'Swiss Summer', 'Tales of the City' and 'Swiss Winter'.
You can either download them to read when you're not connected to WiFi or select 'Read now' if you are connected. I love having magazines on my iPad as I'm a total magazine addict and the lightweight convenience of having them all on one device is great.
Tales of the City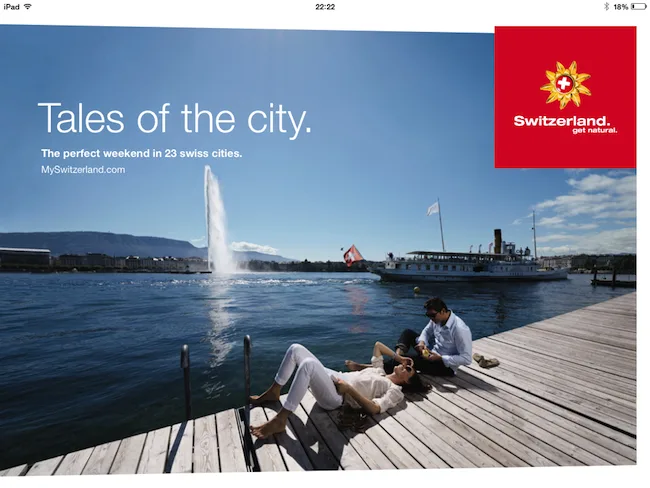 In Tales of the City you can select from 'Cities' or 'Tips'. There are 23 Swiss cities to choose from and the tips are based on the themes 'Art & Culture', 'Culture & History', 'Shopping', 'Sights', 'Events', 'Family tips', 'Outings' and 'Scenic Journeys'.
You could get lost in this section for hours as you swipe between all the attractions. I particularly like that each attraction has a small description, it's plotted on the map and has a few 'good to know' facts like opening hours, contact details or if there is a great café/bar on site.
Swiss Summer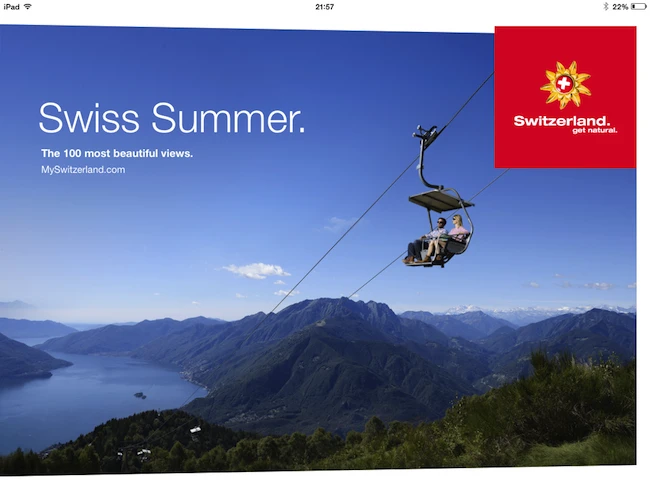 The Swiss Summer magazine focuses on the outdoors and the 100 most beautiful views in Switzerland. If you didn't already know how beautiful Switzerland is, this section will blow you away.
On the main page you can choose from 'Regions' or 'Inspiration'. Regions would be handy once you're planning your trip but Inspiration is better in the early stages. I love the 365-degree adventure page where you can virtually leap from one mountain summit to the next – perfect if you want to see all the views without all that hikini!
If you choose regions you can select from Jura & Three-Lakes, Ticino, Lucerne, Fribourg, Vaud Lake Geneva, Valais, Graubunden, Bern – Bernese Oberland, Eastern Switzerland and Zurich. Whichever region you click on, you're taken to a large and beautiful photograph and a small description about the area.
Each description also has an 'Offers' section. The offers range from welcome cards to discounted accommodation and weekend break packages often with breakfast and tours included so it's worth browsing through these to find some bargains.
Swiss Winter
The Swiss Winter magazine has something a little different as they've invited seven ski instructors to share their top winter tips. The visuals on this part are really nice as you can spin the instructors around a table and select which one you'd like to hear from. This is the kind of thing that could keep your kids entertained and help them plan your holiday to Switzerland or keep them entertained on the flight.
Once you've selected your instructor their scrapbook of their top 10 things to do come up. You can then click each tip to get more details. You can select your favourite tips to make your own scrapbook with your Top10 Booklet. This is a really fun and interactive way to learn about the area and see things from a local's perspective.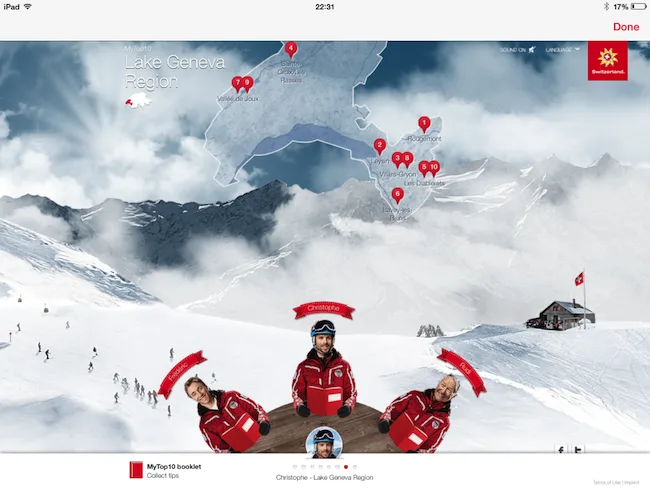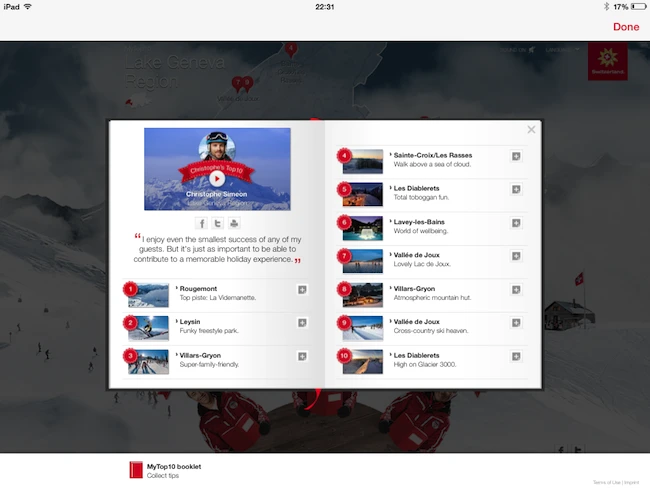 For all three magazines the images are large, high definition and stunning. These gorgeous images make the app perfect for scrolling through for travel inspiration as well as a genuine travel guide.
So whether you're planning a holiday to Switzerland or you'd just like to drool over some Swiss scenery, Swiss Mag is a great addition to your iPad.