When most people think of India, they think of the Taj Mahal and rightly so, it is India's most recognised monument. If you're planning to visit India soon, then you'll want to have a read of today's post and it is full of my tips for visiting the Taj Mahal while you're in the South Asian country!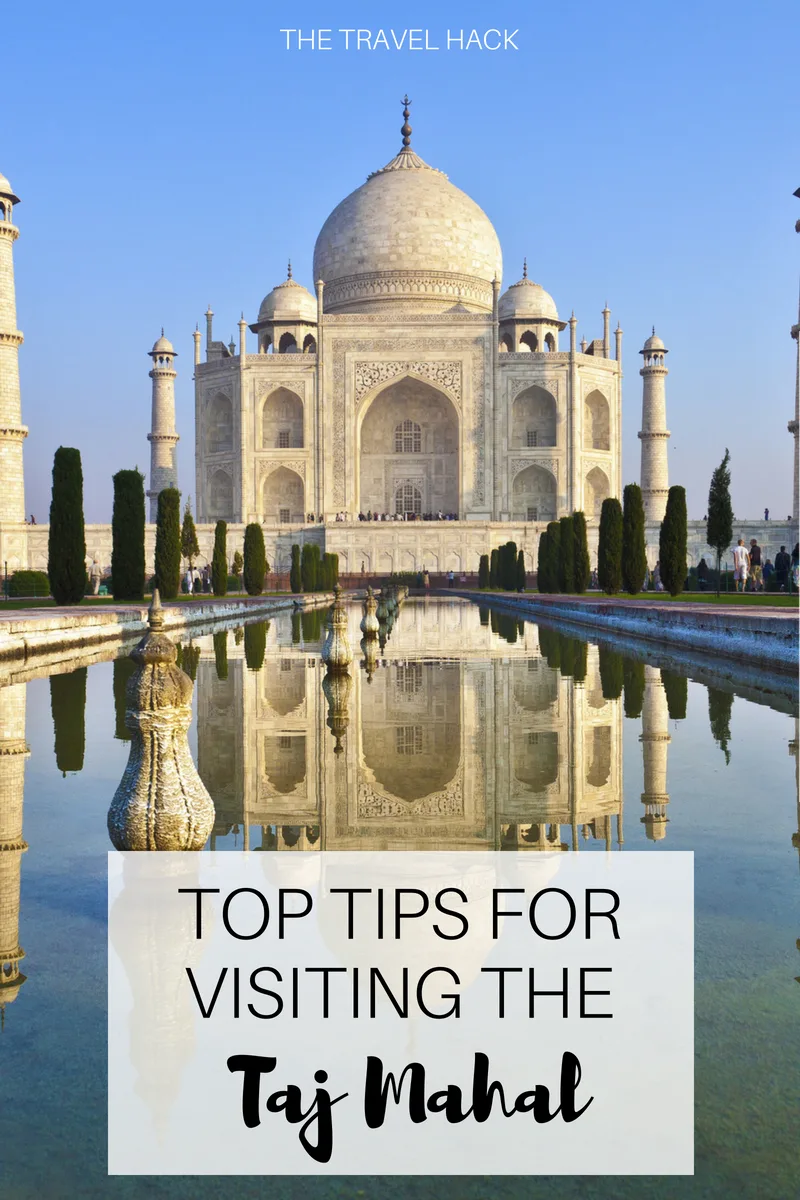 Visiting the Taj Mahal was without a doubt the highlight of my trip to India. I don't normally get excited over buildings but how can you not get excited about the Taj Mahal!?
For as long as I can remember I've been entranced by the massive domes, the curved archways and the way the sun shimmers off the white marble.
If you're travelling to India and you're thinking about skipping the Taj Mahal because, let's face it, we've all seen a million pictures of it already, I strongly recommend you reconsider. There is such a beautiful and magical atmosphere and photos really can't do this incredible building justice.
Like most things in India, visiting the Taj Mahal isn't always as simple as you might imagine, which is why I've put together today's post, full of all of my tips for visiting the Taj Mahal.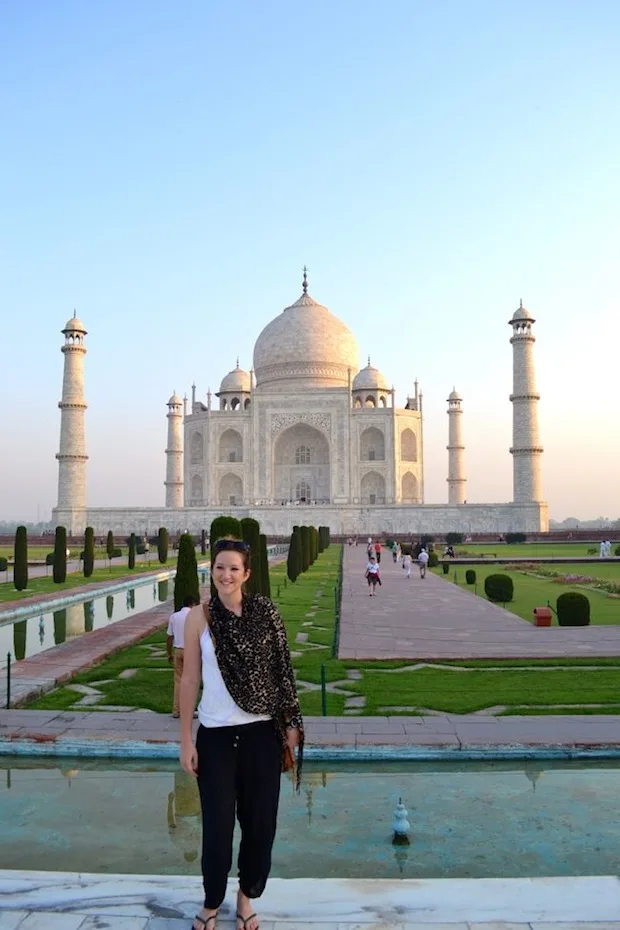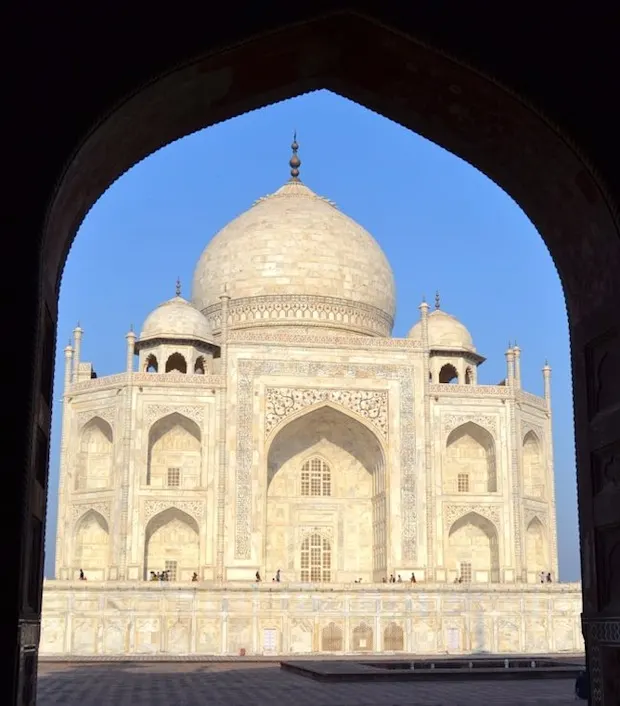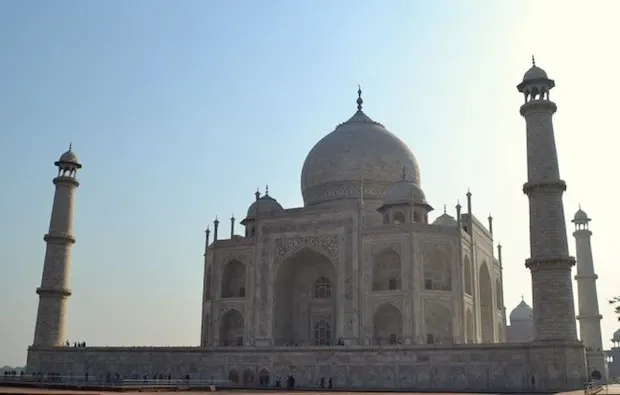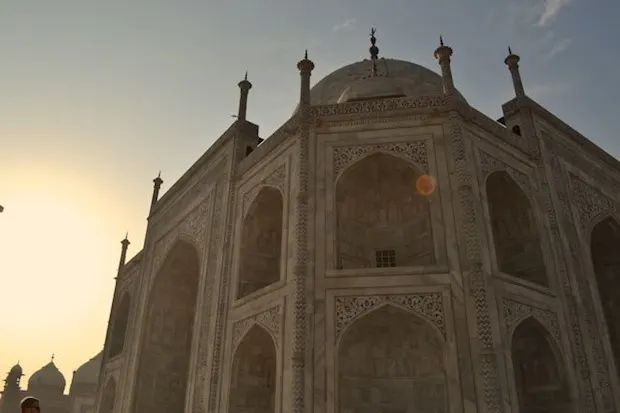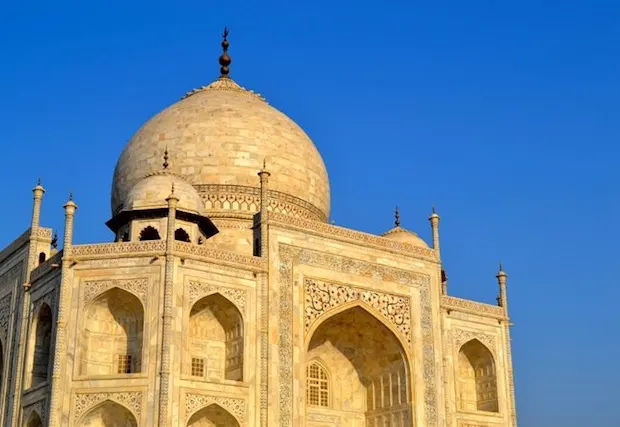 Taj Mahal Travel Tips: The history of the Taj Mahal
The Taj Mahal is a mausoleum built by Emperor Shah Jahan as a monument to his fourth wife who died after giving birth to their 14th child.
The Emperor wanted the Taj Mahal to be 100% marble but due to the weight it had to be made from brick and clad in the stunning white marble which comes from Varanassi.
Building began in 1631 and took 20 years.
Soon after the mausoleum was completed, Shah Jahan's son had his father imprisoned, presumably because he spent so much of their money building the Taj Mahal.
Shah Jahan was placed in the Red Fort where he had a view over the Taj Mahal and stared at it for the rest of his days as he mourned for his wife.
It is said that he cried so much while staring at the Taj Mahal hat he eventually went blind because of all the tears and the building is thought to be one of the most romantic symbols of love in the world.
I don't know how true this is but whoever let the truth stand in the way of a tragically romantic story?
The tombs of the Emperor and his wife are in an underground crypt but replica tombs can be visited inside.
There are three other incredible buildings surrounding the Taj Mahal and I couldn't help but feel a bit sorry for them. If they stood on their own I'm sure they would be gawped at by tourists but when stood next to the Taj Mahal they are sadly dwarfed by its beauty.
The mosque, however, does provide the perfect frame for taking pictures of the Taj Mahal.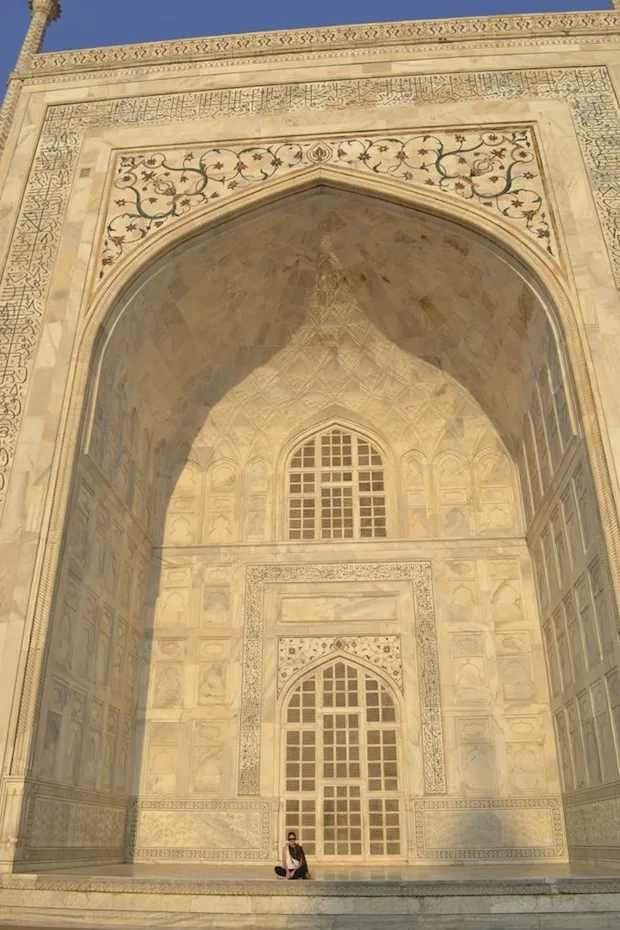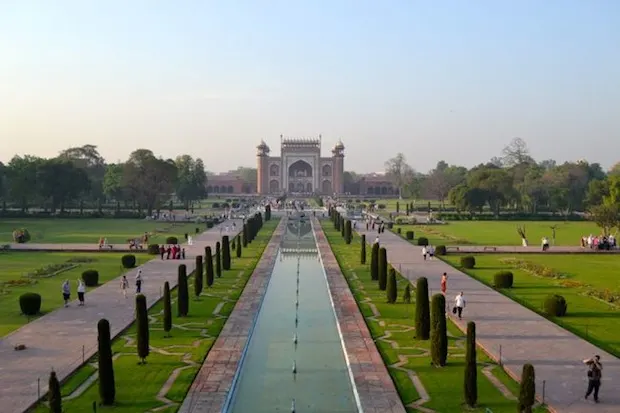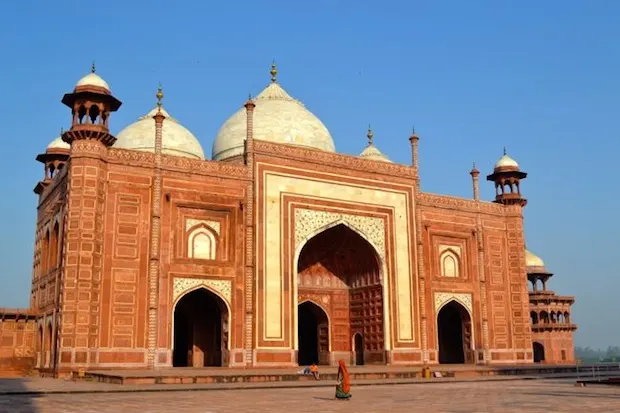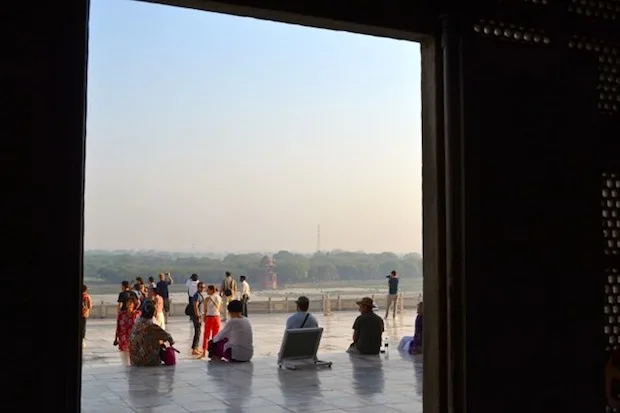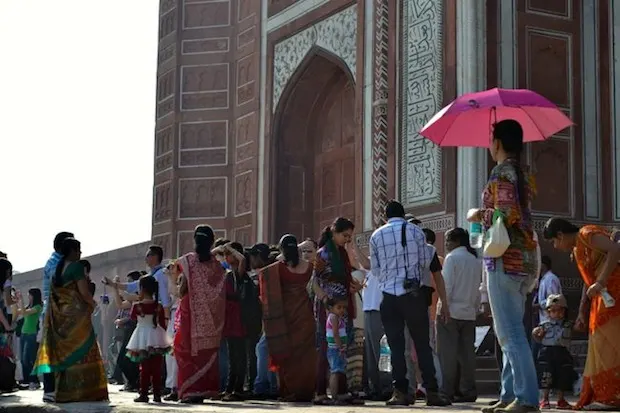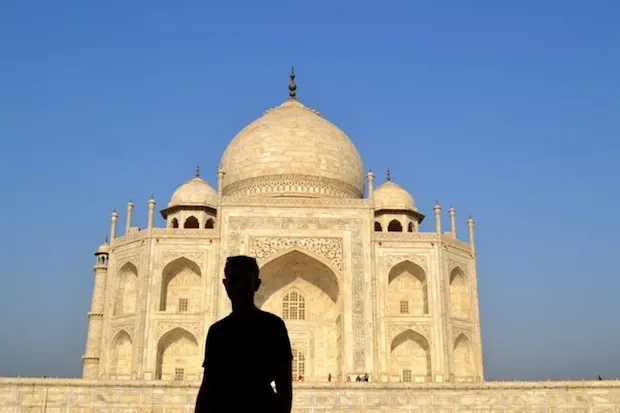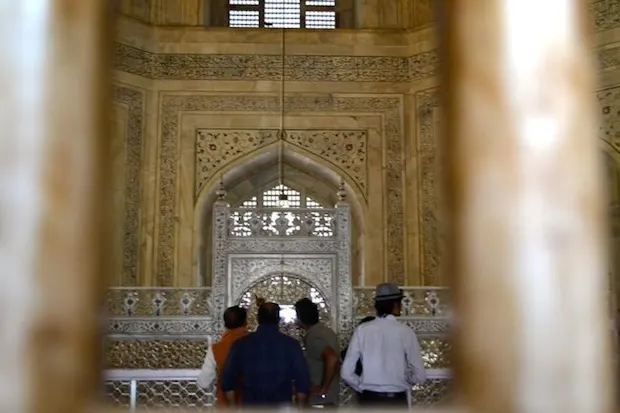 Top Tips for visiting the Taj Mahal
My first Taj Mahal travel tip is to get there as early as possible. The tourist buses start rolling it at around 9am so anything before then is best to avoid the crowds. I arrived at 6.15am in time for the gates opening at 6.30. Even at 6am there was a queue!
Make the most of the chai tea sellers who walk up and down the queue.
The ticket to get in costs 750 rupees for foreigners which is about £9.00(prices and currency conversion from April 2013).
You're divided into queues of men and women because you're searched when you enter. Don't take any lighters or anything sharp, flammable or any food as it'll delay you getting in and may be taken from you.
They say that food and metal objects will be taken off you at security. In reality, I don't think they're that strict but it's best it's best to avoid having them to get through security quickly and easily.
I wish that I could give you a Taj Mahal travel tip that would tell you that you could go at some time in the day and avoid the crowds. In reality, whatever time you go, it will be crowded so you need patience to get a good photo without someone standing in the way. Don't give up, they'll move eventually!
To get 'the money shot' of the Taj Mahal, you need to join an informal queue by the edge of the pond and place your camera on the ground. This will ensure you get the water and a great shot of the whole building and it will also be straight and without any people in the way. Take as many pictures as you possibly can before the snappy happy tourists behind you start to get rowdy.
For a second chance to see the Taj Mahal, head to the gardens across the river. You only pay 100 rupees to enter and I went at sunset for a crowd-free Taj experience.
There you have it, my tips for visiting the Taj Mahal. If you'd like an even easier and stress-free experience then check out these affordable Taj Mahal tours with GetYourGuide. I'm a bit fan of GetYourGuide because you can easily book tours from home and know your trip is organised for you.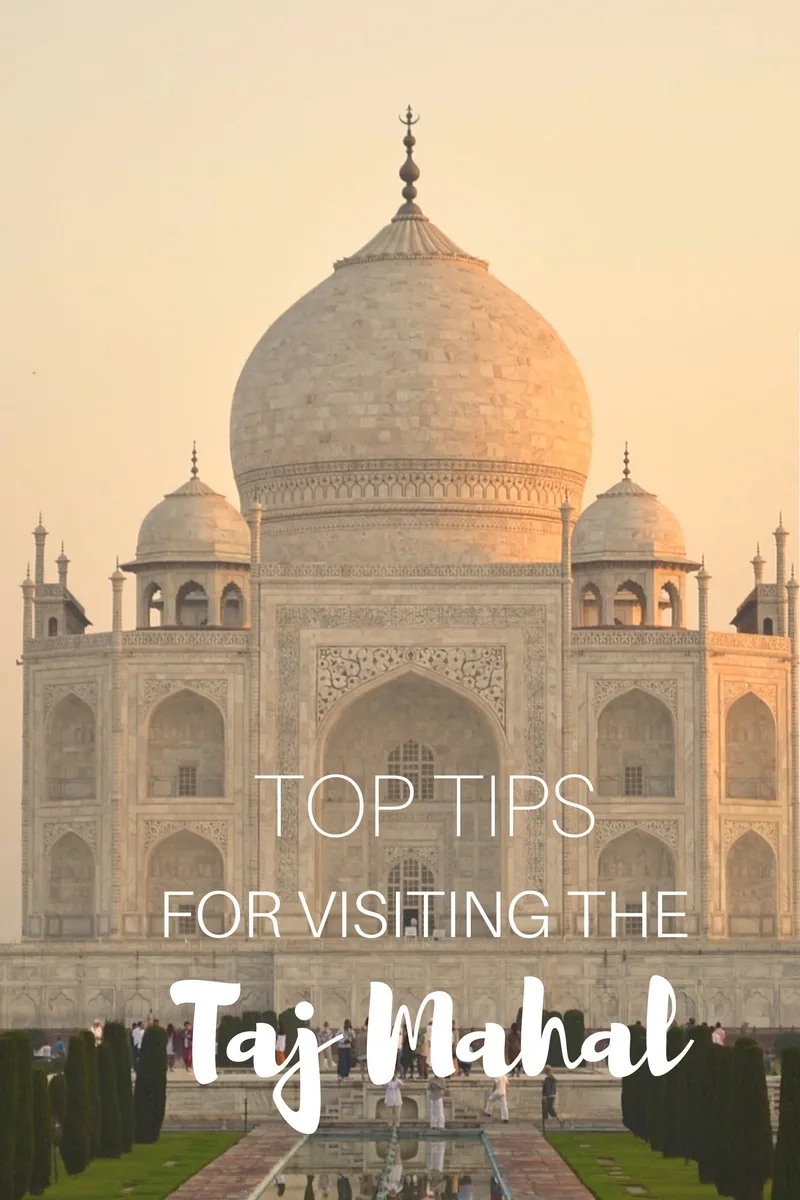 Read more about my India travel tips here.