Whenever I tell people about our incredible family holiday to Dubai I tell them all about our time at Dubai Parks and Resorts.
I tell them all about this incredible adventureland, packed with rides and attractions, thrills and excitement…and I'm usually met with a blank look.
'Dubai Parks and Resorts?' they ask. 'I've never heard of it.'
So I'm here today to tell you all about it and explain why I think you should take your family there!
Dubai Parks and Resorts
Dubai Parks and Resorts is a fairly new leisure complex that I'm pretty sure will be on every family's holiday bucket list very soon!
The park opened in late 2016 and it is continuing to grow and I'm sure will just get bigger and better. It's a bit like going to a much smaller version of the theme parks in Orlando, only much closer for us Brits and with perfect weather during the winter months.
We travelled to Dubai in March and the weather couldn't have been more perfect with an average temperature of about 27 degrees C and perfect blue skies every day. It's also only a 7 hour flight to Dubai so this is a perfect place for a 4-5 day break if you're craving some sunshine during our long, cold winters!
Dubai Parks and Resorts is a great place for a family holiday because there's something to keep everyone happy. There's also a gorgeous hotel within the park so you're never far away from your room – perfect if you have little ones and even better if you have older children who might not want to hang out with their parents 24/7!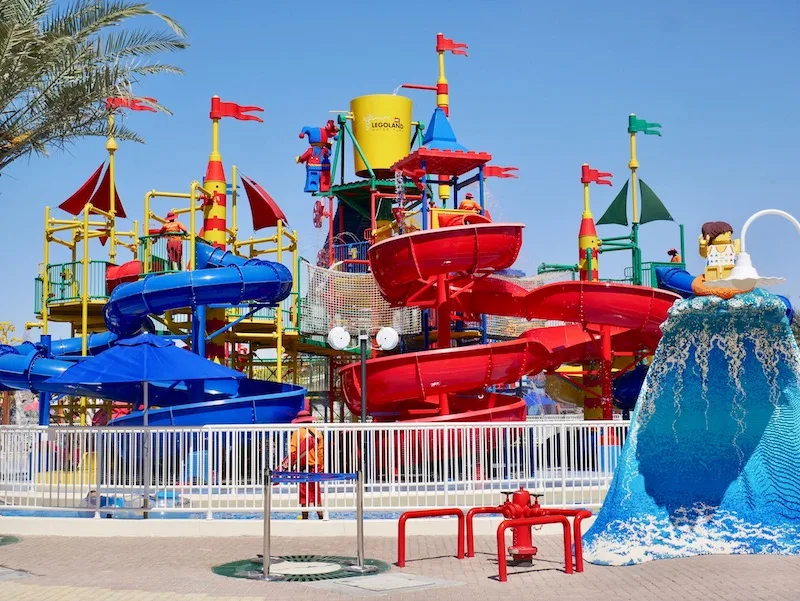 LEGOLAND Dubai Waterpark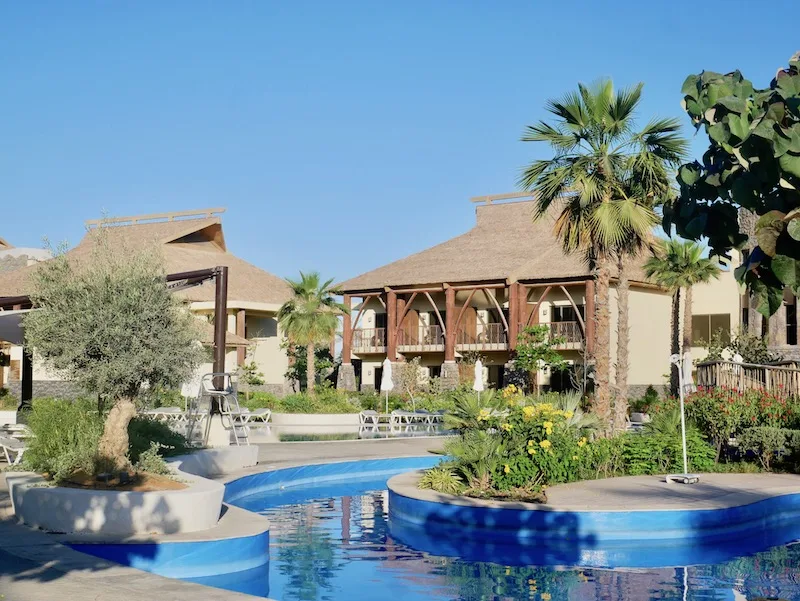 Lapita Hotel
Dubai Parks and Resorts
The theme parks at Dubai Parks and Resorts
Dubai Parks and Resorts is the largest theme park complex in the Middle East. There are three theme parks and one water park that are connected by Riverland Dubai which is a full of cafes, restaurants, shops and pretty sights to admire.
The theme parks are Motiongate Dubai, a Hollywood inspired theme park, LEGOLAND Dubai which is LEGO inspired and mostly for younger children, and Bollywood Parks Dubai which is the first theme park in the world dedicated to Bollywood. LEGOLAND Waterpark is the most incredible waterpark for younger children with 20 slides for kids aged 2-12.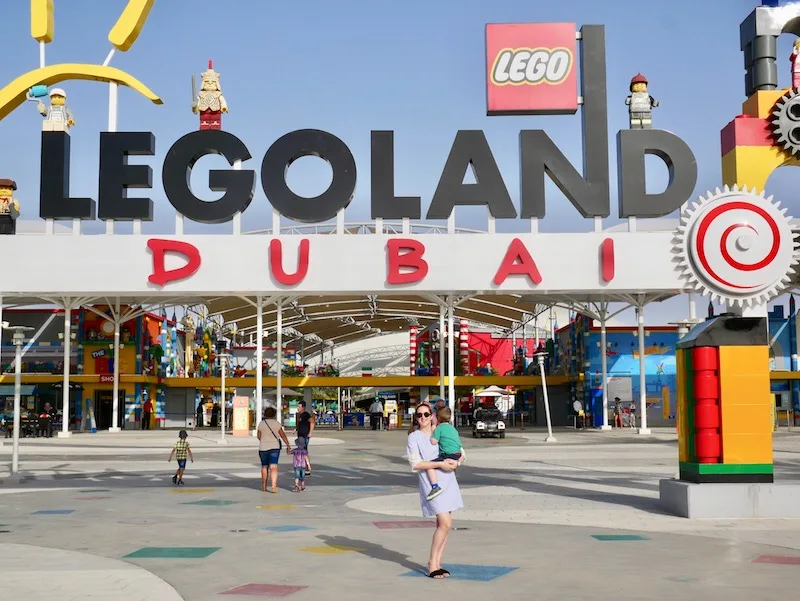 Riverland
I was a bit confused about what Riverland was because I thought it was a park of its own but it's more like a boardwalk that connects all the parks. There are different areas you can walk through such as one area inspired by 1950's America with neon lights and palm trees everywhere. The French Village was my favourite; if you didn't look too closely it really feels like you're in an old French town with medieval towers and historic architecture. There's also India Gate and The Peninsula which connects all the areas together.
Within Riverland's zones you'll find plenty of places to eat and drink, pick up snacks and shop for souvenirs or essentials.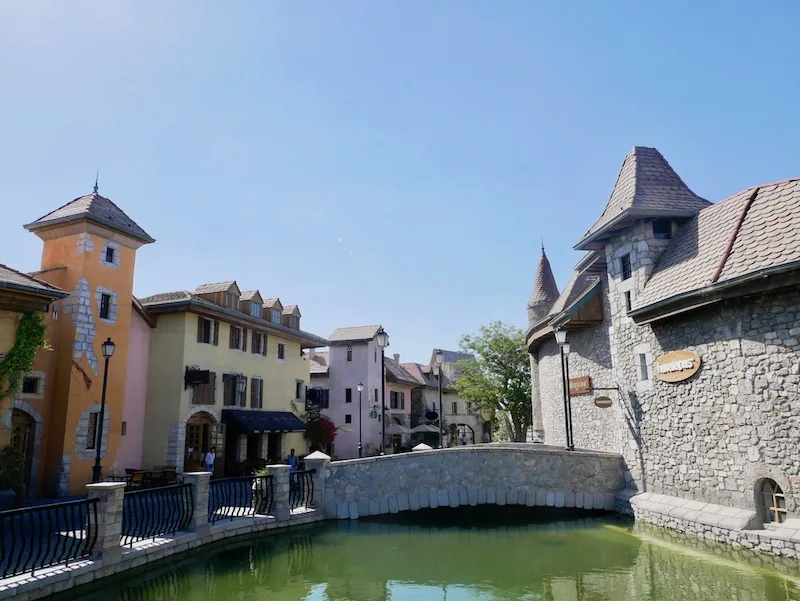 Lapita Hotel
There's currently one hotel within Dubai Parks and Resorts and it opened in early 2017. Lapita Hotel is absolutely beautiful and we were lucky enough to stay here in a family suite.
It's a Polynesian themed 5* hotel with a luxurious yet relaxed charm and it's perfect for both families and couples.
The main highlight of Lapita is the two lagoon style pools in the centre that are surrounded by palm trees and beautiful flowers. There are large villas with thatch roofs around the pools and so much lush vegetation it really feels like you're somewhere tropical. It's a large resort so golf buggies zip around offering you a lift if you need it. Or room was close to the restaurant, reception and the entrance to Riverland but our boys loved getting a ride on the buggies and all the staff knew their names by the time we left!
We were staying at Lapita Hotel on an all-inclusive basis so we ate breakfast and dinner at the buffet. The food was delicious and there was such an enormous selection we could have eaten there for a week and not got bored.
The kid's club was fantastic and each child gets 3 hours unaccompanied each day. Our boys loved it in there and the only way we could coax them out was by promising a swim in the pool! The pools are huge but the warm lazy river was my favourite!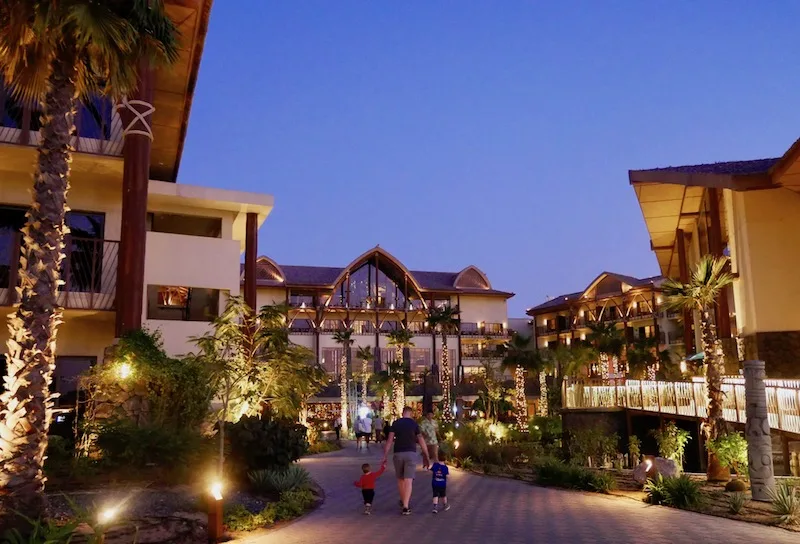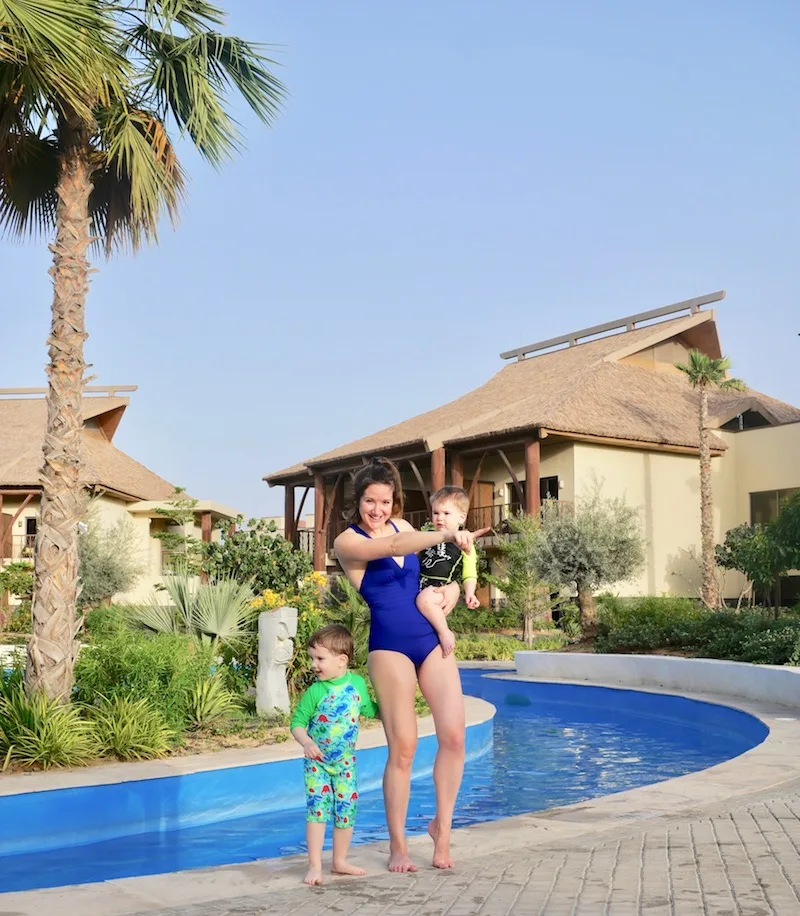 Who would visit Dubai Parks and Resorts?
Dubai Parks and Resorts is perfect for families with kids aged between 4-16.
My boys were aged 3 and 18 months when we visited and, realistically, they were a bit too young to really make the most of it. I'd say 3 is probably the youngest where it's worth travelling all that way for them. George (aged 3) is an average size but he was a bit too small for many of the rides in LEGOLAND and even though he had an amazing time (and is still asking to go back!) he would have got more from it if he was a little older and slightly taller.
It's a fantastic place to relax with pretty much guaranteed great weather. It's also a manageable flight for little ones and it's realistic to visit for 4-5 days. If you want to spend some quality time with your family and want something more exciting than a standard package holiday then I can't recommend visiting Dubai Parks and Resorts enough!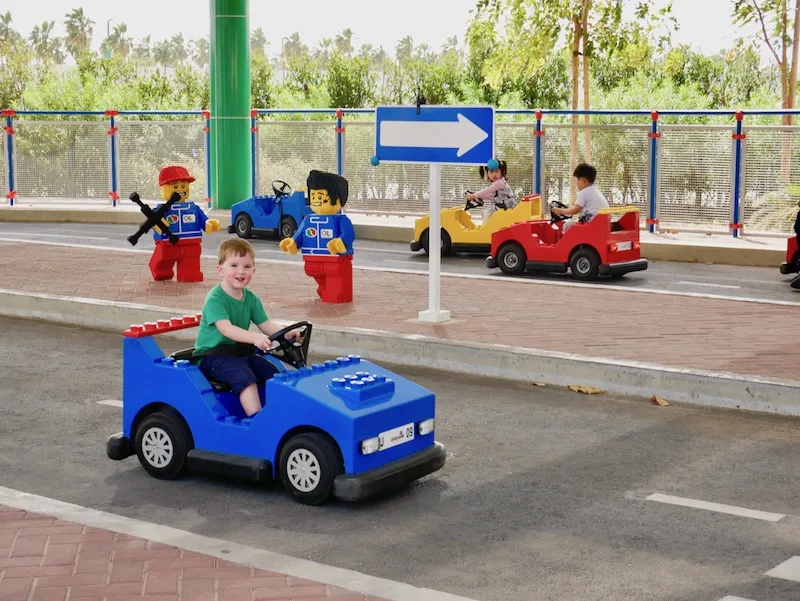 I travelled to Dubai with Emirates Holidays. You can read about my whole family holiday to Dubai and see the video here.
I was a guest of Emirates Holidays and this post was created in collaboration.