One of my favourite things about travelling is discovering a place that truly surprises me. I thought I'd hate Marrakech but I loved the exotic hustle. I didn't know Iceland would be so beautiful but I was blown away. I hadn't expected to fall head over heels in love with Slovenia but it quickly became one of my favourite countries in the world.
The same happened with Las Vegas.
I'm not a gambler and I often find cities to be a disappointment in comparison to London. I prefer quiet modesty over ostentatious flashiness and, you have to admit, Las Vegas is as flashy as it gets.
And I LOVED it. I loved every second, every smell, every bet, every drink and every over-the-top flashy display Las Vegas had to offer.
We arrived at around midday and the traffic was crawling along the strip like we were moving in slow motion. A blurry haze rose above the road due to the intense heat and it felt like we'd driven into a different world.
We pressed our faces against the windows of the van while ooo'ing and arrrrh'ing at the strangely familiar sites.
There was the famous 'Welcome to Fabulous Las Vegas' sign, and look, it's the Luxor, Ceasar's Place and New York, New York!
I'd fully intended not to like Las Vegas and here I was squealing like a school girl getting all excited about the prospect of exploring.
So if you're like me and you're not sure if Las Vegas is for you, here are 10 reasons why I think you'll love it…
The hotels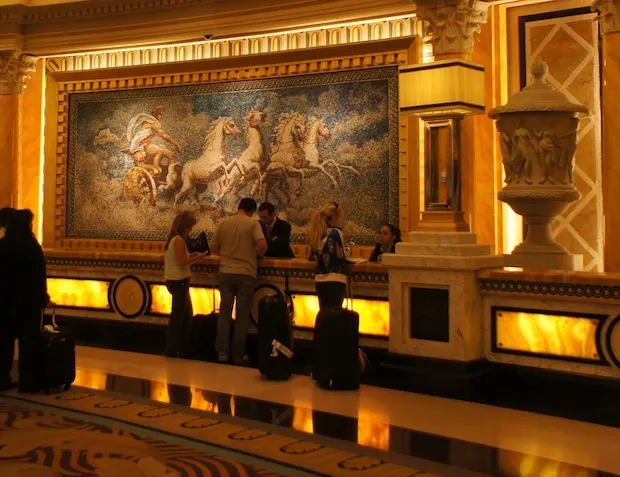 Is there anywhere else in the world where you can spend an entire day visiting hotels? We spent a whole day walking from hotel to hotel and admiring them from the inside and the out.
Each hotel is like a mini theme park with rides, restaurants, bars, casinos and shops. The Bellagio was my favourite and I could have easily spent all day in there.
The shows
The shows in Las Vegas are out of this world and pretty affordable in comparison to London shows.
The roller coasters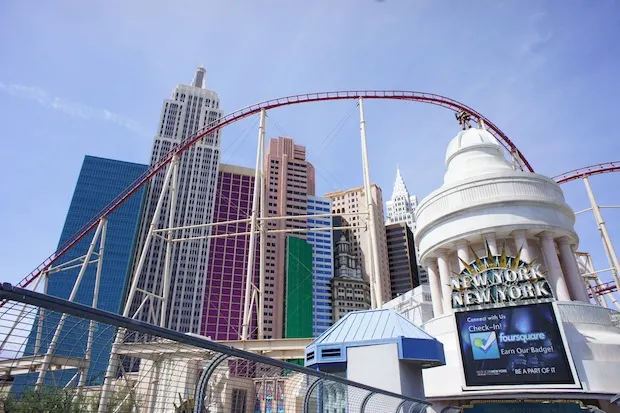 Las Vegas has some of the biggest and best rides in the world and the Stratosphere once had the highest roller coaster on Earth. You can jump off the Stratosphere, take a spinning, dangling ride over the edge or drop 160 feet in 2 seconds. There's the Canyon Blaster, the only indoor double-loop, double-corkscrew roller coaster, or you can have your head whipped around on the New York, New York.
Warning: The New York, New York ride is a lot of fun but it feels like the head banging could lead to a mild concussion!
The casinos
I'd be working on my casino skills and had so much fun with the real thing. The secret is to set yourself a budget – maybe an amount that you'd spend on a regular night out anyway so it doesn't matter even if you lose it. Opt for chips with a low value so you can keep on playing without wasting too much money.
Vegas Tip: Remember that you don't need to pay for drinks (other than tipping the server) while you're at a gambling table so play slowly and drink quickly and you're quids in!
The nightlife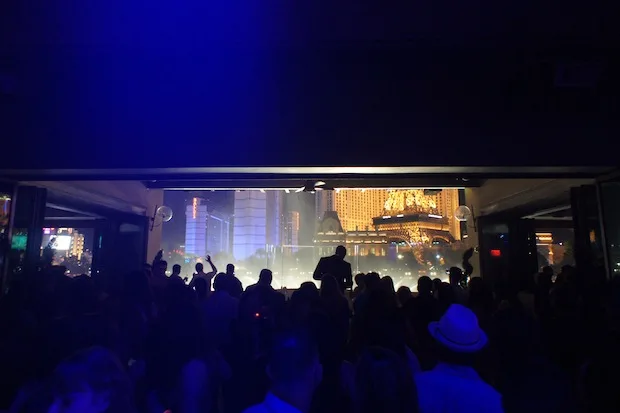 It's all about the nightlife in Las Vegas and everywhere comes to life once the sun sets. Las Vegas is one of those places where I'd be more than happy to sleep all day and stay out all night.
One of my favourite places was Hyde at Bellagio. From the club you have a great view over the Bellagio fountains with huge floor to ceiling windows that are opened where everyone gathers around when the fountains go off.
Travel tip: Girls get free drinks vouchers in most bars and clubs and often get to skip the line so it's worth having a few ladies in your group. While I'm not condoning slutting it up in Vegas, I will say that the shorter your dress is, the more free drinks vouchers you get. #JustSayin'
The weather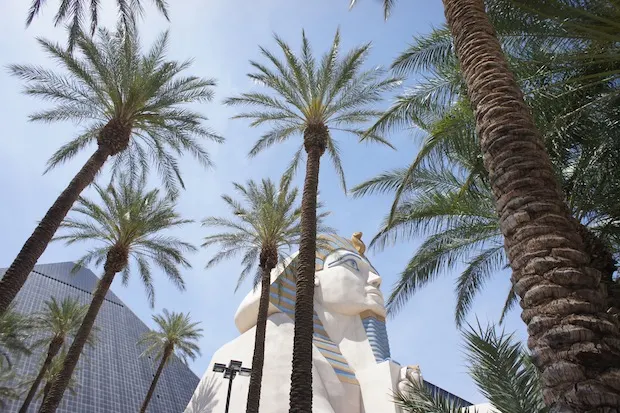 Las Vegas has a hot, dry climate with 320 days of sunshine a year. Enough said.
The free entertainment
The free entertainment on the streets of Las Vegas could keep you entertained for days. You've got the buskers and the dancers, the guys dressed up as superhero's, the magicians and the performers. Then there's the serious entertainment like the Bellagio fountains and the volcano at the Mirage Hotel that erupts every hour in the evenings and spews fire and smoke into the sky.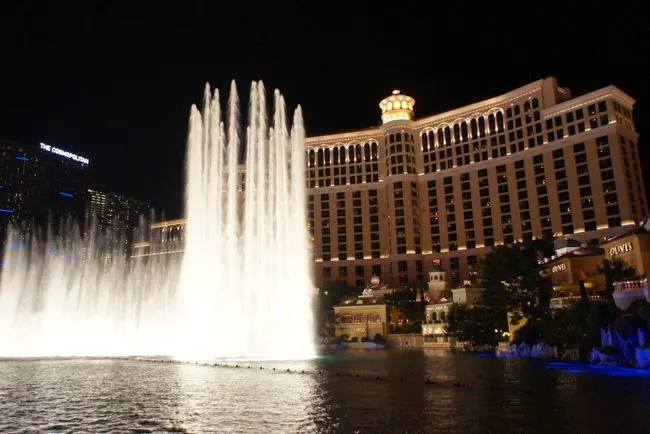 The food
Surprisingly, you can get some awesome food in Las Vegas. On my last count they had 15 Michelin stared restaurants and all the hotels have a great selection of food.
Of course, you will still find a lot of overpriced junk food and chain restaurants.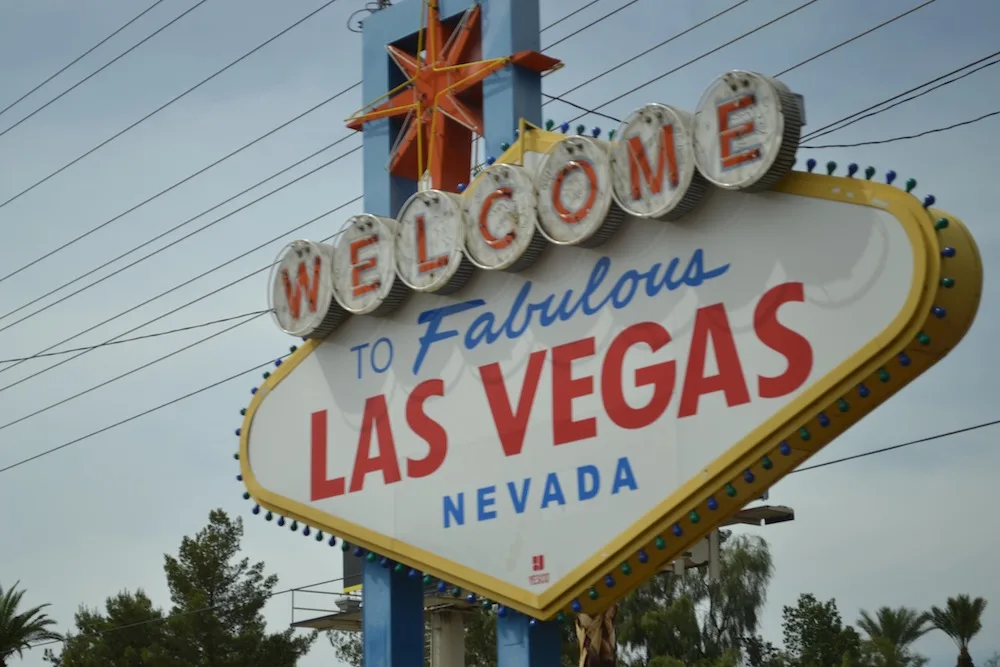 The family friendliness
While this one doesn't apply to me, I wanted to include it because I was surprised at how family friendly Las Vegas is. Las Vegas is like one giant adventure park for kids so don't let having little ones put you off visiting.
See the world in one place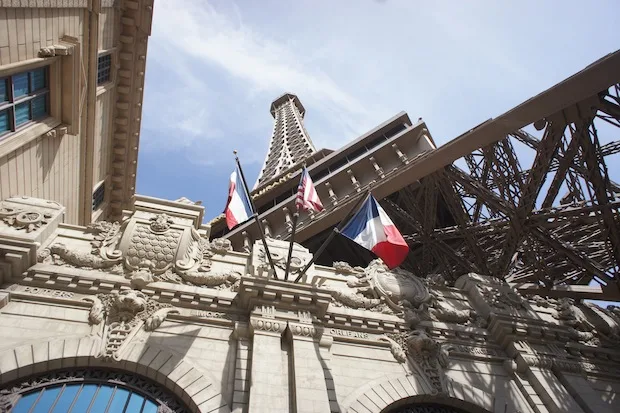 My final and favourite reason to love Las Vegas is the way you get to travel the world without leaving the city. You can visit New York, medieval England, ancient Egypt Venice and Paris all in one day. What's not to love about that?
I visited Las Vegas during my Westerner 2 trip with Trek America. We spent two days in Las Vegas and stayed at The Golden Nugget. Check out the pool there, it has a shark tank AND a 3-story water slide!