Today's blog post is coming from Australia and is in collaboration with Tastes of the Hunter Wine Tours. Suzanne Sheldon shares all of her insider tips about Hunter Valley wine tours!
If you're looking for a Hunter Valley wine tour and you're not sure which one to choose then Suzanne has some great tips to help you decide. She reveals that these tours aren't just for wine lovers and there's plenty on offer for those of you who prefer beer, cider and vodka too. She also reveals the best places to stay for your Hunter Valley tour and some accommodation tips if you're planning to begin your tour from Sydney.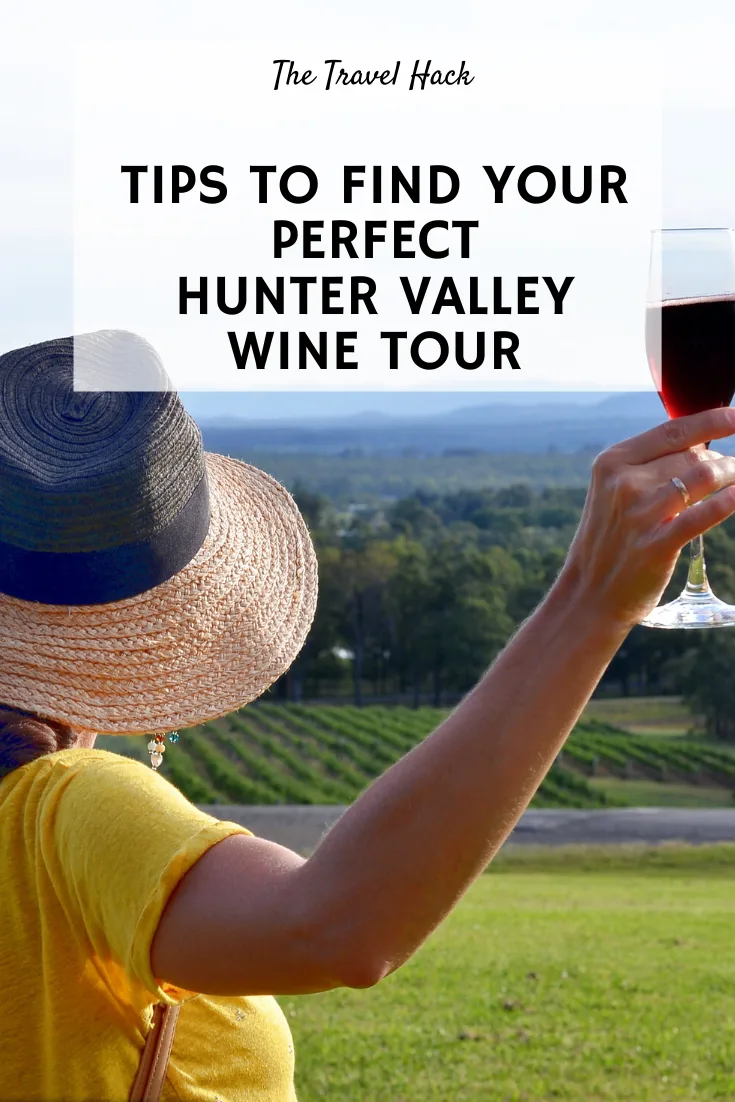 If you've read every book in the house, watched all the re-runs of your favourite shows on Netflix and you're bored of what the local liquor store has to offer in the wine department, then it's time to look ahead to the future. One day the current "corona craziness" will be behind us and it's never too early to begin your 2021 bucket list of happiness. If you're a wine or spirit lover then a visit to the Hunter Valley in Australia should definitely be on that list.
With lush grape vines as far as the eye can see, fresh country air, friendly locals and boutique award winning wines and spirits, the Hunter Valley is the perfect cure for the current state of affairs.
You don't have to just dream about it …. You can begin planning now and the following guide to Hunter Valley Wine Tours is the perfect place to start.
Think the Hunter Valley is just for wine lovers? Think again!
The Hunter Valley is Australia's oldest wine region (settled in the early to mid 1800s) and has been a tourist hub for wine lovers since the 1990s however the modern Hunter Valley includes boutique vodkas, schnapps, butterscotches and gins as well as over 50 styles of locally made craft beers and even a dedicated cider house.
If cocktails are more your style then you can celebrate any occasion with traditional favourites made with local spirits, or get really daring and try some unique concoctions at some specialist cocktail venues.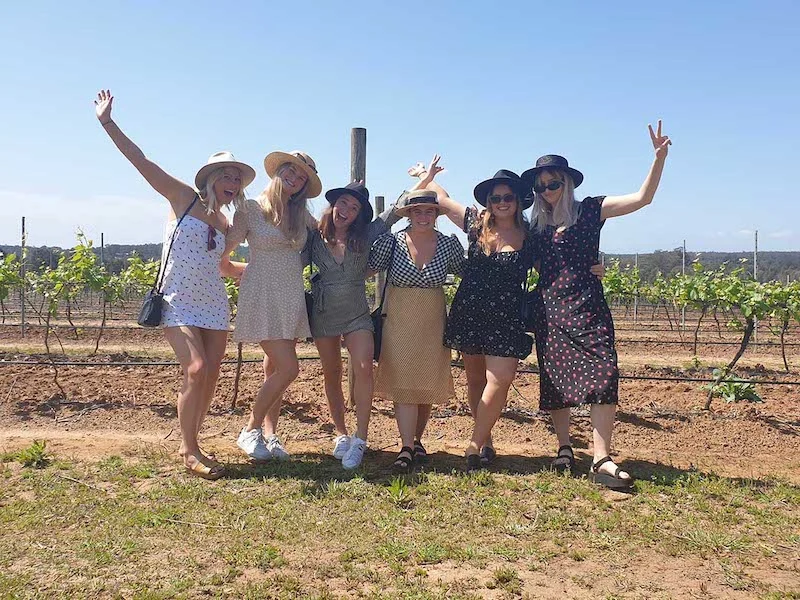 Want to try a little bit of everything? Check out a wine and beer tour!
There are lots of options for tours that focus only on wine for either beginners or seasoned connoisseurs. However if you are a small group of friends who are "wine interested" but hardly the type to own a copy of the James Halliday Wine Companion, then a wine and beer tour could be just the ticket! In fact you can find tours that will include a complete snapshot of everything the valley is known for. If they called it the wine, craft beer, spirits, cheeses and chocolates tour it would be far too much to get your mouth around but not to worry… it's all possible in a jam packed 8 hour day of tasting!
One such Hunter Valley Wine Tour that ticks all the boxes and keeps everyone in your group smiling is the Wine and Beer Adventure Tour hosted by Tastes of the Hunter Wine Tours. This is a fun and social experience with a mixture of small groups and couples. You can enjoy private group presentations at three boutique cellar doors with your own local presenter, get stuck into a craft beer tasting paddle at one of the local brewhouses (some of our favourites are Matilda Bay Brewhouse, Ironbark Hill Brewhouse or Hope Estate brewhouse), visit the famous Hunter Distillery for sampling flavoured vodkas, gins and schnapps in cute baby test tubes and explore the flavour differences between goat's and cow's cheeses at Binnorie Dairy then finish off with delectable delights at the Pokolbin Chocolate Company shop (did someone say free chocolate and fudge samples?!)
The best part is that all of the organisation is taken care of (you don't need to ring the venues prior and book your group for a tasting… this is usually required in the Hunter for a small group to book on a Saturday as they get so busy) and you can even decide to join the tour at the last minute (you can book up until the day before if places are still available).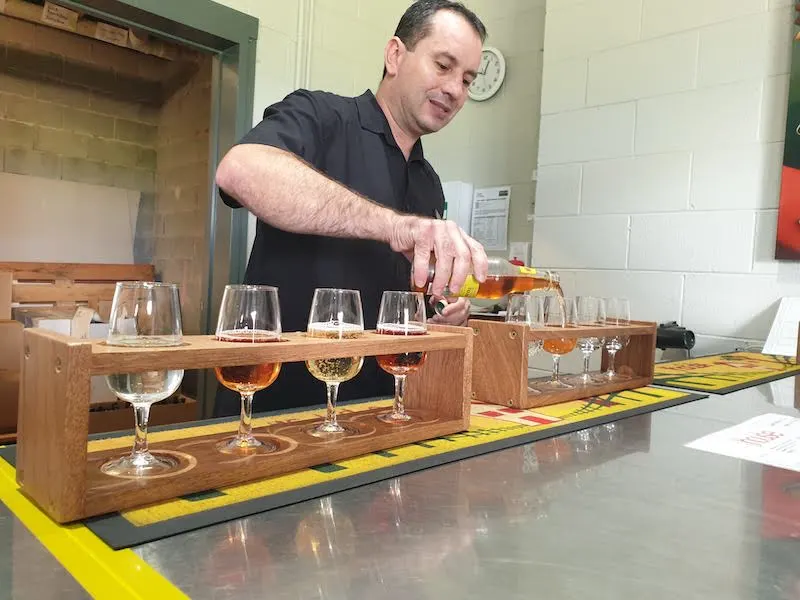 What about a 100% "wine-less" Hunter experience? Is it possible?
You bet! And with some new and exciting micro-breweries in the area you could certainly make this a focus of a private tour with a custom itinerary. Matilda Bay Brewhouse at Hunter Resort has been a cornerstone of the Hunter since 2001 and is well worth checking out for their famous Fat Yak range (if you love a good dark ale check out their Dogbolter Lager or for lighter ale lovers their Beez Neez Honey Wheat Beer is not to be missed).
As for a new comer to the Hunter microbrewery scene, you'll definitely want to check out Ironbark Hill brewhouse. Check out their Black Forest Stout or the Wheatermelon or their Summer Ale is a refreshing "must try" if you choose to visit the Hunter during the hotter months (think temperatures of 30-40 degrees Celsius on most days in January).
You may know of Hope Estate as they have hosted some of the biggest international artists at their concerts including Elton John and the Red Hot Chilli Peppers just to name a few. But what you may not know them for is their range of inventive brews including their Super Juicy New England style IPA, FKA Passionfruit cider and they even have a Gluten Free Pilsener!
You don't have to try just one or two beers. All of the above venues sell beer tasting paddles for between $12-$15 AUD that include 4-6 tasters (and usually a middy of your favourite when you return the paddle).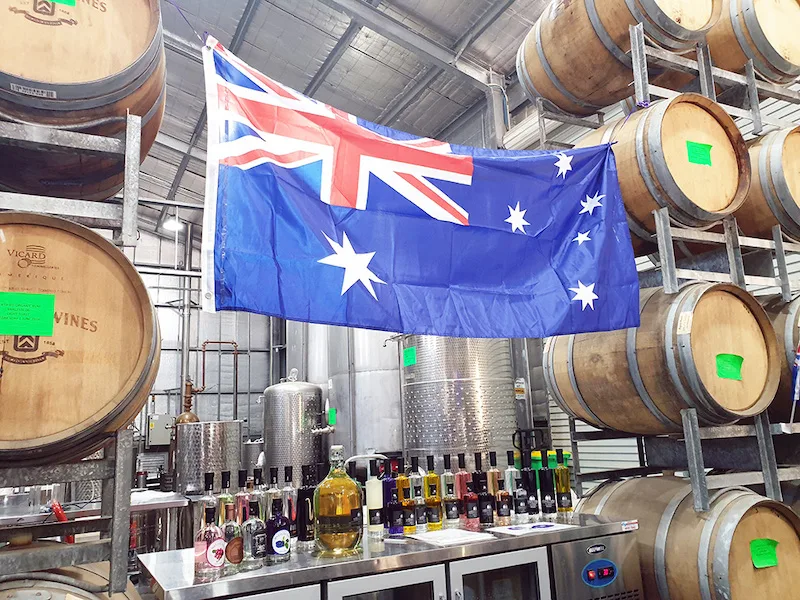 Top off your "wine-less" experience with some ciders and vodkas
Pokolbin Cider House is not only known for being one of the highest cellar doors in the Hunter (with smashing views of endless rows of vines so don't forget your camera!) it is also the only dedicated cider house in Pokolbin (the centre of Hunter Valley "wine country"). It's too hard to pick just 1 or 2 beverages to try so you can indulge in a paddle of 4 ciders of your choice including my personal favourites, the Passionfruit Perry (pear cider with passionfruit pulp), Dark Grape (a blending of red grape juice and fermented apple cider) and Raspberry and Cranberry Apple Cider (the perfect mix of sweetness and tartness).
When it's time to move on to the "hard stuff" you can really kick it up a notch at Hunter Distillery where almost 30 varieties of flavoured vodkas, schnapps and gin await. Try some Aussie favourites like the "Caramello Koala" shot (chocolate and caramel vodka) or a "Bounty bar" (chocolate vodka and toasted coconut liqueur). Refresh your palate after all that beer and cider with some raspberry vodka or lycee liqueur. If you are really brave (or you just like taking pics of your friends suffering!) you can try their range of chilli vodkas including "The Reaper" (rated 21/10 for heat by those braver than me!).
And the best part about a private tour is you can choose to spend as long or as little at each venue as you like. If your group is really finding their vibe at a particular brewhouse, then why move on? Enjoy the flexibility and just let your driver know when you're ready to go on to your next beer adventure!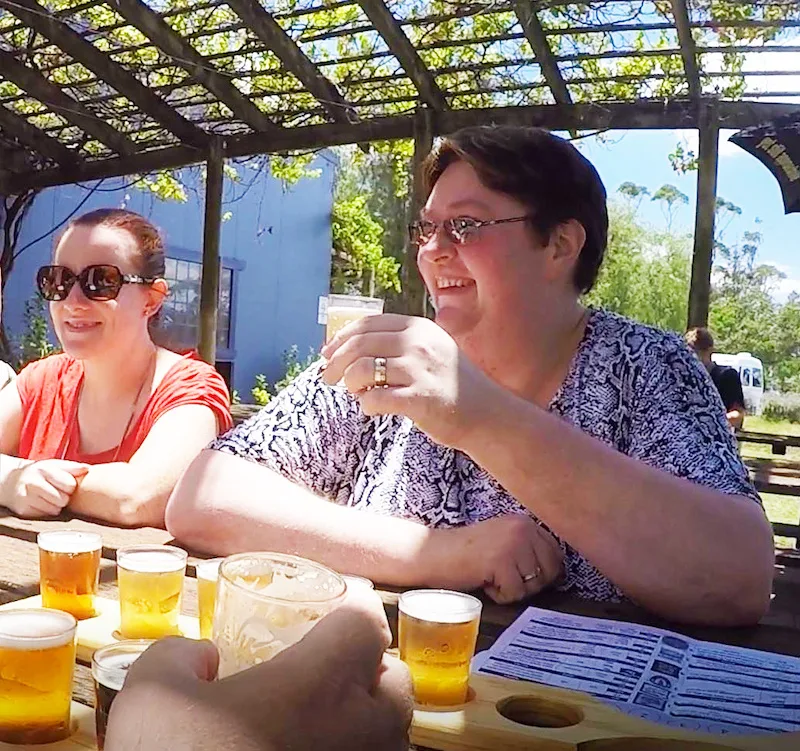 Should you start your Hunter Valley Wine Tour from Sydney or stay locally in the Hunter?
The Hunter Valley is located 2.5 hours drive north of the heart of Sydney. Taking into account the traffic it is a good idea to allow 3 hours (or even 3.5 hours if you plan to leave Sydney on a Friday evening or return to Sydney on a Sunday night as these are peak travel times). If your trip mostly revolves around visiting Sydney and your time in the area is short, then you can visit the Hunter Valley from Sydney as a day trip. Hunter Valley wine tours from Sydney usually begin with pickups from the Sydney CBD around 6.45am – 7.15am and the North Shore suburbs of Sydney around 7.30am. It's a good idea to bring a travel pillow for a little snooze to recover from the early start as you'll get to the Hunter to begin your tasting journey around 10am. After a day of tasting (and of course a full belly!) the return trip begins around 4.30pm which will get you back to Sydney around 7pm depending on the traffic.
Depending on how close to the centre of Sydney (or the North Shore) you've decided to stay, you may need to catch a train back to your accommodation, so take into account that it is a long day so don't schedule too much for the following day! And while you can find cheaper accommodation in the West or South of Sydney, the trade off is the travel time. Most Hunter Valley tours from Sydney begin in the Sydney CBD or North Shore suburbs as there simply isn't enough time in the day to include all the travel for a South Sydney pickup.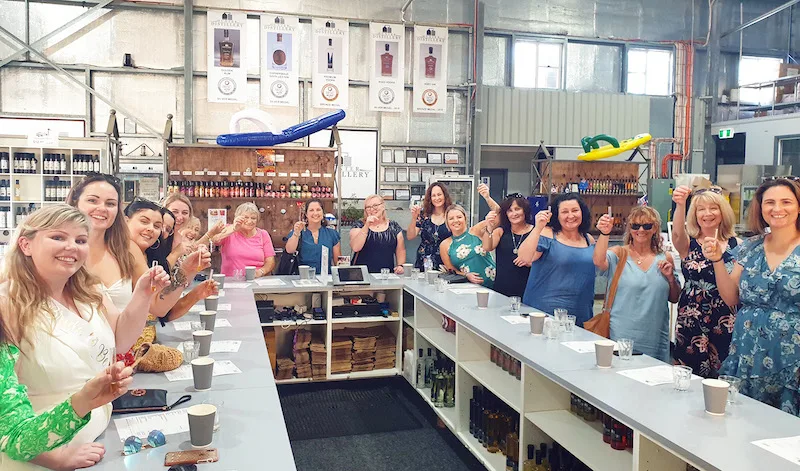 Make a weekend of it – stay in the Hunter for your Hunter Valley Wine Tour
If you can spare a few days to explore the Hunter it is well worth getting some local Hunter Valley accommodation. This way you can leisurely make the journey there and back without cramming it all into the one day and Hunter Valley wine tours from local accommodation venues usually finish at 5pm, which gives you a little extra time for an additional venue (earlier finishes at 4pm or 4.30pm are to take into account the travel time back to Sydney).
The heart of Hunter wine country consists of the suburbs Pokolbin, Lovedale and Rothbury. If you're looking for classy and modern country cottages that are close to facilities (eg. taxis, restaurants, some additional cellars that you can explore within walking distance etc) or perhaps a resort style complex with everything you need on the one site, then these suburbs are a great place to start. If you're grabbing your gal pals (or the lads) for a group getaway you can find fully serviced cottages that sleep from 8 people all the way up to 50 people in the one mega-house.
Kangaroos freely roam the area from around 4pm onwards in winter (and from around 6pm onwards in summer) and it's not uncommon to be greeted by a pack of 20 of them or more freely exploring the grounds when you arrive. Just be careful when you are driving around at night as they don't have much road sense!
While a Hunter Valley stay in Pokolbin, Lovedale or Rothbury ticks all the boxes, you will find these areas pricier, even on AirBnb as they are the closest to "the action" and the most popular. A 2-night stay minimum is extremely common in the area as well. Prices can be quite high (and accommodation hard to find) if there is a local concert on a particular weekend so it pays to research the date you intend to go and if there is a well known artist performing in the area that day you may wish to look for an alternate date. If you can make your trip on a weekday your accommodation can be as much as 50% cheaper (especially if you are visiting in Dec or Jan as these tend to be "off-peak" months). You'll also find great deals on Hunter Valley wine tours on weekdays as Saturday tends to be the day most people tour/visit.
Need to find cheaper accommodation?
If you have someone that is willing/able to drive in your group, then you could check out AirBnb for deals on cottages capable of hosting groups in suburbs such as Cessnock and Broke (20 mins from Pokolbin), or even Maitland, Kurri Kurri or Branxton/Elderslie/Dalwood or Singleton (around 30 mins away).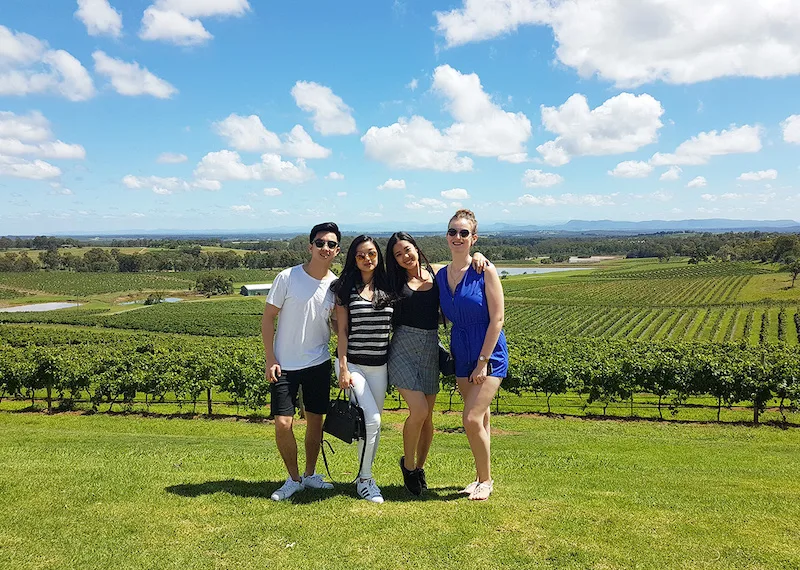 Conclusion
Even if your group are not wine connoisseurs and you just want to "dip your toe in the water" when it comes to a wine experience, the Hunter Valley should definitely be on your "must visit" list of Aussie destinations. With so many wines, craft beers and spirits to taste you may even choose to stay several days …. And "wine" not?