20 things to do in Brussels
Have you ever been to Brussels? If you're anything like me you might have dismissed or thought there weren't many things to do in Brussels as a place for an exciting European city break. But I'm here today to change your mind and show you that there are so many things to do in Brussels!
Brussels is a beautiful, exciting and affordable city with lots to see and do. Not only that but it's also a great base to explore other cities in Belgium.
So pack your hand luggage, it's time for a spontaneous weekend in Brussels!
I'd travelled through Brussels four or five times before I actually made it out of the train station to visit the city.
I'd always thought of Brussels as more of a hub than an actual destination. I stopped here many times before travelling elsewhere in Belgium. It hadn't occurred to me to stay in the city.
I always saw Brussels as a business city and the home to many of the European Union institutions, so it didn't seem particularly exciting or glamorous for a weekend away!
And maybe it isn't the most interesting city in all of Europe, but here's why I think you should make Brussels your next weekend break destination…
Why you should visit Brussels in 2022
Four cities in one: Base yourself in Brussels and day trip to Bruges, Ghent and Antwerp
The best thing about being based in Brussels is that you can easily take a train to the surrounding cities of Bruges, Ghent and Antwerp. These charming cities are gorgeous, but they're fairly small so you could easily see the highlights of each in one day.
If you managed to spend a day in each city then you would have a beautiful, varied and interesting four-day break!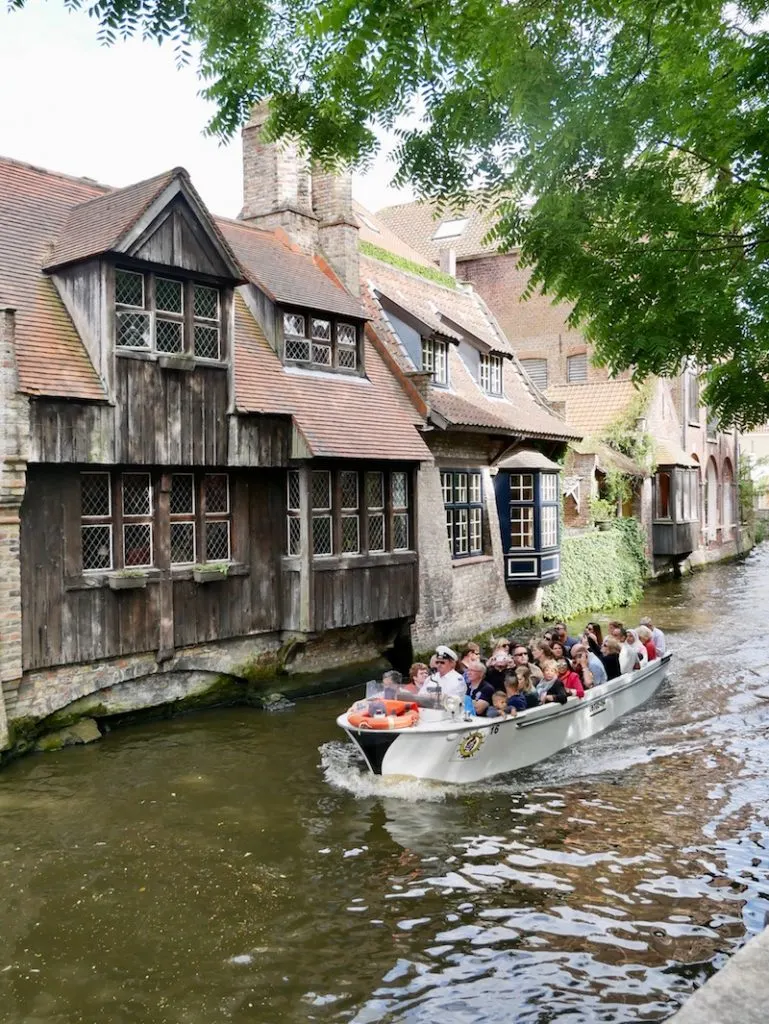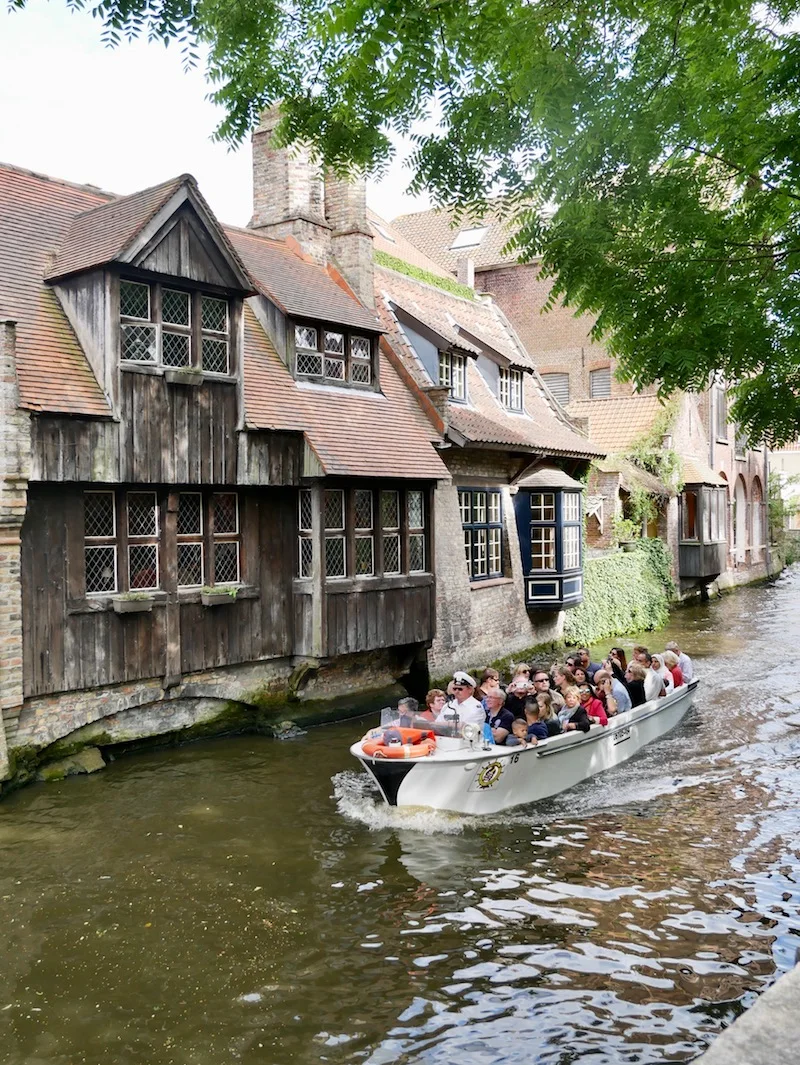 Belgian trains are amazing
To make it even better, the Belgian trains are fast, simple and reliable, making it so easy to get from Brussels to Bruges, Ghent or Antwerp and back again in a day.
The journey times are fairly short too:
Brussels to Bruges: 1 hour 15
Brussels to Ghent: Under 1 hour
Brussels to Antwerp: 50 minutes
All journeys are reliable and cheap too!
It's not very often you can take a long weekend break and visit four unique cities during your time away!
During my latest trip to Brussels I stayed from Friday to Monday. We spent Friday afternoon exploring Brussels, Saturday in Bruges, Sunday in Ghent and Monday morning in Antwerp before heading back to Brussels to fly home on Monday evening. It sounds like a lot but it didn't feel rushed and was one of my favourite weekend breaks of the year!
If you'd rather not negotiate the trains and everything yourself then you can easily join an organised tour to nearby cities.
You can do a small group tour to Ghent and Bruges in one day for £40 and you'll have a professional guide with you for the journeys too!
Day Trip to Paris, Lille or Cologne from Brussels
If you wanted to explore even further or had longer in Brussels you could even hop on a train to Paris (1 hour 40), Lille (1 hour 46) or Cologne (2 hours).
Travelling to Brussels is cheap
Brussels is a hub for travel so you'll find frequent trains via the Eurostar and lots of budget flights from most UK airports. It isn't unusual to find return flights to Brussels for around £50.
In fact, I've just checked on Skyscanner and found weekend flights in April to Brussels from Manchester for £16 return! That's tempting…

If you're travelling on a budget then I'd recommend travelling with just hand luggage as the cost of checking in luggage can often be more than your tickets!
Read more: How to travel with just an underseat carry on
Business hotels in Brussels are great value at the weekend
There are a lot of business hotels in Brussels. OK, they might not be the boutique hotel of your dreams but they are stylish, comfortable and in great locations. And to make them even better, you can usually find great deals over the weekend when they have fewer business travellers and the hotels need to fill their rooms!
We've established that Brussels is a great city to visit because it's cheap and easy to travel elsewhere. But what will you do while you're actually in Brussels?
Here are some of my favourite things to do in Brussels…
20 of the best things to do in Brussels
1. The Grand Place
Brussels' Grand Place, or Grote Markt, is definitely the most impressive part of the city and is the first port of call for most visitors.
The Grand Place is Brussels' central square with decorative Baroque guildhalls lining it. It is a UNESCO World Heritage Site is such a beautiful first impression of the city where grand buildings shimmer with gold.
I recommend visiting The Grand Place in the afternoon. There are some lovely little restaurants along the side streets off the main square where you'll find traditional dishes and plenty of Belgian beer!
Take your time to take plenty of photos because this really is the top photos spot in Brussels.
If you're visiting in the winter there are winter and Christmas themed light shows and festivals so keep your eyes peeled for that.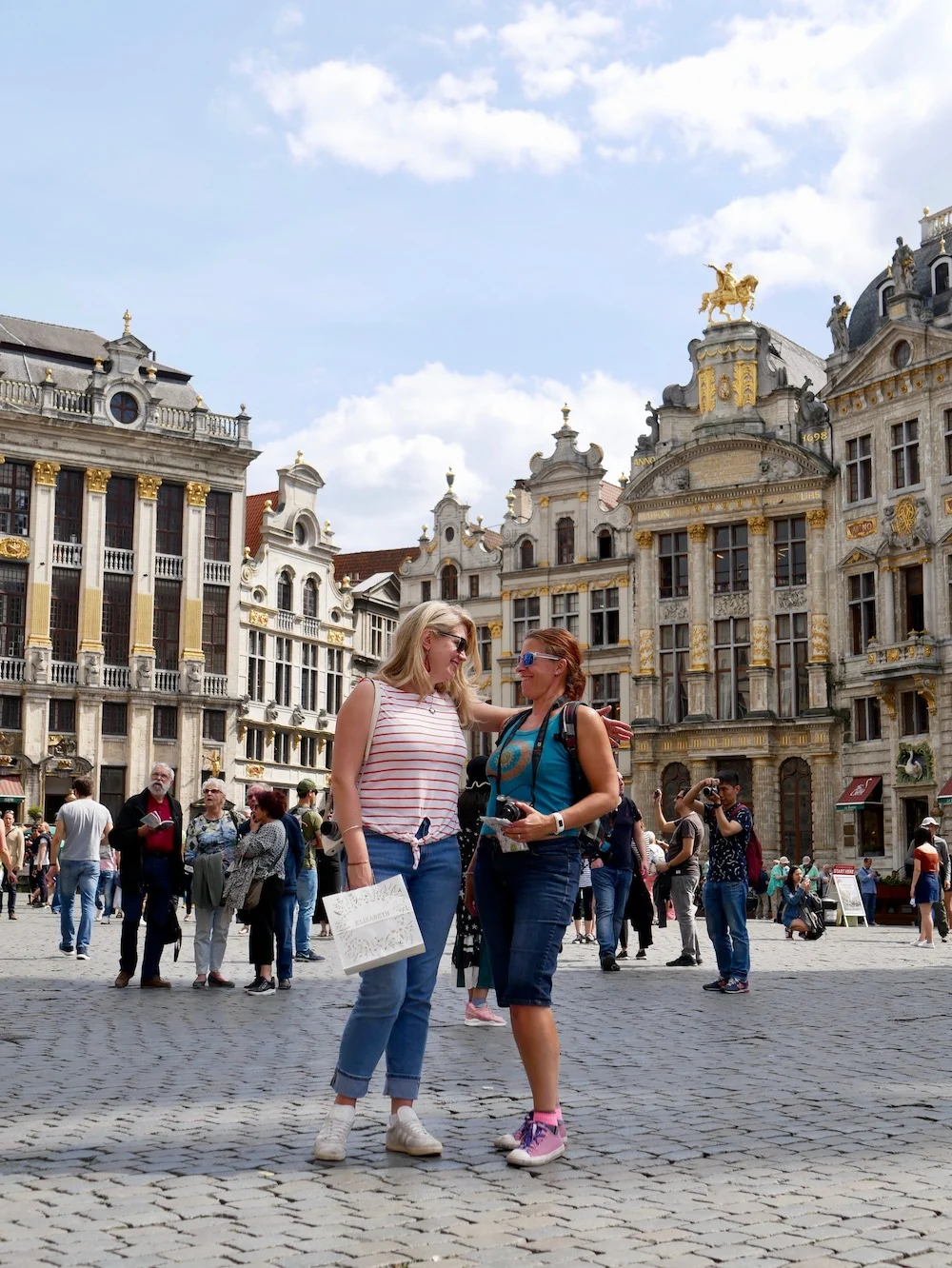 2. The Grand Place Flowers
So we've established The Grand Place is a stunning reason to visit Brussels but it gets even better. Every two years, The Grand Place is decorated with around one million begonias! There's a new theme and a different decoration every time the flowers are displayed…which makes a perfect excuse to go back every two years!
It's the most beautiful carpet of colourful flowers and brings this historical square to live with so much joy!
3. The Atomium
The Atomium was built in 1958 for Expo 58, a huge exhibition for culture and innovation. It's an enlargement of an elementary iron crystal cell and the beautiful sculpture can be appreciated for its impressive scientific scale (it's 165 billion times enlarged) but also from an artistic perspective.
Expo 58 was the first to be held after World War II so it has major significance and represented human progress and how scientific innovations will help us develop. The Atomium is said to have been built as a temporary structure for the exhibition but it became such a popular symbol it stayed.
4. Notre Dame du Sablon
This enormous gothic church dominates Sablon Square and is just as impressive on the inside as it is outside.
There's a lot to see inside the church so make sure you grab a leaflet on the way in for more information about the statues, decor and the colourful stained-glass window.
Sablon Square is a bustling hub in the centre of Brussels so a 30 minute visit to Notre Dame du Sablon provides a peaceful escape. It's cool, quiet and tranquil here so if you're visiting on a hot summer's day it's a wonderful retreat. Be respectful of worshippers inside the church but it's a lovely place to sit down and contemplate the world.
5. Visit the Parlamentarium
The Parlamentarium Visitor Centre is an interactive experience to learn more about the European Parliament and how it works.
I know, it sounds dry as toast but they've actually made it as engaging and exciting as is possible with the subject matter! There's a 360 degree cinema, role play games and a massive interactive floor. It's free to visit so the Parlamentarium could be a good rainy day activity with kids!
6. Le Botanique
Le Botanique was originally the orangery for the National Botanic Garden of Belgium and it now hosts cultural events. It's a wonderful mixture of past and present as this historic building is brought to life with modern exhibitions, concerts and activities. It's now a haven for both nature and music lovers.
Even if you don't get to see a concert inside, it's a beautiful building to admire from the outside. Make sure you visit Cafe Bota at Le Botanique too!
7. Mont des Arts
Mont des Arts is a stunning garden. The colourful line of flowers lead your eye to the spire of Brussels' Town Hall and it creates the most beautiful contrast between bright, natural blooms and the historical city architecture.
Walk to the top of the steps for the best views and photo opportunities in all of Brussels.
Travel Hack Tip: This is where you'll want to be for your Instagram pics in Brussels!
8. The Musical Instrument Museum
The Musical Instrument Museum (MIM) in Brussels is home to over 8,000 instruments. And while the instruments are fascinating, it's actually the building itself that is the biggest attraction.
The outside of the 'Old England' building will blow you away, the interior is stunning and the rooftop bar and restaurant is the cherry on top. You can enjoy views over the whole city and I've heard they serve the best Sunday brunch in the city!
At the time of updating this article, the MIM rooftop restaurant was closed for renovations so be sure to double check it's open before you visit.
9. Musee Royaux Beaux Arts
The Musee Royaux Beaux Arts, or the Royal Museum of Fine Arts, is a collection of six museums. They feature visual arts from the 15th-21st centuries with over 20,000 pieces across all six locations.
10. Mini Europe
You can see all of Europe in Brussels.
No, really, you can!
Mini-Europe is, as the name suggests, a miniature Europe. It's filled with 80 miniature cities from all around Europe and includes 350 of the most famous buildings such as Big Ben, the Eiffel Tower, Brandenburg Gate and Trevi Fountain. If nothing else, it's a great place to go for a few selfies and it's one of the best things to do in Brussels with kids.
11. Brussels' jazz clubs
Belgians love their jazz and Brussels has a famous jazz scene! There are so many great jazz bars around the city where famous jazz artists take to the stage. You'll also find smaller, intimate clubs with up-and-coming artists and jazz fans won't want to miss the Brussels Jazz Festival.
12. Palais Royal
The Royal Palace of Brussels is the King's administrative residence. He doesn't live here but the stunning palace is a symbol of the monarchy and it's absolutely majestic, both inside and out.
The palace is open to the public in the summer and it's just as grand and impressive as you'd expect. It's usually open from the end of July until September but if you visit outside of these months it's still worth a look if you're nearby. The well kept gardens are very pretty and it's a nice place for a photo-stop.
13. The Parc Du Cinquantenaire
Brussels' outdoor spaces and parks are beautiful but the Cinquantenaire Park is a highlight and is often cited as the 'best park in Belgium'. The park was planned by King Leopold in the 19th century and covers 74 acres. Follow a U-shaped path which leads past the Cinquantenaire Arch and beautiful museum buildings.
14. Brussels Bread House
The Bread House is one of the most spectacular buildings in the Grand Place and it's now home to the Museum of Brussels and houses an impressive collection of art.
The building is still referred to as 'the Bread House' because there was originally a wooden bread hall on this spot. The bread hut was thought to be there as early as the 12th century and some names are difficult to shake! The building is also known as 'The King's House', although no king has ever lived here.
15. Manneken Pis
One of the more unusual and lighthearted things to see in Brussels in Manneken Pis, a 61cm bronze statue of a small boy urinating into a fountain.
I know! When I first visited Brussels and a friend suggested we go and visit the statue I was a little confused too. Why, oh why, is a statue of a little boy peeing so famous!?
Little Pissing Man is said to be an emblem of this cheeky, rebellious city. It's a fun thing to visit when you're in the area so if you're nearby take a look. The little boy also has over 900 outfits and he's often dressed in something new!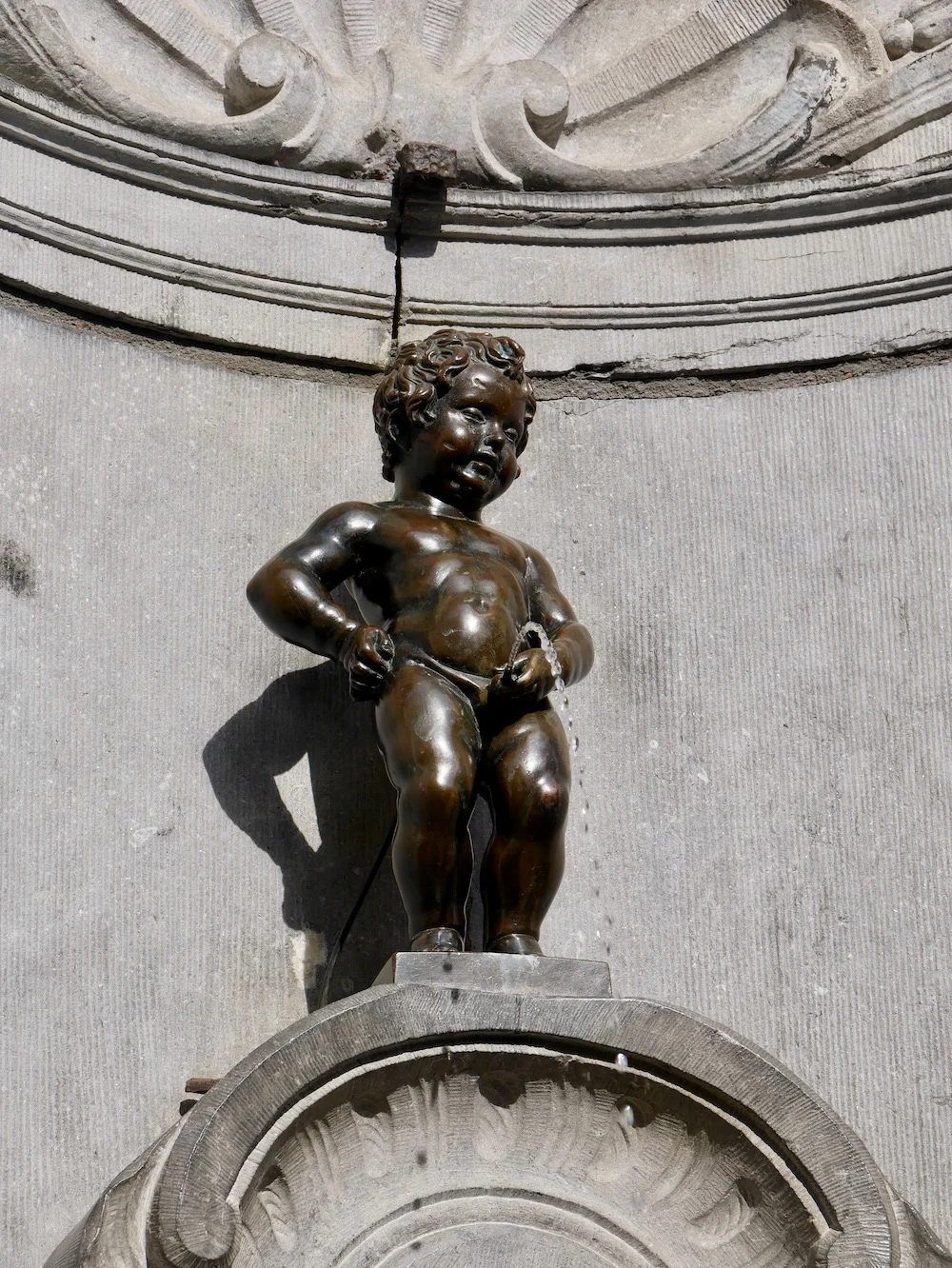 16. Cathedral of St. Michael and St. Gudula
This Roman Catholic Cathedral stands proudly in central Brussels and is an incredible example of Brabantine Gothic architecture.
It's a popular spot to meet people and lots of tours will begin from this spot so you might find yourself here if you join an organised tour.
17. Eat all the waffles
ALL of them! You can't visit Belgium without having at least one waffle. You'll find waffle carts and little shops everywhere in Brussels and there are so many suggestions of where to find the best ones.
I'd normally recommend getting away from the main tourist hubs but for a local dish but I actually really enjoyed buying my waffle from a busy little shop near The Grand Place and enjoying it surrounded by so much history and splendour.
If you really love waffles and want to get really authentic then you could even take a waffle making class!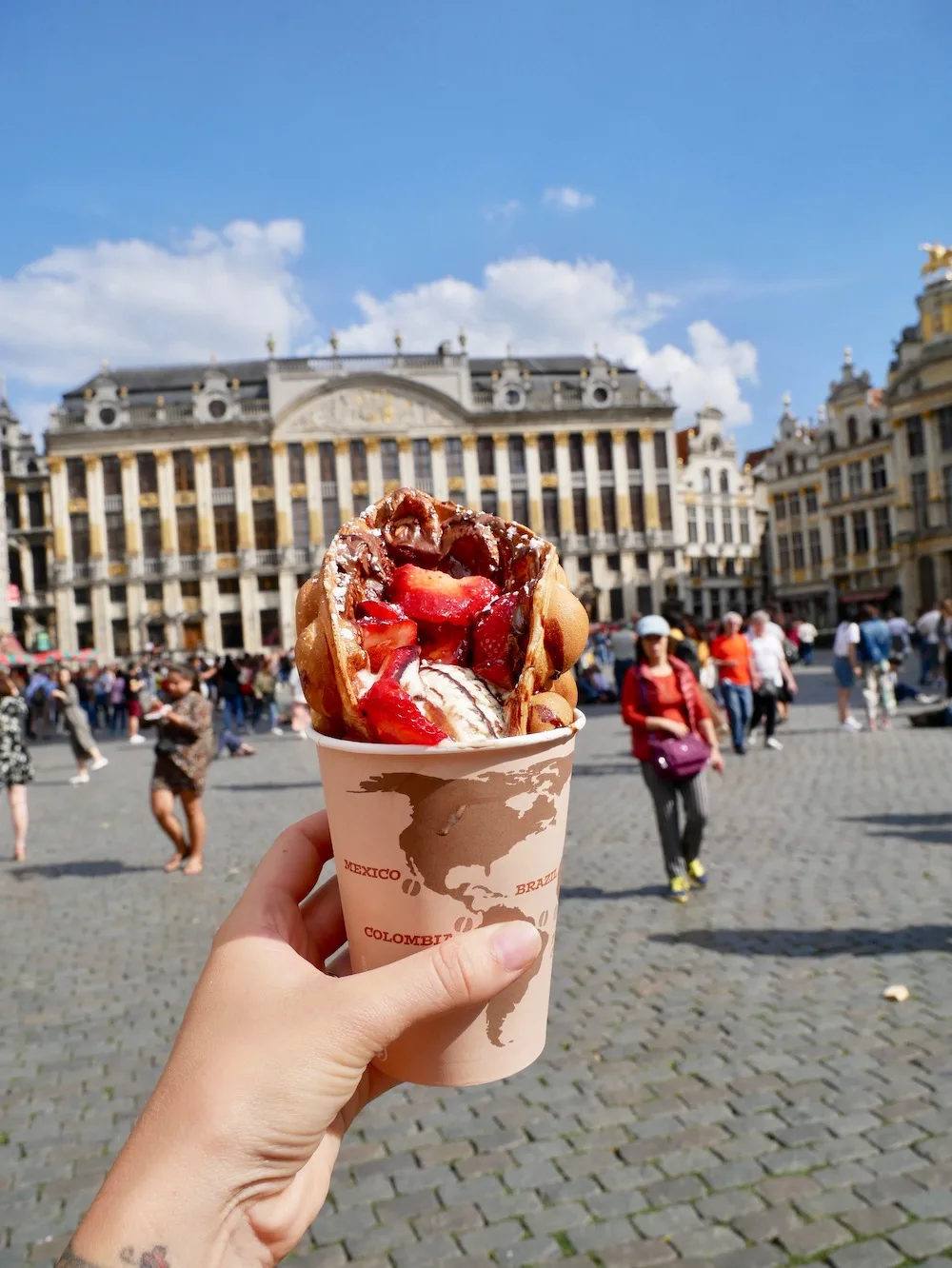 18. Explore Brussel's comic culture
Comic culture in Brussels is a big thing and Belgium is home to comic icons like Tintin and the Smurfs. You will spot comic-style street art everywhere around the city and there are lots of ways to learn more. Visit the Belgium Comic Strip Museum and take the Comic Book Route (there's a brilliant post over on Kirstie Will Travel all about the walking route!) Or take a comic and street art walking tour to have a local expert explain it all to you!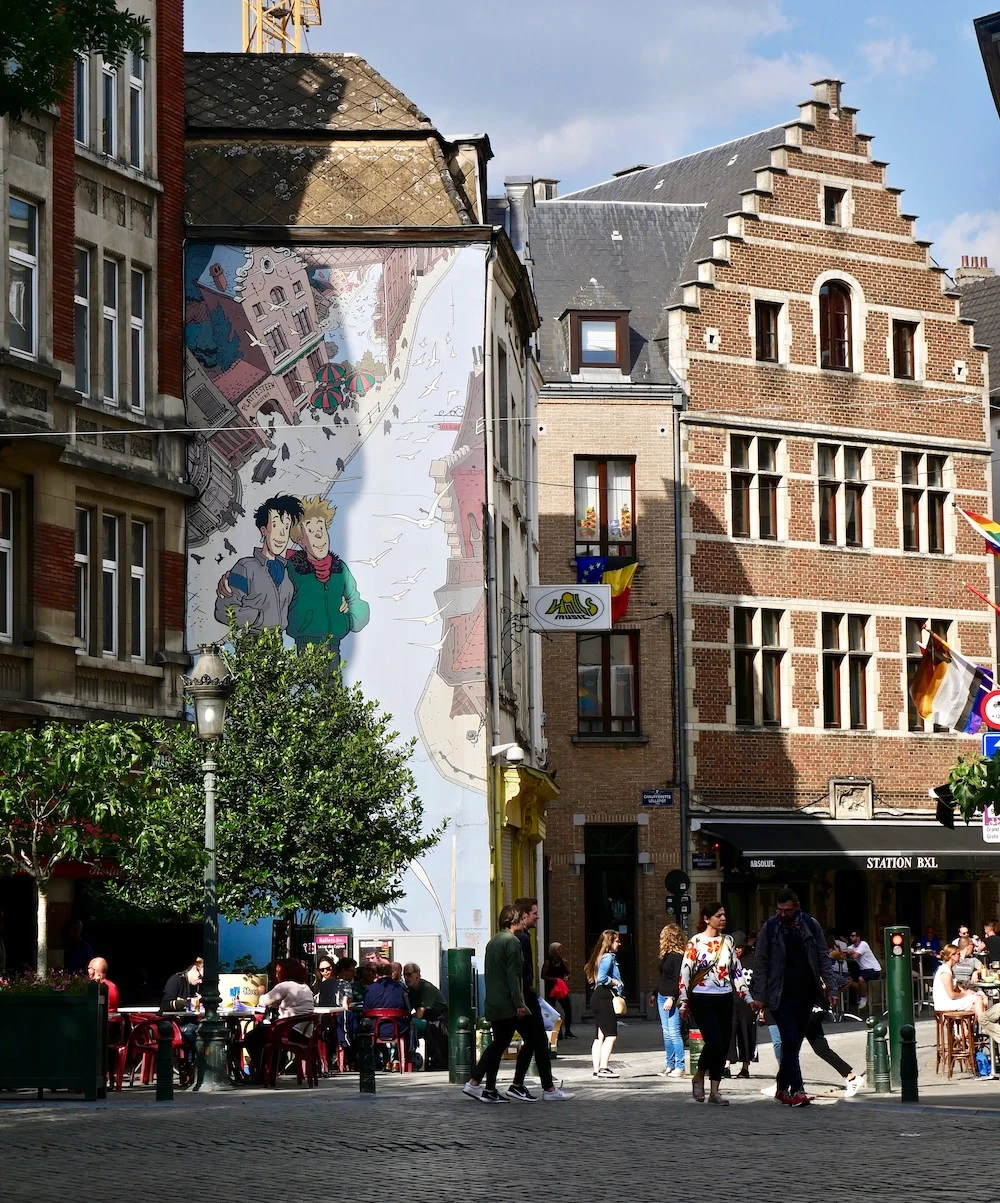 19. Visit the Bourse
The Brussels Stock Exchange might not initially seem like the most exciting place to visit but look at this building! Wow, it is incredible. The ornately decorated building was created in 1873 and it's well worth stopping for a look if you're walking past.
Visitors can't go inside but make sure you plot this building on your map so you can have a browse when you're in the area.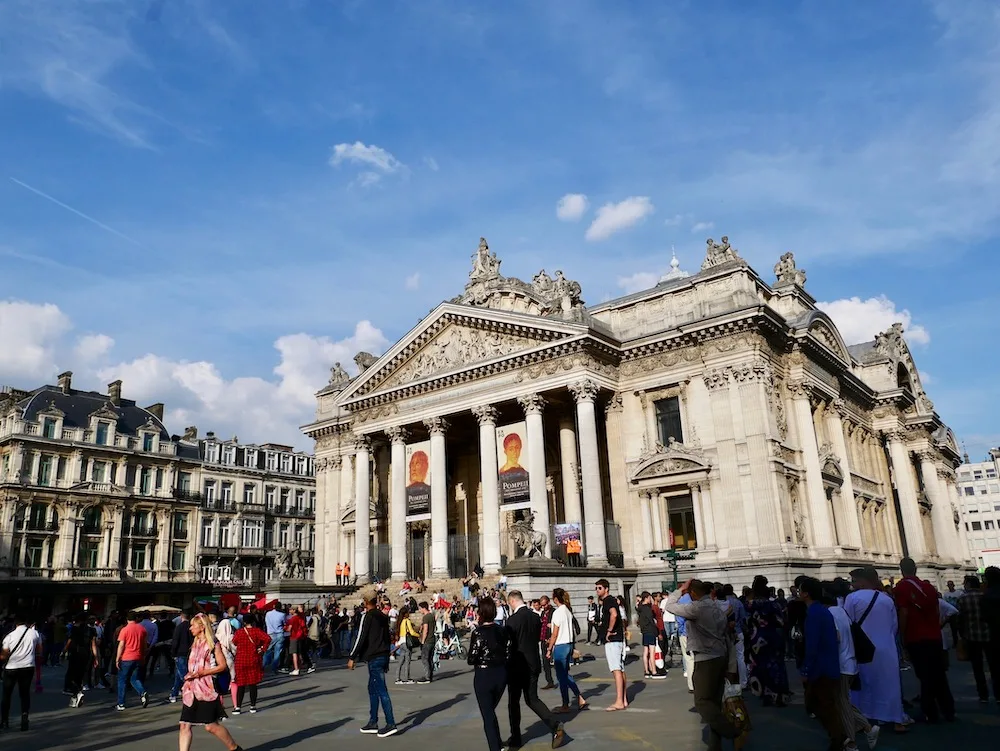 20. Palais de Justice
This impressive building is the most important court building in Belgium. The monumental building has been surrounded by scaffolding for almost 40 years during reconstruction work but work should be complete soon so hopefully you'll see it without the scaffolding! Don't worry if construction is still going on as you can still see the outside of this magnificent building.
Best tours and activities to do in Brussels
If you're short on time in Brussels but you still want to pack a lot into your day then I highly recommend booking a tour or two..or even three. It's a quick, easy and affordable way to be shown around the city by a knowledgeable guide who can explain what everything is.
I usually use Get Your Guide to book my tours. I find they have a good variety of tours at reasonable prices with fantastic guides who have never let me down.
I also like having my tours booked for and paid in advance. It helps me budget for my trips and takes the stress away from planning activities and researching endless things to do!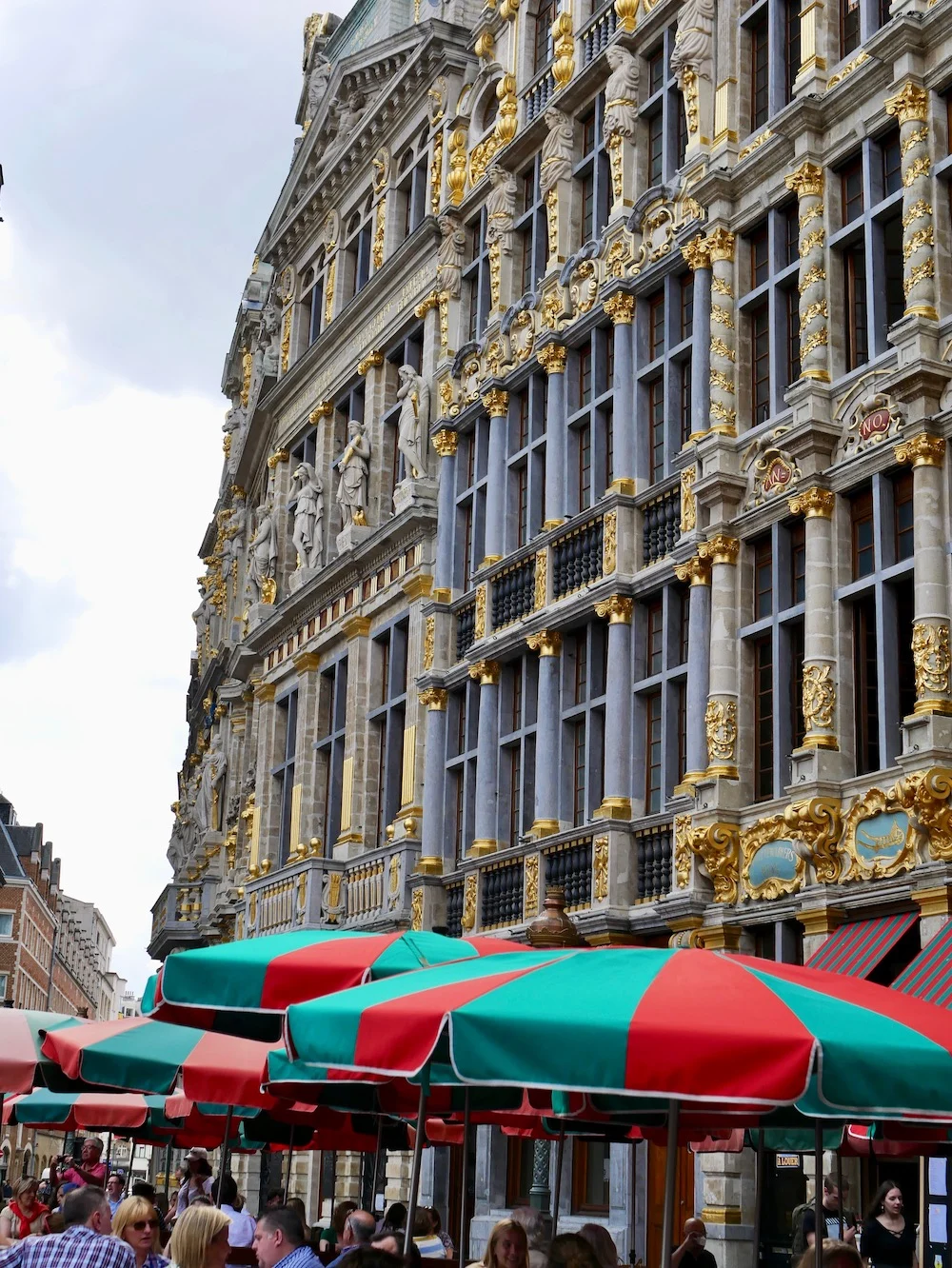 I'd start the day with a 2-3 hour walking tour
If you're feeling more energetic then a guided bike tour around Brussels is the one for you!
Do something fun in the afternoon like a chocolate workshop or you can visit the Chocolate Museum with a workshop entry included.
You could take a 2.5 hour Belgium beer tasting experience or take the Brussels Pub Crawl for a fun introduction into the city's night life!
If the Art Nouveau architecture around the city is your thing then be sure to check out this 3-hour Art Nouveau tour.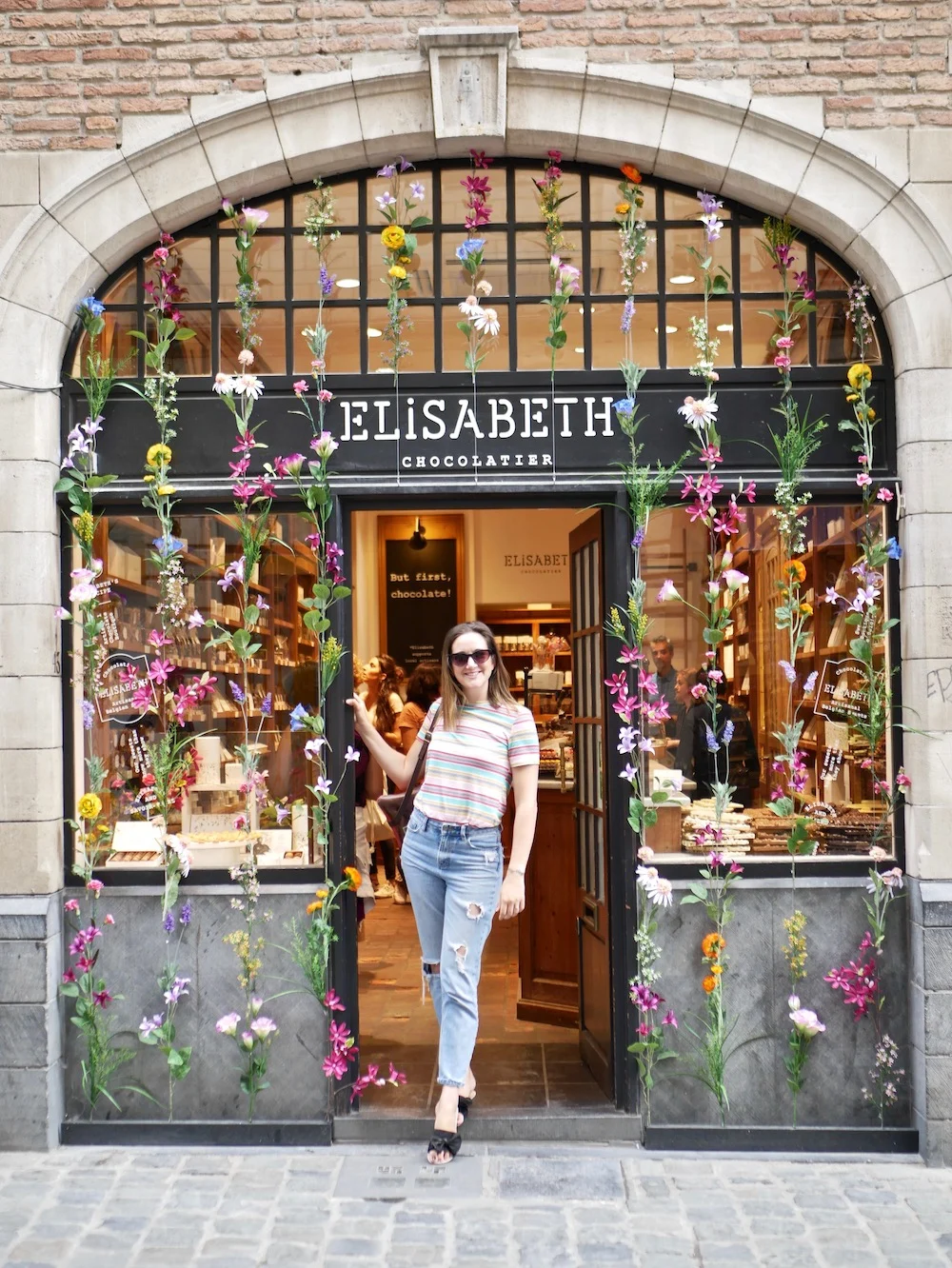 How to do all of these things to do in Brussels in one day!
If you're following my advice from above and you're spending one day in Brussels and the remainder of your trip visiting other Belgium cities, then you're going to have a lot to pack in to one day!
My advice is to plot everything you'd like to see in Brussels onto Google Maps. You can make a new map just for this trip to keep things simple!
Add everything to your map, even if it's unrealistic.
Make a note of the top 5 things you really want to see and any restaurant recommendations too!
You can then focus on visiting these top 5 but if you find yourself with a spare 30 minutes then you can check your map and see what's nearby.