If you're looking for an easy waterfall walk in North Wales then Conwy Falls is the walk for you!
The Conwy Falls walk compromises of a short, one-way circular walking route. It begins just behind the Conwy Falls Cafe and leads to the waterfall and back up through the woodland. It's a short walk to the falls so it's a great one for the family.
The paths to the waterfall are natural, forest footpaths so they're uneven and rocky, but that is all part of the adventure!
The powerful falls are spellbinding and you'll be totally mesmerised when they come into view. You'll hear the roar and maybe even feel the spray from the waterfall before you reach it. There's something so hypnotising about watching the water tumble down through the rocks and crash to the river below. Take some photos but make sure you just stop and appreciate the incredible power of Mother Nature for a moment too!
A natural, rocky viewing platform is waiting for you to stand and enjoy the waterfalls as the water cascades into the magical glen and the deep gorge below.
We visited Conwy Falls recently (March 2022) with our three children. Before we even arrived the kids were complaining about going for 'another boring walk' but the second we arrived they were captivated. It was a sunny spring morning and the sun's rays were streaming through the trees, giving everything this beautiful glow.
Our older boys (ages 5 and 6) sprinted off through the forest, jumping off rocks, hiding behind trees and generally running back and to like excitable puppies. The excitement intensified when they could hear the waterfall and knew what was waiting!
Waterfalls like this have an infectious energy and we all felt the incredible power of it. We scrambled over some rocks before running back up through the forest where the cafe was waiting with tea and cake!
It was a short experience and it took us about half an hour to visit the falls and then walk back up.
If you're driving past Conwy Falls or you're in the area then I 100% recommend stopping by for a visit, but it probably isn't the kind of experience you'd go far out of your way to visit.
Can you swim in Conwy Falls?
No, absolutely not. It isn't safe to swim near the falls due to the forceful water and the narrow canyon walls. It would be very dangerous and swimming is prohibited.
There are however some lovely places where you could swim near Conwy Falls….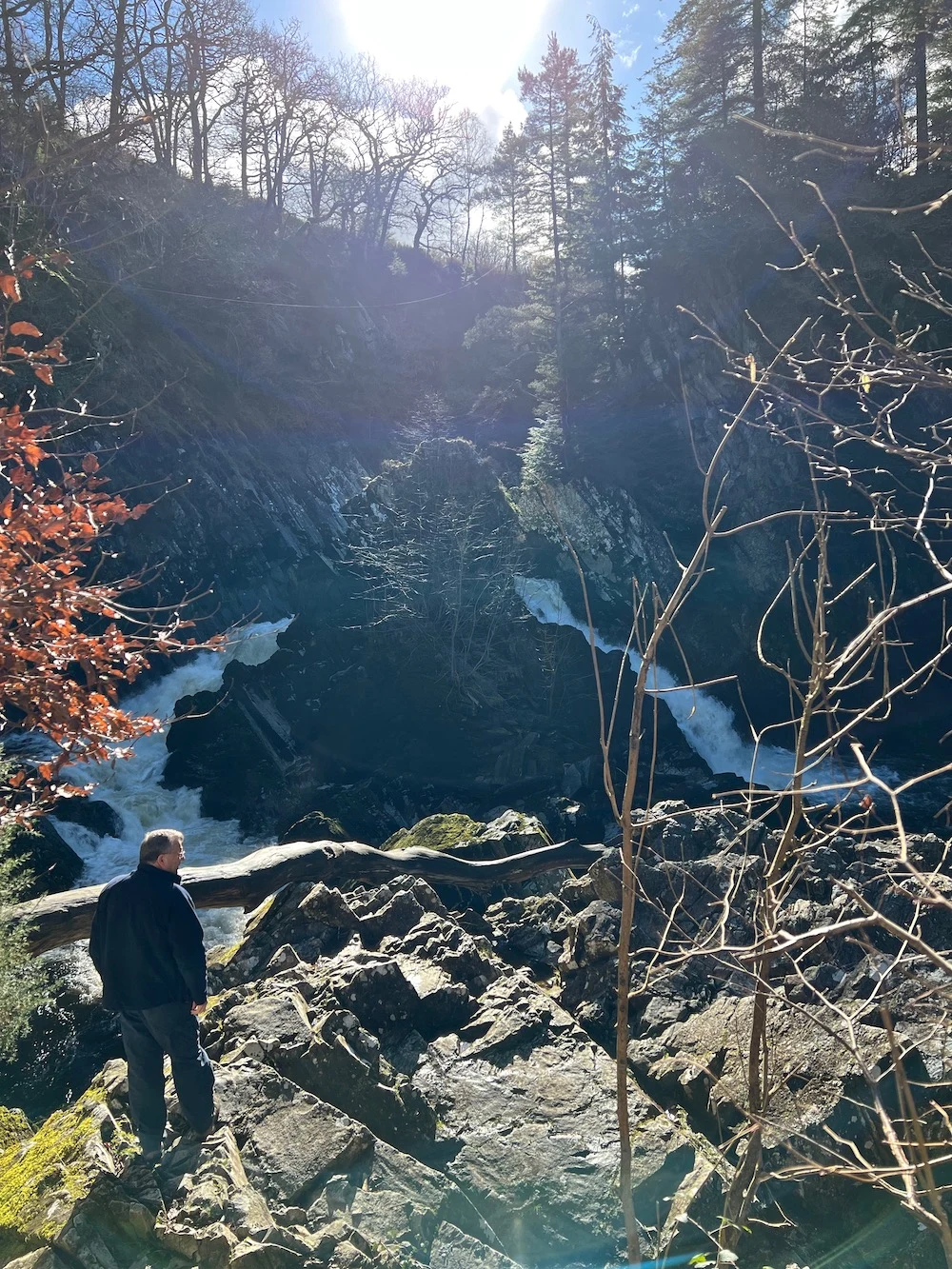 Where can you swim near Conwy Falls?
A short drive from Conwy Falls is Betws-y-Coed which would be a lovely place for a dip. The river runs through the village and then at the far end there are some rocks and mini falls. Depending on the level of the water, it may not be safe to enter here but if you walk through the alpine forest you'll come to a gorgeous section of the river where it's much calmer and would be great for confident swimmers.
There is a current and you will need to be a strong swimmer. Alternatively, you could safely paddle on the edge of the stony shore.
What is Conwy Falls Forest Park?
The Conwy Falls Forest Park is the protected land surrounding the waterfalls. The 10 acre park is a Site of Special Scientific Interest thanks to the abundant woodland it occupies.
Did you know Conwy Falls Forest Park won Countryfile magazine's landscape of the year in 2017!? OK, it was a few years ago now but it shows what a stunningly beautiful part of the UK this is.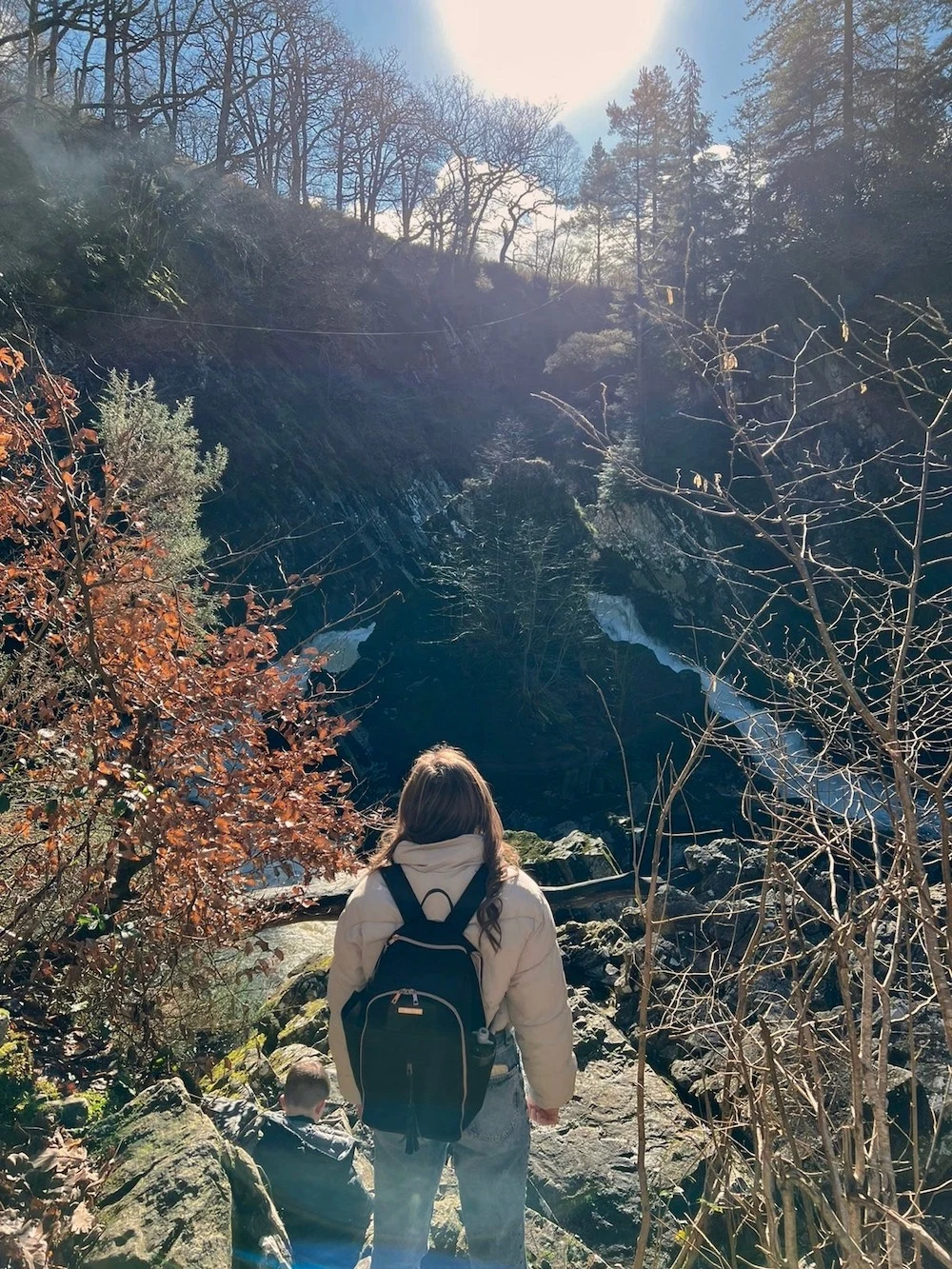 Do you have to pay to visit Conwy Falls?
Yes. It currently costs:
£1.50 per adult
£1.00 per child over the age of three
There was an honesty box for payments when we visited so be sure to take some change.
There was also a cashier desk which was closed when we visited in March but it looks like it must be open during busier times.
These payments help to maintain the paths, fencing, safety structures and seating areas.
Local residents can visit for free and can pick up a loyalty card inside the cafe.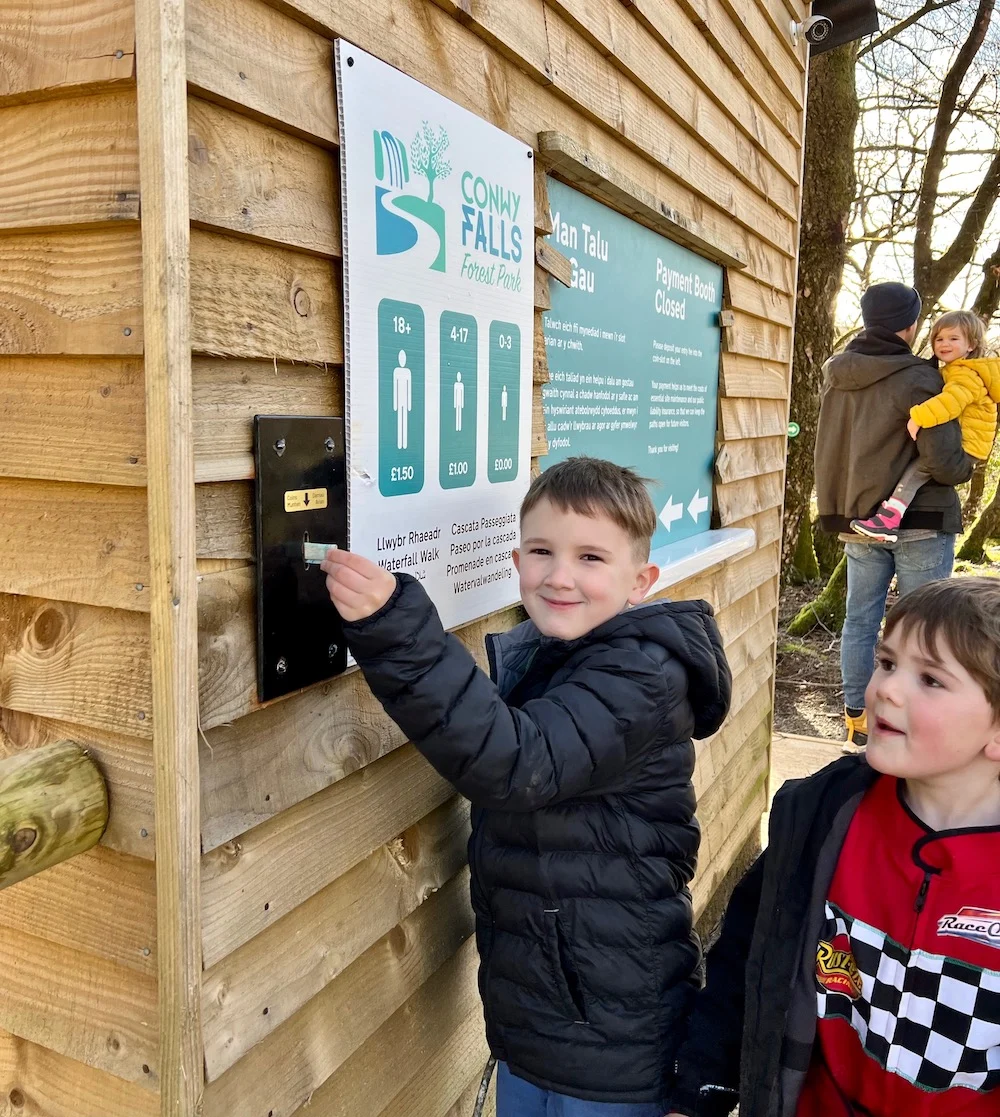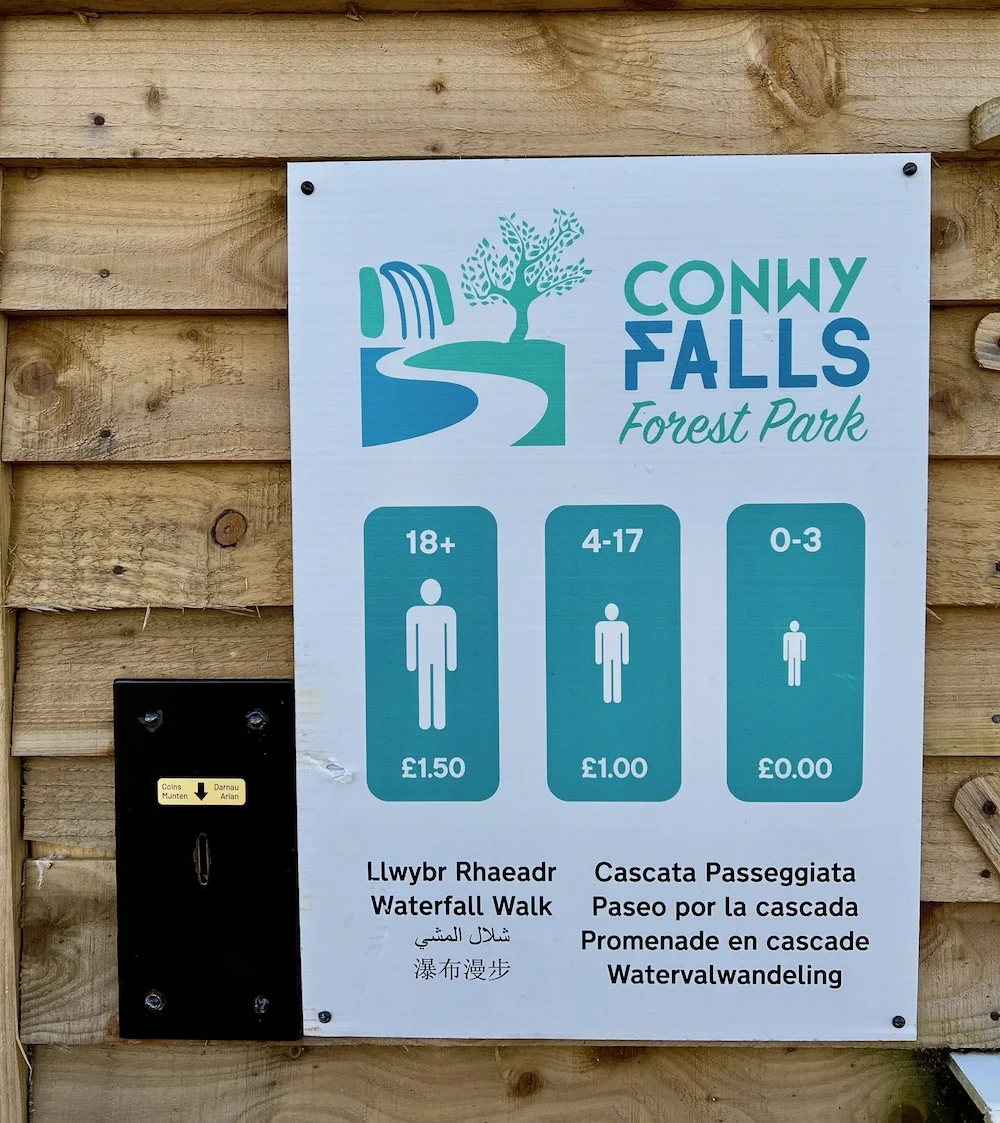 Are there public toilets before/after the walk?
Yes, there are toilets just outside the Conwy Falls Cafe. They are clean and warm and open to the public. There is also a baby changing facility.
The toilets are outside the cafe so you don't need to enter the cafe or be a paying customer to use them.
What's the Conwy Falls Cafe like?
The Conwy Falls Cafe is lovely. It has a bustling, rustic, family-friendly vibe and is often filled with walkers, cyclists, bikers, families and people breaking up a long car journey.
The cafe is also used as a meeting point for activity groups or friends. It's an easy place to meet thanks to the large car park and accessible toilets. The cafe is dog friendly and there's also free wifi to make things even easier.
The cafe building was designed by Sir William Clough Ellis and uses the same gorgeous turquoise colour as many of his other buildings in the area. This colour ties them all together so look out for other buildings in the area with turquoise windows, gates and doors and you'll know they were designed by Sir William Clough Ellis.
They serve all day breakfasts, lunches, teas and coffees, cakes and snacks.
I've eaten there three times and it's always been lovely. They can also do takeaway food and there's a nice outdoor seating area.
If you're walking to Conwy Falls and will be parking in the cafe car park then I highly recommend popping in for a cuppa or a bite to eat.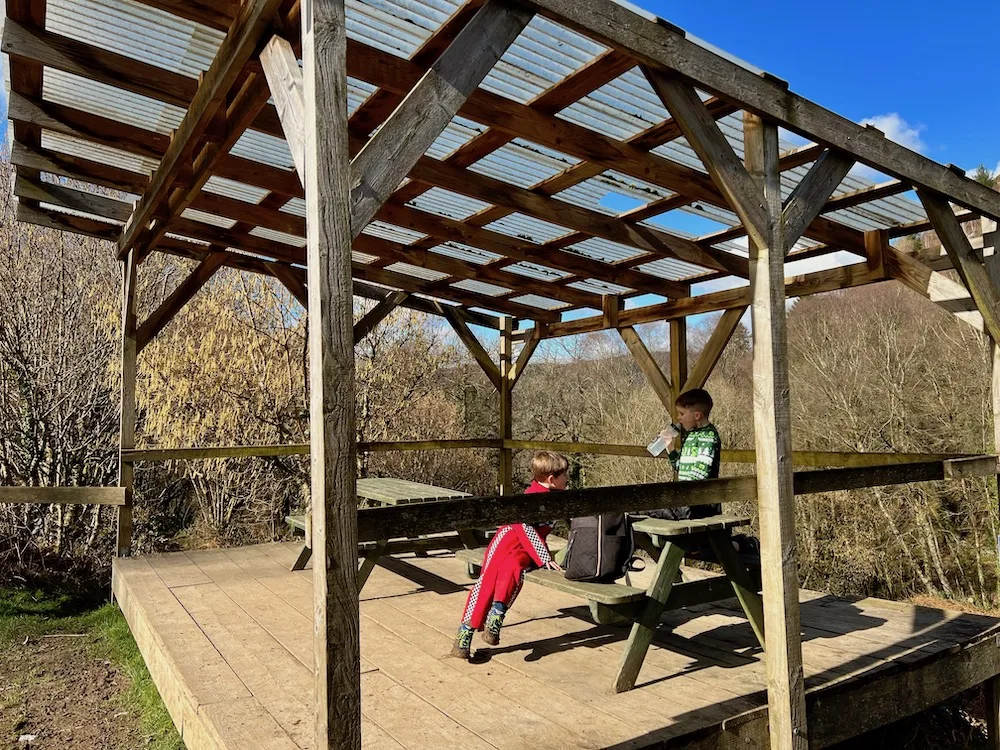 What should I wear to visit Conwy Falls?
The walking route to the waterfall is uneven with lots of tree roots, steps and rocks. Depending on the recent weather, it will probably also be muddy.
You walk down a fairly steep slope to get down to the falls. It's a circular route and it's smoother on the way back up but it's obviously just as steep!
With this in mind I would highly recommend wearing a sturdy pair of walking boots that you don't mind getting muddy and have good grips.
If you're stable on your feet and don't feel the need for ankle support then you'd also be OK in wellies or trainers.
I'd avoid sandals, even on hot days, due to the uneven ground.
Other than that, it's a short walk so you can pretty much wear whatever you feel comfortable in.
I'd take a small backpack or day bag for your personal items, a camera/phone, a bottle of water, maybe a flask of tea, a snack, a jumper and maybe an umbrella. You'll need both of your hands to steady yourself during some places on the walk so I highly recommend a backpack over a shoulder bag.
The Travel Hack Backpack was perfect as always.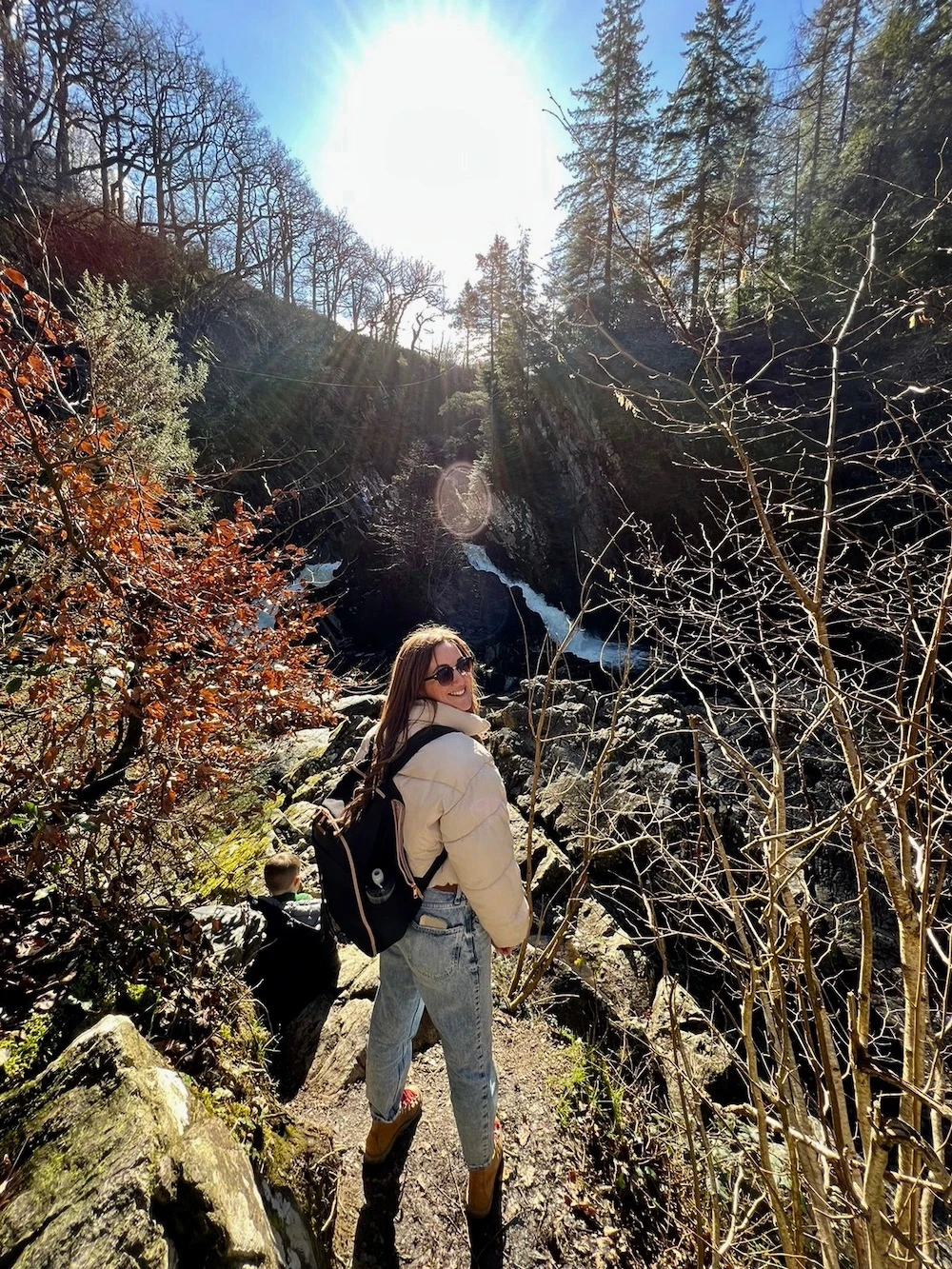 Fairy Glen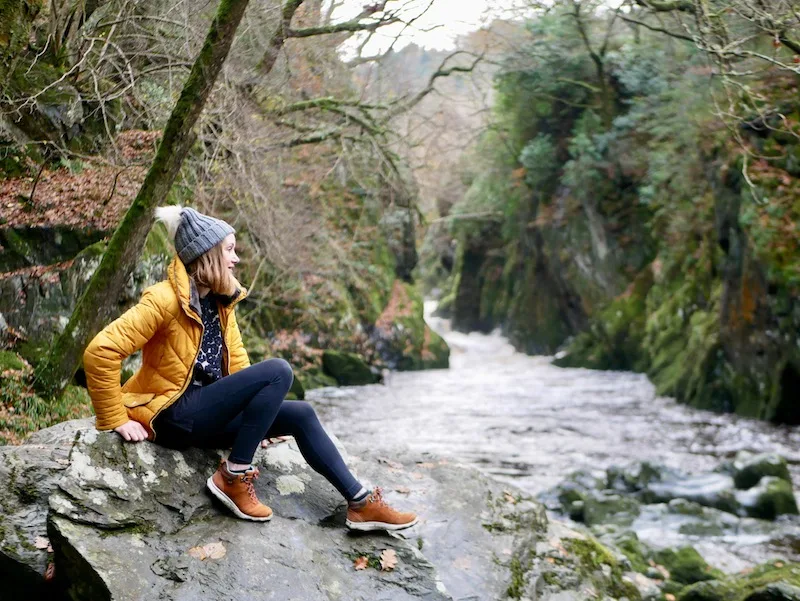 Not far from Conwy Falls is another magical forestry walk called Fairy Glen, or Ffos Anoddun to give it its Welsh name.
You can walk from the Conwy Falls Cafe car park which takes about 40 minutes and is a lovely walk along the river.
If this walk is too far then you can park nearby too. Use the postcode LL24 0SL to reach Fairy Glen car park.
It is accessed via private land (you pay via an honesty box) and it is a fairly rocky and uneven walk down to a beautiful, secluded gorge.
You do need to be steady on your feet for this walk but it's well worth it.
Is Conwy Falls walk suitable for seniors?
It really depends how steady you are on your feet. It isn't a particularly long walk but parts of the walk are steep and uneven. There are steps in the rocks and it can be muddy and slippery.
I would say that the walk isn't suitable for many seniors, particularly if you have mobility issues.
But it is still lovely for a day out. The Meadow attached to the cafe is available and there are large picnic benches at the beginning of the walk. The start of the walk is also fairly easy; about 500 metres into the forest there is a picnic bench and a viewing platform which would be a lovely place to have a cuppa and wait for the rest of the family while they do the walk.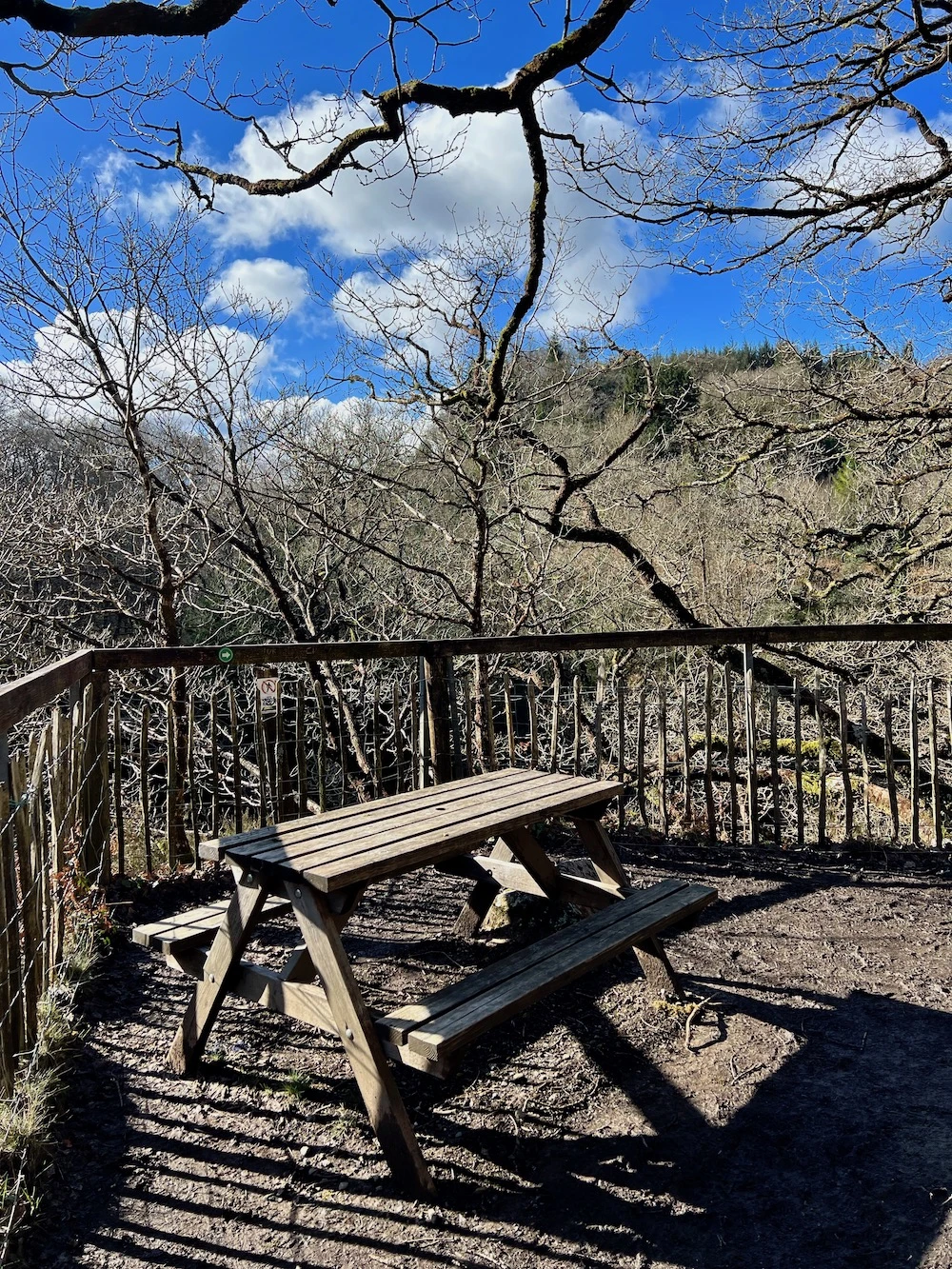 Can you take babies to Conwy Falls?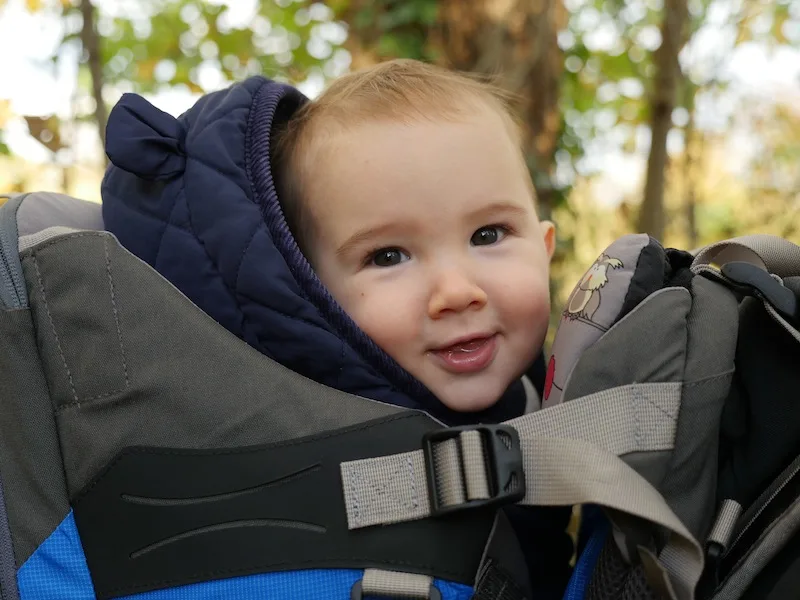 Yes you can but you definitely couldn't take a buggy.
Babies will need to be in a carrier and toddlers will need to be helped or carried for sections of the walk.
We visited recently with our two year old daughter. She's a wobbly toddler who sprints off in any direction so we had to keep a close eye on her and hold her hands.
My favourite baby carrier is the Izmi Baby Carrier and my favourite carrier for bigger babies and toddlers is the LittleLife All Terrain Carrier.
Just be sure to go slow if you've got a baby in a carrier. Take your time on the steep bits and hold onto rocks and trees where you can. And don't get too close to the edge!
Can you take dogs to Conwy Falls?
Yes! Dogs are more than welcome.
They should be kept on a lead and remember your poo bags!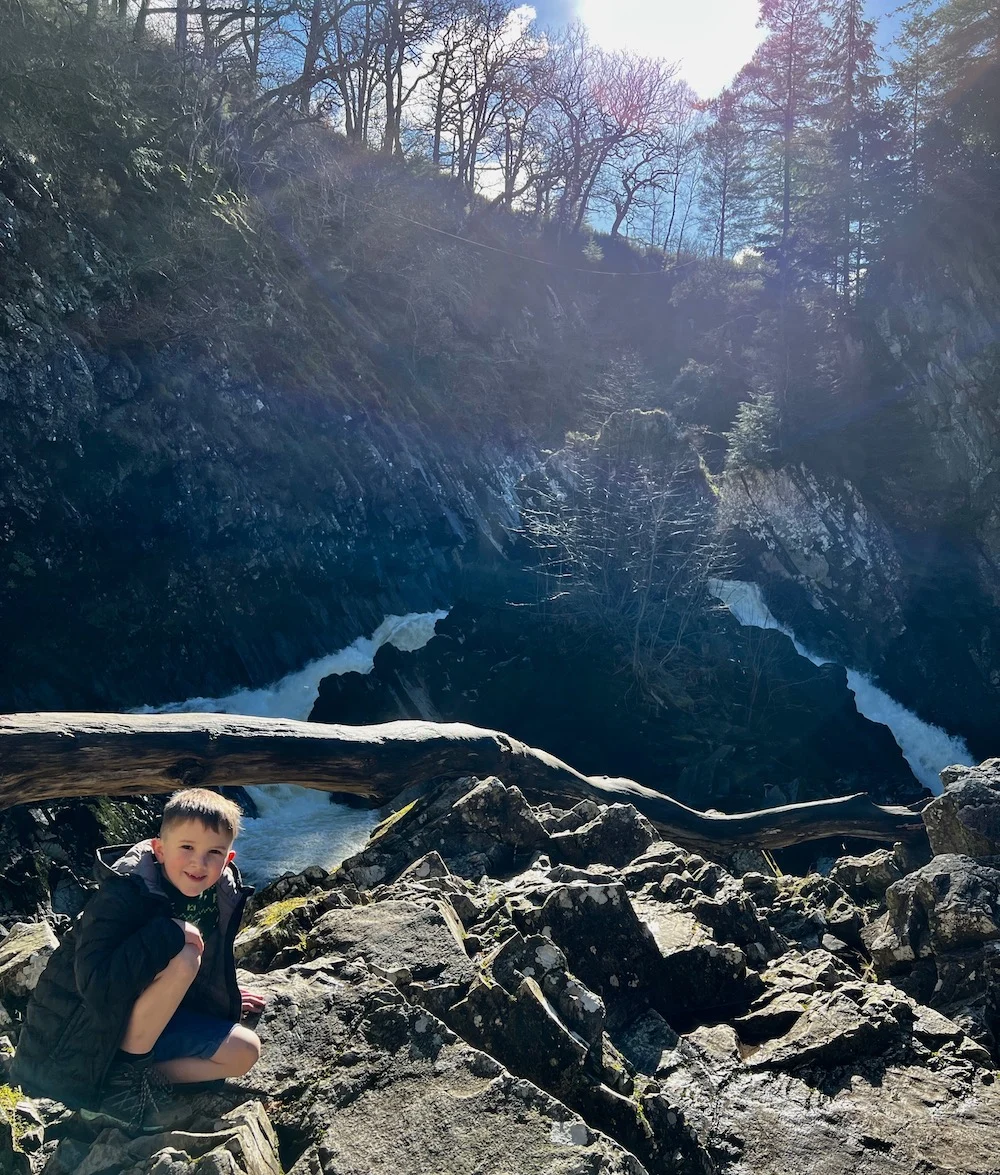 Are there any nearby attractions?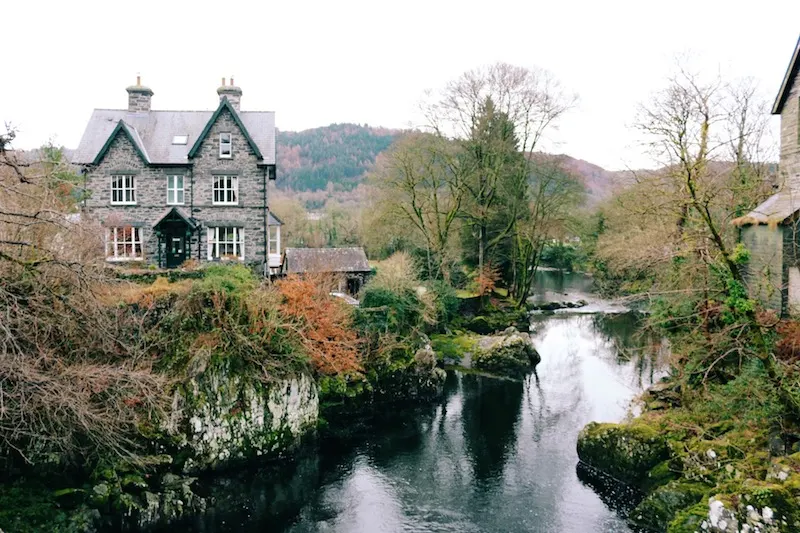 Yes, so many!
The village of Betws-y-Coed is nearby and this pretty little village is well worth a wander. There are lots of outdoors shops, pubs, cafes and another lovely riverside walk in Betws-y-Coed which I highly recommend.
You're also not far from the historic town of Llanrwst. Llanrwst is a pretty market town but the real attraction is the three-arched bridge across the River Conwy. On the other side of the bridge is the Insta-famous Tu Hwnt i'r Bont Tearoom which might just the the prettiest tea room in all of Wales with it's gorgeous, ivy-clad exterior.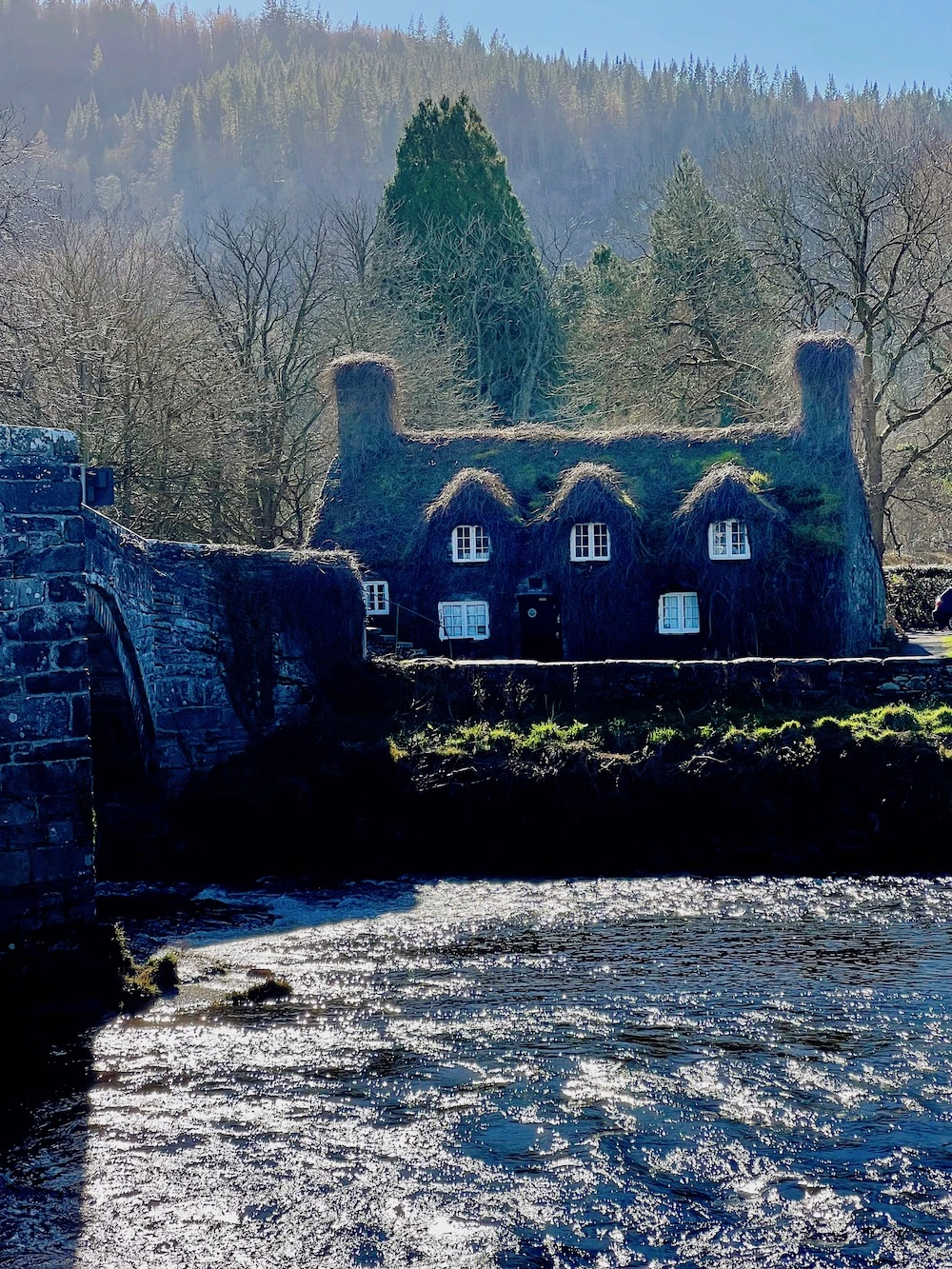 Are there any other waterfalls near Betws-y-Coed?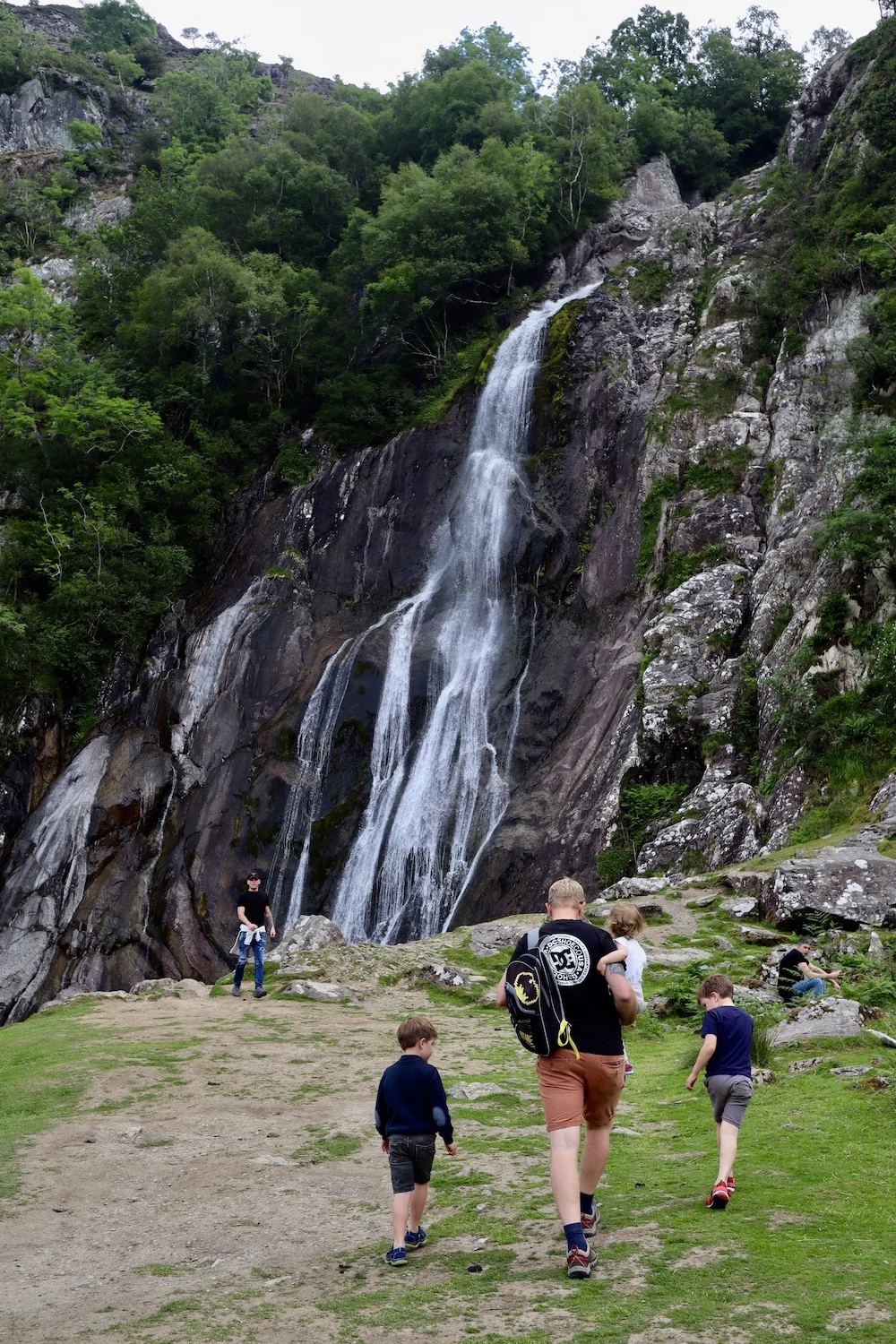 Yes, another popular option is Swallow Falls and there's also Aber Falls.
Aber Falls is a one-hour drive towards the coast.
If you can only choose one waterfall walk in the area then I'd choose Aber Falls as it's more spectacular and the walk is easy but longer.
Read more: 10 things you need to know about visiting Aber Falls in North Wales
Is it worth visiting the nearby Portmeirion Village too?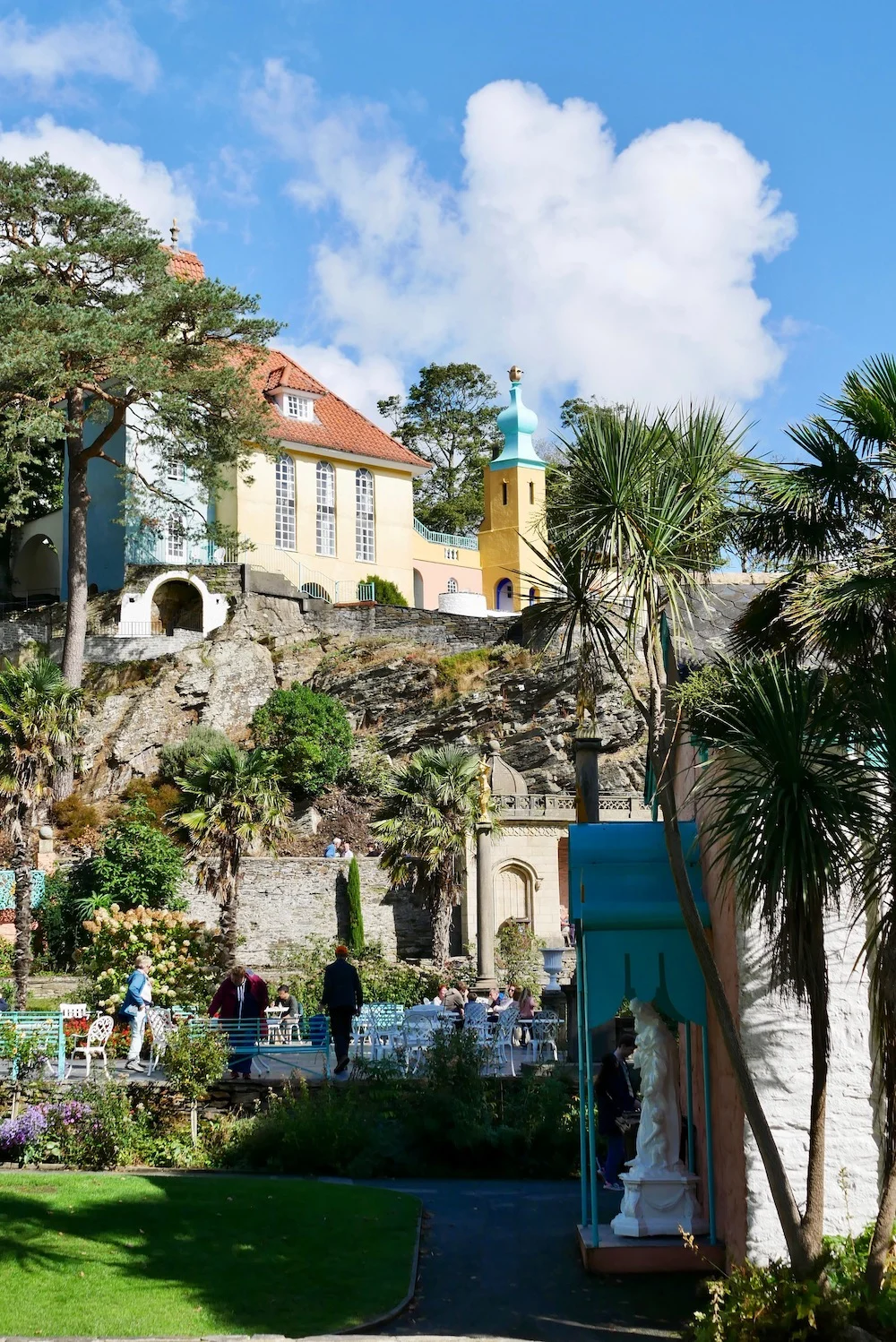 Absolutely!
It's about a 45 minute drive from Conwy Falls to Portmeirion Village and I highly recommend visiting.
Portmeirion is a quirky, eccentric village tucked away not far from Porthmadog. It was built by Sir Clough Williams-Ellis between 1925 and 1975 and looks like a colourful, Italian village.
Our family love Portmeirion so much we even have an annual family pass. We visit all the time for a wander around the gardens and woodland, to have a run along the beach, lunch at the cafe and an ice cream.
Read more: Visiting Portmeirion: The Italian-style village in North Wales
What else is there to do in Snowdonia National Park?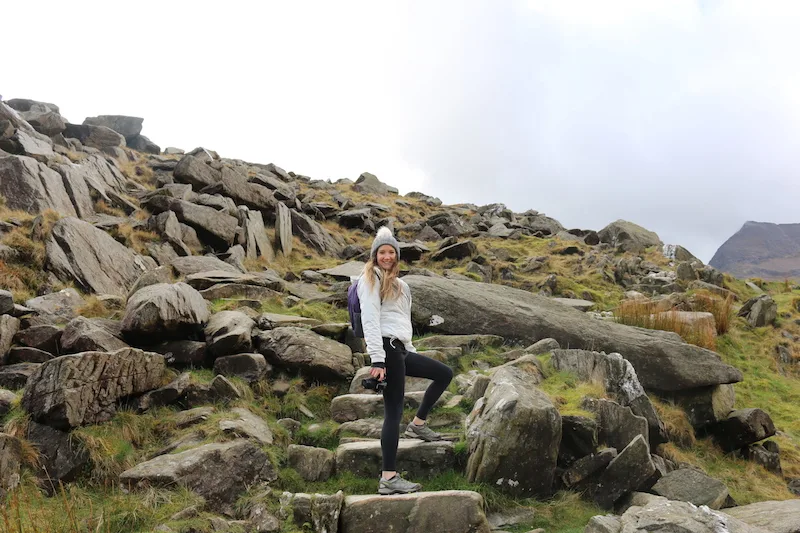 There's so much to do in Snowdonia.
Here are 10 of my favourite adventure activities in Snowdonia.
You can also hike up Snowdon or take the train up there!