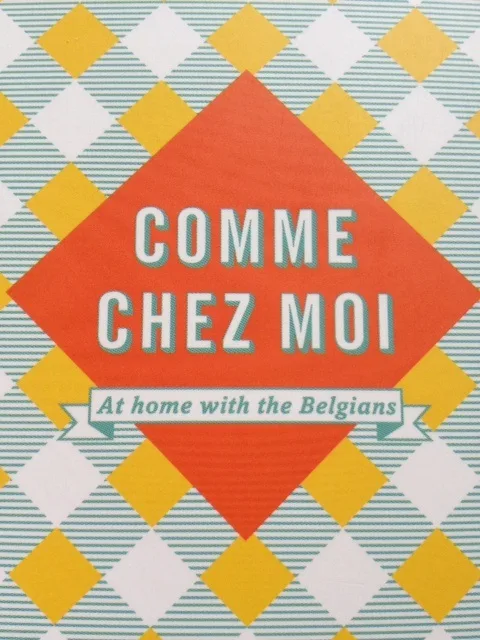 Visiting a new city can be completely overwhelming, especially if you're only there for a long weekend. You want to visit all the must-see sights and then squeeze in a few 'off the beaten track' places that make you feel like you've discovered something new.
As a travel blogger, you want even more. You want to capture the essence of a city through words and photographs. You want to delve a little deeper and find out what is behind the surface of that friendly hotel manager and glossy guide book photos.
So when my boyfriend and I were invited to the home of a local couple during our trip to Ghent, we jumped at the chance to get to know the locals a little better and see them in their natural habitat.
They say you can never know a person until you have been inside their home and I believe you can never know a culture or a country until you have spent some time in the home of a local.
Our hosts: Jozefien and Karl
Jozefien and Karl live in Ghent with their two young sons. Karl has Italian roots but is originally from Australia and Jozefien is from Flanders. The couple started Comme Chez Moi at the beginning of 2012 after house-swapping with a family in Sweden and loving the experience.
"We know from experience that, when spending time in a foreign country, nothing beats meeting locals to truly get to know a place and to make yourself at home. We cherish what brought us to Belgium and what keeps us here: a general openness to international encounters, the abundance of good food and drinks, and a widespread fondness of entertaining at home."
Our experience of eating with the locals
"Are you nervous?" my boyfriend asked me as he tried to squeeze under my umbrella.
I was busy trying to keep my hair dry and reluctant to share my brolly so the question took me by surprise.
"No, why would I be?" I replied, but as soon as the words left my mouth my belly was filled with quivering jelly and I felt like a 5-year-old going to a birthday party.
We were going to the home of two complete strangers in a foreign country. Not only that, we were going to be having dinner in their home. All night. With their friends. I suddenly had the urge to turn around and head to the first tacky tourist restaurant I could find.
But, thankfully, the second we entered the home of Jozefien and Karl we were welcomed like old friends. There were no formalities or awkward silences, there wasn't even a language barrier and before long the conversation was flowing as smoothly as the Belgium beers.
We had a shrimp cocktail to start, served in huge Belgium beer glasses with lashings of prawn Marie Rose sauce. "This dish is meant to be served in pretty little glasses but we don't have any," Jozefien laughed, but it was the little touches like this that I loved. This wasn't a fancy restaurant, it was a normal home and this is how normal Belgium people live. (Plus, the huge glass meant a huge portion of shrimps!)
For the main course we had steamed white fish served with homemade fries. These were the kind of fries that I would call French fries but this was met with mock anger and evil stares. You don't say the words 'french fries' in a Belgium home.
We had the sweetest fresh berries I have ever eaten in my life for desert and they were made even better by creamy ice cream and melted Belgium chocolate.
Learning about the Belgium people
While Karl continued to get my boyfriend drunk on Belgium spirits (he needed very little encouragement), Jozefien told me a little more about what Belgium people are like.
I told her I was surprised at how friendly everyone seemed to be. I guess I've become used to London where people won't even make eye contact with their next door neighbour.
"Yes, people are friendly but we're also reserved. We're polite like the English but not forward like the Americans."
She asked me what I thought about the Belgium people and, apart from being incredibly kind, the first thing that sprung to my mind was 'slim'.
"Oh yes, well we love our food but we always eat good food," Jozefien told me. "We have a culture of eating together and having good meals. We don't eat much junk food and there's only one McDonalds in Ghent."
And then Jozefien said something that I think I will remember for ever after I asked her how it was having strangers into their home for dinner.
"This might sound really innocent, but the best thing about it is realising how nice people are. Everyone we've had has been so nice."
I think this is the best thing I can take away from the whole experience.
Yes, the food was delicious. Yes, it was great to get some insiders tips on what to see and do in the city. It was brilliant to taste some local beers and great to feel as though I know Belgium people a little better. But the best thing was the realisation that there really are so many nice people in the world.
There are people out there that will welcome you into their home and make you feel like an old friend. People that will take the time out of their busy lives to cook you a meal and share their knowledge. People that love their city so much they just want to share their passion and enthusiasm with you.
I should add here that none of the four people we ate with were originally from Ghent but they spoke about the city with the kind of patriotic enthusiasm that you can't help but fall in love with it.
I would like to say a massive thank you to Jozefien and Karl for having us and we hope to see you again soon. I would also like to thank the lovely people at Visit Flanders for organising the trip for me.