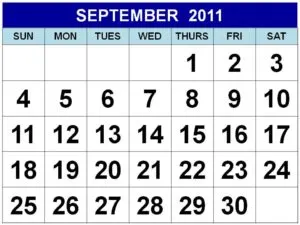 How old are you when you stop seeing September as the beginning of the school year? I still buy academic school year diaries because I can't quite get out of this habit. Forget January, nothing new happens in January. January just gets colder, darker and more depressing. But September is full of new beginnings, fresh starts and exciting challenges.
New Year's resolutions in January are pointless. You begin the year with a hangover and that diet you promised can only fail when you have half a tin of Quality Streets and a stocking full of sweets left to eat. The exercise regime goes straight out the window when you realise that there is no chance you're going jogging in the snow. It's cold, it's dark, it's miserable so it's no wonder New Year's resolutions never stick. January is all about snuggling on the sofa with a blanket and a box of choccies. September, however, September is a different issue.
Since the age of four we have been programmed to think that September is the month of change. A fresh pencil case bursting with new ideas and thoughts, a stiffly ironed uniform that makes you smart and tidy for the first time all year and a brand new lunch box that is crammed with all your favourite treats.
I still have that same sense of anticipation and excitement in September. The long, lazy summer is over and my brain feels like it needs a workout. I'm ready for some good old fashioned hard work and September makes me want to get my teeth stuck into some new projects and really pull my socks up.
After three months of BBQs and boozing in a beer garden, my body is craving some healthy food and exercise and it's still warm enough to brave the great outdoors with a jog. I've happily dusted off my gym membership and I'm raring to go.
So forget the new year because September is the month for resolutions, health kicks and boosts of energy that motivate you to do just about anything.
What's your September resolution?