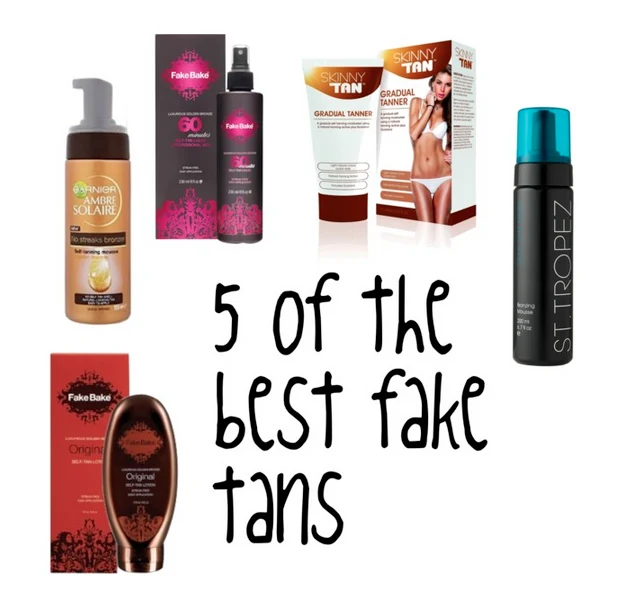 I'm absolutely unashamed to admit that I'm a fake tan fanatic. Having a tan makes me feel happier and healthier. When it's applied well it can give you a natural looking glow that is impossible to achieve during the British winter.
Let me just reiterate the 'when it's applied well' part. Badly applied fake tan is the worst and you end up looking like a patchy Umpa Lumpa.
I remember a time when going on holiday was all about getting a good tan. I'd spend nearly all day on a sun lounger, doing my best to get an even tan. These days I can't think of anything worse. I want to be out and about exploring when I'm away but I still want a sunkissed glow – just without any of that boring lazing in the sun business.
Here are 5 of my favourite fake tans and the best self tans you can pick up on the high street…
Best for: It's just the best
Nothing beats Fake Bake Original in my eyes. This stuff is amazing. You never have streaks, you never look orange and you don't have that funny fake tan smell. Well, you do a little bit but not as much as the other tanners out there.
When applying Fake Tan Original, the trick is to apply it liberally. You look and feel like a bit of a mud monster and it's a bit sticky so put some baggy PJs on and give it an hour before you go to bed. You'll wake up and be terrified by your appearance but then you'll have a shower and feel like a bronze goddess.
#2 – Skinny Tan Gradual Tanner
Best for: Fair skin and the winter
This is a very light tanner so if you have olive coloured skin it's not going to do a lot for you. If you're pale or it's the middle of winter then this is a great option. It's amazingly easy to apply, fuss free, almost scent free, streak free and has a lovely, light tan colour.
Apparently it gets rid of cellulite too. I don't believe this for one second but having a tan definitely makes you feel slimmer so let's pretend it does.
(You may have seen this on Dragon's Den and got the 'Who wants a skinny tan? I wana skinny tan!' song stuck in your head. Very annoying.)
Best for: Small budgets and easy application
Fake tan can be expensive so an affordable option that is still pretty good is Garnier Ambre Solaire. It's a mousse and is SO SO easy to apply. It's a quick drying mousse so it's streak free (I'm not even sure if you could get streaks if you tried!) and it's a bargain at under a tenner.
Best for: Quick quality
As you can tell, I'm a big fan of Fake Bake and although the 60 minute tan isn't quite as good at the Original, it's still the best quick tanner on the market. It's light and easy to apply and if you leave it on for 2 hours you get a really good, natural looking tan.
Best for: A darker tan
If you've got pale skin you need to use this with care but if you're naturally darker then slosh it on.
My tips for applying fake tan
Wax don't shave – Fake tan goes on much better on waxed skin
Use Veet strips to wax your own legs. It hurts the first time but once you've got the hang of it you'll wonder why you ever paid someone to wax your legs for you
Always exfoliate and moisturise before tanning but don't use oil based products or the tan won't sink into your skin.
If you don't have a tanning mitt, use an old sock
Wash your hands immediately after tanning
Don't apply fake tan to your elbows, knees, ankles or near your underarms
Chose a tan that isn't too much darker than your natural skin colour. You want to look like you've got a golden glow rather than you just took a mysterious 2-week trip on a yacht
Do you use fake tan? If so, what's your favourite?