Update: The votes are in and I'm going to Paris for the day. If you have any suggestions for things to see and do in Paris with a big budget, please do let me know!
I can't even begin to tell you how excited I am to share this post. This is so surreal and also a dream come true because next week I'm going to have the most amazing 24 hours. Let me start at the beginning….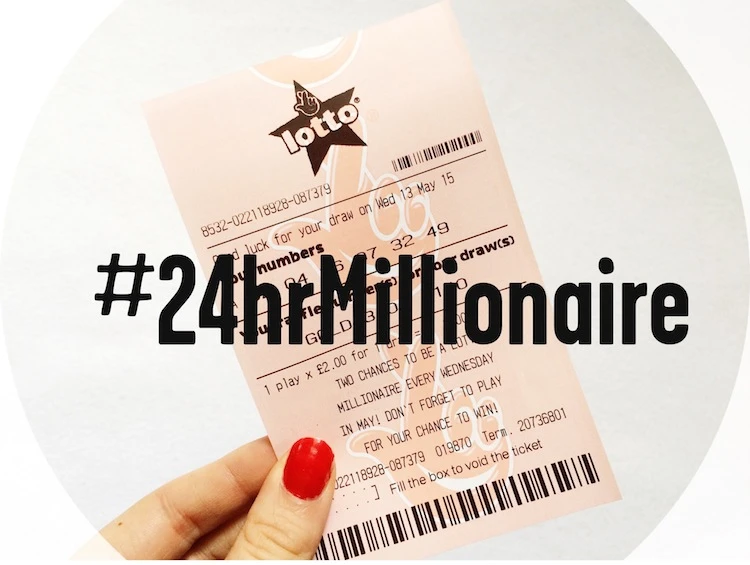 Did you know that if you won £1 million you'd have £2,739.72 per day for one year!!?
Imagine that, an entire year filled with epic days, enormous shopping sprees, extravagant meals, 5* hotels and amazing holidays. It gives me goose bumps just thinking about it!
I know I'm not alone in buying Lotto tickets and genuinely thinking I'm going to win. Every time I play I start planning my adventures and deciding how I'd share it with my friends and family.
It's become a popular game during long road trips and sleepless nights. It's the 'What Will you Buy First when you Win the Jackpot' game, and it never gets old.
So when I received an email from The National Lottery asking if I'd like the chance to be a millionaire for the day, I really couldn't refuse!
Yes, that really happened. An email pinged into my inbox asking if I'd be interested in living like a millionaire for 24 hours.
As you can imagine, my immediate response was to begin skipping and dancing around the house like a loon. Once I was suitably out of breath I began imagining where I could go and what I could do in my 24 hours as a millionaire until I got all excited again and the skipping and dancing commenced once again. I'm seriously having to stop myself from skipping and dancing as I write this email because I'm so excited.
I've been given this amazing opportunity as a way to celebrate the fact that every Wednesday in May there's an extra chance to become a millionaire with Lotto thanks to an additional £1m prize on the raffle (on top of the usual jackpot!)
Now it's time to decide what I'm going to do for 24 hours with over £2,700 and I'd like you to help me choose.
My millionaire lifestyle will begin at 7.30pm on Tuesday 19th May and end at 7.30pm on Wednesday 20th in time for that week's Lotto draw when someone's ticket will make them a millionaire for real.
I haven't been abroad since I was 26 weeks pregnant with George so I'm desperate to get on a plane and travel! I'm thinking a city break with a 5* hotel, a big shopping spree, some luxury experiences and, of course, there will be some surprises for you guys too!
Out of these cities, which do you think would be the best to visit as a millionaire?
Let me know which city you think I should visit and tell me how you'd spend £2,739.72 in 24 hours!
This will all be happening on May 19th and 20th and I'll be sharing my trip on Facebook, Twitter and Instagram using the hashtag #24hrMillionaire.