It's funny how you can look back on your life and categorise each phase into neat little chapters. At the time, you don't realise you're moving from one chapter to the next. It's a series of subtle changes and it's not until years later you can see that the £3.99 house plant from Ikea was the first page of a whole new chapter. That was the day you decided to make your house a home and opened up a whole can of worms that eventually resulted in a dog (it's not a home without a dog), a house renovation and two children. Jeeze, that plant has a lot to answer for!
Life doesn't always fit neatly into perfect new chapters. It's not always as simple as categorising your life by 'your 20s' or 'your uni years'. You slip from one chapter to the next with a hazy period in between.
But sometimes, your chapters are so blindingly obvious and neatly defined that you can almost feel one book finishing as you close the final page and tuck it away safely on a high shelf (carefully out of reach of sticky little hands). Then you reach for a new book with fresh, clean pages and, in your nearest handwriting, you slowly begin the next phase of your life.
This is how I feel right now. It's time to start a new chapter and I couldn't be more excited.
Starting from mid-March, Sam and I have decided to change our lives completely. We're jumping on the bandwagon and working towards 'lifestyle careers' where we plan to work less and live more.
Just excuse me while I go and do a happy dance in the corner for a few minutes!! I can't even type those words without smiling.
What is a lifestyle career?
A lifestyle career is basically where you make your career fit around your life, rather than your life fit around your career. It's where you spend the majority of your time doing what you love with the people you love, rather than spending the majority of your time at work with your colleagues (or working alone in my case!)
Why do we spend 40-50 hours every week working at jobs to earn more money to buy more things we don't have time to enjoy because we're always at work? And then buy a bigger house so we need to work more to buy more things to put in the house, the house we're only in to eat and sleep in between shifts at work?
We work our arses off simply to pay for all this stuff, but one day you sit down and realise that all this stuff doesn't actually make you happy…so what's the point?
And we do most of this when we're in our prime and when we have young families that need our attention. While I'm in my prime, I want to be having fun and enjoying my life, not spending most of my life working.
Don't get me wrong, I love my work and I feel so grateful to call this blog my career. But like any career, it's still work.
For the past two years, Sam and I have spent a small fortune paying for our kids to go to nursery so we can go to work, which means we have to work more and send them to nursery more to pay the nursery bills. Wtf. Seriously!? Wtf.
I don't want to live like this and this is a feeling I've had for a while now but I wasn't really sure how to get out of the cycle.
Sam and I had thought about Sam working with me on The Travel Hack and this seemed like a good option until we took a family blog trip together and spent the entire trip working and bickering about working and bickering about who should be looking after the kids while we were working. It wasn't fun for anyone!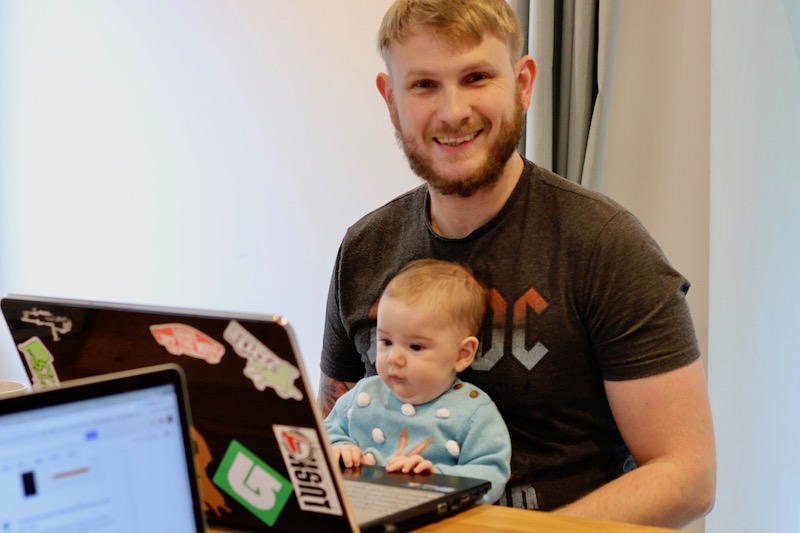 Travel blogging might seem like one long holiday but there's actually a lot of behind-the-scenes work that sucks up your time. While blog trips are a lot of fun, they're also a lot of work and Sam felt like he was just swapping one job for another.
Sam and I gave up on the idea of being a blogging couple and went back to normal, but I still couldn't get the idea out of my head. The idea that we're working to pay for a lot of stuff we really don't need.
What would happen if we got rid of all the stuff we don't need?
I sat down and looked at our expenses and realised we could easily cut back our monthly expenses by about £1,600. Yes, really. I'm going to do an entirely separate blog post about this because it shocked me too. We're not exactly rich so this seemed like a crazy amount.
And I'm not talking about selling our house and living in a tent and eating like mice and never socialising again. These are all expenses we could happily live without and still have the great life we lead.
If we cut back by this much each month, we could both cut back on the amount of work we do…which led to the whole lifestyle careers idea.
How do we plan to build our lifestyle careers?
To begin with, Sam is going to work less and I'm going to work more flexibly to give us 4-day weekends together as a family.
Sam is cutting down his hours to work three days a week. He'll work Tuesdays, Wednesdays and Thursdays and have a four-day weekend. For reference, Sam is a plumber/gas engineer and also does a lot of building work for my dad who runs a building firm. People have joked that working for his father-in-law must make it easier but, to be honest, I don't think it makes any difference. My dad probably is a bit softer with Sam but he mostly treats him like any other employee.
Things are a little different for me because I can basically work whenever and wherever I have internet connection. And my definition of 'work' is also a bit hazy. I mean, a 4-day holiday to Paris is technically work so my boundaries are always going to be a little blurry.
For the past few years I've been working on The Travel Hack like it's a normal 9-5 but I really don't need to do this, especially because I've been working hard behind the scenes to make sure most of my blogging income is passive income – meaning it's mostly automated and I don't need to do much to keep it ticking over.
I'm going to do my best to enjoy the 4-day weekend and spend those 4 days with Sam and the boys. There might be the rare occasion I need to be elsewhere but I'm hoping it'll be rare!
The boys will go to nursery on Tuesday and Thursday mornings which gives me 10 hours a week to get the bulk of my work done, but I also plan to work more during the evenings. By 'work' I usually mean writing these blog posts, editing videos and replying to emails.
I used to do all my blogging work in the evenings but I stopped when we had Joseph, our second son. I was too tired to work after dinner and it meant I didn't spend any time with Sam so I slowly got out of the habit. I didn't beat myself up about it, we had two children under two and I was proud of myself just for getting out of the house each day, but things are much easier now they're a little older. And if Sam and I have those 4-day weekends together, I won't feel bad about not seeing him in the evenings.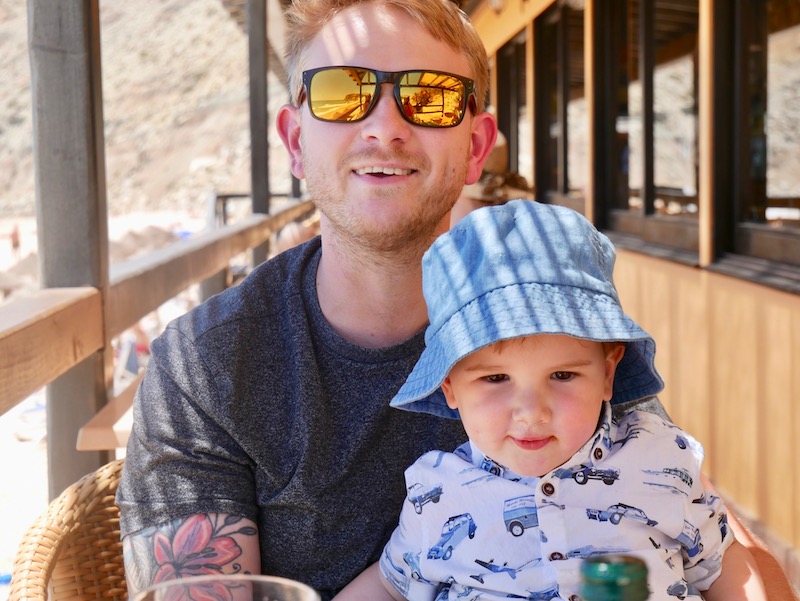 What are we going to do with our 4-day weekends?
We haven't got a set plan just yet but we're hoping to spend the majority of the summer around Wales. We live on the border of North Wales so it's the perfect place for a weekend trip – nice and close but once you're in the depths of the countryside you feel like you're a million miles from home.
You may remember we bought a caravan last year and we'll be leaving this in the seaside town of Abersoch for the summer, so we'll have a sort of base by the sea for the whole summer which is pretty exciting.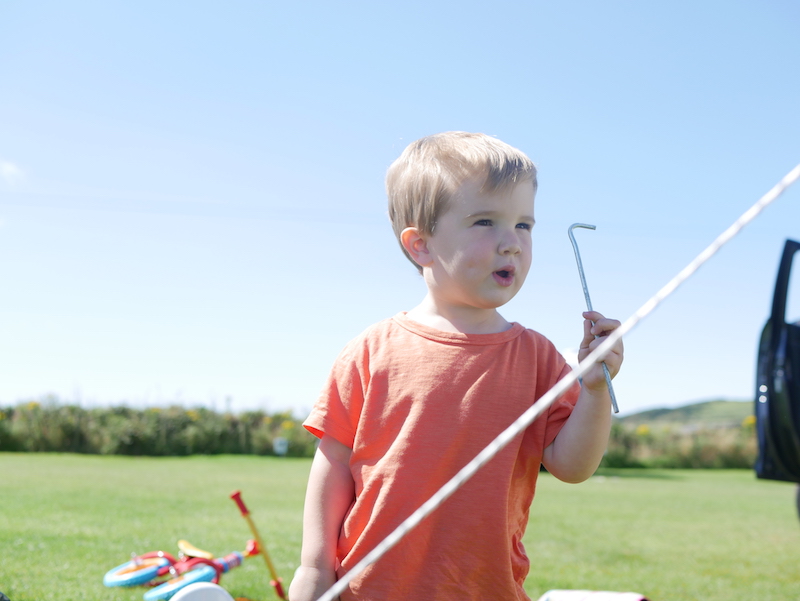 What does this mean for The Travel Hack?
There's not going to be a huge change for blog because it makes no difference to you guys if I'm writing my posts at 10am or 10pm, this actual blog won't change that much. But with Sam working less we will have much more time to travel as a family so there will be more family travels appearing on the blog.
I have a rough plan until the end of the summer and I'll basically just be blogging about our long family weekends. We might go away, we might stay at home, we might be around Wales or we might be closer to home around Chester, Liverpool or Manchester. I just want to document our weekends in a really fun and authentic way and capture the special memories we make and share them on the blog. There'll be the same mix of travel tips and advice with some personal posts and more family lifestyle kind of posts too.
I spend A LOT of time each week working on behind the scenes stuff you guys never actually see and I'm planning to cut most of this out. It's mostly brand collaboration stuff, writing for other blogs, pitching for work, meetings, networking etc. I'm basically going to do a lot less of this stuff which means less brand work and fewer sponsored collaborations. It means less money for me but it's going to be nice to get back to a simpler way of blogging. This will be like blogging way back in 2010 when I just did something fun and blogged about it purely to capture the memories.
But like everything in life, nothing is forever so we're just playing it be ear. If it doesn't work out and we have absolutely no money then we can go back to normal. If we're enjoying spending more time as a family and travelling more together then we'll do more. We're hoping that eventually we'll get used to having less money from Sam's income and he'll be able to take bigger chunks of time off work so we can take bigger trips together. We'd love to spend a month or two in New Zealand and Sam is desperate to have a few ski trips next year.
We'll never be a nomadic family but I'm hoping 2018 and 2019 will be a big year of travel for us!