It might be a small city but there are so many things to do in Chester, making it a great place for a romantic weekend break.
I've lived on the outskirts of Chester nearly all my life so this is a local's guide to Chester activities! I'm not going to suggest any overpriced tours or tourist attractions – because there really is no need! Chester is where my husband and I go for our date days and date nights and it's perfect for that kind of romantic vibe.
There are also plenty of things to do in Chester if you've got the kids with you so I have mentioned some of those below too!
The compact city centre is walkable so you can easily see the highlights on foot as you stroll around the Roman ruins and admire the Tudor-style buildings.
Chester is just two hours from London by train and it's conveniently located near Liverpool and Manchester too. It's also a gateway into North Wales as Chester city centre is just a 10 minute drive from the Welsh border. I actually live on this border between England and Wales so today I'd like to share some of my favourite things to do in Chester!
If you'd like to combine a trip to Chester and North Wales then check out this post for some ideas and inspo: A weekend guide to Chester and North Wales
So whether you're a local looking for new ideas for a weekend break and inspo or a visitor here for the weekend, here are 100 of my favourite things to do in Chester…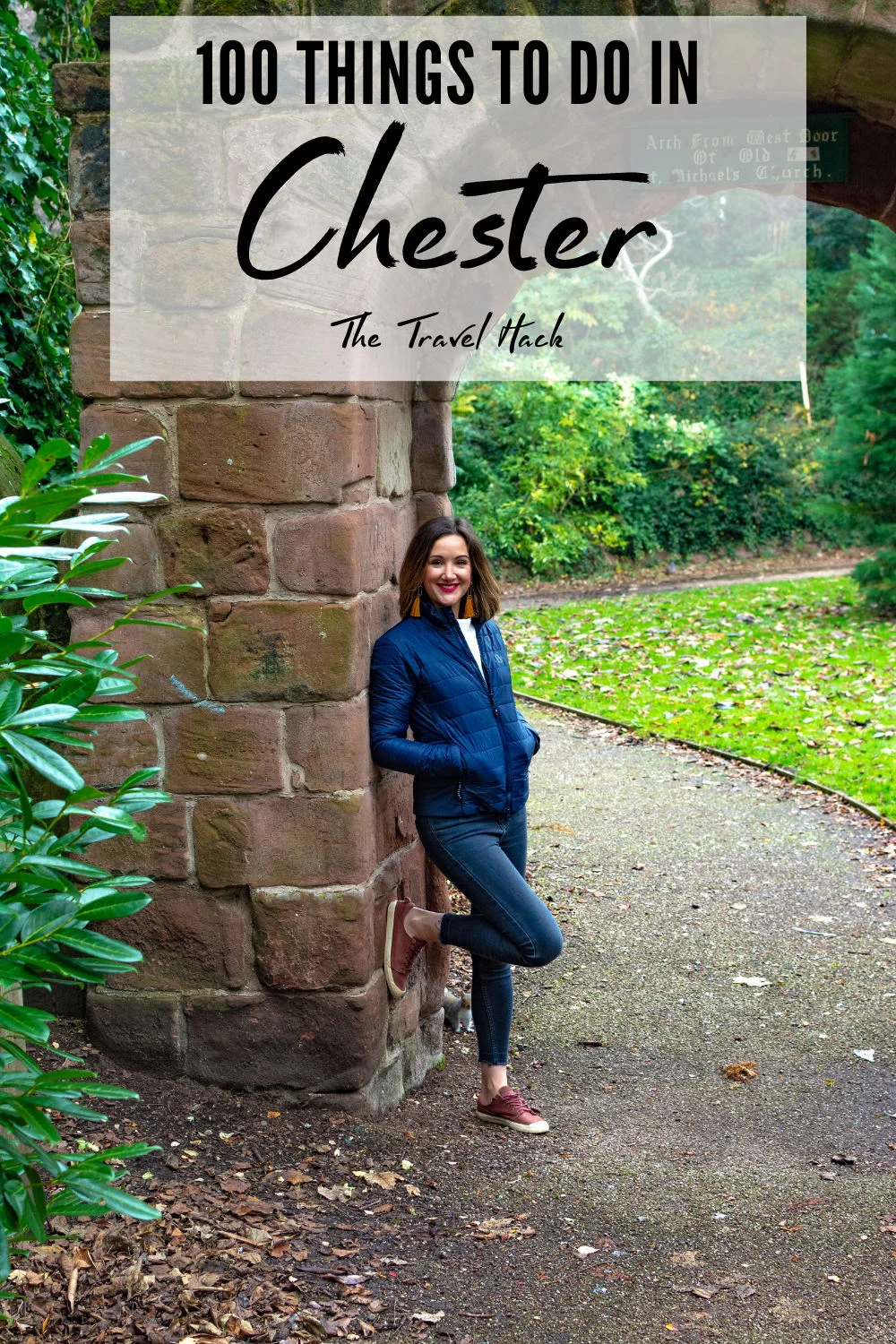 Things to do in Chester City Centre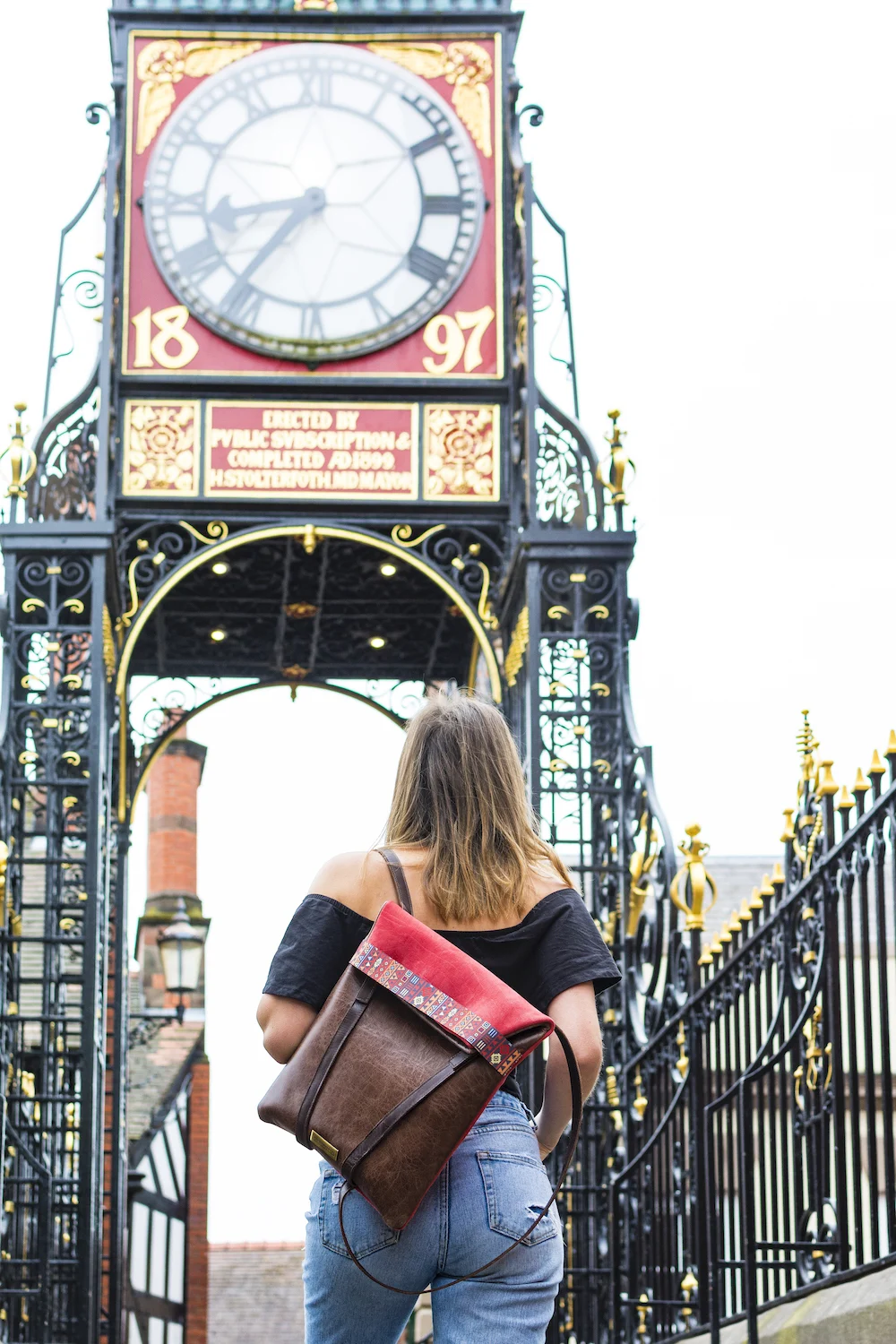 1. Chester races
Chester is home to the oldest functioning racecourse in the world! Chester racecourse is still as popular today as it was when it was established in 1539. The Roman Walls are still visible along part of the course and it sits on the banks of the River Dee.
Travel Hack Tip: It's worth noting that Chester is very busy on race weekends so if you're not visiting for the races then it's best to check when races will be on to avoid the crowds.
2. Visit the Eastgate Clock
Did you know that the Eastgate Clock in Chester is the most photographed clock after Big Ben!? The stunning clock is in the heart of the city on Eastgate Street so you won't miss it.
If you can, head up the steps to the side and admire the clock from the city walls.
3. Admire the rows
Chester's rows are a unique feature and they're set across the city's four main streets; Watergate Street, Northgate Street, Eastgate Street and Upper Bridge Street. The rows are covered walkways on top of the shops at ground level. Not only are they functional, as they're great for shopping when it's raining, but they look gorgeous. Some of the rows even have underground crypts too and they're mostly occupied by stylish bars now.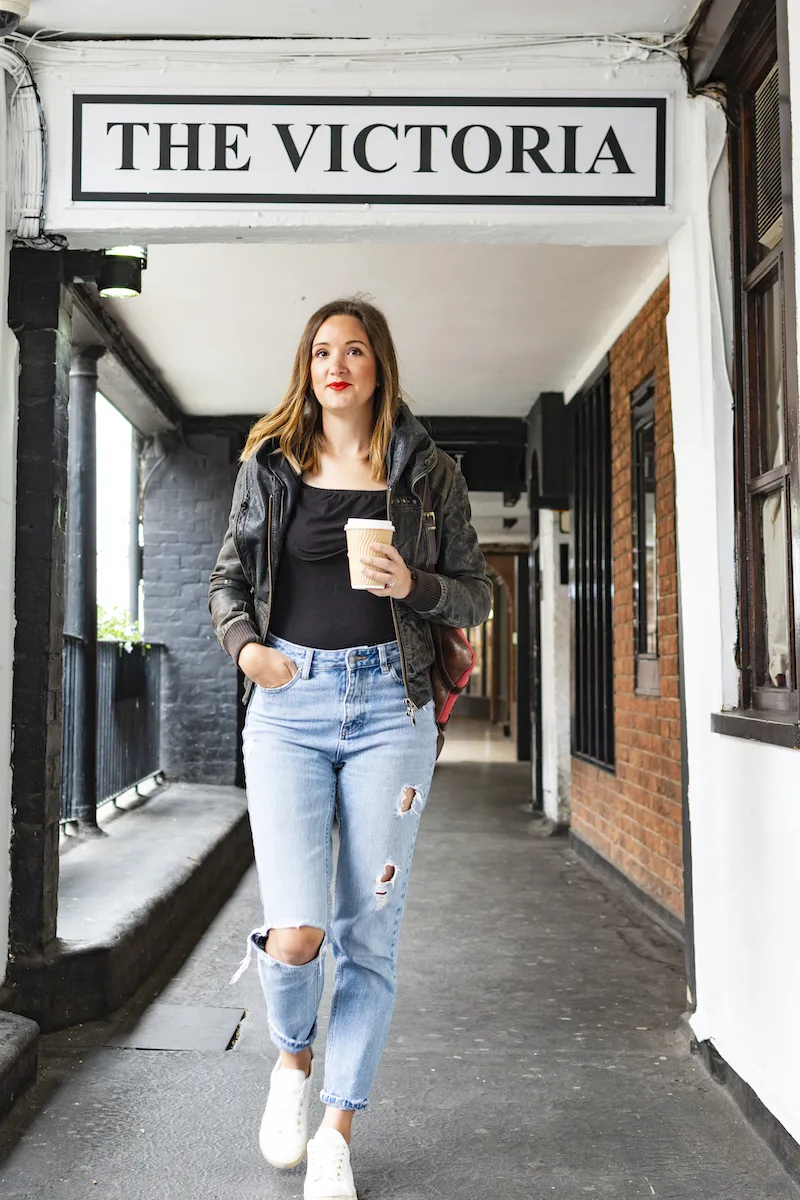 4. Grosvenor Park
The city's public park connects the city centre with the River Dee and it's a gorgeous space to enjoy on a sunny day. It's thought to be one of the finest Victorian parks in the North West of England and there are also medieval arches and Roman ruins to be found amongst the pretty flower beds.
5. Walk along the city walls
Chester's Roman city walls are a constant reminder of the city's past and add a beautifully unique charm. The red, sandstone defences follow you around the city and you can't visit Chester without walking along the walls. Chester is the only city in Britain that still has the entire circuit of its city walls in place so you can hop on at any point. There are stone steps dotted all around the city centre.
6. Take a boat trip along the River Dee
In the summer months there are lots of options for boat trips along the River Dee. Just walk down to the river near the bandstand and the boat touts will catch your eye. If you'd rather get involved then you can hire a pedalo or a rowing boat too which are available during the summer. It's a lovely way to see the city from a different angle and admire all the beautiful river-front houses.
7. Visit Storyhouse
Storyhouse is a cultural attraction in the city centre and makes a perfect place to take a break from walking. It was an old cinema and has been converted into a cultural space including a library, a theatre, a cinema, a coffee shop, a bar/restaurant. You'll find lots of information about events and things to do in Chester while you're there so it's worth popping in for a look around.
8. Chester Market
There's a brand new market in Chester which opened at the end of 2022. It's gorgeous in there with loads of food and drink stalls and the atmosphere is brilliant. There are a few shops in there (Purely Pots is my favourite for house plants!) but it's all about the food and drink for me.
9. Watch the buskers at the cross
Chester's Cross Junction is where the city's four main streets come together. It's Watergate Street, Eastgate Street, Bridge Street and Northgate Street and it's a lovely spot to sit and appreciate the beauty of the city. Not only that but it's also a popular space for the city's best musicians and entertainers to perform so take a seat and stay for a while!
10. Walk along the River Dee
If you don't take a boat trip then make sure you head down to the river and take a stroll along the banks. There are coffee shops, cafes and pubs dotted along the river so it's a perfect place for a walk.
Historical and cultural things to do in Chester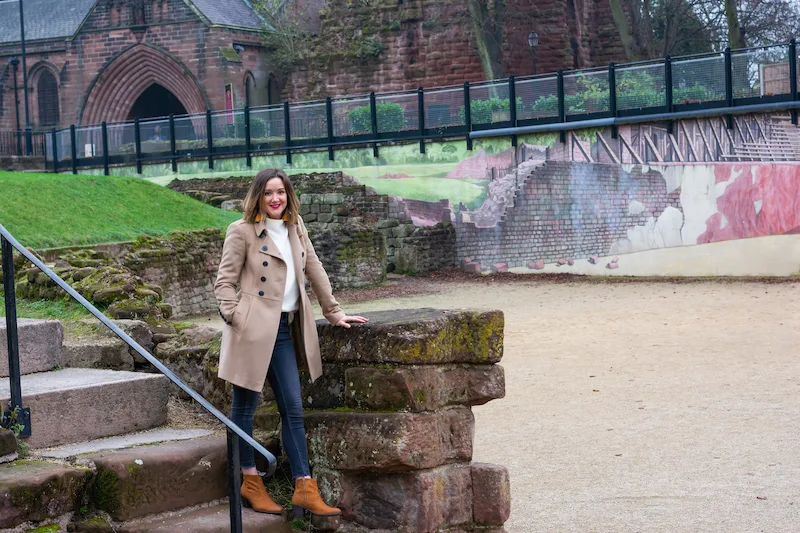 You're spoilt for choice when it comes to historical and cultural things to do in Chester.
11. Chester heritage festival trail
This is a self guided walking trail created during lockdown to help people discover the Roman, Medieval, Tudor, Stuart, Georgian and Victorian history around the city. You can download the trail here to do at your leisure.
12. Visit Chester Cathedral
The gorgeous cathedral is a welcoming space open to visitors and it is sure to take your breath away and you step quietly through the Grade I listed building. The cathedral gardens are also beautiful and they're a popular spot to sit and enjoy the sunshine in a tranquil setting.
13. Roman Amphitheatre
Another Grade I listed building in the Roman amphitheatre on St John Street. It was once the largest amphitheatre in Britain and, while there isn't much remaining, it's still an impressive site you can't miss if you're looking for cultural things to do in Chester.
The Chester Amphitheatre has a nice grassy space around it and you'll often see people enjoying a coffee or an ice cream on the grass on a sunny day.
14. Chester Roman Gardens
Chester's Roman Gardens may be small but it's such a pretty and serene space. The gardens have been filled with building fragments found within the roman fortress and they're displayed between flowers and lawns.
Chester Roman Gardens are quite small and easily missed if you're not looking out for them. The garden is a short walk from the River Dee so it's an ideal place to stop when walking from the city down to the river.
15. Grosvenor Museum
Located on Grosvenor Street, the Grosvenor Museum is home to historic collections that tell us more about Chester. There are rooms dedicated to the 17th century right through to the 20th century. Admission is free (donations are welcome) and there are often children's activities during the school holidays.
16. Visit St John the Baptist's Church
St John the Baptist's Church was formerly the cathedral in Chester and it still retains a lot of the grandeur you'd expect from a cathedral. It's another very welcoming church and a Grade I listed building that is just as impressive from the inside and out.
17. Visit the ruins of St John's Church
One of my favourite things to do in Chester is visit the eerie but beautiful ruins of St John's Church which are located next to the part of the church that is still standing. It feels as though you've stumbled on a hidden secret in the trees and there's something magical about it.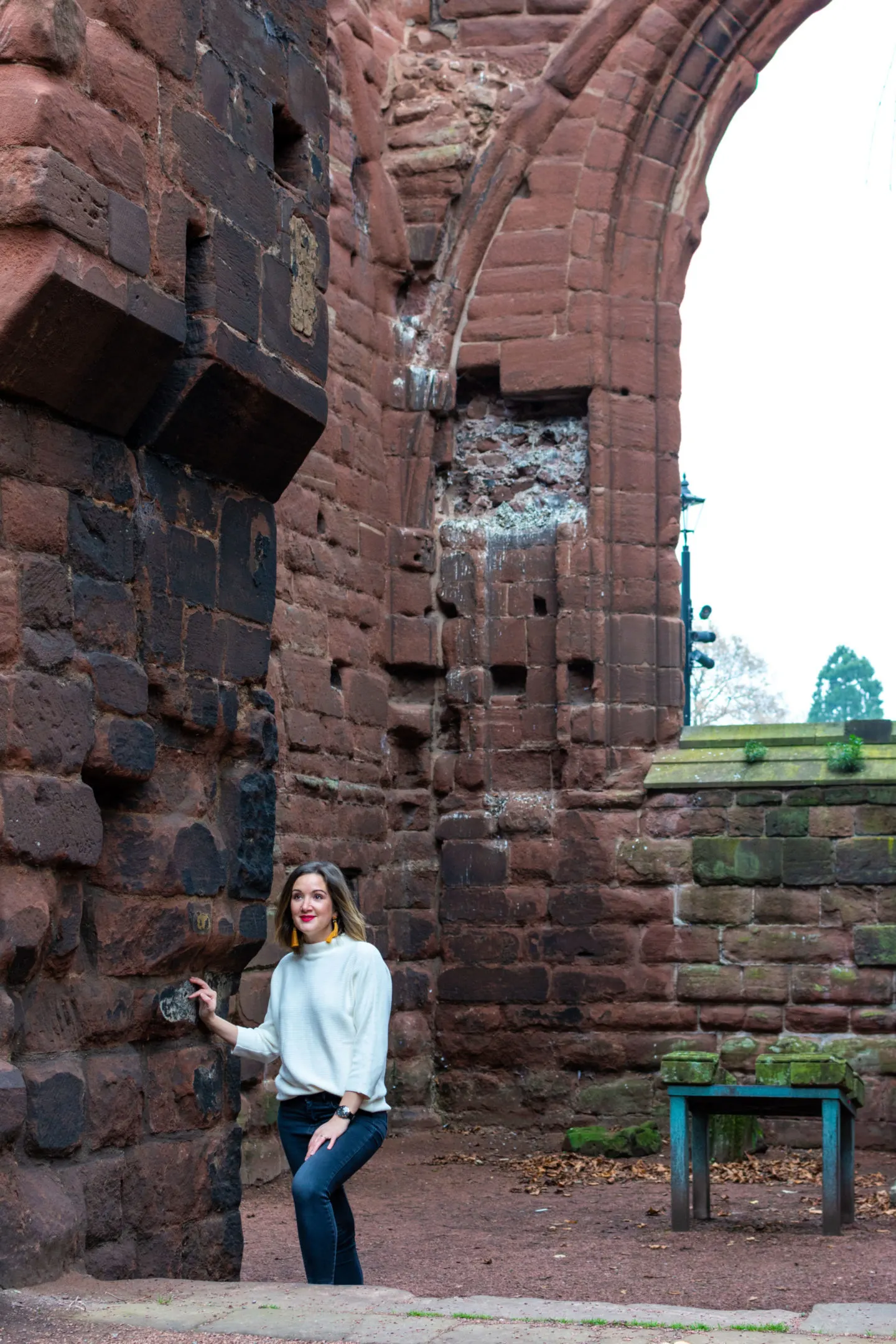 18. Chester Castle
There isn't an awful lot to see at Chester Castle but it's an impressive structure overlooking the river and those mightly red walls are a true sign you're in Chester. (I also tend to park in the Little Roodee Carpark which is next to the castle and it's a nice walk past the castle and along the river into the city centre!)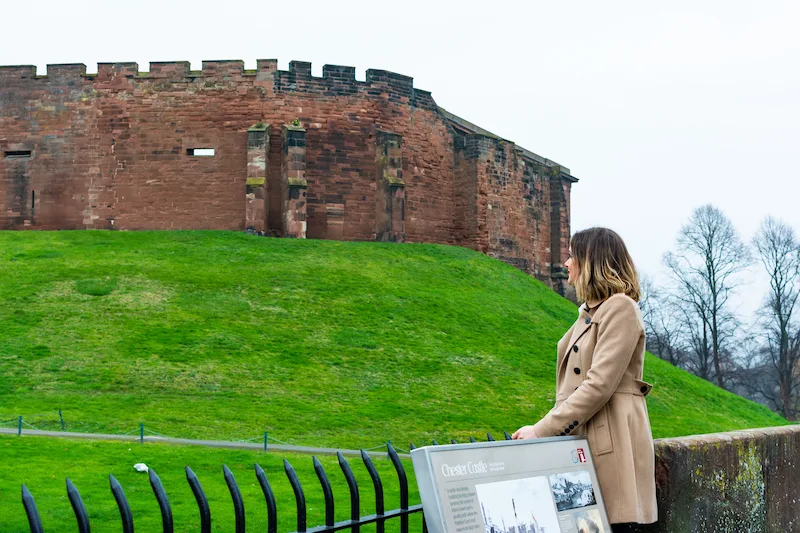 19. The Church of St Peter
The Church of St Peter is located next to the cross (mentioned above as a good place to watch buskers). There is also a very welcoming cafe inside the church with events and a lovely sense of community.
20. Chester Military Museum
Chester Military Museum tells the story of soldiers from the 17th century to the present day. There are many rooms exhibiting the Regiments of Cheshire and their travels across the world.
Best bars and things to do in Chester at night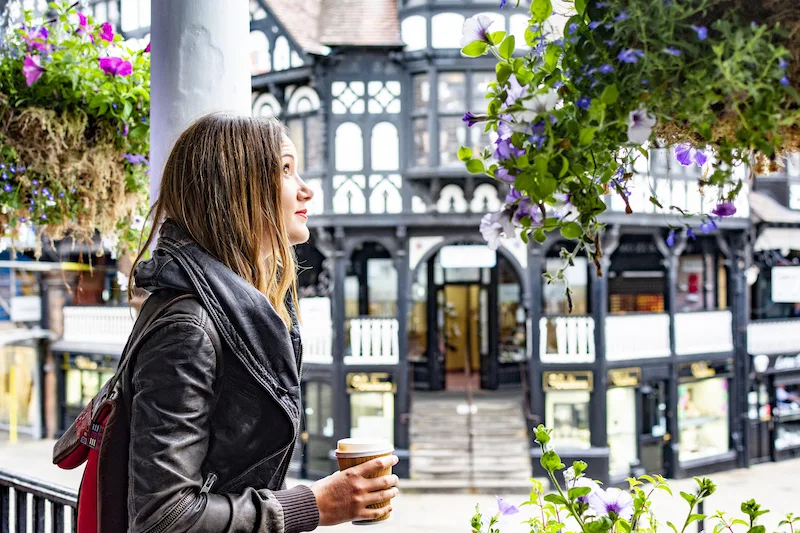 Chester is a great place for a night out here are some of my favourite bars in Chester.
21. Prohibition Bar
Prohibition Bar is a cocktail bar located through a secret entrance on Watergate Street. Playing mostly jazz and blues music with sultry decor and dim lighting, this bar makes you feel like you've stepped into 1920s America.
22. Alexander's Comedy Club
With weekly open-mic and comedy nights, Alexander's is Chester's top comedy club. As well as comedy, there is also theatre productions, burlesque, poetry and famous performers from all over the world.
23. Craft and Company
Another stylish cocktail bar specialising in craft beers and themed drinks evenings. It's a cosy but modern pub with bare brick and wooden beams that give it a rustic, welcoming vibe. They have 16 craft beers and make a cracking G&T too!
24. Liquor and Co
Another cool and cosy cocktail bar serving craft beer and great drinks. But if there is one difference here, it's a secret room. Ask for 'the caretaker' and you're in for a surprise!
25. The Suburbs
The Suburbs is in Hoole so it's a little bit out of the city centre but it's worth it! This environmentally conscious bar serves award winning cocktails in a super cosy and stylish setting. They do serve food too and I can highly recommend the bottomless brunch!
26. Kuckoo
If glamorous Indie rock and roll is your thing then head to Kuckoo after midnight and thank me later! Past-Indie kids will spend the night singing to songs from their youth!
27. Palm
If getting a decent Instagram snap is high on your list of priorities during a night out then get yourself to Palm! With pink interiors, neon signs, flower walls and beautiful cocktails that are begging to be photographed, Palm is a great option for a girl's night out.
28. Red Door
Something for the older crowd, Red Door, within MacDonald New Blossoms Hotel, play classic tunes alongside fabulous cocktails.
29. The Church
The Church's main draw is the stunning location within an old church. It's a bit of a rowdier scene than the other bars on this list but it's a good place for early drinks!
30. The Botanist
You may be familiar with The Botanist chain and Chester's version is gorgeous. A cosy space with a lovely outdoor terrace, a rustic charm, hearty food and great cocktails!
Things to do in Chester with the kids
31. Chester Zoo
Chester Zoo is one of the best zoos in the world and one of the top attractions in Cheshire. At 51 hectares, it's one of the UK's largest zoos. You'll need a full day to explore Chester Zoo properly as there are over 20,000 animals and various parks and gardens to play in.
Don't forget there's also a lovely, family-friendly bistro pub within Chester Zoo and it's a lovely place to recharge your batteries. The zoo can be pretty tiring (for both kids and adults!) so we like to pop in here for a grown-up place to relax.
There are also lots of picnic spots around Chester Zoo so if it's a sunny day make sure you pack a blanket and lots of treats! The parks and green spaces around the zoo can be just as much of an attraction as the animals themselves and we often just visit for a trip to the park and cafe!
If you've visiting Chester around Christmas time then I highly recommend keeping an eye out for tickets to 'The Lanterns' at Chester Zoo. This is a fabulous, festive event where the zoo comes to live after dark with gorgeous animal lanterns.
32. The Ice Cream Farm
The Ice Cream Farm is a dream come true for kids. With over 40 flavours of ice cream and dream-like play areas to explore, it keeps kids from 0-12 entertained all day. There's an outdoor play area, animals, indoor soft play, a huge sand and water play area, tractor rides, miniature golf, diggers and more.
Travel Hack Tip: Entrance is free but you do need to pay for many of the attractions when you enter. It's often best to buy a Play Pass when you enter.
33. Miniature railway through Grosvenor Park
There's an adorable miniature railway that runs through Grosvenor Park in Chester city centre. It's best for little kids who will love the excitement of riding on a miniature steam train! Opening is weather dependent and it isn't open everyday so double check it's running before promising the little ones a visit! The miniature railway is located near to a large wooden playpark and an ice cream stall so you've got a couple of hours of entertainment right there!
34. BeWILDerwood
This is a new attraction in Malpas (about a 30 minute drive from Chester city centre) so I haven't visited it yet but it looks incredible! It's an outdoors, magical forest world based on the book BeWILDerwood by Tom Blofeld. It's a wonky woodland world filled with treehouses and slides, giant swings, zip wires and outdoor creative crafts.
35. Blue Planet Aquarium
The Blue Planet Aquarium is near Cheshire Oaks Outlet Village in Ellesmere Port where there are loads of other family-friendly activities like trampolining and bowling, cinemas, etc.
The Blue Planet Aquarium is the largest aquarium in the North West with thousands of creatures, exhibitions and displays.
My kids LOVE it at the Blue Planet Aquarium but I've got to admit that I find it a bit expensive. But if you've got kids who love ocean creatures then it's sure to be a hit. It's also a good option on a rainy day!
36. Dewa Roman Experience
The Dewa Roman Experience is a really fun educational thing to do in Chester with kids. The experience begins within a real excavation site where you can see Roman, Saxon and Medieval remains buried beneath Chester. It's a hands on experience and you can handle Roman pottery, try on Roman Armour, fire a catapult or create a mosaic. (My son did this recently during a school trip and all the kids LOVED it!)
37. Sick to Death
This is a fun way to discover Chester's dark and creepy past. You'll learn about the history of medicine – which sounds a bit niche! – but it's gory and eerie in a way that kids love. You'll meet the Grim Reaper, discover a time travelling toilet called the TURDIS, learn about autopsies and discover more about magic potions!
I first took my kids when my youngest son was four and he was a bit too young for this experience and found it scary, so I recommend it for kids aged about 6-7 upwards!city
38. CoffeeTots
If you're looking for things to do in Chester with toddlers then you can't go wrong with CoffeeTots. It's a play cafe on Seller Street near the canal where you can enjoy a coffee without worrying about your noisy little ones disturbing anyone!
39. GoApe at Delamere Forest
Delamere Forest is a beautiful place for a family walk and if you're looking for something a bit extra then check out GoApe. It's a treetop adventure course with zip wires and climbing ropes and treetop platforms in the canopy of the forest.
40. Crocky Trail
The Crocky Trail is an outdoor adventure trail filled with wobbly bridges, scary slides, treehouses and fallen logs. Scramble through the trees and swing across streams and enjoy the challenges hidden in nature.
Travel Hack Tip: The Crocky Trail can get really muddy so make sure the whole family are wearing suitable clothing!
41. Manley Mere
Manley Mere is in Frodsham, so it's about a 25 minute drive from Chester, which is home to Cheshire Aqua Park (open to children over 7). If your kids of fans of Total Wipeout then they're going to love this! It's an inflatable outdoor assault course with giant trampolines, balancing beams, climbing walls and blast bags to jump and slide. There's also an adventure trail involving a muddy obstacle course and you can swim in the lake, hire kayaks or paddle boards and there are sailing and paddle sports lessons for kids.
Romantic things to do in Chester for couples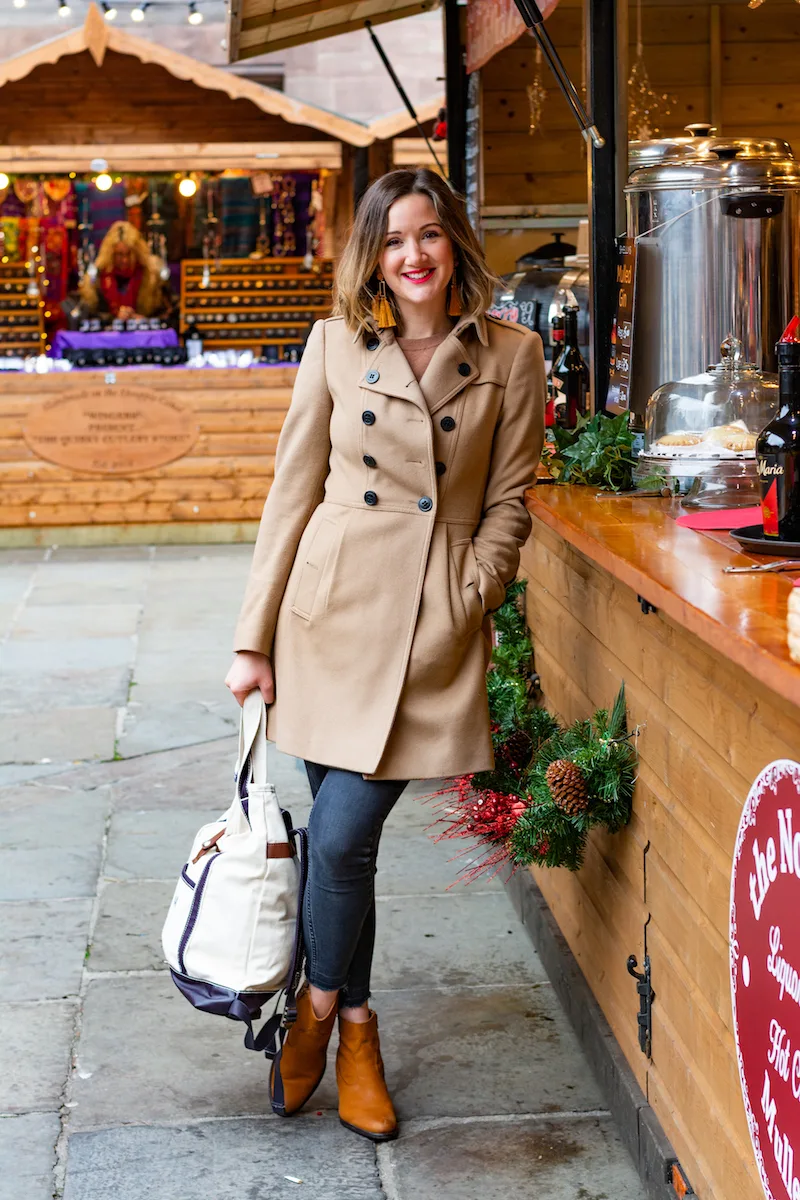 If you're visiting Chester for a romantic weekend away then there are lots of things to do with your other half!
42. Wine tasting
There are a couple of ways you can have a wine tasting experience in Chester. You could visit The Wine School of Cheshire who host themed tasting sessions such as 'A taste of Portugal' at their tasting room. You could visit Veeno Chester for one of their wine tasting experiences. Chester Beer and Wine also offer wine tasting evenings too!
43. Grosvenor Park Open Air Theatre
This open air theatre set within the beautiful gardens of Grosvenor Park is a fabulous theatre experience. There are usually a few productions to choose from which usually include Shakespeare and a family-friendly option.
44. Spa day at the Grosevnor Pulford
The Grosvenor Pulford is just a short drive from Chester city centre and is a beautifully relaxing spa hotel. Treat yourself to a few treatments and allow plenty of time to relax in the pool area and enjoy the gardens.
45. Afternoon tea
There are lots of lovely places to have afternoon tea in Chester. I have a whole post dedicated to it! Read more: The very best places for afternoon tea in Chester
46. Walk along the canals
The River Dee might take centre stage in Chester but don't forget about the lovely canals running through the city. Start with a drink at Telfords Warehouse which is on the canal and start your walk from there.
47. The Wishing Steps
The most romantic spot in Chester is the Wishing Steps, found on the south east corner of the Chester city walls. They are a set of six short steps built in 1785 leading up to the Eastgate Clock. Legend has it that if you run up and down the steps without taking a breath your wish will come true. Whether you want to make a wish or not, it's a beautiful spot and a great photo location to get the Eastgate Clock in the background.
48. Escapism Chester
OK, an escape room might not be the first thing that springs to mind for a romantic day out but, trust me, they're so much fun! Escapism has five rooms to choose from and you'll need to find clues, crack codes, solve puzzles and work together as a team to get out!
49. Harthill Cookery School
For a more traditional romantic thing to do in Chester, check out Harthill Cookery School. The cookery school is set in the grade II-listed Victorian village school at Harthill and they have lots of courses brought to you by Master Chef of Great Britain Brian Mellor. Their courses include baking, bread making, chocolate, cooking with fish or meat and also teens cooking clubs.
50. Walk from Eccleston into the city centre
One of my favourite walks in Chester begins in the stunning little village of Eccleston which regularly wins 'Cheshire's Best Kept Village. It was built in the 1870s to house the employees of the Duke of Westminster's estate and it's just 45 beautiful houses. From the village you can walk down to the river and then walk all the way along the River Dee into Chester city centre. It's a beautiful, flat walk and it's a popular area of paddlers on the river so it can be a bustling but tranquil place to be.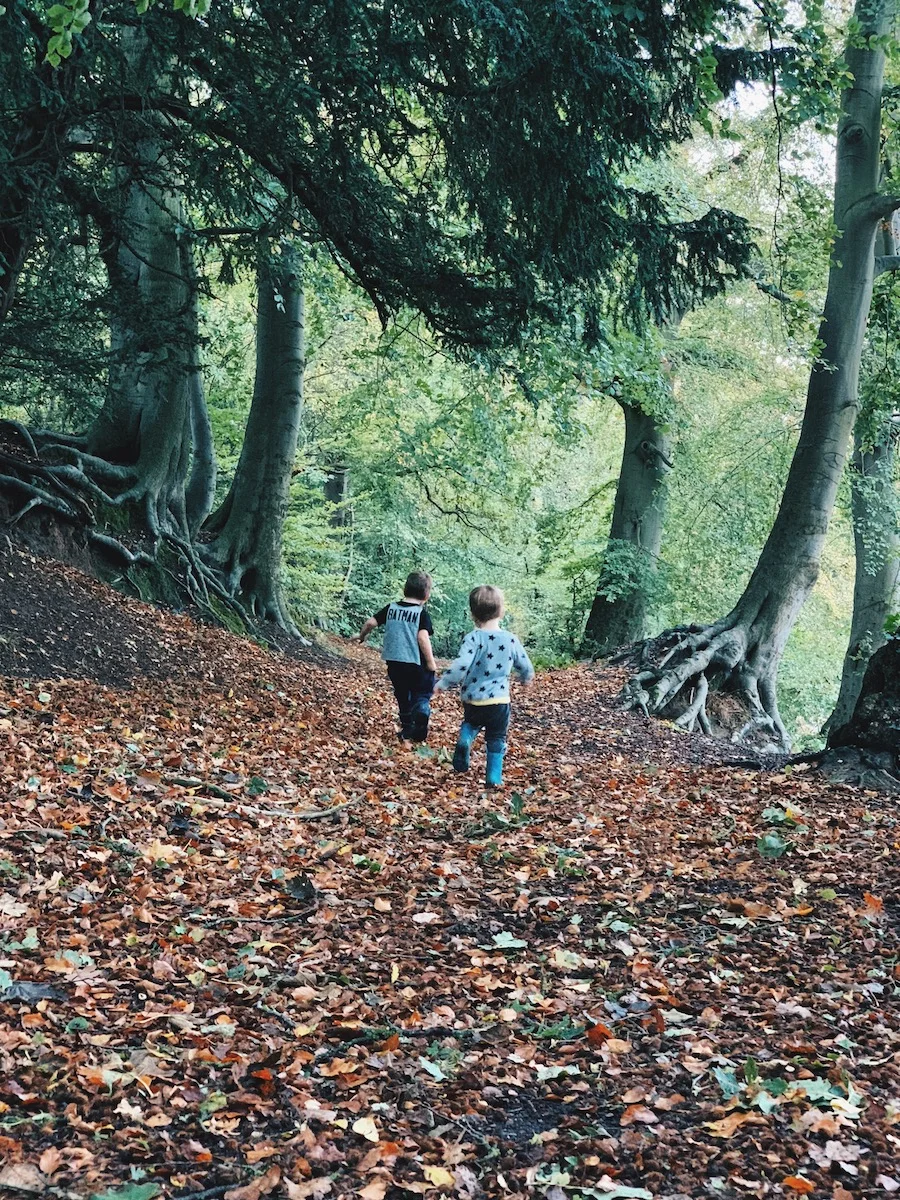 Quirky things to do in Chester
Maybe you've visited a few times before so you're looking for things to do in Chester that are a little out of the ordinary? Here are some quirky and unusual things to do in Chester…
51. Taste of Chester food walking tours
A walking tour where you'll learn more about Chester and get to sample some of the city's top culinary delights!? What's not to love about that!? This food and cultural experience is a relaxed and memorable walking tour where you'll discover the best food in our history city.
52. Chester running tours
Love running and want to discover more in Chester? Then take a look at these running tours! You can choose from three tours; a 5km run along the city walls, a 10km run which takes in more of the Roman ruins and historic landmarks or opt for a custom run that is bespoke to you.
53. Shark dives at the Blue Planet Aquarium
We've already mentioned the Blue Planet Aquarium in Cheshire Oaks but did you know that it's home to one of Europe's largest collections of sharks? You can even dive with these sharks for a really memorable thing to do near Chester!
54. Walking tours with a Roman soldier
Fancy a walking tour with a difference? How about a walking tour with an authentic Roman soldier as your guide!? The tours run daily at 12.00 and 15.00 so it's not an unusual sight to see a Roman soldier walking the streets of Chester. The 90 minute tour will show you the highlights around the city as you discover Chester's Roman heritage.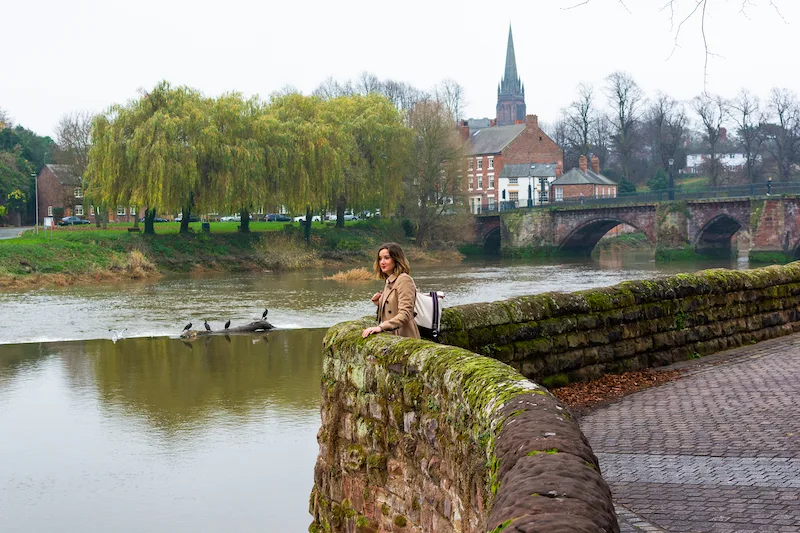 55. Chester Ghost Tours
With hundreds of ghost sightings around Chester, an evening ghost tour is sure to keep you busy! The night time journey takes you to the creepiest spots in Chester as you're told spine-chilling tales about Chester's mysterious past.
56. The Boardroom Climbing Wall
This indoor climbing wall in Deeside is a fun activity whether you're an experienced climber or it's your first time. If you're new to climbing you can book an introduction course and you can even book a family session which gives your family a private instructor to go through the ropes with you!
57. Make your own beauty products lesson
Now this really is one of the quirky things to do in Chester and is a great option for anyone getting into natural, organic and sustainable beauty. You'll learn all about the suitable ingredients for beauty products and have the opportunity to make aloe vera lotion, anti-stretch body butter, cold cream, lip balm, shampoo bar or a cleansing lotion. Check out Craft Courses for more info.
58. SUP lessons or hire
Make the most of having the river on your doorstep while you're in Chester and try stand up paddleboarding. You can book lessons with Paula from Mindful SUP who focuses on the connection between physical and mental health that comes with the mindfulness of paddleboarding.
59. The Chester Treasure Hunt Trail
This self-guided treasure hunt around Chester is a fun way to discover the city. Sneaky clues are hiding on Chester's buildings to help you find the location of the buried treasure. You'll walk approximately 1.5 miles and the trail will take about 2.5 hours and there's the option to get mobile phone text clues to help if you get stuck! Not only that but you can genuinely win real prizes and be entered into a monthly draw to win £100!
60. Breakout Chester
Another great escape room is Breakout Chester. If you haven't tried an escape room yet you really must because they are so much fun!
Things to do near Chester: Cheshire and surrounds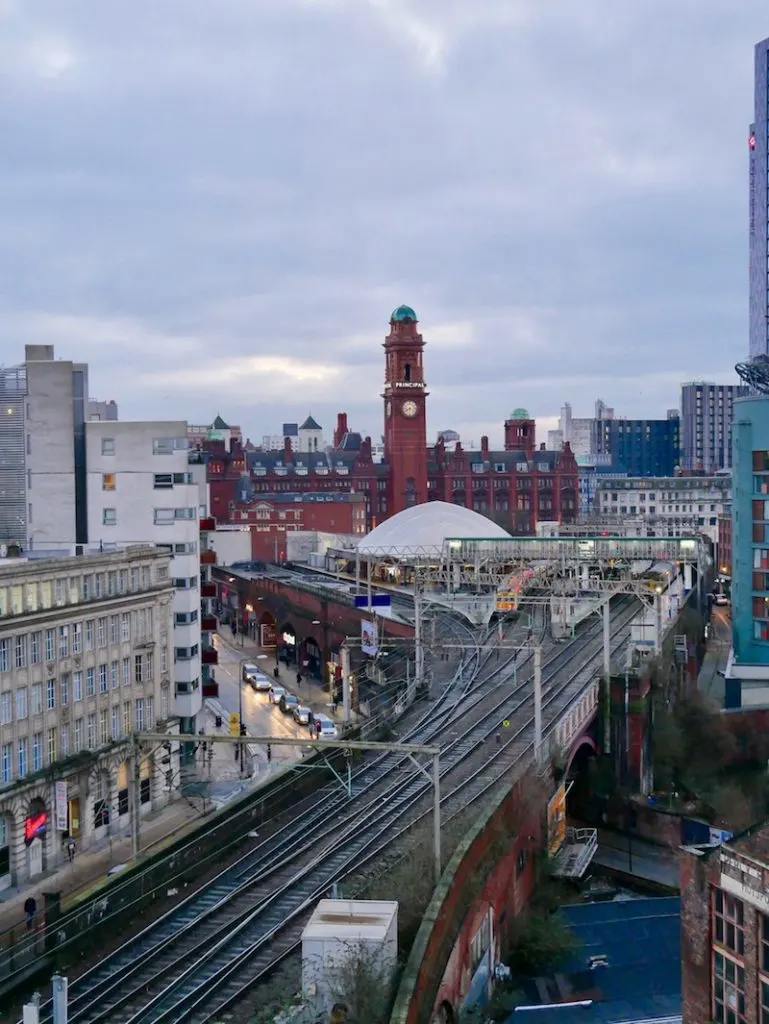 If you're in the area for a few days then you might be looking for things to do in Chester and the surrounding area. I've broken this into two sections with things to do in and around Cheshire and below I've got things to do in North Wales.
61. Cheshire Oaks Designer Outlet
Cheshire Oaks is just a 15 minute drive from Chester and it's a huge Mcarthur Glen designer outlet. There are 140 designer brands so it's a shopper's paradise and you've also got the Coliseum next door which has more shops, restaurants, a cinema, trampolining and bowling.
62. Delamere Forest
Delamere Forest is a popular spot for a family day out. Walk or cycle (bike hire available) through the forest on one of the five walking and cycling trails or try orienteering, GoApe, Nordic Walking or segway tours.
63. Liverpool
Liverpool is less than an hour from Chester and this creative city is a gorgeous contrast to Chester. Famous for football, music and the friendly, scouse charm, Liverpool is another must-visit city if you're in the North West. It's a bigger city than Chester but still fairly small so you could see a lot in a day.
Read more: The ultimate travel guide to Liverpool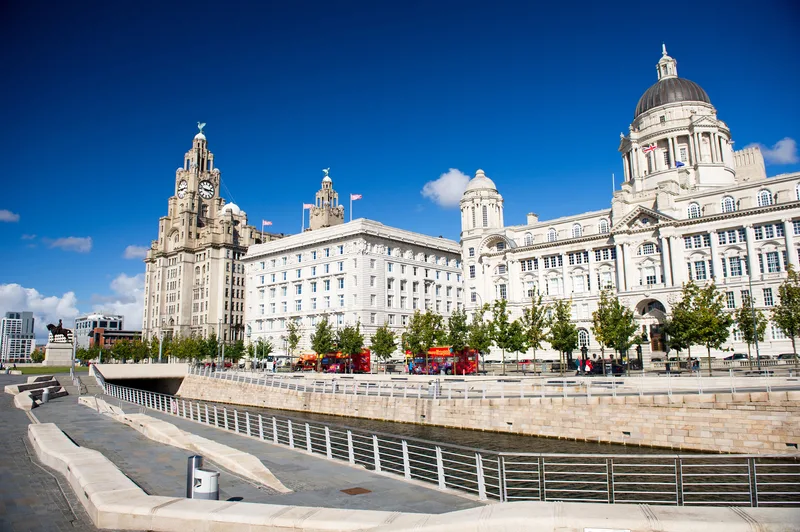 64. Manchester
Another fabulous city that is easily accessible within an hour from Chester is Manchester (yes, there are lots of cities in a small area here!) Manchester is a much bigger city than Liverpool and Chester and it's filled with galleries, museums, beautiful architecture and a great nightlife.
Read more: Check out our Manchester blog posts here.
65. Tatton Park
For one of the more tranquil things to do near Chester, visit Tatton Park, a historic estate and Tudor hall with gorgeous gardens. Tatton Park is famous for its deer who roam the estate. Walk around the parkland, explore the gardens, visit the farm and go inside the mansion!
66. Ness Botanic Gardens
Ness Botanic Gardens are part of the University of Liverpool with over 64 acres of incredible gardens. Join a guided walk through the gardens or look out for guest lectures discussing a huge range of botanical topics. There will always be something different to see depending on what time of year you visit and there's a lovely Botanic Kitchen Cafe too.
67. Lyme Park
Lyme Park in Stockport is an enormous National Trust estate with an incredible mansion house, gardens and deer park. There are cafes and shops selling locally produced products and it's an accredited museum with thousands of items in its collection.
68. Beeston Castle
Beeston Castle was built in the 1220s and is a dramatic medieval castle looking out over the Cheshire plain. As well as the castle, there are also 40 acres of woodland to explore and exhibitions that will help you travel to the Bronze Ages.
69. Gulliver's World
Gulliver's World is a family theme park in Warrington. The rides and experiences are best for primary school age children and there are so many rides and play areas for little ones. There are climbing walls and castles, pirate ships and a ghost house, tractor and digger driving, sandplay, dinosaurs and more!
70. Anderton Boat Lift
Anderton is home to an enormous boat lift in Northwich and has earnt the nickname 'Cathedral of the Canals' thanks to its enormous size. It's one of the 7 Wonders of the Waterways and won Experience of the Year in 2019! If you're still not feeling too excited about a big boat lift, then it's worth noting that Anderton Nature Reserve is a gorgeous spot for a walk!
Things to do near Chester: North Wales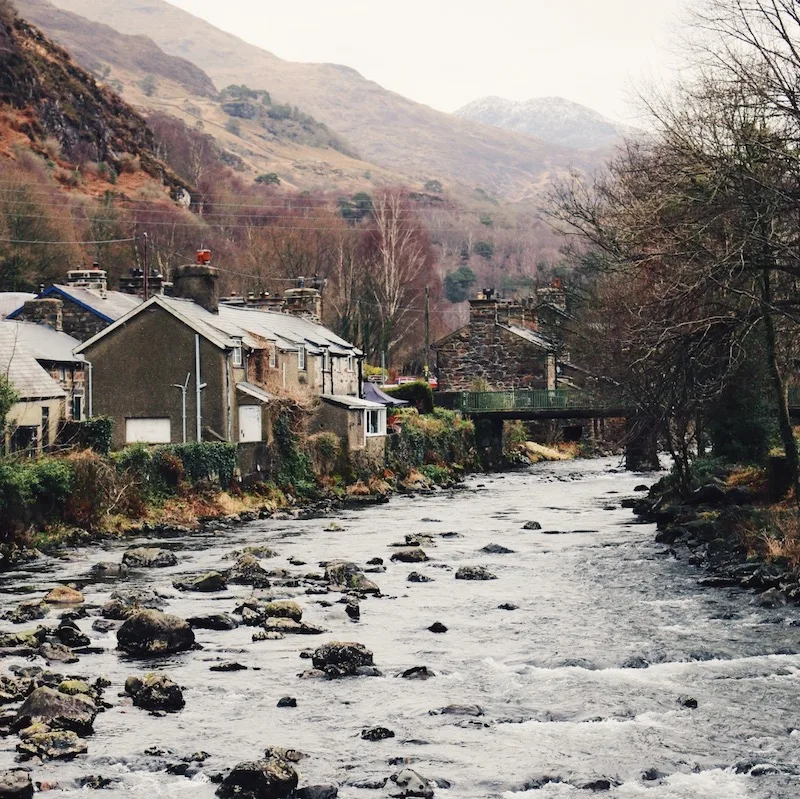 71. Erddig
Erddig is a National Trust property in Wrexham (about 30 minutes from Chester city centre). There's a beautiful country house that houses the Trust's second largest collection of historic items and visitors can go inside to learn more about this incredible family home. There's a restaurant, small shop and incredible gardens to explore and there are often fun events suitable for the whole family. The Apple Festival in October is a popular favourite with lots of ciders to try and apple-related activities.
72. Nant Mill
Nant Mill Country Park in Wrexham is a beautiful woodland area with walking trails alongside streams. One walk takes you to a stunning waterfall where you can swim on a hot day.
73. Llangollen
Llangollen is a pretty village popular with tourists on the River Dee and, for such a small place, there's a lot to see and do! Llangollen is part of the UNESCO World Heritage Site that runs for 11 miles along the canal from Gledrid to the Horseshoe Falls. While you're in Llangollen make sure you visit the Horseshoe Falls, walk along the aqueduct and visit Plas Newydd Hall.
I've got a blog post with a Llangollen weekend itinerary here!
74. Snowdonia National Park
Snowdonia is just an hour from Chester and this beautiful national park shouldn't be missed. You can enjoy the gorgeous scenery and rolling hills from the comfort of your car as you admire the views during a leisurely drive. Or you could get involved with one of the many activities available in Snowdonia and I've got 10 of the best adventure activities in Snowdonia here.
75. Climb/ride up Snowdon
If you're the hiking type then you can't visit Snowdonia without hiking up Wales' highest mountain. I've got some tips for climbing up Snowdon here. If an epic, all-day mountain climb isn't for you then there's always the option to take the Snowdonia Railway to the top. Yes, there's a train that takes you to the top of Snowdon!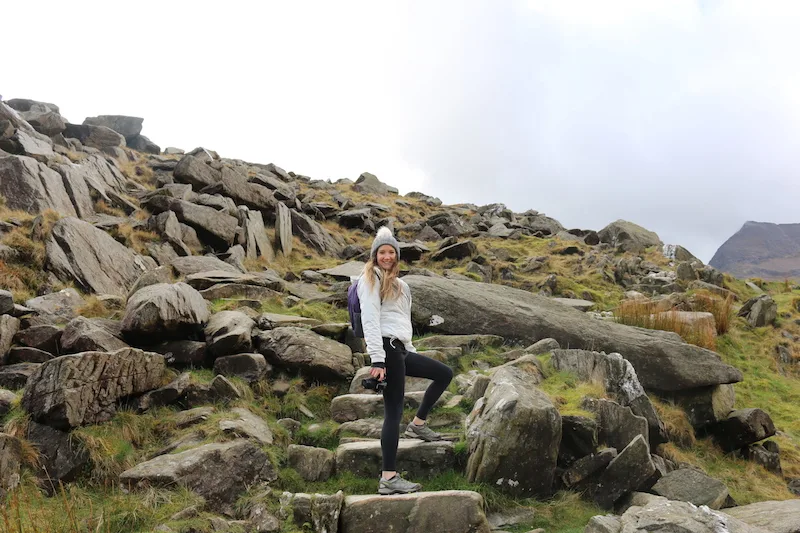 76. Chirk Castle
Chirk Castle is a National Trust castle near Wrexham. It's incredibly well preserved and is one of my favourite castles in Wales. You can explore the castle, gardens and cafe and enjoy the many events held here. If you're visiting at Christmas time then you must go inside the castle to see the incredible Christmas trees and decorations. The castle is magical at Christmas and the team go all out to decorate it like the family used to.
77. Llandudno
Llandudno is a traditional seaside town with pebble beaches, a 19th century pier, arcades, fish and chips and that quaint, old-fashioned holiday vibe. It's the largest seaside resort in Wales and it's a lovely place for kids.
Read more: 4 places to visit along the North Wales Coast
A sustainable lobster sea safari in Llandudno
78. Portmeirion
Portmeirion is one of the most magical and unexpected places to visit in all of Wales. It's an Italian-style village complete with colourful buildings, bright gardens, grand statues and intricate designs everywhere you look. This mini village has bars, restaurants and cafes as well as woodland walks and perfectly landscaped gardens.
Read more: Visiting Portmeirion, the Italian-style village in North Wales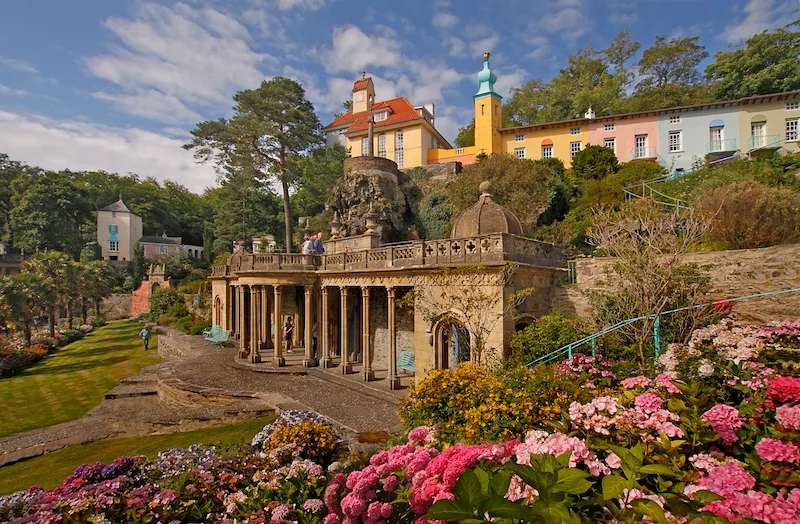 79. Gwyrch Castle
If you're a fan of I'm a Celebrity, Get Me Out of Here then you won't want to miss a trip to the incredible Gwyrch Castle where the show was filmed during the Covid pandemic. The stunning castle will bring back lots of memories from the show but even if you're not a celeb fan you'll still love a trip to this crumbling old building. It's a magical place in a beautiful setting looking out to sea.
80. Beddgelert
One of my favourite villages in North Wales is Beddgelert, a quaint place where time stands still and nothing seems to have changed since I was a child (in the best way!) Visit the tea rooms and the traditional pub, admire the stone buildings and walk along the river. You can also visit the grave of Gelert, a legendary dog who saved the life of the princes' son and lost his own life as a consequence. It's a tragic tale and you can walk to the little house where he once lived.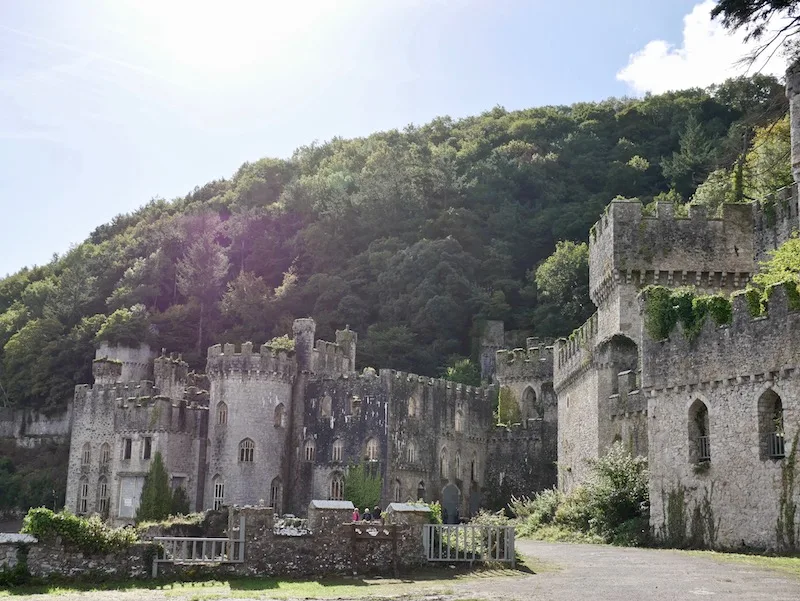 Best restaurants in Chester
Chester has seen a bit of a restaurant revival over the past few years with lots of lovely little restaurants popping up around the city. Here are some of the best and places I think you should visit while you're in Chester!
81. Atina Kitchen
Best for burgers
Atina Kitchen on Foregate Street is an independent restaurant that's great for brunch, lunch or a casual dinner. They're well known for their incredible burgers and decadent mac and cheese! There's a cosy little suntrap of a courtyard at the back that makes a perfect place on a sunny afternoon.
82. Chef's Table
Best for a special meal
Chef's Table is a small but popular independent restaurant where we go for a 'fancy meal'. The food here is incredible with a real focus on using fresh, local, seasonal produce in a smart but friendly environment. The restaurant is in the Michelin Guide and has two AA Rosette Awards for Culinary Excellence.
83. Sticky Walnut
Best for dinner with friends
Sticky Walnut is in Hoole so it's just outside of the city centre. It's a neighbourhood bistro serving hearty dishes with the best ingredients.
84. Hickory's Smokehouse
Best for casual lunches
Hickory's is a popular riverside restaurant with a large outdoor seating area looking out to the river. They specialise in grilled and smoked meats with an informal and fun BBQ vibe.
85. Oddfellows Chester
Best for dinner and cocktails
Oddfellows hotel, bar, restaurant and garden is a great city centre option for dinner and cocktails. With eclectic decor it has a fun and quirky vibe and the 'Secret Garden' is a lovely spot for a cocktail.
86. Joseph Benjamin
Best for date night
Joseph Benjamin, on Northgate Street, has that perfect mixture of cosy yet luxurious with a delicious menu that's just the right side of fancy.
87. The Chester Grosvenor
Best for a Michelin Starred meal
The Chester Grosvenor is home to four restaurants but you'll want to be at the Simon Radley restaurant for fine dining. The restaurant has held a Michelin star since 1990 and has been awarded 4 AA Rosettes. The tasting menu here is incredible!
88. Artichoke
Best for a stylish Sunday roast
Artichoke is well known for the incredible Sunday roast but they do an incredible pizza too! The stylish bistro sits on the side of the canal and is also a lovely place to sit with a beer on a sunny day.
89. 1539
Best for a backdrop with wow factor
1539 is all about the backdrop as it looks out over the racecourse. It's the place to be seen and is a popular option with big groups, especially on race day!
90. The White Horse
Best for a family meal
If you've got little ones with you then I highly recommend heading to The White Horse. It's a gastro pub within the grounds of the racecourse and it's a lovely, modern, airy and stylish family pub. The outdoor area is lovely and there's a huge play area for the children that's close enough to see them but not close enough to hear them! Perfect!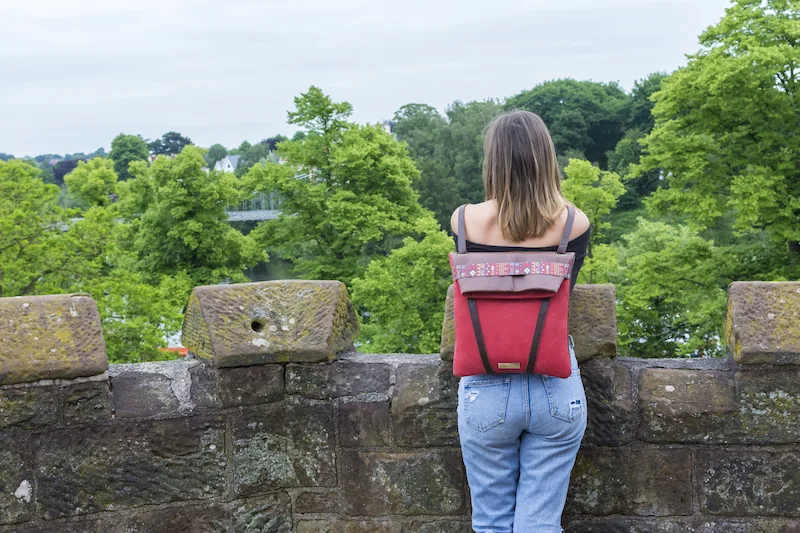 Best cafes in Chester
If you're looking for a caffeine fix and a light lunch in Chester then here are a selection of my favourite cafes. One of the best things to do in Chester is simply to stroll, browse, get lost, wander and then head to a stylish cafe for a pick-me-up!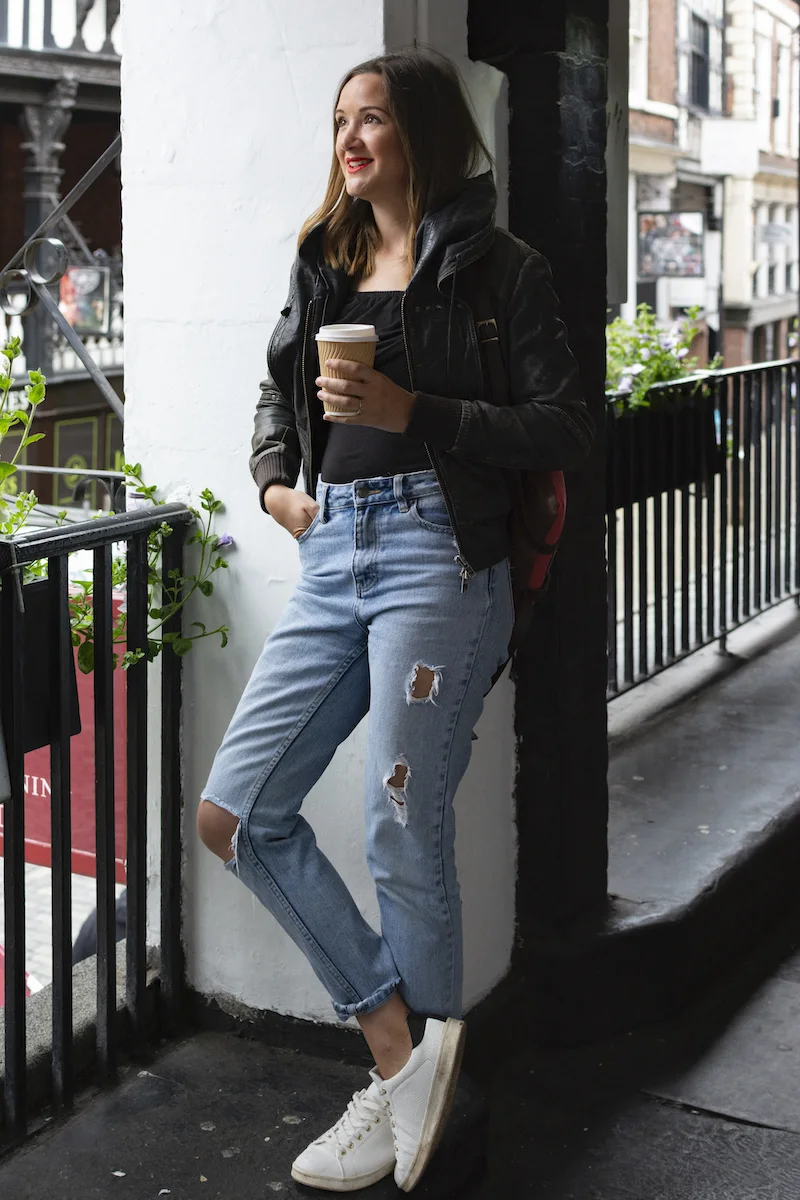 91. The Jaunty Goat
The Jaunty Goat on Bridge Street serves the best coffee in Chester. Fact! They also have a new plant-based coffee shop on Northgate Street so they're leading the trend when it comes to coffee and plant-based diets in Chester.
92. Chalk Coffee
If you like your cafes to be dimly lit with rustic charm and plenty of green plant life then you're going to love Chalk Coffee. Come for the coffee, stay for the breakfast, and brunch, and lunch, and cake…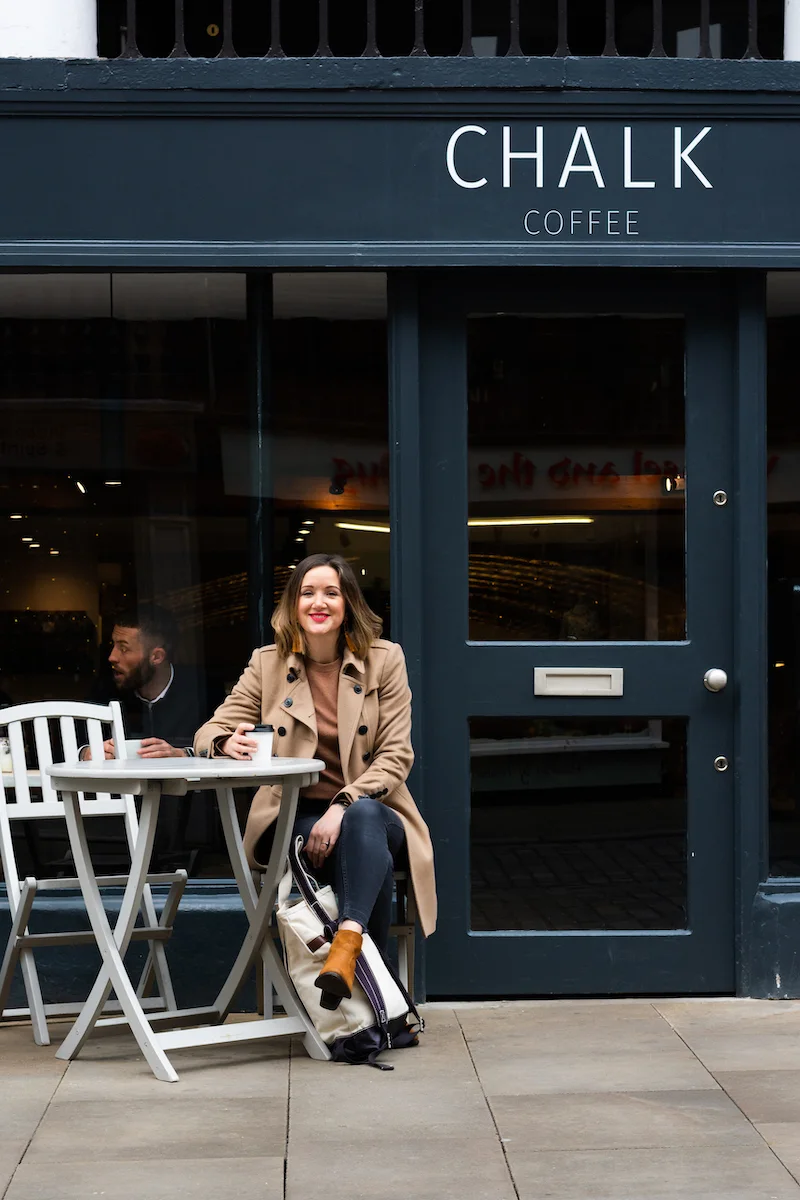 93. Snugbury's on the river
This charming little cafe serves great coffee, ice cream, cakes and sandwiches but the real appeal is its riverside position next to the stunning Queen's Park Suspension Bridge.
94. The Flower Cup
This botanical coffee shop located on the historic rows on Watergate Street is an Instagrammer's favourite with their planet-themed decor, neon signs and their delicious (and very photogenic!) brunch options.
95. PicNic Chester
This may technically be a Mediterranean restaurant but PicNic is also a lovely place for a coffee. Choose a window seat, order your favourite caffeine fuelled beverage (even if it is an Espresso Martini!) and enjoy watching the world go by as the people of Chester stroll past.
96. Short and Stout
This independent cafe in Hoole serves specialty coffee, loose leaf teas and homemade cakes. The delicious menu is full of bright, healthy and modern dishes (yes, they're very Instagramable!) and their takeaway cake boxes are incredible.
97. The Little Yellow Pig
The Little Yellow Pig is another independent favourite in Hoole and specialises in great coffee and amazing brunches. It's modern, bright and friendly and is one of the top spots in Chester to get your avo on sourdough and a nice flat white.
No, you're a millennial cliche.
98. Panna Coffee
Panna Coffee is a specialty coffee house serving healthy food as well as delicious healthy juices and hardware to make your perfect brew at home. The location beneath the rows on Watergate Street is just dreamy and it's such an iconic spot in Chester.
99. Shrub
Shrub is a gorgeous, modern cafe serving amazing coffee, great food and cocktails. This space is beautiful with green walls and leafy decor and they even have outdoor seating on the rows of Eastgate Street! Come for the coffee, stay for the poke bowl, stay even longer for a Saigon Fizz.
100. Neighbourhood Bakehouse
This artisan bakery and specialty coffee shop on Northgate Street is last but by no means least on our list of 100 things to do in Chester. Serving colourful smoothies, delicious cakes and their oh-so amazing sourdough and an amazing array of baked goodies, this is the place to go for an 11am pick-me-up!
And there it is, 100 of the best things to do in Chester and the surrounding area!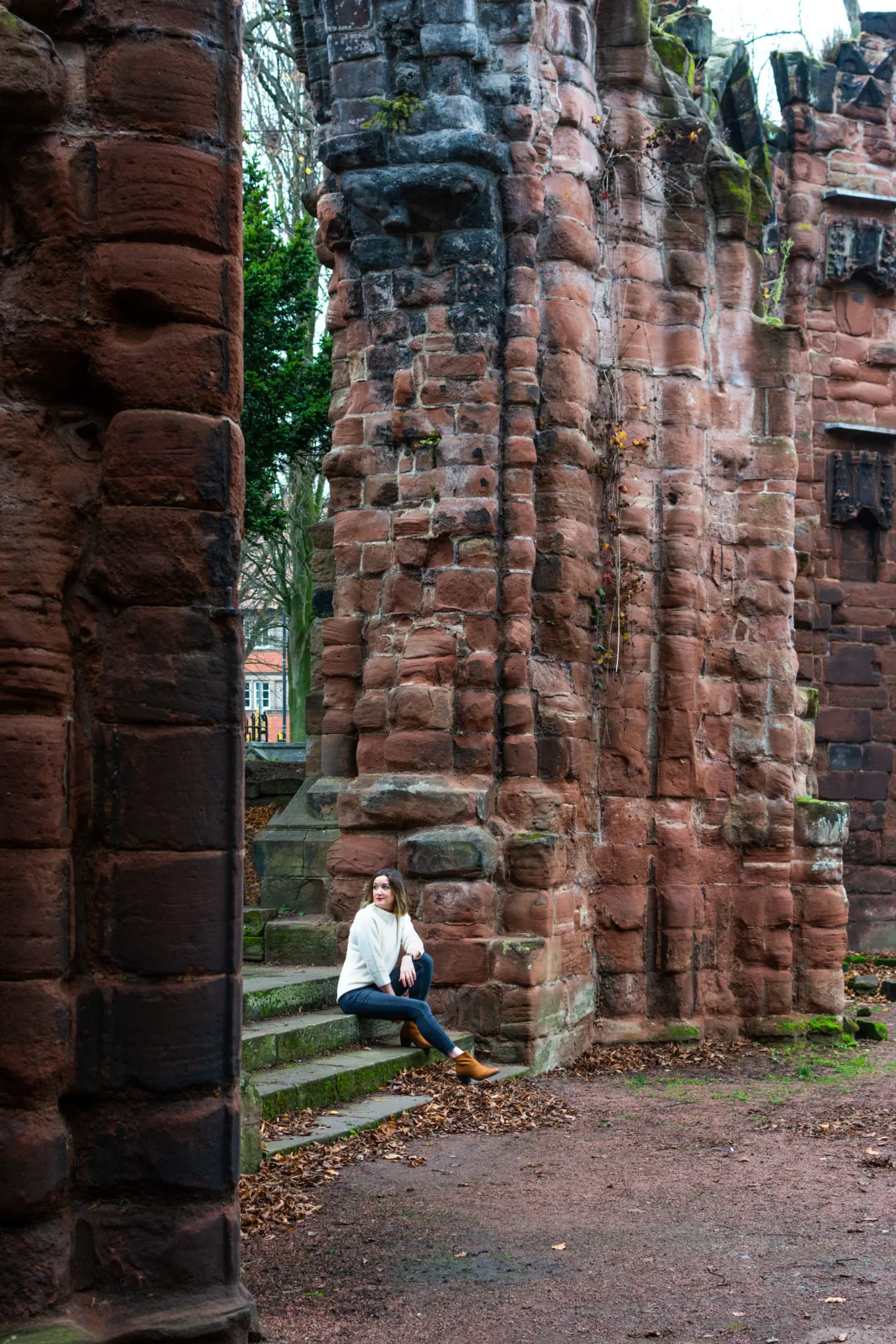 Chester FAQs
Should I take an open-top city sight seeing bus tour?
You will see the red buses offering open-top city sight seeing tours. This is a great way to get a glimpse of everything Chester to offer so I would recommend it if you're short on time or have mobility issues and won't be walking far. It's also a fun thing to do in Chester with kids as they always love a bus tour!
But if you're able to walk, I'd recommend trying to see as much as you can on foot and skip the sight seeing tour.
Chester is a small, walkable city and you'll be able to see a lot just by wandering around the beautiful, cobbled streets. This epic list of things to do in Chester might seem overwhelming but everything in the city centre is very compact!
Can I combine a trip to Chester with the Lake District?
Yes! Chester is a great city to combine with a trip to the Lake District. The drive from Chester up to the Lakes is less than two hours so this would be a lovely combination of city and countryside.
Another nice option would be to combine Chester with Snowdonia. Chester's surrounding countryside is stunning and North Wales is so close that it would be a shame to miss it!