A few weeks ago an email pinged into my inbox asking if I'd like to take part in a trivago App Challenge.
Of course, anything to do with travel + challenges will catch my attention so I immediately accepted. I'm now very excited to tell you about my trivago App Family Travel Challenge. It involves searching for amazing hotels so my fellow travel planners will love this!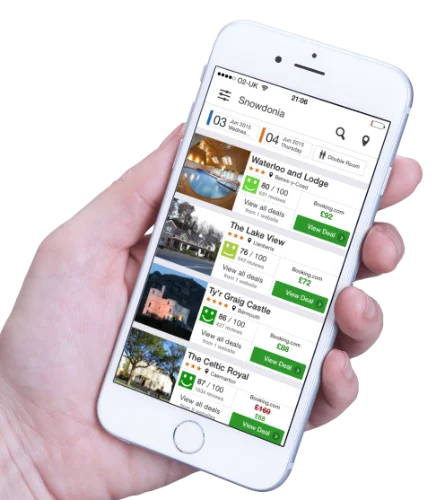 The Challenge
My challenge is to use the new trivago app to book two nights accommodation in a location of my choice. OK, this sounds pretty simple but it gets a little more difficult. I'll book my first night in advance but my second night must be booked at the very last minute. I'm also looking for family-friendly accommodation and I'll be bringing my mum and George along.
The obsessive travel planner inside of me is freaking out at the thought of leaving my hotel booking until the last minute but I'm excited by the fact that I could end up staying somewhere I wouldn't normally choose.
My location
I've decided to take up my challenge around Snowdonia in Wales. As you can see from my last post, I'm totally in love with Wales at the moment. Wales feels like a million miles from home but it's just a short drive so it's much easier for travelling with George who will be 12 weeks old during the challenge.
My hotels
For my first night I've chosen to stay at Portmerion and Castell Deudraeth.
I love Portmerion, it's like a magical little village in Wales and you'd never in a million years expect to find an Italian style village here.
We have a gorgeous family suite with two double bedrooms and plenty of space for all the baby stuff I'm sure we'll end up carting around with us!
My second night?
And my second night will be a surprise! I'll be booking my second night's accommodation on the evening of my first night so, depending on availability in the local area, we could end up anywhere. I've been using the trivago app already and it's really easy to use so it should be easy to find a really nice, family friendly hotel within my chosen area.
Like I said, the travel planner in me feels a little uneasy about this so I've been hunting around for some possibilities.
Bron Eifion Country House – This looks really beautiful and has hundreds of great reviews. The rooms look gorgeous with their four-poster beds but it's the location that's really drawing me to this hotel. It's really close to Criccieth Beach and is on the coastal road between Porthmadog and Pwllheli.
Treysgawen Hall – A country manor house with a spa, how could I not love the look of this place! George still hasn't been swimming so I like the idea of taking him for his first swim here (definitely beats the local swimming baths).
Sieont Manor – Another gorgeous hotel with a swimming pool, roaring fires and a beautiful location in the foothills of Snowdonia.
Tyr Graig Castle – A castle just outside of Barmouth and looks like a nice, family-friendly place to relax.
Which of these hotels would you stay at? Let me know in the comments below!
It needs to be somewhere that will impress my mum so it has to be good!
---
My trivago App Family Travel Challenge will be taking place on June 2nd-4th and you'll be able to follow along with what I get up to on Twitter and Instagram.
You can download the trivago app for Android here and for iOS here.