For some people, picking out your airplane outfit is an afterthought. You've picked your outfits for your holiday and haven't even thought about what to wear to get there!
But for others, this is a big deal!
I love picking out stylish airplane outfits. . I love getting them ready and hanging them up so they're waiting for me in the morning before an early flight! It's all part of my holiday routine and it wouldn't be right if I didn't have my airport outfit ready and waiting!
I also love that activewear has been such a huge trend for so long because this makes it much easier to find stylish outfits for flying. Yes, activewear and stylish loungewear all the way!
This blog post is for those of you who want to look stylish while you fly….but would also really like to stay in your PJs and be cosy and comfy!
Here it is, stylish airplane outfits that are comfy, cosy and flattering…
The links to all the products mentioned in the post are listed at the end.
What NOT to wear on a plane
But before we go any further, let's start with the basics. What shouldn't you wear on a plane?
Anything that's going to crease
Anything uncomfortable
Anything hot that you can't quickly remove
Shoes you can't slip on and off easily
Skirts or shorts that will ride up super high when you sit down
Tight jeans that will dig into your belly and crotch
Anything skimpy without having something to put on top
High heels
Light colours
A jumpsuit or playsuit – because you have to take the whole thing off which can be awkward in a tiny airplane toilet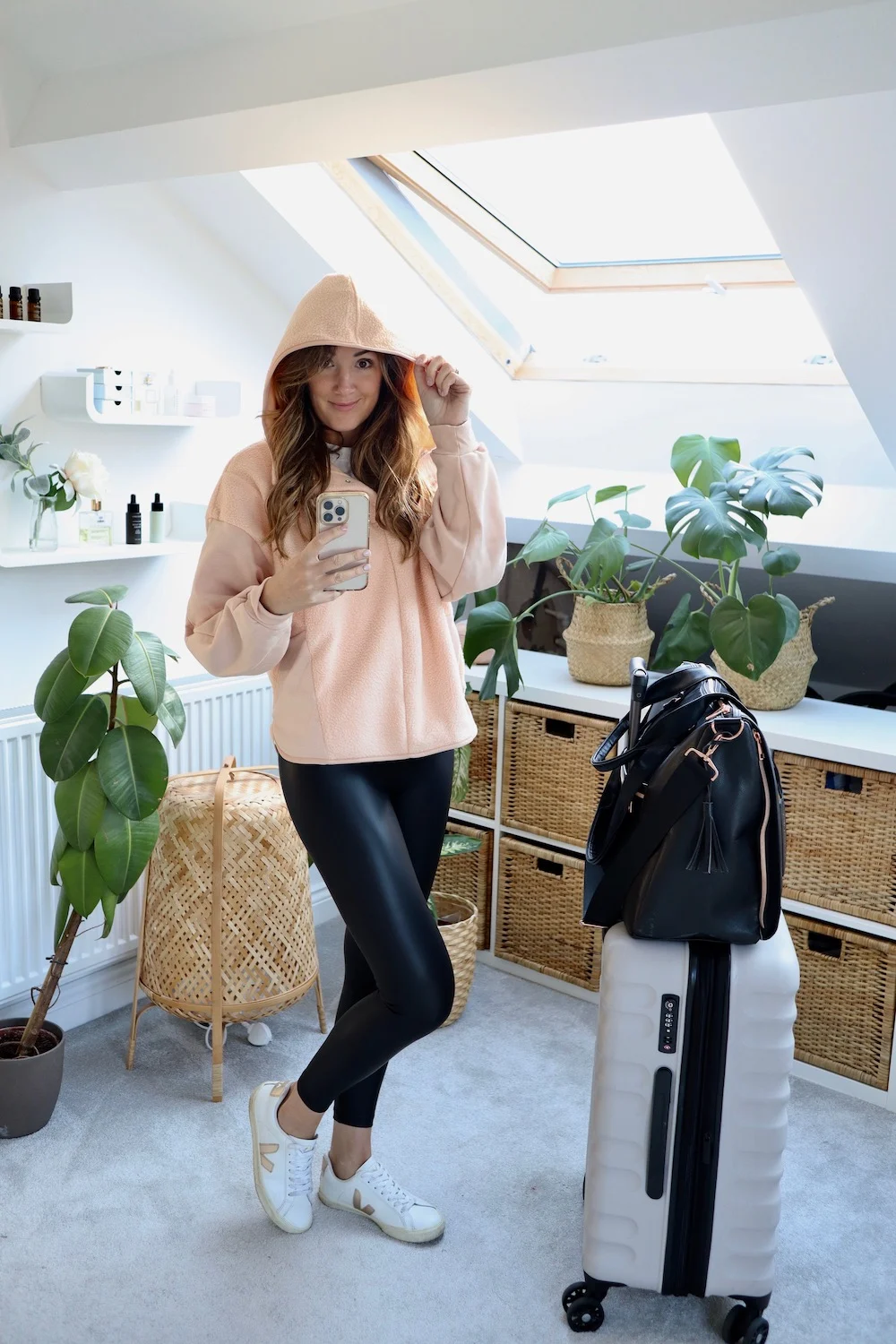 Two things that instantly make you look more stylish on a plane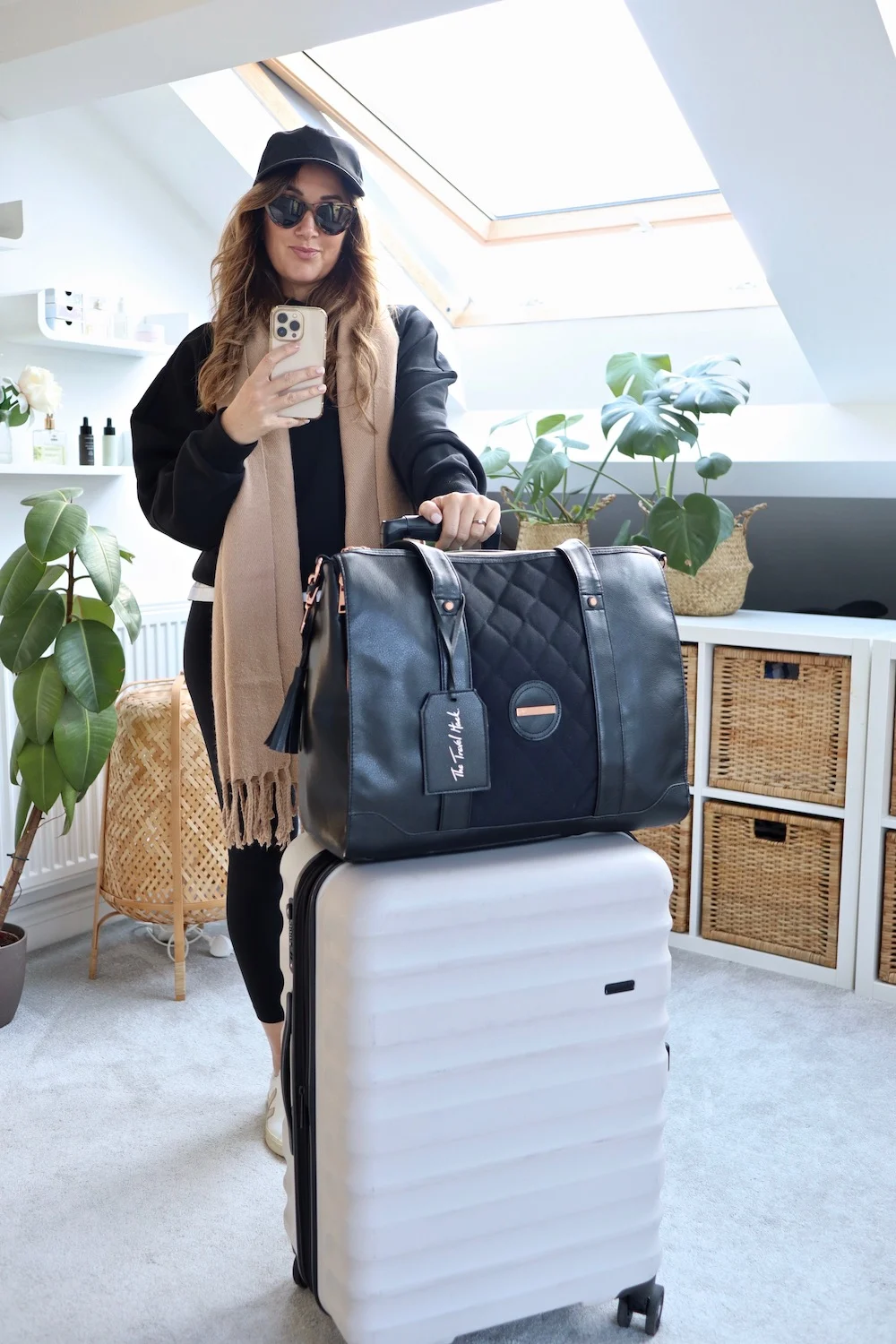 Sunglasses
A cap
Have you ever noticed that celebrities always look super stylish when they fly, but they're also usually wearing comfy activewear? It's because they're wearing sunglasses and a hat. Honestly, try it. You'll instantly look more glam.
The classic travel outfit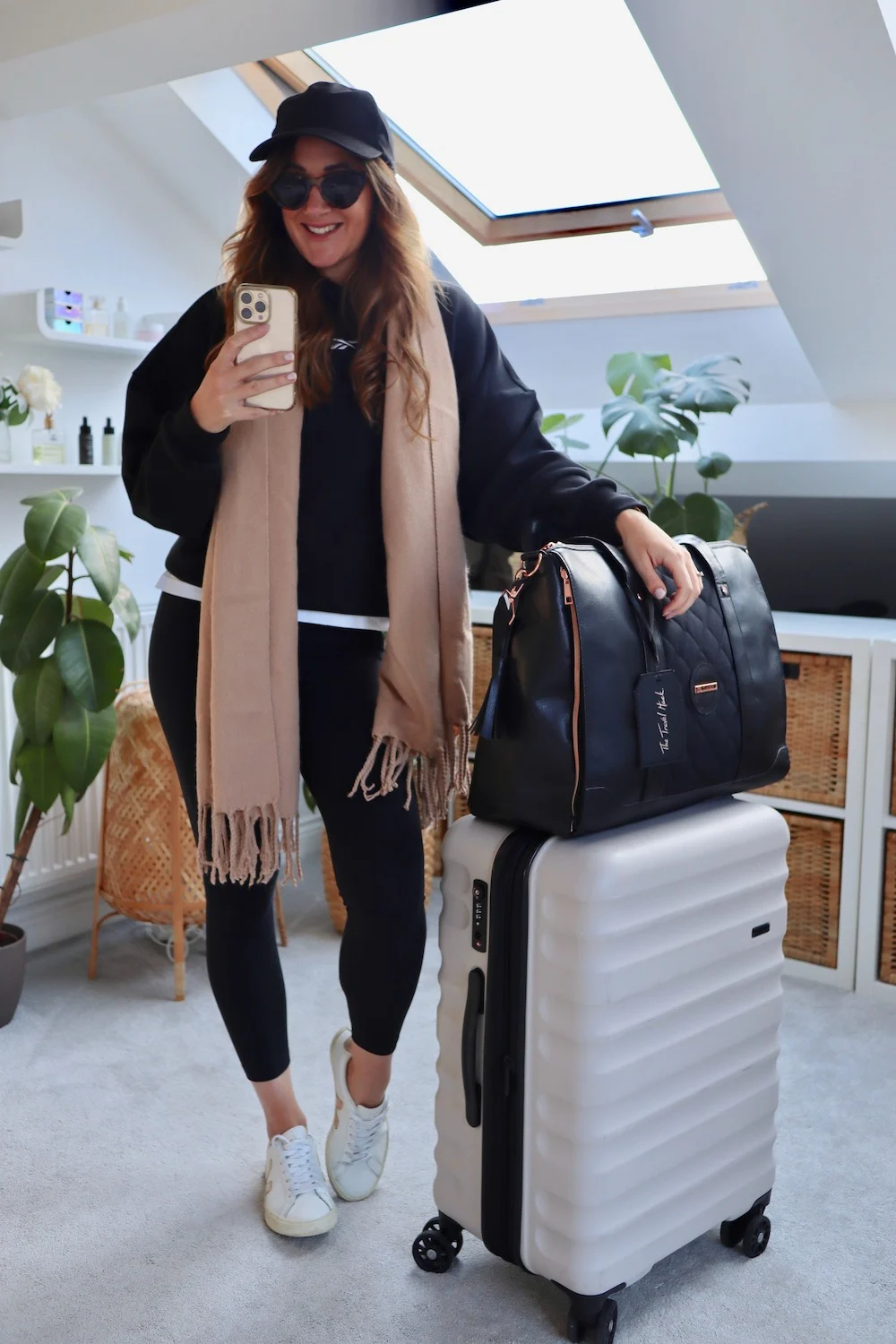 Comfortable all-black airplane outfit
My go-to outfit for flying is this combo:
Black leggings
Comfy trainers
A basic t-shirt
An oversized hoodie
A cap
Crossbody bag or The Travel Hack Tote (out of stock but The Travel Hack Backpack is available)
Sunglasses
Oversized scarf
This is instant comfort but still kind of stylish. The black colours won't show any mucky stains and you're going to be warm and cosy without being too hot.
If you'll probably take your shoes off then don't forget to add socks to your bag.
Love these classic Veja trainers but I will warn that they take a few days to break them in. If you're getting them brand new for your holiday then I'd also get some moleskin comfort skin plaster things to protect your heels from blisters.
This hoodie comes in lots of colours and it's so comfy and cosy. I'm seriously tempted to get it in a few more colours because I love it!
Why wear all black on a plane?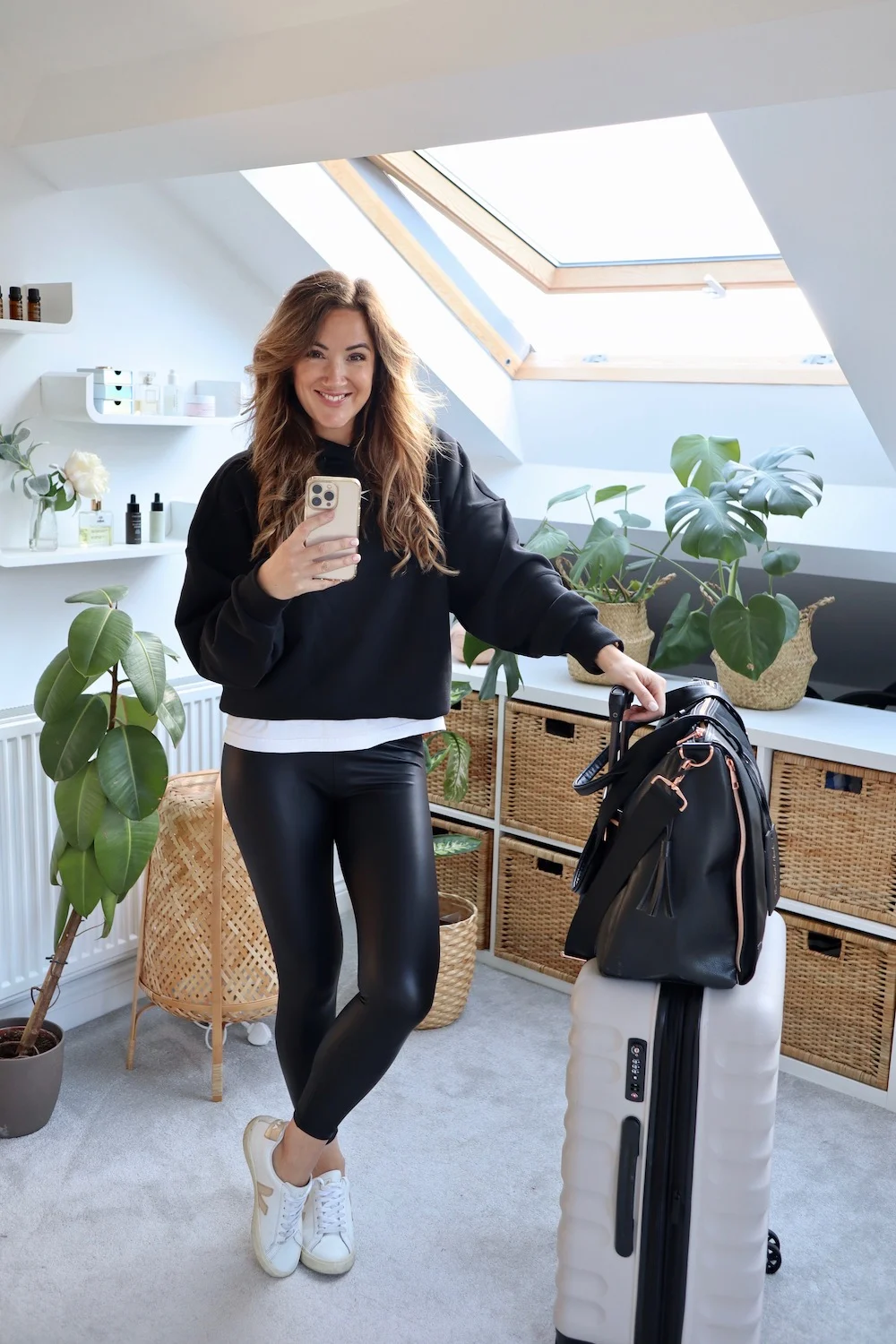 I usually wear all black on the plane for two reasons. Firstly, because I often end up getting grubby on a plane. I had a rare fight without my kids recently so I risked it and wore a creamy brown dress on the plane. I thought I'd be fine! Until some poor guy fainted in the aisle, knocking me and my drink all over myself. The guy was OK (he was hungover!) but I'm just sharing that little story to highlight that anything can happen. Even if you think you're not the kind of person to get messy, you just don't know on a plane!
The second reason I wear all black on a plane is because I'll normally wear the same outfit to come home as what I wore on the way out there. So if it does get a bit grubby then at least it's usually well hidden.
The slightly more stylish but comfy airplane outfit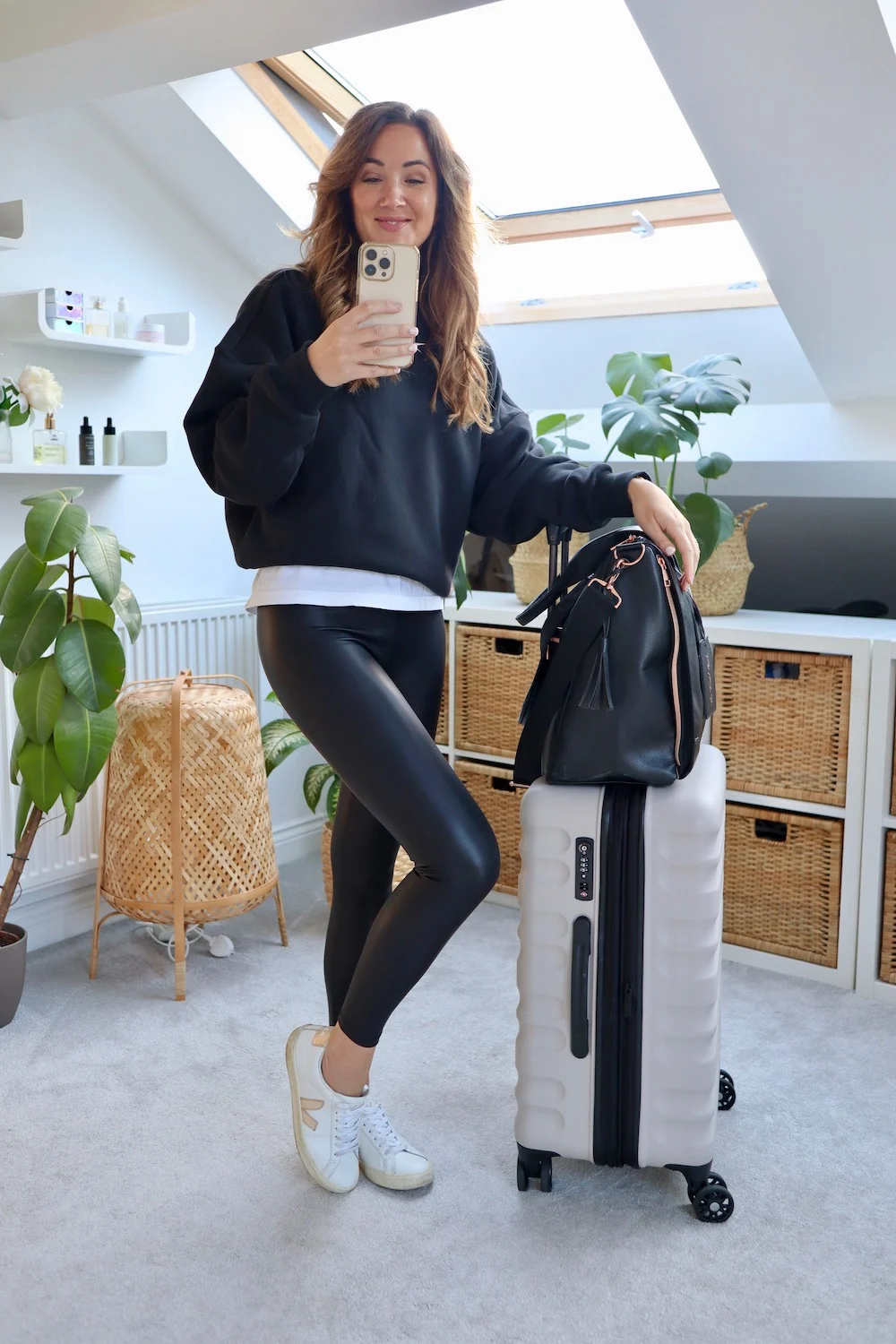 If you like the classic airplane outfit above but you want it to be a bit fancier then you just need to dress it up with leather-look leggings and a trench coat.
If you want ultimate airplane comfort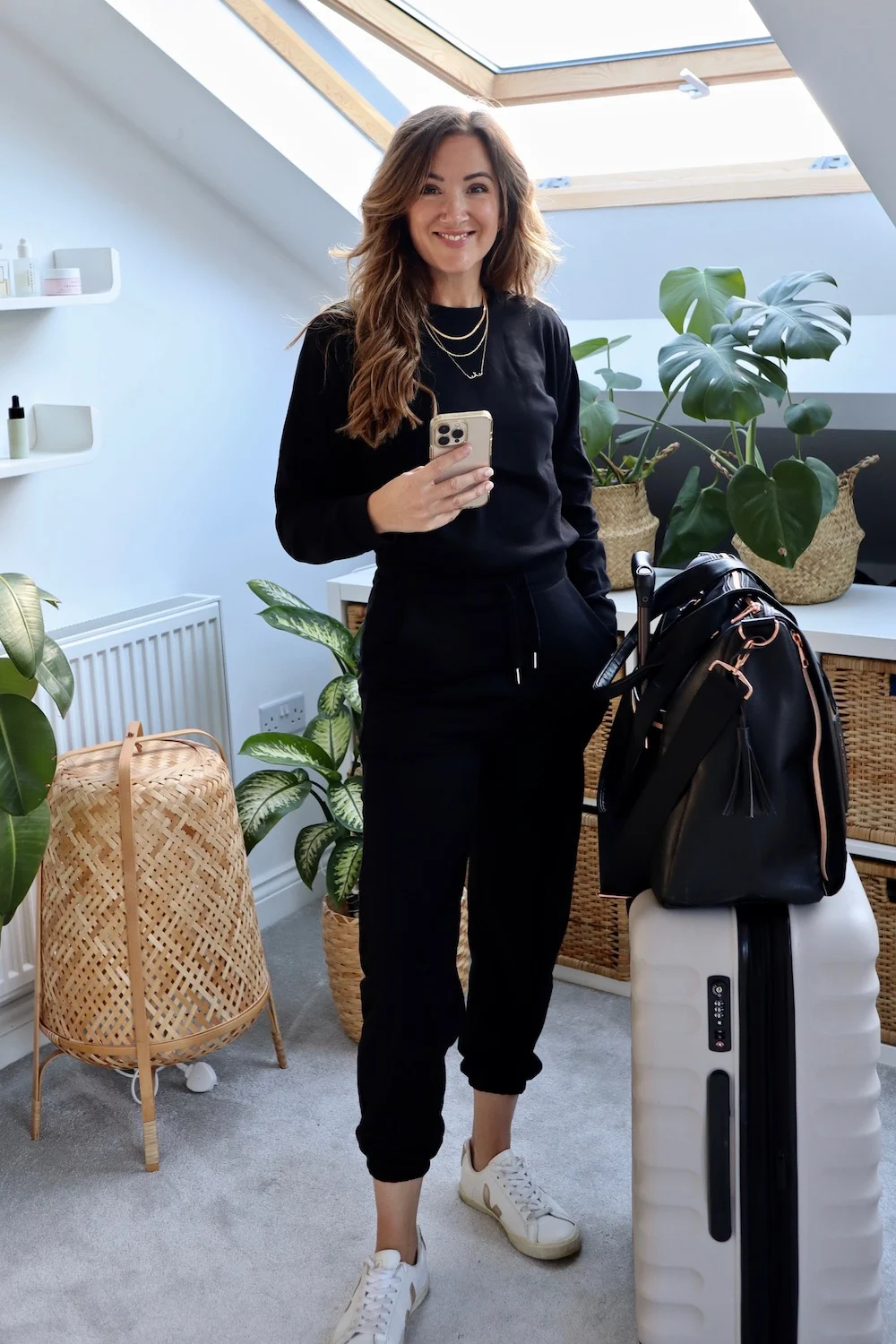 If you want super comfy comfort during your flight then just go straight for the tracksuit.
If you want to look elegant on the plane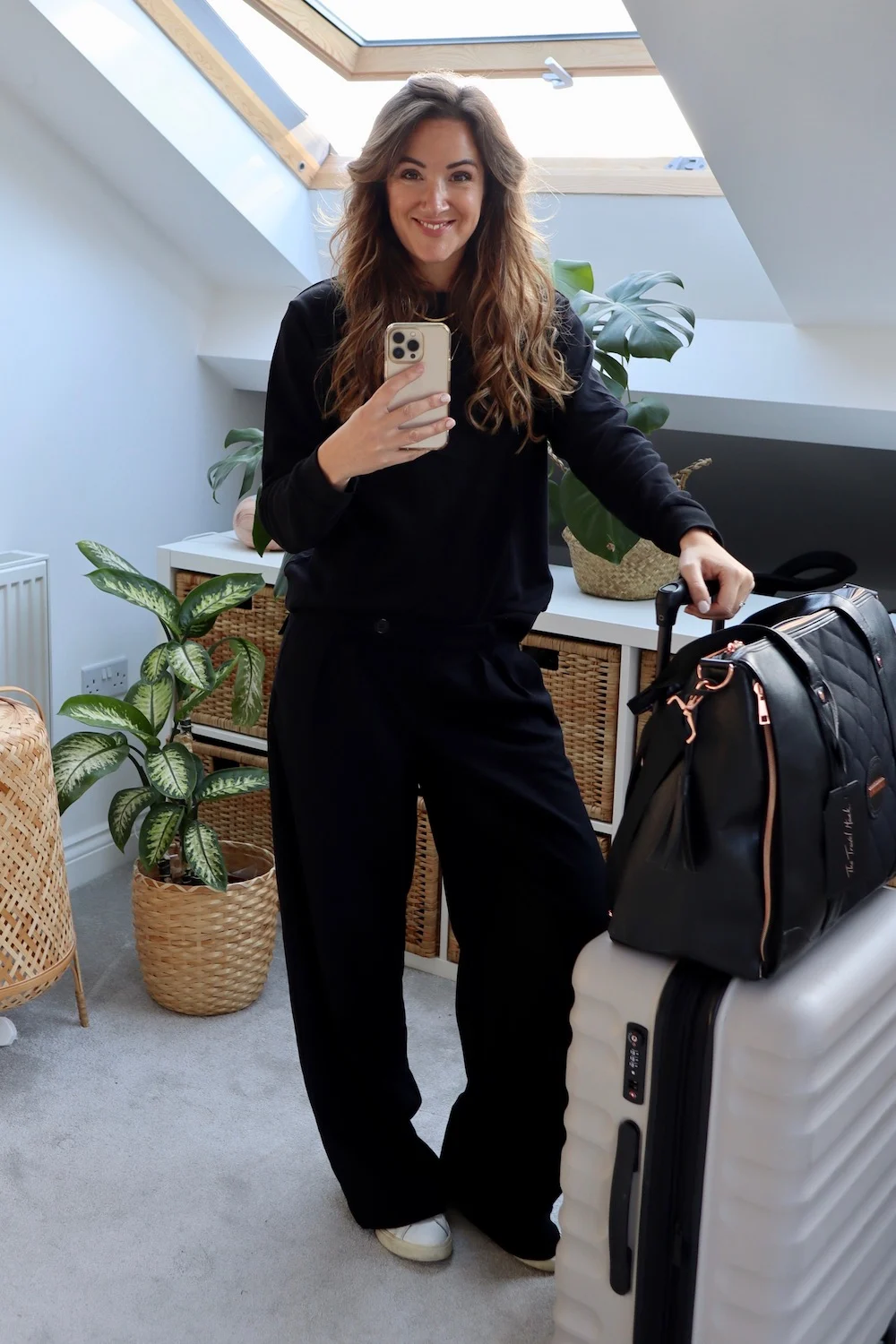 A more elegant but stylish airplane outfit is low rise, wide leg trousers with a classic white t-shirt and a black cardigan or hoodie.
What to wear on a plane if you're going straight out when you arrive
If you're taking a quick weekend break and you've got early flights to your destination then there's a high chance you'll be heading straight out into the city when you arrive. Maybe you'll dump your bags at the hotel or maybe you'll be straight out to explore.
If this is the case then you're going to want to wear something on the plane that is super comfy but also stylish and appropriate for exploring a new destination.
My advice here is to wear something like a casual, long black dress and team it with tights and boots if the weather is cold.
What if it's really hot when I'm flying?
If it's really hot then I'd wear a loose, black dress like mentioned above or swap the leggings for cycling shorts. I'd still take a comfy hoody because airports and planes can be chilly and you can use it as a pillow if you don't wear it.
What's the temperature on a plane?
It's worth remembering that the temperature on a plane doesn't really change (once the plane doors are shut and the aircon is working), no matter what time of year it is. The temperature on a plane is between 22-24 degrees C. It can feel colder because you're sitting still and rarely move so I always like to wear fairly warm clothes on a plane.
BUT – it can take ages to board a plane and the heaters or air conditioning don't start working until everyone has boarded and the doors are shut. If it's summer then the plane can be HOT HOT HOT when you're boarding and it could be freezing cold if it's cold out.
So it's worth remembering that layers are important here!
What are the best shoes to wear on a plane?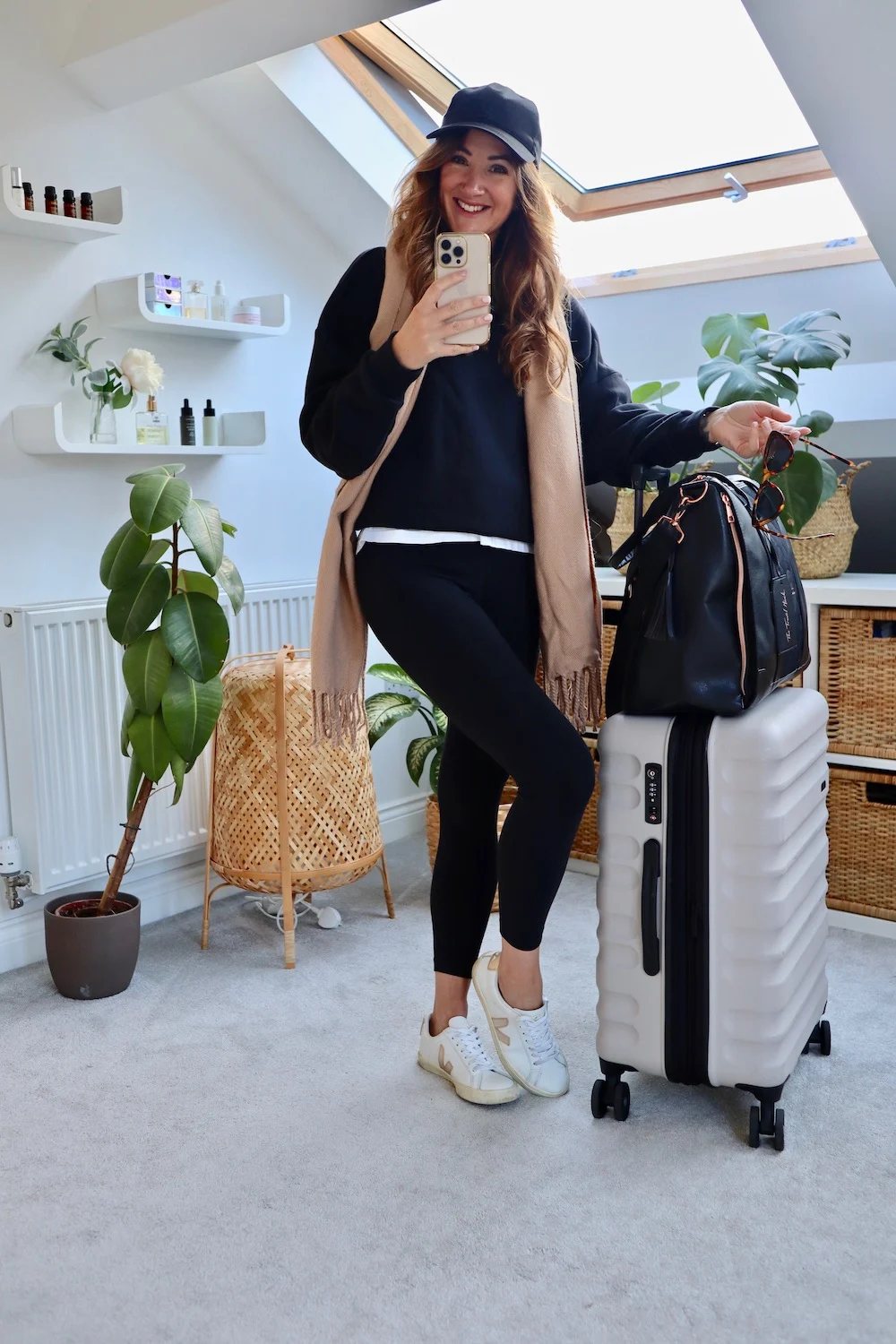 For most journeys I wear trainers on a plane.
My two favourites are the On Cloudnova trainers and Veja trainers. Both are comfy and stylish and I'll wear them when I arrive. The Cloudnovas are also fine for running so if I know I'll be taking a morning run while I'm on holiday then they're my number one choice.
If I'm travelling long haul then I always take my shoes off because my feet swell and it's comfier, so I like to wear shoes I can easily remove. Sliders, sandals or trainers are perfect and I'll keep a pair of socks in my handbag.
If I'm travelling to a cold destination then I usually won't have any choice but to wear my chunky winter boots on the plane. I usually travel wearing my Dr Martens Chelsea Boots. They've heavy and bulky and take up too much space in my luggage so I'll need to wear them on the plane.
What jacket or coat should you wear with your airport outfit?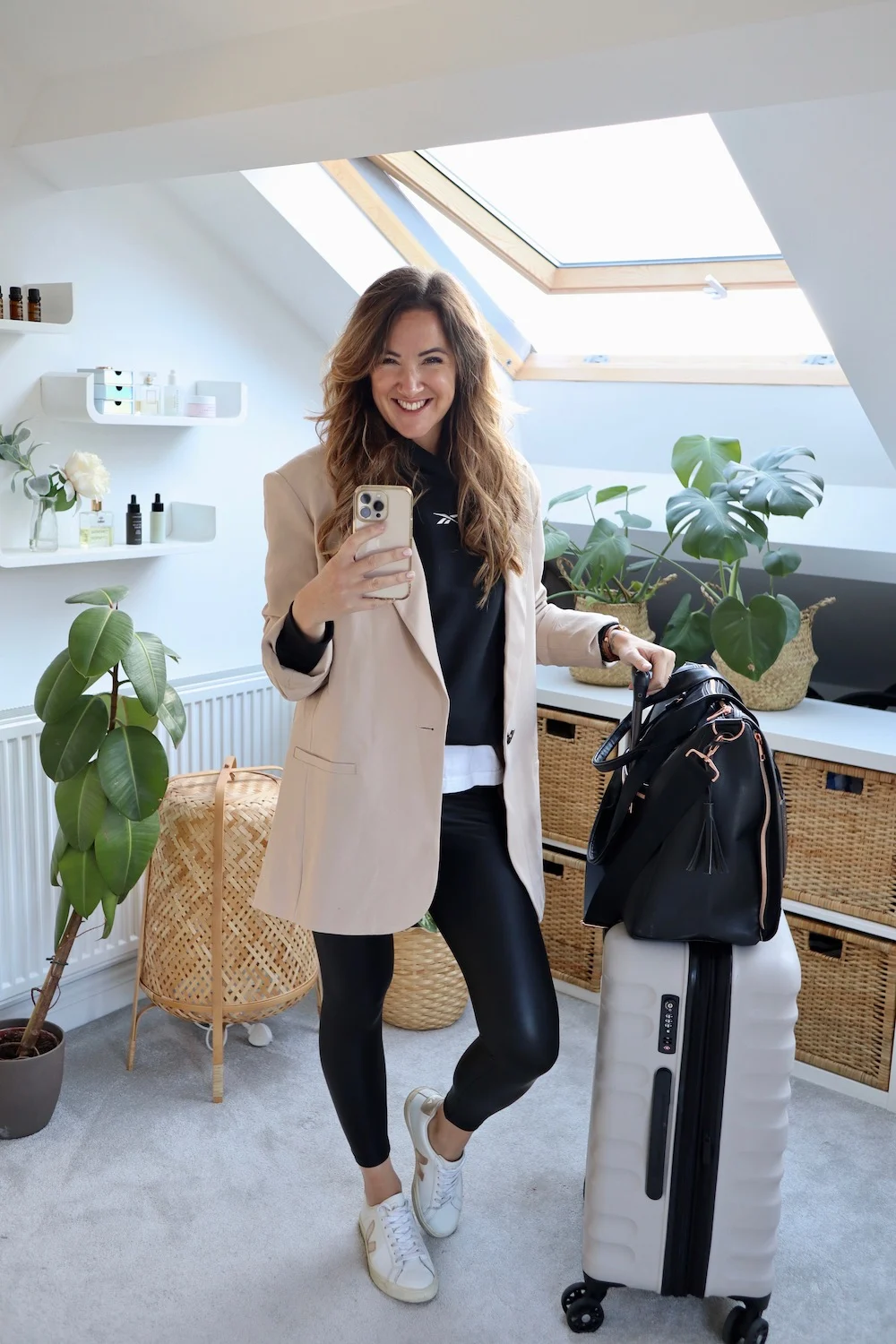 For most of us, the jacket we wear on the plane is going to be determined by the weather in our destination.
A lot of the time I don't actually wear my coat on a plane, I just carry it onto the plane and place it straight in the overhead lockers to save space in my luggage or avoid it getting squished or crumpled.
Cold weather – mid-length down coat (I have this one from Arket and I LOVE it)
Hot weather – Just a chunky cardigan in case it's cold on the plane or for chilly evenings
Warm weather – Blazer/trench coat/denim jacket
Never wear a jumpsuit on a plane
If I have one rule about what to wear on a plane, it's this: Never wear a jumpsuit!
This is because when you go to the toilet you'll need to take the whole thing off. This is a pain and it's awkward in a small toilet. It's also a bit embarrassing and never wracking because you're then completely naked – I always have the fear someone will walk in!
It becomes even more awkward if you put a jumper on top of your jumpsuit and then you also have to take your jumper off.
Trust me, I've done it before. Never wear a jumpsuit on a plane!
Stylish suitcases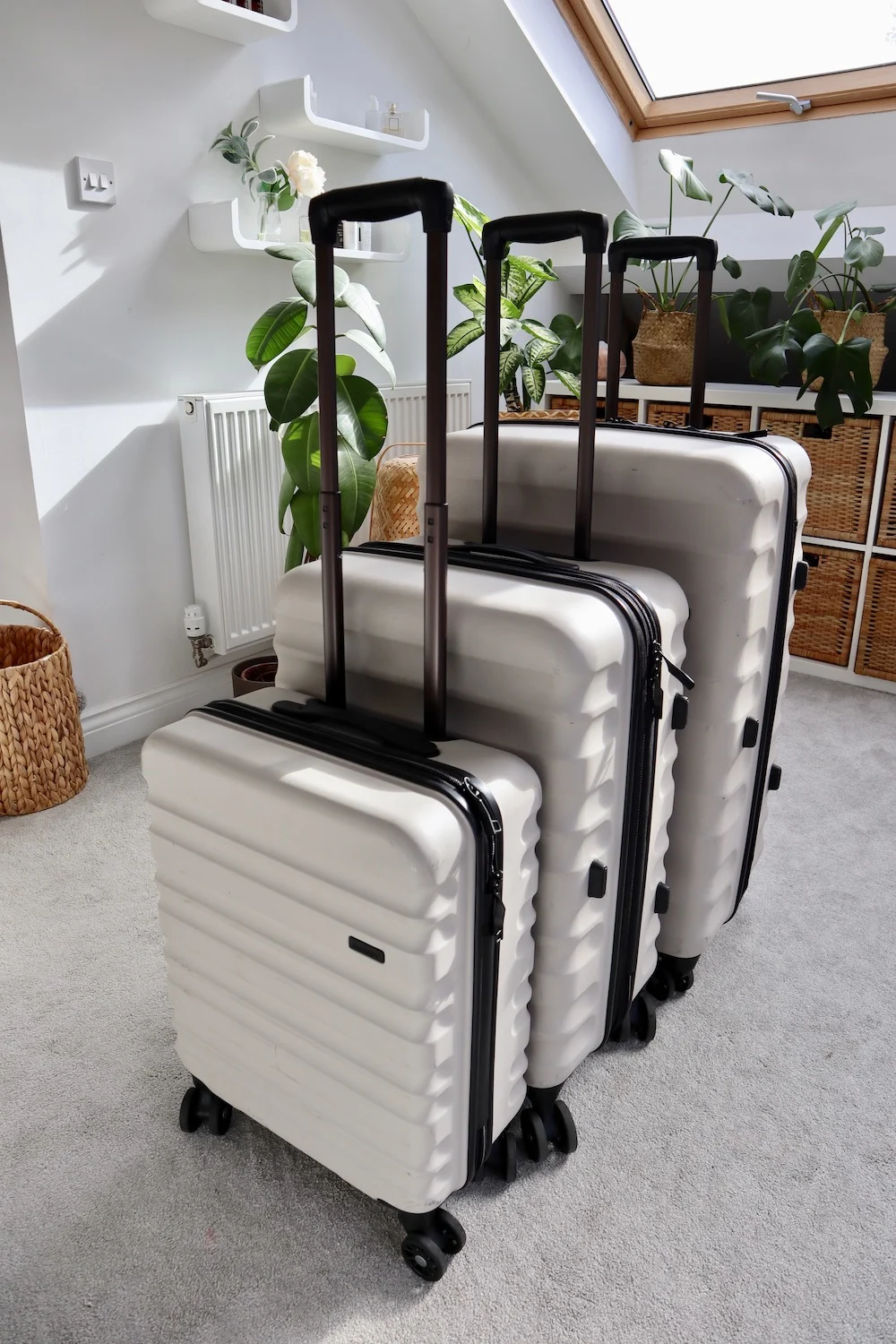 You'll notice that stylish outfits for flying look even better when accompanied by stylish luggage!
My faves are:
Antler Clifton Hard Shelled Suitcases
The Travel Hack Cabin Case for a cabin suitcase
The Travel Hack Tote for hand luggage