Around a year ago I was sent an email from Sandal Shop asking if I'd like to review some sandals.
'Of course,' I replied excitedly. 'I can create a review within one month of receiving them.'
'Oh no,' Sandal Shop replied. 'We'd want you to wear them for nearly a year before reviewing them! We believe in quality over quantity and we want to showcase that we provide the best quality and service.
We want to show the value of higher quality products as a better alternative to cheap, throwaway fast fashion.'
Well, now they really had my attention.
Never in all my time as a travel blogger have I been asked to write a review based on long-term use. Never.
And now I think about it, isn't that crazy?
The brands I collaborate with generally want their reviews live within a couple of weeks, because next month there will be a new style to review and the ones they sent me last week will be 'old'.
So this conversation with Sandal Shop gave me all the fuzzy feels and just made me so happy that there's a brand out there who are genuinely focusing on promoting quality products that last.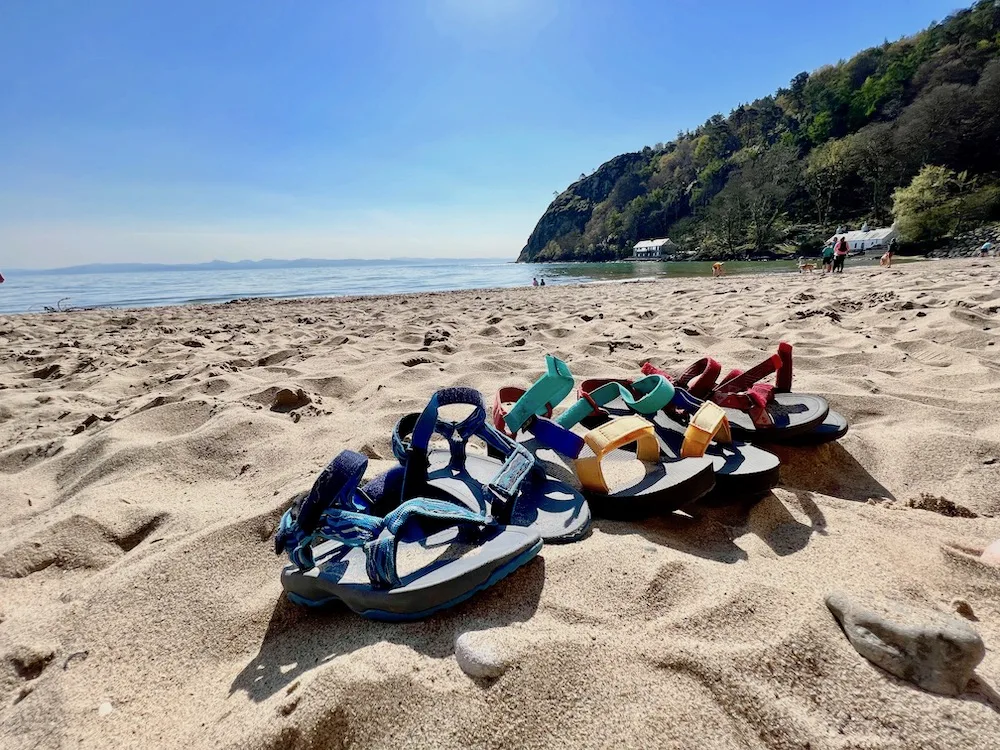 Sustainability and fashion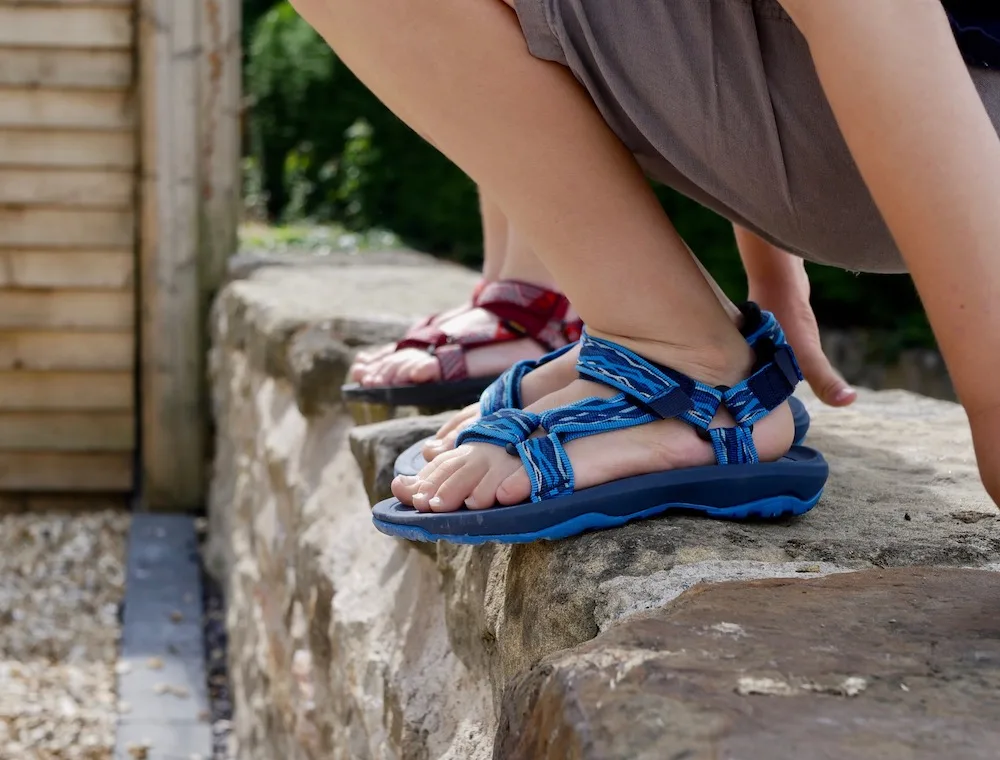 Sustainability has become a huge part of my life over the past few years. I'll admit that it's still very new to me and I still have a lot to learn. I've done lots of research and reading and undertaken challenges to improve the environmental footprint for myself and my family.
This has actually been a lot of fun and it's opened my eyes to how much we used to waste.
And if I've realised one thing about sustainability and fashion, it's that buying high quality products is the most sustainable option. Not only that but it actually works out cheaper too.
I'm not proud to admit this but, in the past, I would buy one or two new pairs of summer sandals each year. I'd usually buy them from a cheap, highstreet store for about £15 and by the end of the summer both pairs would be broken.
So I'd buy two new pairs the following summer.
And two more the summer after that.
And where would these broken sandals be going? Straight into the landfill where they'd sit for years and years.
And I know it doesn't seem like a big deal when we think of ourselves as just one individual, but what happens when we realise there are over 67 million people in the UK. If every person in the UK throws away two pairs of sandals each year, that's 134 million pairs of sandals going into a landfill every year.
Not only is that thought absolutely horrific but it gets even worse when you think about the materials and production of these products. Where is it all coming from? And how is it even possible to pay people a decent wage and sell these sandals so cheaply!?
Sandal Shop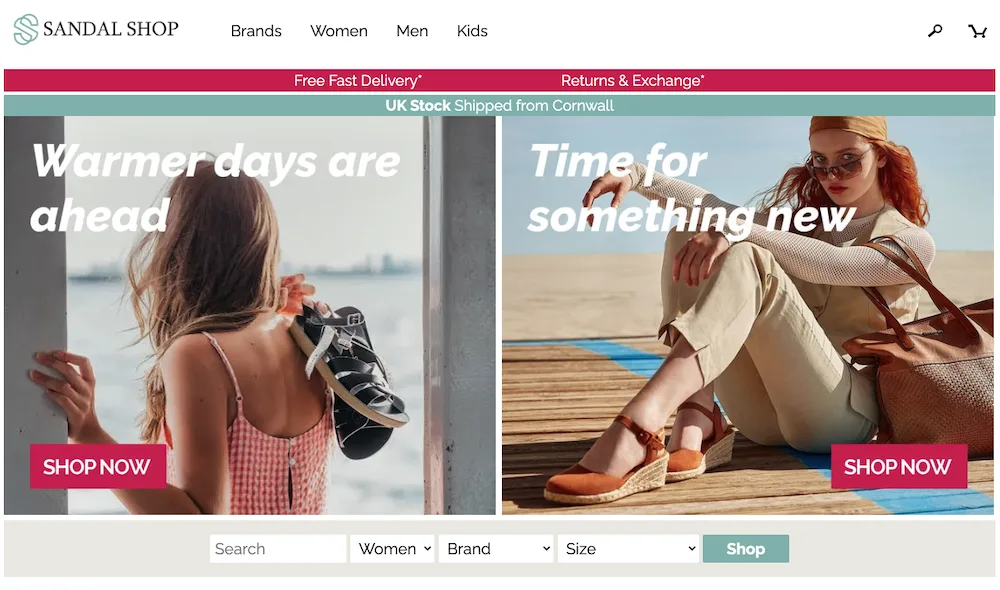 These are questions I can't answer but I can help with a solution…and that's to buy quality sandals that are going to last!
And this is where Sandal Shop come in.
Sandal Shop sell, as you may have guessed, sandals! And what a gorgeous selection of sandals they have too.
The website is clean, simple and easy to use. There are loads of beautiful styles of sandals to choose from but you can easily filter them to find the perfect pair for you. Search via brand or by men's, women's or children's. Or you can search by style such as flats, sliders, adjustable, leather or sale items.
I found the website really easy to use. There's a great selection without being overwhelming (something that can happen on the huge sites that sell every shoe under the sun!)
Teva's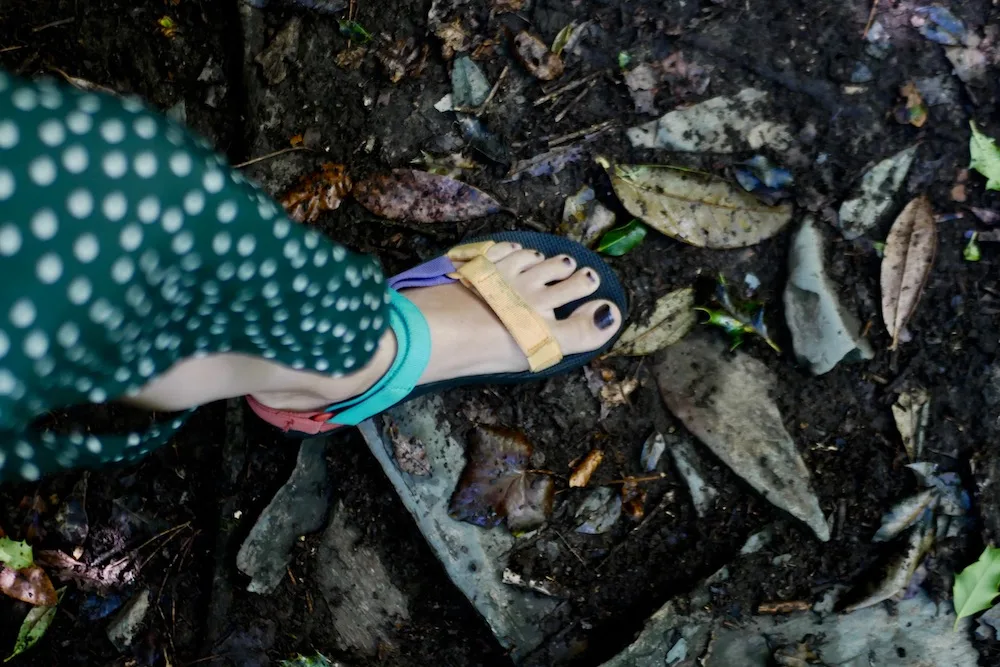 Myself and my family were all kitted out with Teva sandals.
These are open-toe sandals with adjustable straps to provide an easy and customisable fit.
The sandals have a chunky sole so they're really comfortable and soft and can even be worn for long walks.
I feel like these are the kind of sandals and people see them and think, 'Hmm, I'm not sure if I like those….' and then they see them again and again and suddenly you love them and you want a pair!
Teva's Universal Strapping System – Great for kids!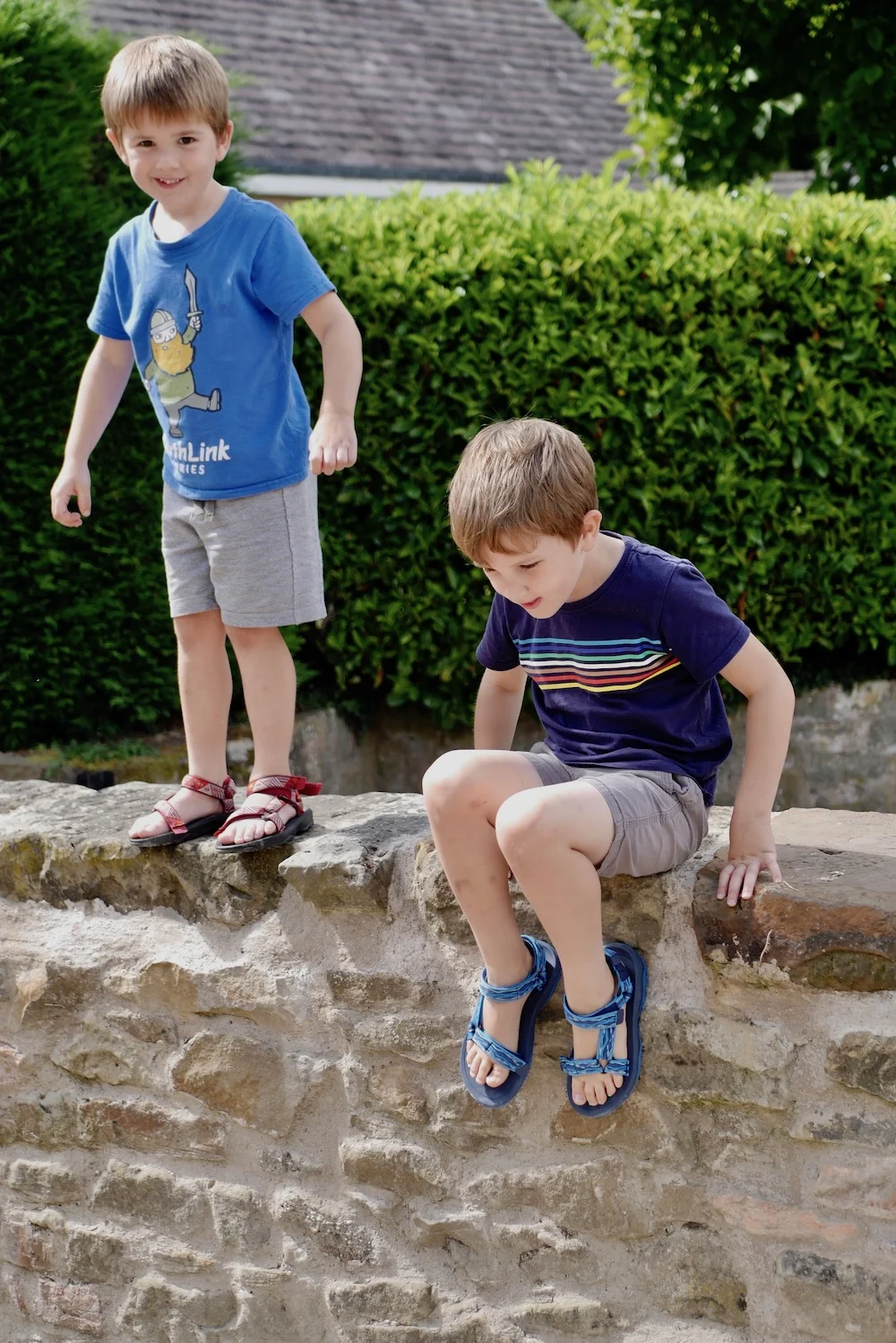 When it comes to kid's shoes, the thing I really like about the Teva strapping system is that they can be adjusted so much. There are three velcro straps to tighten the sandals around the ankle, foot and toes.
This makes them ideal for growing feet and means you won't need to buy new sandals with every half size your child goes up.
The velcro straps are also easy to open and close and you don't need to open all three straps to put the sandals on. They can be adjusted to size and then only one strap needs to be opened to take them on and off.
My kids like their sandals to be really tight so they can run and climb and clamber like they would in their running shoes!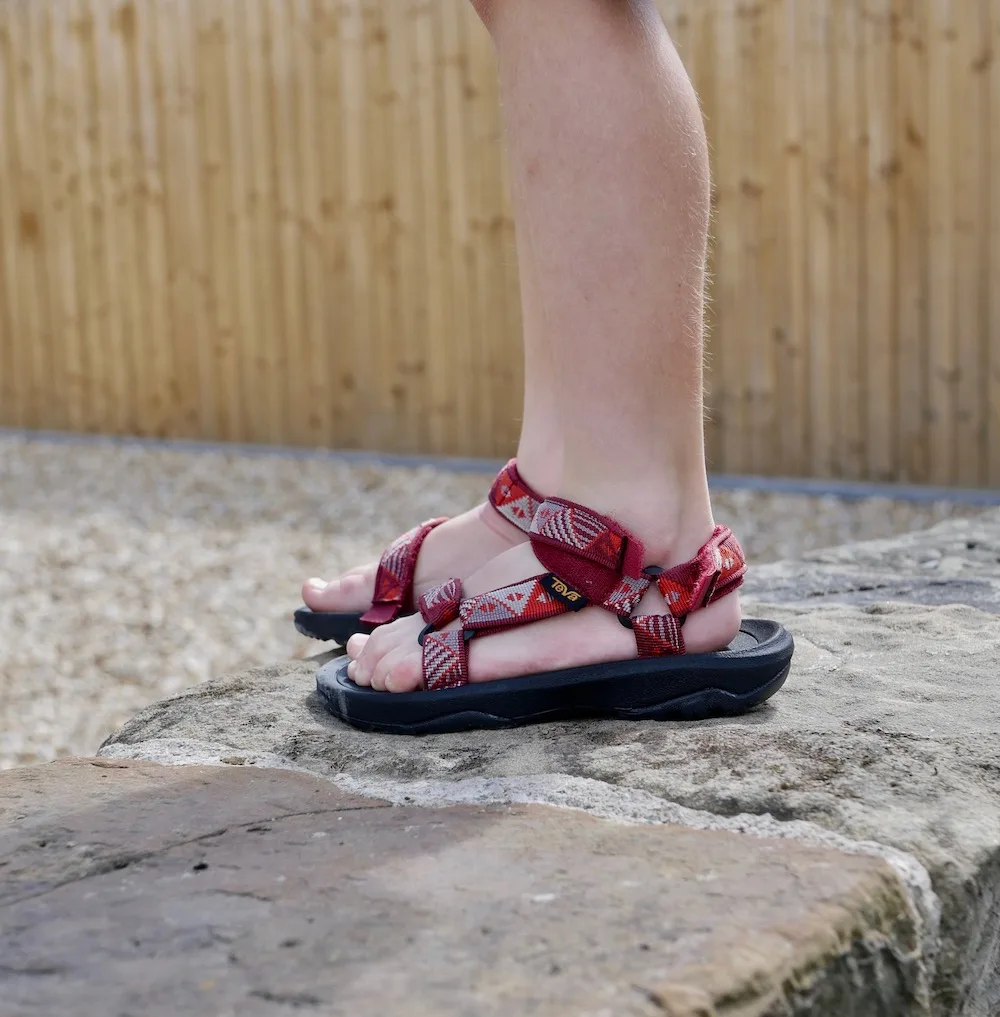 They don't do Teva sandals in toddler sizes so Alba doesn't have any but the boys love theirs. They've actually been wearing them all year because they put them on to travel to their weekly swimming and gymnastics classes. We then spend a lot of time by the beach and outdoors and playing by the river and I'm really impressed with how well these sandals have held up. I'll definitely be passing George's along to Joseph and then Alba and probably even along to another family after that.
And that's where true sustainability comes in and this is where we can really play our part. Teva sandals aren't much more expensive than a pair you'd buy at the supermarket but the quality is so much better. For an extra £5 you're getting a pair of sandals that can be passed along again and again – saving another family money and meaning we're not adding even more sandals to the landfill!
If you live in New Zealand you're looking for a place to buy men's Tevas, you can find them or any mens sandals here.
The simple, timeless design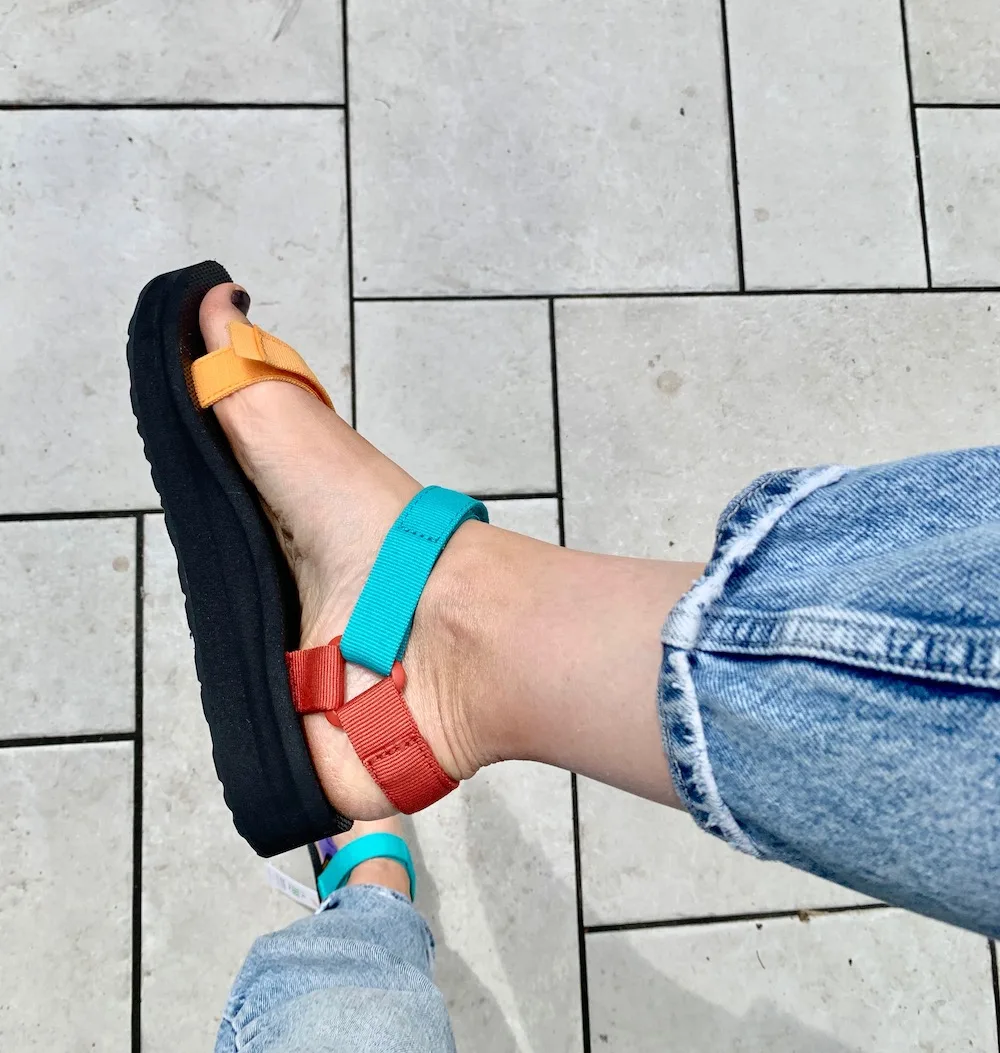 I love the design of these sandals. They're so simple but also make a bold statement and they have this classic, casual design which I'm sure will be in style for years.
I wear mine with everything from casual jeans and shorts to skirts and dresses or even with my wetsuit and in the sea! I wore them while I was bodyboarding once because the beach was really rocky and they were fine!
I have tried them for paddle boarding but I prefer to be barefoot so I can feel any wobbles on the board!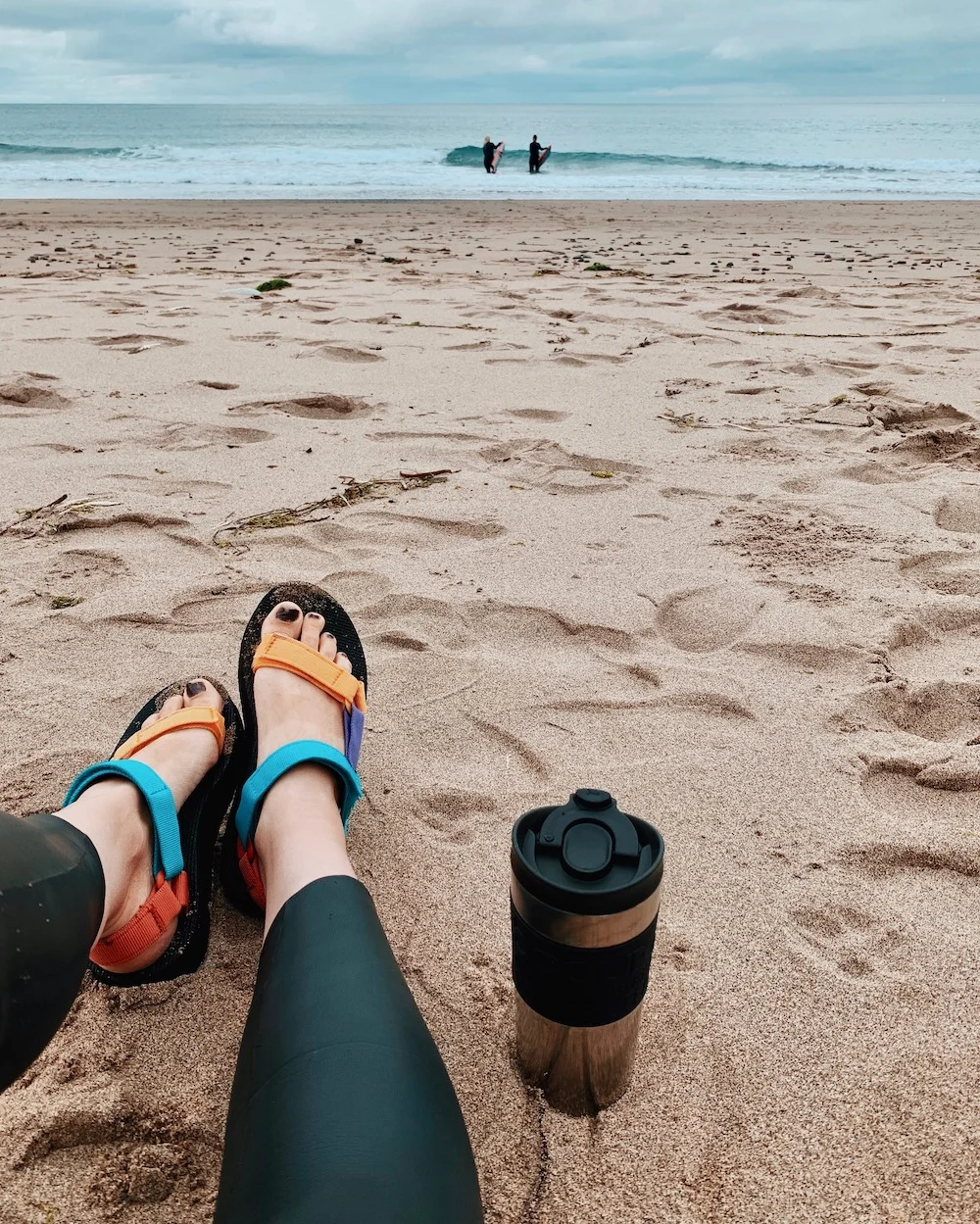 Cleaning the Teva sandals
It's pretty clear that the Teva sandals are brilliantly tough and hard wearing, but that doesn't protect them from me being really messy! During the time I've been wearing them they have got mucky with general grime, mud, tomato ketchup during a beach BBQ and the occasional splash of red wine too!
So how well do they clean?
This was really the big test for me. I love the light and bright colours of mine but if they don't clean easily then I probably won't want to wear them much more than a year anyway.
Thankfully, they've cleaned up really nicely!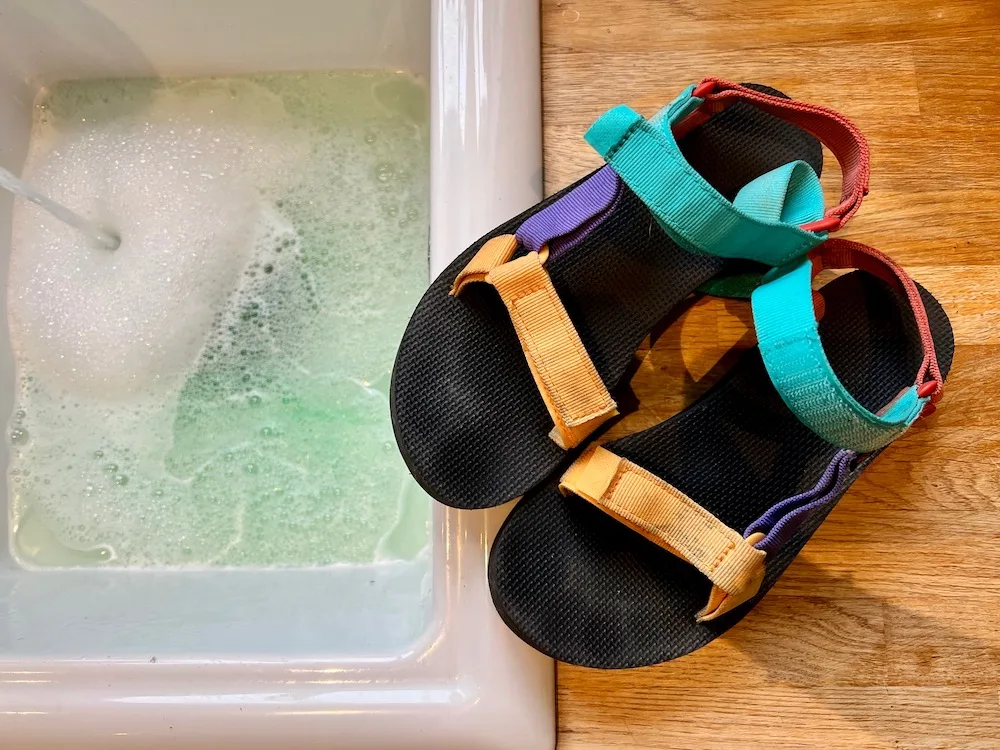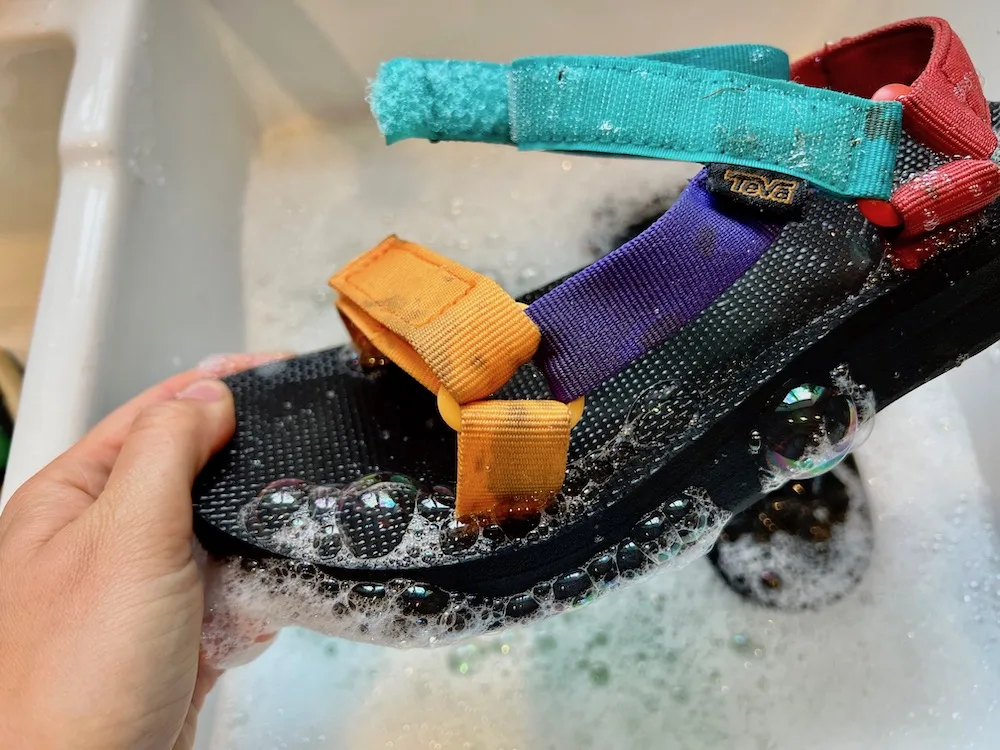 Mine have actually been sat with a red wine stain across the front for months before I finally got around to cleaning them.
I soaked them in soapy water for a few minutes.
The left sandal with normal mud and everyday dirt on it cleaned up in minutes.
The right one with ketchup and red wine took a bit more effort and I actually sprayed it with a bit of carpet stain remover and left it to soak a little longer. I then gave them a good scrub with a scourer and they've cleaned up perfectly.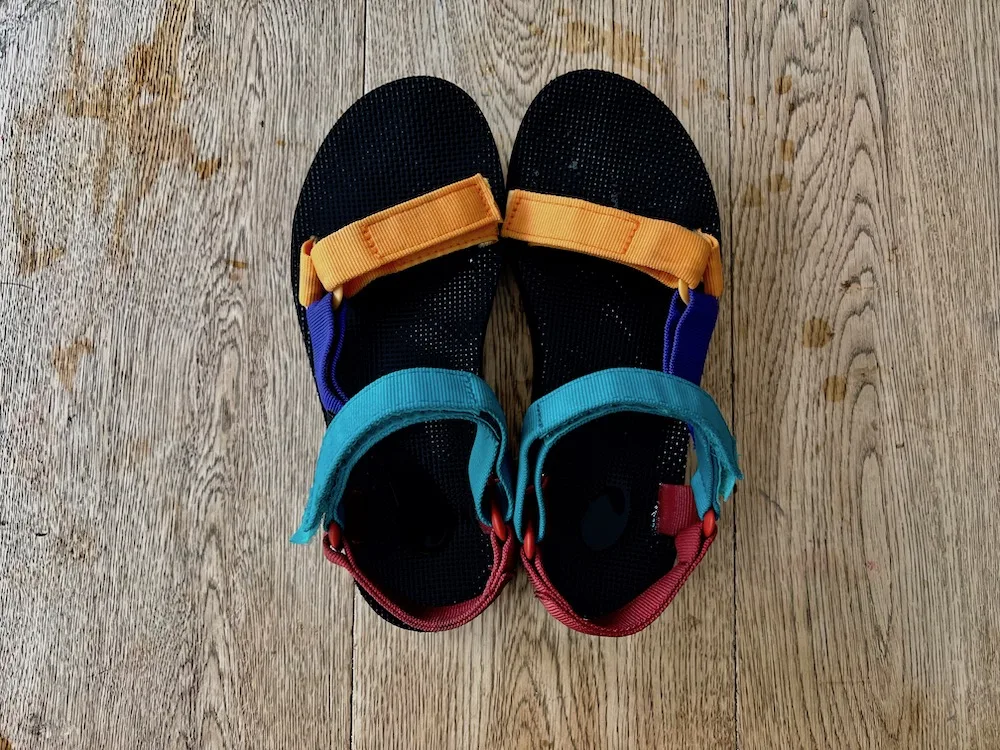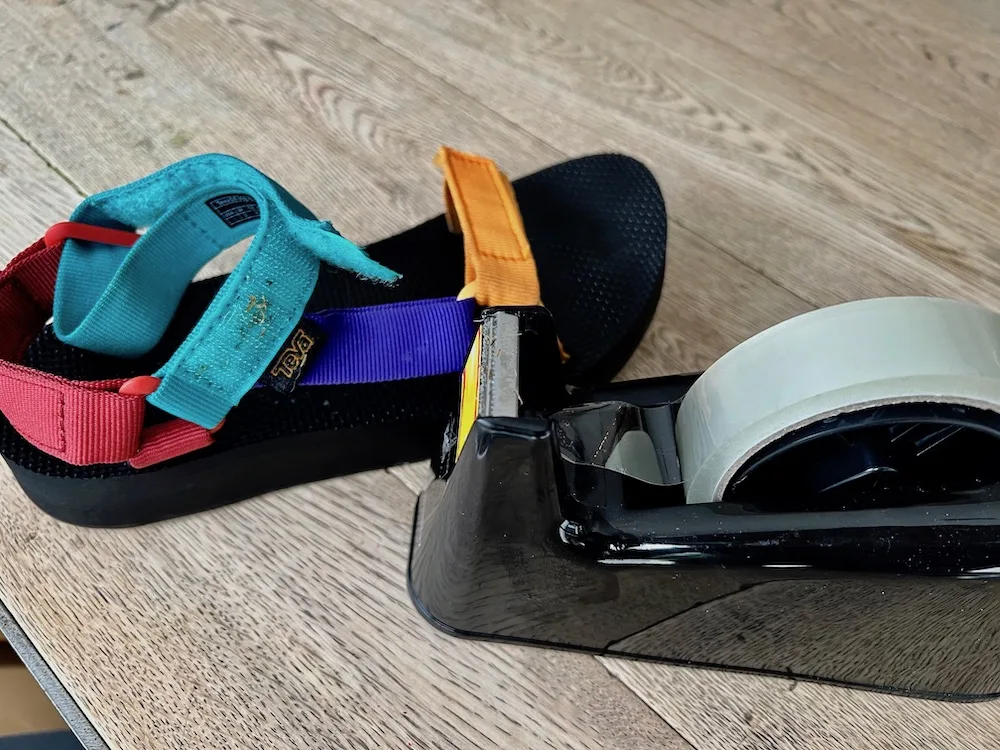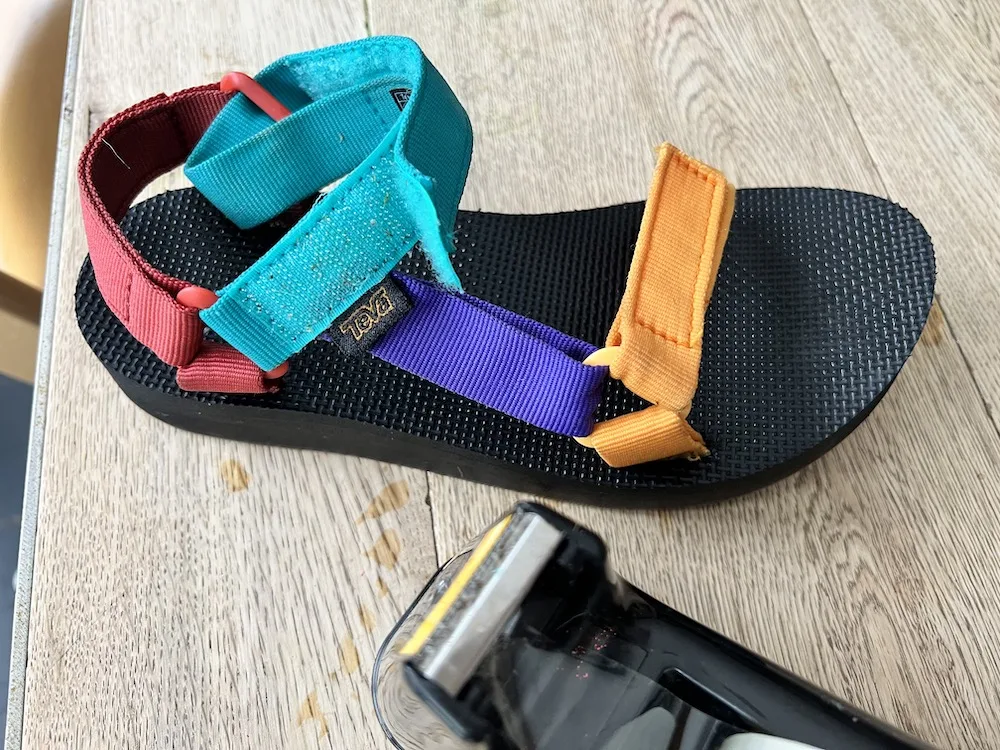 Travel Hack Tip: And here's a little velcro hack you might not know about. If you've got velcro shoes and the velcro gets caught up with grass and fluff and all other kinds of muck, if you use the sharp bit of a sellotape dispenser (the bit that cuts the sellotape) to scrape the velcro, it scrapes all the grass and muck out.
That's a really good tip if you have kids who wear velcro school shoes too!
Are the Teva Originals worth the cost?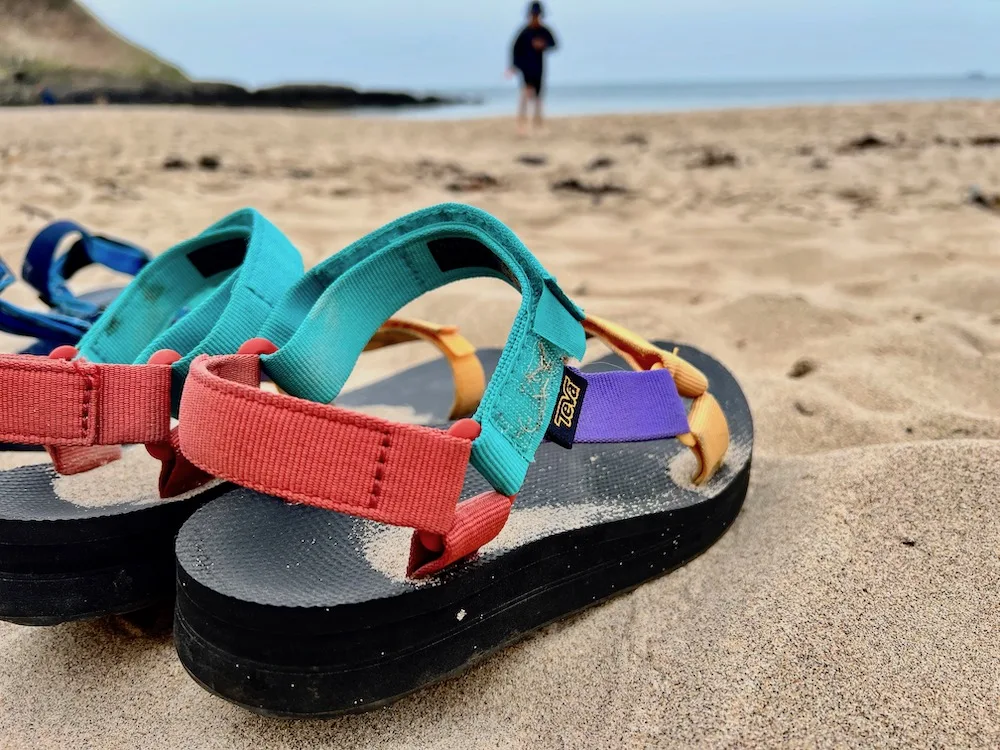 I've had loads of messages from people on Instagram asking if the Teva Originals are worth the cost. I'm assuming people think they cost more than they do because they don't really cost a lot.
They're currently less than £40 so I would absolutely 100%, wholeheartedly say they're worth every penny.
I've been wearing mine for months and they still look like new so I'm sure I'll be wearing them again all summer. And probably all of the next summer and the next!
Barbour Sandals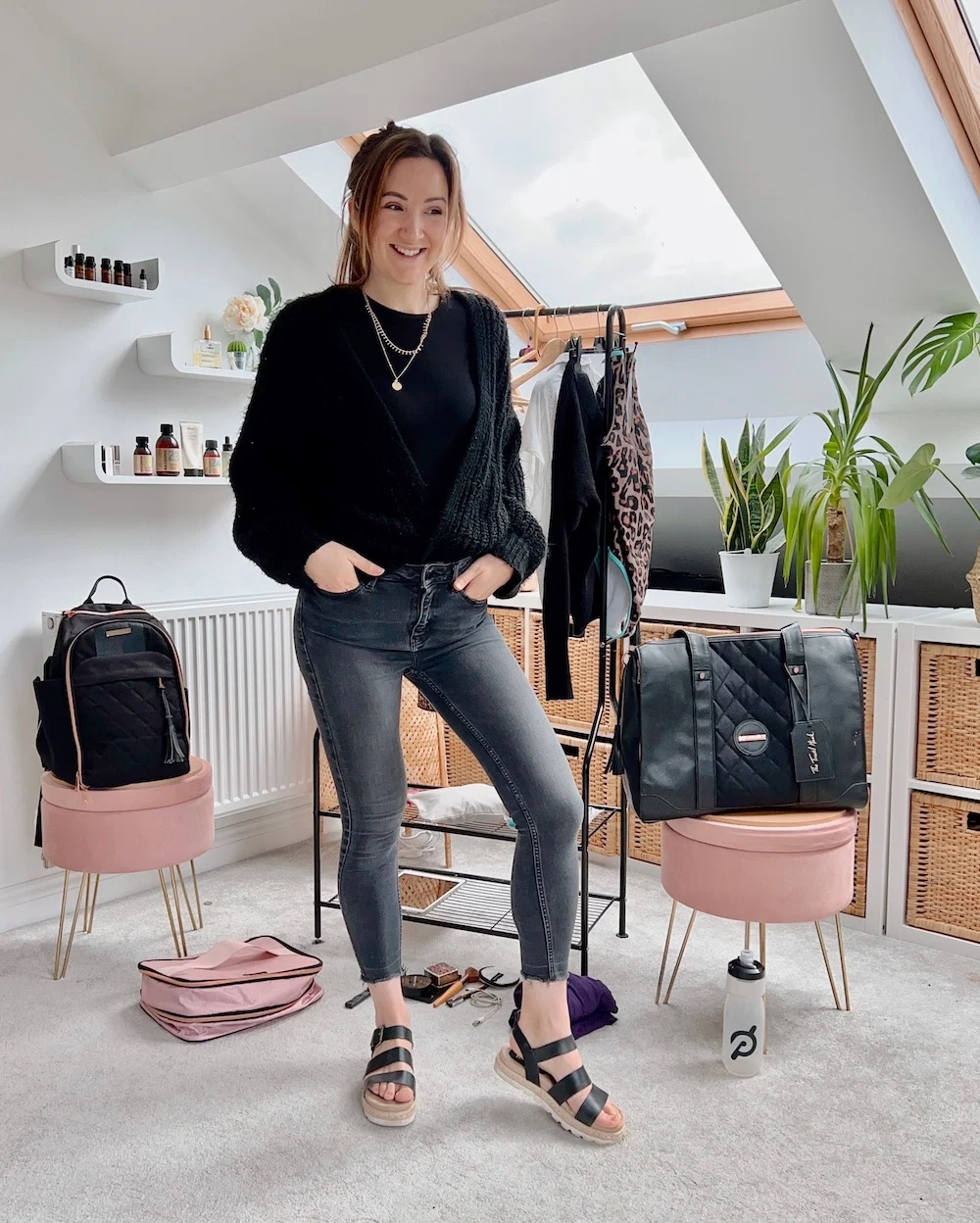 If you're looking for more of a formal, stylish sandal then I can't recommend these gorgeous Barbour sandals enough which I also got from Sandal Shop.
I've had loads of questions about these sandals because they've popped up on my blog a lot. I wore them during my cruise last October and they featured in this packing reel too.
I actually didn't wear these sandals over the coldest winter months and when I dug them back out this spring I was so happy to get their buttery softness back on my feet.
I'd forgotten how deliciously soft and comfortable they are – something you definitely don't get with a cheap pair of throw-away sandals!
They're also such an easy sandal and go with any outfit – whether you're going to work, shopping, on holiday, exploring a new city, out for drinks, to the beach, on the school run or whatever. I wouldn't exactly hike up a mountain in these but they're definitely comfortable enough for long walks.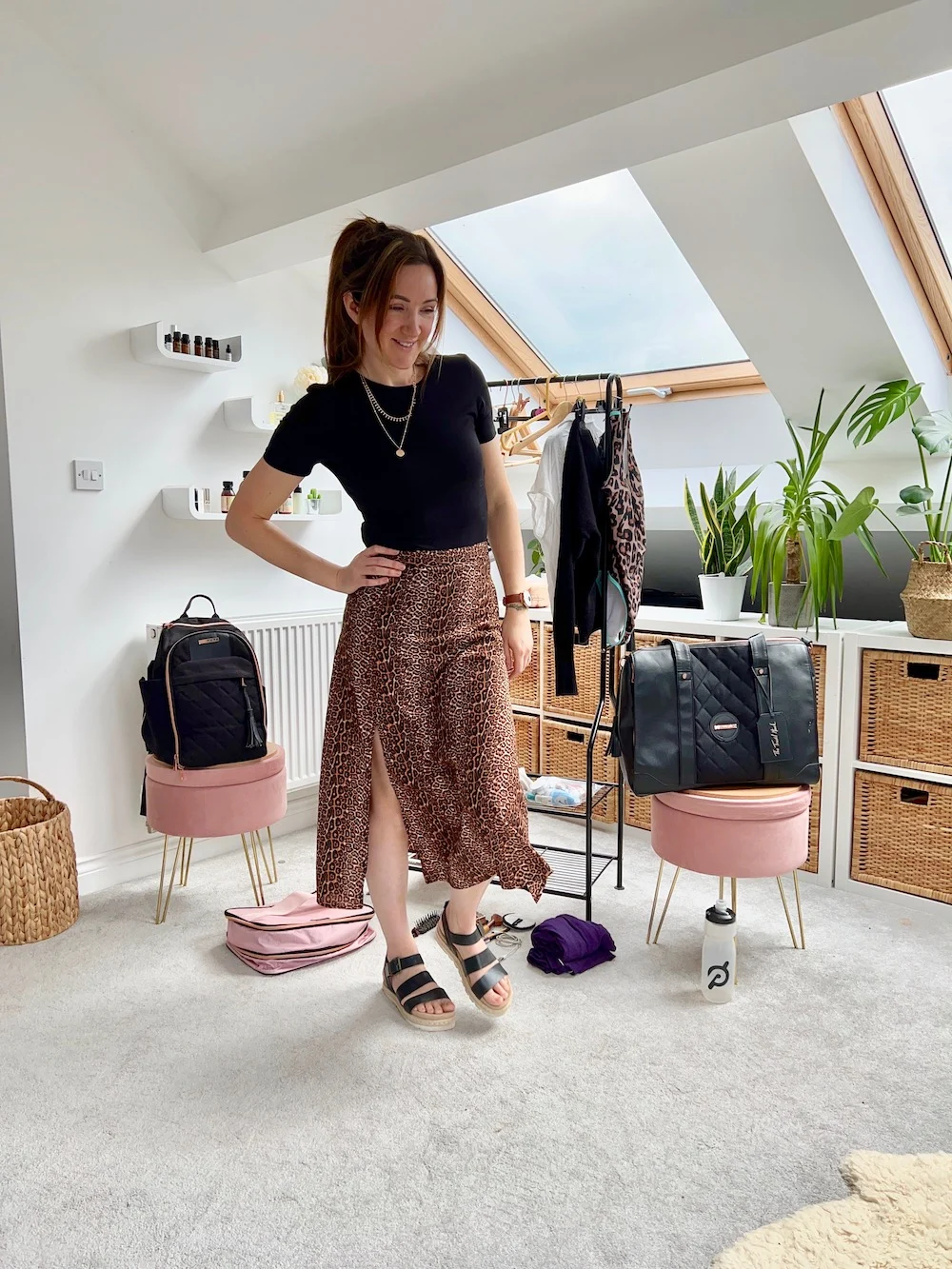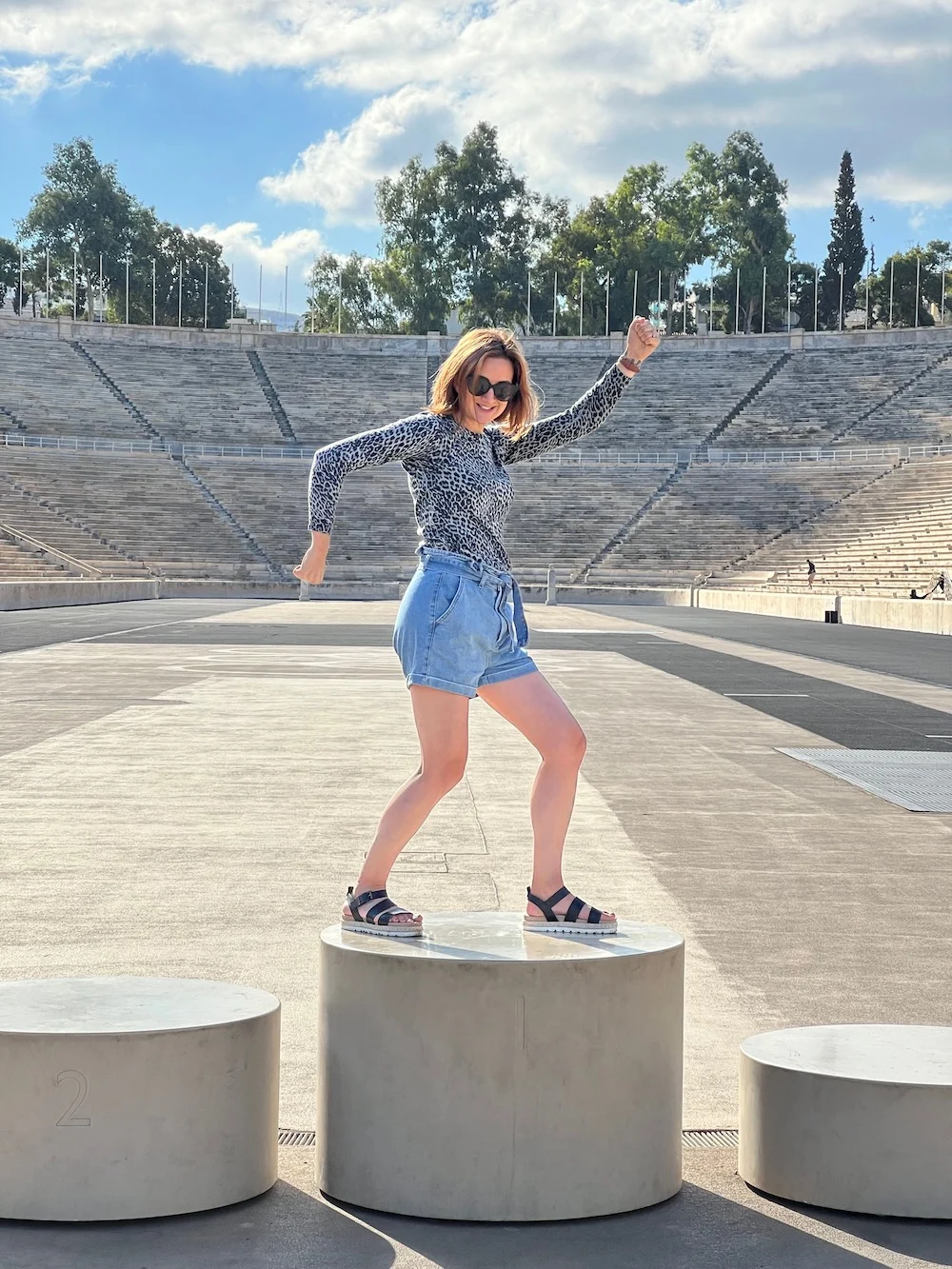 I went on a 7-day cruise last October and I wore these sandals for most of the trip. They were great for exploring Athens, strolling around the streets of Valencia and going from the city to the beach in Palma. They were also great for going for drinks or dinner on the evenings when I couldn't be bothered to wear heels.
As a shorter person, I also very much appreciate the chunky sole on these!
Sandal Shop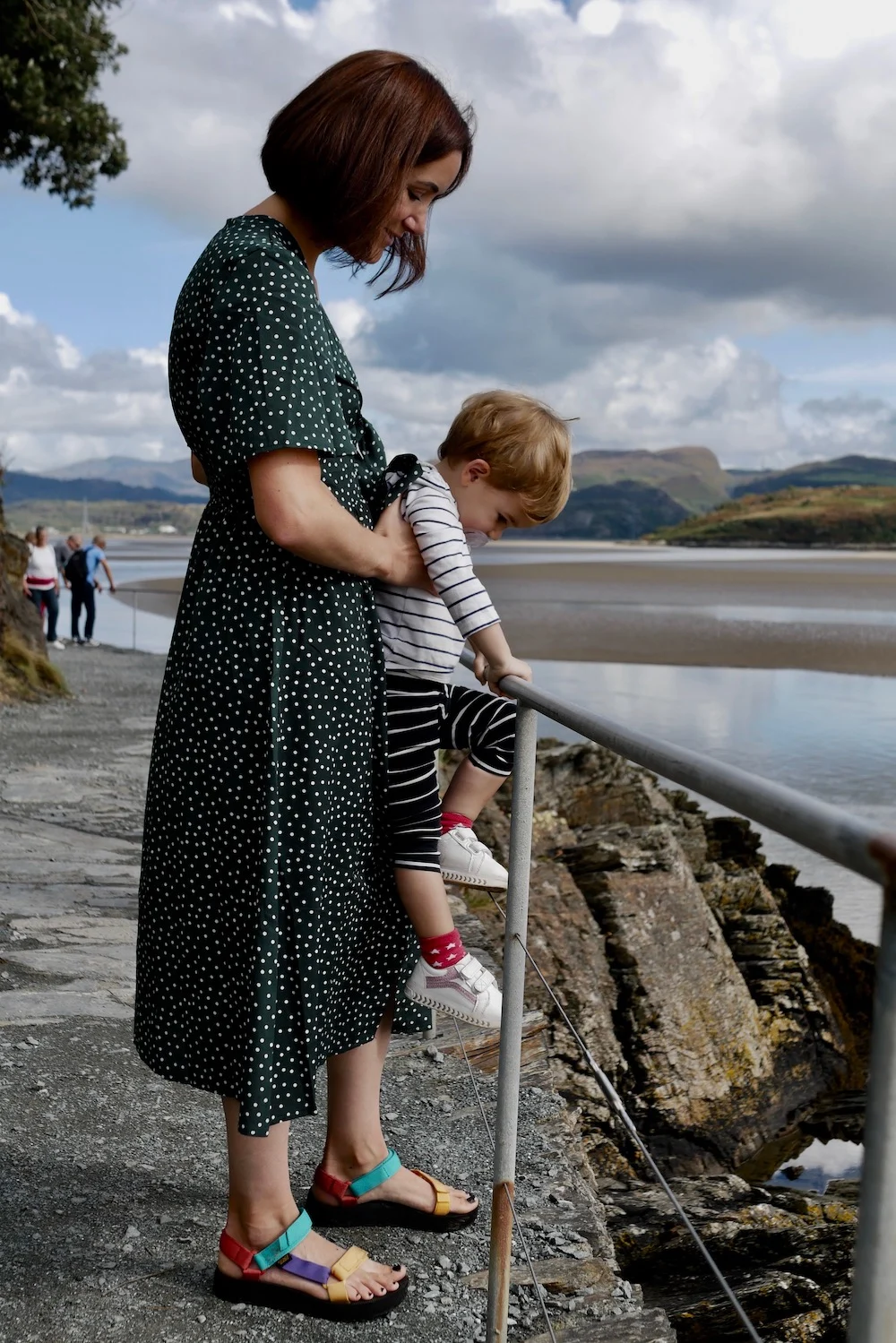 The Barbour Gabbie Sandals are still available via Sandal Shop in black and a lovely cognac colour. Sizes are limited but there are similar styles available.
The exact Teva sandals I have aren't available anymore but here are a very similar pair in terms of colours. Mine are the mid-form universal sandals which have a chunkier sole which I really like.
Sandal Shop do have more Teva sandals coming into stock next month so keep your eyes peeled!
The boys have the Teva kids Hurricane Sandals which I'll definitely be buying again when George has outgrown there.
Massive thanks to Sandal Shop for sponsoring this post and giving me the opportunity to highlight sustainable brands and the little things we can be doing to help the environment and save ourselves money too!