My heart beats a little faster while the butterflies in my stomach flutter wildly. My palms are sweaty and I'm starving hungry but I can't bring myself to eat a thing. My stomach rumbles and I force down a tiny sip of water.
I lean forwards from the back of the taxi and check the time on the dashboard clock once again. Two minutes have passed but it feels like an eternity as we creep through the traffic to the airport. I see the faces of other travellers sat in the back of taxis or leaning into their steering wheels, as if leaning forward will make the traffic move faster. I unzip the front pocket of my bag yet again to triple check my passport is really there.
My passport hides behind my purse for the briefest of seconds and I feel my heart plummet into my empty stomach and my head swirls before I spot it hiding there and I go back to checking the time.
For a frequent traveller, I still surprise myself by the excited nerves I feel every time I fly. I average 30 flights a year yet I still panic during the journey to the airport.
I panic I'll miss the plane or forget something vital. I have an irrational fear of losing my passport and I convince myself it's gone approximately every two and a half minutes.
But this panic is wrapped up tightly in excitement and anticipation for the journey ahead.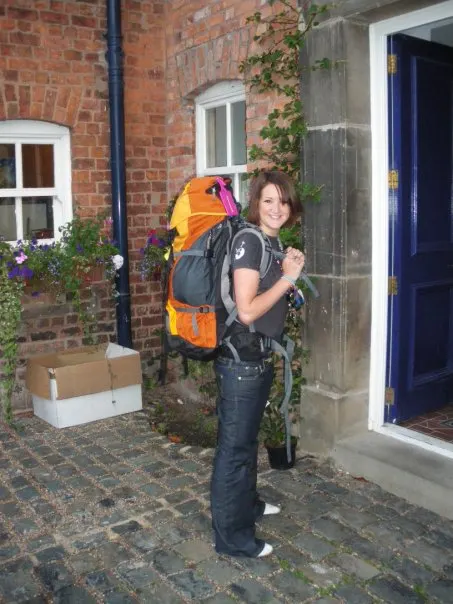 This was me just before I set off to Heathrow for my trip to Australia in 2009
Travelling has been my favourite thing in the world for over 10 years. Ever since I boarded a flight to Australia with little more than a backpack and a one-way ticket I've been hooked on the adrenaline of travelling. I love nothing more than arriving in a new destination feeling overwhelmed and confused as I navigate a new airport with a new language.
My taxi finally arrives at the airport, pulling into the drop off zone of my terminal. I pay the driver and check I've got my passport – just in case it crawled out of my zipped bag while I wasn't watching! As I slam the door shut I feel a cloud being lifted and the nerves and anxiety rise away.
I've made it! I'm on time! I've got my passport!
My body relaxes and my muscles loosen as I skip into the airport pulling my suitcase behind me.
I'm purposely early for my flight, partly because I can't handle the stress of being late but also because I love the comforting familiarity of the airport. Once I've got through security I love nothing more than browsing the shops then finding a café. I buy a coffee and a ham and cheese toastie – two things available at almost every airport across the globe (because who doesn't love a ham and cheese toastie!?) and while away an hour before my flight.
I usually have a travel guide I've downloaded to my iPad and I excitedly flip between the pages as I plan an itinerary and bookmark the things I want to see and do. But most of the time I simply hide behind the pretence of my iPad and people watch.
I watch the stressed families as they struggle past with far too much luggage and excited children bouncing behind their parents. I see couples in love, leaning into each other as they happily chat about their trip. I see business people making loud and important calls while everyone around them silently wishes they'd sat elsewhere. I see backpackers with deep tans and shabby clothes. And no matter where I am, I always see people desperately searching for plug sockets to charge their phones.
The ridged formula of the airport is the same everywhere you go. From the airport security to the identical airport shops and even the layout of most airports is the same. This is why I find every airport so comfortingly familiar and instantly relax in the metal chairs as I watch the tiny screens for my flight information.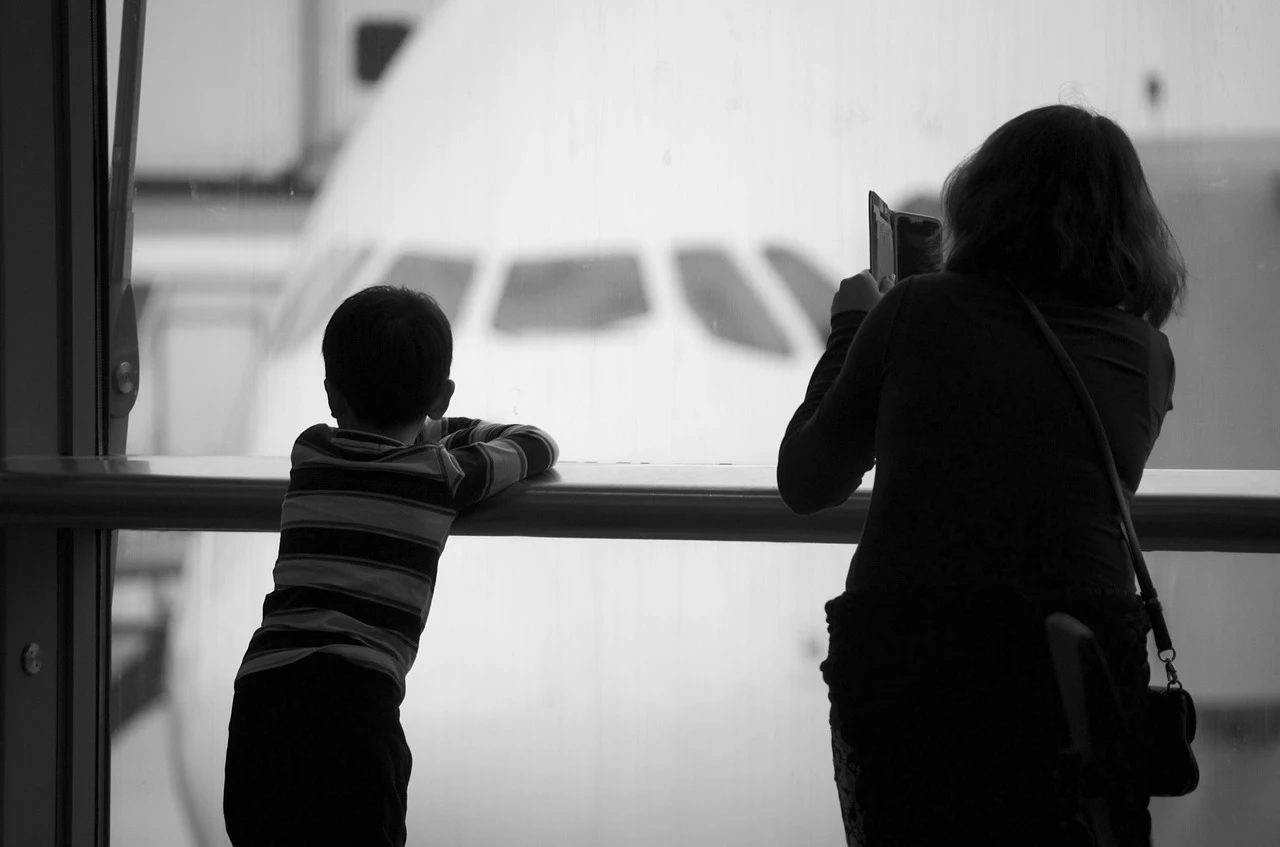 I go through my own personal routine of buying water, snacks and magazines and reorganising my luggage so I can reach everything I need during the flight. I make my way to the boarding gate and call my mum, something I do before every flight, and message Sam and the boys. I rarely call Sam while I'm away because it makes me miss him and the boys too much, so I make up for it with an almost constant stream of Whatsapp messages narrating my every move.
I sit by the gate and wait for the queue to go down before being the last to join. It isn't until I'm sat in my seat with my seatbelt firmly fastened and the plane slowly taxiing to the runway that I 100% relax and excitement takes hold.
I'm actually going!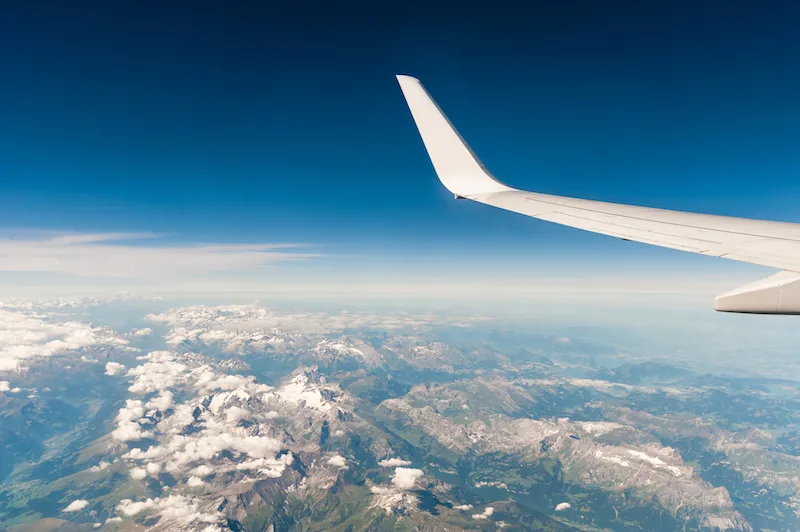 I love the feeling as the plane takes off. My stomach gives a flip of excitement and heart lifts higher in my chest. I stare at the bright fluffy clouds and the sky that is so much bluer and brighter than you ever witness from the ground. I briefly struggle to keep my eyes open before giving in to the warm weight of sleep….. and I'm gone.
I jolt awake as the plane comes in to land and I'm briefly disorientated and confused.
The man next to me is smiling. 'I wish I could sleep like that during flights!' he says as he leans towards me to look out the window.
'I've had a lot of practice,' I smile back before turning to look at the view myself.
A patchwork of fields in every shade of green spread out for miles around and it's a shock to see just how far the countryside spreads. As we get closer there's the tiny squares of houses that look so neat and organised from up in the air. I keep my eyes peeled for swimming pools in gardens and get excited every time I see one. It's a game I used to play with my brother when we were kids and believed only famous millionaires had swimming pools and we thought we must have spotted the homes of movie stars.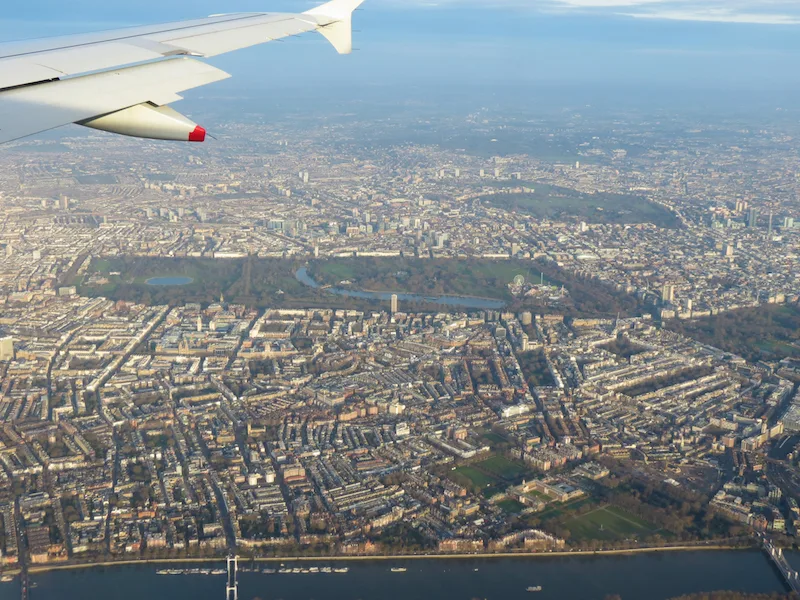 Our plane glides onto the runway and everyone around me instantly removes their phones and the familiar beep of incoming messages is audible under the hum of the engines.
I have just one message confirming my taxi driver is waiting for me in the arrivals hall.
The excitement comes back as I wish I could clamber over the seats in front of me and push my way to the front of the plane but we file off slowly, through the tunnel and along the corridors.
None of my fellow passengers acknowledge this, but we're all well aware we're having a race. We dodge suitcases and push our legs to go faster and stride further, moving as quickly as we can without actually running, because no one wants to be that guy who runs! With sideways glances at my main competitor I at arrive at Passport Control a little puffed out but feeling smug about my victory. I might not have got a gold medal but I'd definitely be in the running for a bronze!
I hand my passport to the security officer who looks like he may have been sat in his booth for approximately 35 years. His stern eyes flit between my passport photo and my face and I long to tell him that I wasn't actually that fat, it was just a weird photo that made my face look like a rugby ball.
I smile at him brightly and consider it a personal victory if he smiles back. They rarely do, unless you're travelling to the Caribbean and then they'll stop and chat to you all day.
He releases me with a nod of the head and I'm free!
I smugly wheel my carry-on case past the luggage carousel and silently congratulate myself on the decision to not check in any bags.
I head for the exits and unintentionally hold my breath as the automatic doors slide open. A crowd of people gather around the doors making it hard to see anyone. My eyes scan the crowd as I try to keep moving and not block the exit but all I see is a swarm of people and handwritten signs with stranger's names.
My eyes dart around so quickly I feel dizzy. And then I hear it.
'Mummy!'
Tiny outstretched hands, beaming grins and clumsy little feet are excitedly running towards me.
I abandon my bag and scoop my boys up in each arm – something I won't be able to do for much longer! Then Sam's arms are around us and I'm home.
'Your taxi awaits', he says and I couldn't be happier to be back.
The familiarity of Heathrow Airport feels like home itself. Flying home used to be something temporary and necessary and I'd drag my heels as I boarded any flight home. I'd feel down and disheartened when I trudged through Heathrow Airport to get the tube to my little flat. I'd pop back for a few days or weeks between trips before the next exciting journey began.
But these days, coming home is just as exciting as going away. If I'm filled with excitement and butterflies during my departure flight, these have multiplied for my return flight.
My love for coming home doesn't mean I hate going away – quite the opposite. I still love travelling but each time I go away I find something else that makes me appreciate home even more. Sometimes it's a new-found love for PG Tips or the way a fry-up tastes so much better in Britain. Sometimes it's the awkward politeness of British people or the cosiness of a traditional British pub.
If you're anything like me then you'll also love the feeling of arriving or departing at the airport. Whether it's the excitement of a new adventure or the warm reassurance of coming home, I can't imagine ever getting tired of travelling.
I urge you to watch this beautiful video by Caleb Femi and Heathrow Airport. Caleb is a critically acclaimed spoken word artist and this gorgeous video filled me with goose bumps as every word makes me long for my next trip abroad.
This post was created in collaboration with Heathrow Airport. Follow the conversation on social media using #LHRxCaleb.