I am one of the few travel bloggers who will not claim to 'love' budget travel. I know it's the sensible option if you want to travel long term but if I had the money I would be lapping up the 5* luxury everywhere I went.
I'm not ashamed to say that I like king sized beds with duvets like thick marshmallows and feather pillows. I like being able to chose from 15 types of tea for breakfast (even though I only ever drink English Breakfast tea) and I like having the extra room that business class provides (OK, I've only flown business class a couple of times but a girl can dream it will happen again.)
Unfortunately, I also like having money in my bank account so it isn't very often that I get to enjoy these little luxuries. But recently I was lucky enough to take two rather luxurious trips and, everyone loves a bit of travel porn, so I thought I'd show off my fancy pants hotels because it could be a very long time until you see something this nice again on The Travel Hack.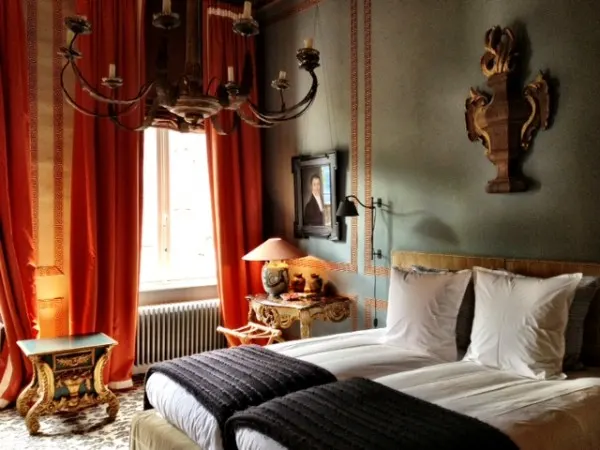 This 17th Century mansion is now owned by interior designers and houses their design studio as well as four stunning guest rooms. They restored the mansion to its former glory with painstaking care to ensure it was respectfully preserved. They've managed to create a wonderfully modern yet ancient mansion that makes you feel like you're stepping into another world while keeping your feet firmly in Ghent. The mansion is filled with artwork which is for sale if you wish to buy but the hotel feels much more like a grand and luxurious home than an art gallery of hotel.
The owner's saying is, "We never have clients, only friends." I need to get more friends like these.
Breakfast was probably the highlight of the trip and it's true what they say about food tasting better when you eat with silver. My scrambled eggs have never tasted so good.
You can read more about my trip to Ghent here.
This hotel is the conference venue for the next TBU and is bringing a splash of luxury to the conference. Actually, this isn't a splash, its more like a wave.
During the pre-conference inspection visit I was well and truly lapping up the luxe in the rather lovely spa where I had a fully body scrub and massage. For the following few days I would often be found stroking my arms as though my skin was made of cashmere. When I win the lottery I am going to employ a full time body scrubber so I always feel like this!
Best thing about the hotel? Having mini cakes and pastries delivered to your door before bed. Perfect for a midnight feast!
Disclaimer: My trip to Ghent was sponsored by Visit Flanders and my trip to Porto was with Travel Bloggers Unite. All thoughts and opinions are my own.